In the quest to preserve the environment, more and more people have started embracing the idea of investing in environment-friendly products, including toilets. High-tech smart flush toilets offer homeowners additional benefits that make their lives better. Today, smart toilets that offer comfortable operations and save more water are increasingly becoming popular in most households. 
The high-tech intelligent toilets on our list come with extra features that you won't find in traditional toilets. Moreover, some of these top-rated smart toilets come with mp3/Bluetooth and emergency flushing capabilities. Although these smart toilets are expensive, the extra features are worth your money.
Who Needs a Smart Flush Toilet?
Every smart homeowner looking for ways of saving on monthly utility bills should consider investing in a high-tech smart toilet. Why keep wasting your hard-earned money on exaggerated utility bills when you can save on water and electricity by investing in a smart toilet? While the cost of buying a smart toilet may be higher, you'll make significant savings down the road. 
If you need comfortable operations every time you use your bathroom, then a smart toilet is what you need. In addition, high-tech smart toilets consume less space than the huge traditional units that can only fit larger bathrooms. Furthermore, intelligent toilets are designed to last longer than the conventional toilet designs that most people have installed in their bathrooms. 
More importantly, installing a smart toilet is one way of contributing to preserving the environment. You will also elevate the general appearance of your bathroom with a smart toilet installation and even increase the value of your home.
Top 4 High-Tech Smart Flush Toilets
This is the top high-tech smart toilet on our list because it represents a perfect combination of luxury and eco-friendliness. The Toto Neorest 700H toilet consumes only 0.8/1.0 gallons of water per flush. This means it's a perfect unit for homeowners looking for a smart toilet that will help them save on their utility bills. The toilet's elongated shape has a CeFiONtect glaze specifically designed to ensure that dirt doesn't pile up on the unit's surfaces.
This TOTO ADA compliant design has an automated lid that opens up slowly when it senses the presence of a human being and closes when that person moves away from the toilet. The toilet is designed to electrolyte water so that it can give users a clean flush. Its deodorizer ensures that the air remains fresh at all times. If one uses the toilets and perhaps forgets to flush the bowl, the automated flush feature will guarantee that the bowl is thoroughly cleaned.
Regardless of the sizes and ages of the people living in your household, this Toto smart toilet model is designed to make sure everyone is comfortable. With the nightlight, you can easily locate the toilet in the dark, especially if the bathroom is very large. You can also choose to use the remote control option to make it even more user-friendly. The toilet comes with a 1-year warranty for commercial units and a 3-year warranty for residential toilets.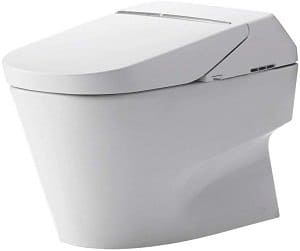 Key Features
Measures 32.5 x 15.5 x 21.5''
It has an elongated shape
Hands-free flush
Remote control
Made of ceramic
Heated seats
Consumes 0.8/1.0 (GPF) of water
The design and elongated shape of the Toto Washlet high-tech smart toilet make it a comfortable unit for everyone in your home. Aside from the Vitreous China material that it is made from, the toilet has a CEFIONTECT glaze for easier cleaning and durability. In other words, you can scratch your toilet thoroughly when cleaning without fearing that you might tarnish its surface. 
This TOTO toilet comes with a 3D tornado flush technology that ensures all the waste is thoroughly flushed down the drain. Furthermore, you don't have to waste water unnecessarily, even for small toilet operations. The toilet seat cover automatically opens and closes the lid slowly whenever a person approaches and leaves respectively. 
Meaning, you don't have to open the lid manually with your hands, causing contamination. The fact that the unit is ADA compliant means that it can comfortably cater to physically challenged individuals. The air dryer feature will ensure that you'll feel hygienic and comfortable after using this Toto smart toilet model. The self-cleaning wand makes the toilet a user-friendly smart toilet. The toilet has a 3-year warranty for domestic units and a 1-year warranty for commercial units.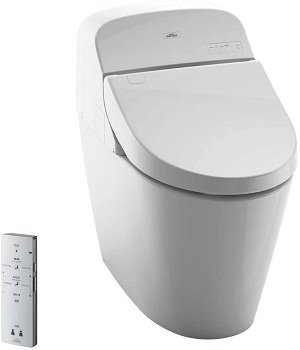 Key Features
Elongated shape
Measures 28 x 11 x 27"
CEFIONTECT glaze 
Consumes 0.9/1.28 GPF
Tornado flush feature
Air deodorizer
Made of Vitreous China
Warm water cleanse
Automated lid
Adjustable temperature and pressure settings
If you're looking for the most customizable high-tech smart toilet, then the compact Ove Decors Tuva is the perfect model for you. The toilet comes fitted with a bidet system and a spray wash to ensure you feel clean and hygienic after finishing your business in the bathroom. Furthermore, the bidet sterilizes automatically to make sure users are not exposed to bacteria.
The unit comes with an automated flushing technology to ensure that the bowl remains clean in case you forget to flush after use. Moreover, it has four levels of heat adjustments to allow users to customize their water temperatures accordingly whenever they visit the bathroom. 
With a water consumption as low as 1.28gpf, you can save some quick bucks every month on utility bills. You can use your remote control to activate the LED nightlight and ensure you're safe at night. On the other hand, the deodorizer eliminates all bad odors in your bathroom, leaving it smelling fresh at all times. This intelligent toilet comes with a 1-year warranty.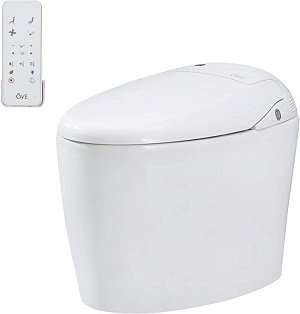 Key Features
It has an elongated shape
Measures 27 x 16 x 20.5"
LED nightlight
Has a bidet system
Consumes 1.28 GPF
Remote control option
Made from Vitreous China
Heated seat
This high-tech smart toilet will transform the look and feel of your bathroom in unimaginable ways. The KOHLER K-4026-0 toilet offers integrated self-cleaning options that make it a very convenient unit. Additionally, with the automated lid and elongated bowl shape, you don't have to contaminate your hands when using the toilet. 
This Kohler toilet comes with an innovative technology called Power Lite® that ensures all the waste has been completely flushed out. With a water consumption range of 1.28 GPF, you can rest assured that you won't be wasting water unnecessarily. The toilet offers you the option of using the touchscreen controls or the remote control options whenever you feel like it. 
You can also make your experience even more comfortable by personalizing the temperature settings and using the toilet's heated seat. The nightlight is perfectly fitted to the unit for safe nighttime calls. This smart toilet comes with a 1-year limited warranty.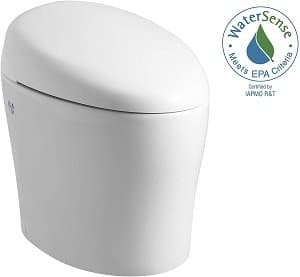 Key Features
It has an elongated shape
Measures 25 x 22 x 32''
Personalized settings 
Deodorizer
Consumes 1.28 GPF
Nightlight
Air dryer
Made from Vitreous China material 
Remote control option
High-Tech Smart Flush Toilets Buying Guide
High-tech smart toilets are designed to elevate your bathroom and provide a touchless toileting experience. These toilets are the new home evolutions in the world of personal toilet care.
What is A Smart Flush Toilet?
A high-tech smart toilet comes with built-in innovative technologies that include an automated lid, heated seats, self-cleaning functions, customizable temperature and pressure settings, automated flushing, and automatic washing and drying options. These innovative technologies transform the way you use your toilet and elevate the value of your home. 
If you come across a smart toilet that doesn't have the above features, skip it and keep shopping. Established toilet makers who include some of these features may not even classify their products as smart toilets. A toilet that looks and feels like a smart toilet but without the necessary features, such as a bidet system, is only designed to bridge the cost gap between intelligent water closets and high-end tank and bowl designs.
Here is an overview of some of the functionalities of the smart toilet features you should look out for when shopping for a high-tech smart toilet:
Seat Warming
Modern-day smart toilets come with seat warming capabilities. In fact, you can find a smart toilet with multiple heat settings that allow you to personalize the settings to your liking. 
Remote Controls and Apps
The remote control of an "intelligent toilet" almost resembles a car dashboard. This remote control capability virtually brings all the controls to your fingertips for easier and faster operation. A high-tech smart toilet comes with an LCD display that allows you to see the activations and adjustments of your toilet. 
So, you can use the remote control to change the pressure and temperature of your toilet's spray wash whenever you want without too much difficulty. In addition, you can activate or deactivate other features such as automatic closing and opening of the seat, lighting, and auto-flushing.
Automatic Lid
A toilet with an automatic lid will sense when you approach and slowly open the lid; it also closes the lid quietly when you finish your business and exit the bathroom. This means that you don't have to risk contaminating your hands by opening and closing the lid manually whenever you go to the bathroom.
Tankless
A high-tech smart toilet mounted on your bathroom floor doesn't rely on the force of gravity to flush effectively. A tankless toilet uses a valve and an electric pump to execute the flush. Meaning, the toilet uses water from the pipe to flush, not water stored in a tank. A computerized valve allows a preset amount of water to get into the toilet bowl when you initiate a flush. This means that you won't have to deal with those disgusting leaks in your bathroom or even keep replacing broken flush valves.
Warm Water Wash
A toilet that is fitted with a bidet system is great for ensuring that you maintain your hygiene. Although this might not sound like the coolest feature of a smart toilet, it's a great idea to some people. It gets even more comfortable when you can adjust the pressure of the warm water spray to suit your preference.
Side Control Panel
In case your remote control fails, you can still enjoy the features of a smart toilet by using the side control panel. The panel effectively operates the basic wash functions. That also means that the functions on the side panel of your smart toilet are not as comprehensive as the ones on the remote control.
Shape and Size
The construction of a smart toilet matters a lot, especially when you're mindful of your bathroom layout and space. If the physical toilet size limits you on the type of model to purchase, you should choose a unit that is less than 27" long. The bowl of most high-tech smart toilets is broader and often longer than 28". Typically, toilets with bigger bowls are usually more comfortable than those with compact bowls. However, high-end intelligent toilets have more helpful features, which are even more important than just the size of the bowl.
Air Dryer
With an air dryer, you may actually not need tissue paper. Moreover, this is one of the features that makes smart toilets eco-friendly.
Auto-flushing
This is a great inclusion into the list of smart toilet features, especially in homes with young children who often forget to flush the toilet. The feature ensures your toilet bowl remains clean at all times, even when you're not at home.
Nightlight
This is a great feature as it lights the bathroom to ensure everyone is safe when going for night calls. Most of the LED nightlights on many brands are designed to illuminate the bathroom with soft glows to brighten bathrooms. The soft glow won't force you to wake up fully when going for a short call at night.
The Cost of a Smart Toilet
The cost of a smart toilet depends on various factors, including where you make your purchase, the model, and the features that come with the unit. In general, the price ranges between $1,000 and $5,000, or even more. Since this is a solid bathroom fixture that you'll use for several years to come, it's not a bad idea to invest in a durable unit that will give you good value for your money. 
You can also opt to replace your current toilet with an electric bidet seat, especially if you're working on a tight budget. Overall, focus on settling for the best option your budget can accommodate, not the cheapest available smart toilet. Some smart toilets come with a backup battery to allow you at least one flush when there is no power.
FAQs About Hi-tech Smart Flush Toilets
Why should I hire a specialist to help install my new smart toilet?
Regardless of whether you're naturally handy or not, it's always advisable to consider hiring an experienced specialist to help install your new high-tech smart toilet. While most toilets are designed with standardized connections, the electrical socket may require you to have some experience to avoid causing future plumbing issues.
Why should I replace my LED lights at some point?
LED lights are known to last longer than their traditional counterparts. However, you'll need to replace them once in a while to get the make the most out of your high-tech smart toilet. Depending on the structuring of your smart toilet and the manufacturer, you may have to buy new LED nightlights after a few years. It's Important to remember that some toilet manufacturers provide their customers with LED replacement lights.
What are the best ways of maintaining my high-tech smart toilet?
Unless a smart toilet experiences an electrical issue, maintaining it and ensuring it performs optimally is very easy. Make sure you clean your toilet regularly to get rid of any piled-up messes or stains. In case you need to replace certain parts of your unit, it's wise to contact an experienced plumber. Use warm water and vinegar to unclog locked bidets or nozzles and eliminate stains.
Summary
While all the five high-tech smart toilets on this list are great options for different settings, our top pick is the Toto Neorest 700H. This Toto toilet cleans your butt, cleans itself, freshens the air in your bathroom, and eliminates all odors. It has the best design as compared to the other smart toilets in its price range. Ultimately, the brand and model of smart toilet you choose to settle for depends on your personal preferences, bathroom style, and budget. If you want to .learn more about high-tech smart toilets and how to get the best intelligent toilet that meets your budget, drop us a message in the comment box below.