With the numerous toilet model options on today's virtual marketplaces and physical stores that sell sanitary ware, choosing the right model can be overwhelming. For years, the American Standard has been a household brand when it comes to toilets and the bathroom design business. In fact, that is why most bathroom remodeling companies and interior designers often recommend the company to their potential clients. In this American Standard Cadet 3 Toilet Review, we share everything about one of the most durable, stylish, and comfortable devices you can purchase for your bathroom. 
Its round seat gives the unit a compact size, making it perfect for small bathroom installations. In addition, the toilet's ideal shape provides for convenient and easy usage. Here is a detailed review of the American Standard Cadet 3 to help you learn everything you need to know about this unit.
Specifications
Measures 28.25 x 15.75 x 30.75 inches
Comfort chair height
Weighs 75 lbs.
Consumes 1.28 GPF
Gravity, Siphon, Single Flush Type
Round bowl shape
Made from Vitreous china
WaterSense certified
Lifetime warranty on chinaware
Features of American Standard Cadet 3 Two-Piece High-Efficiency Toilet
In order to understand why the American Standard Cadet 3 stands out from the crowd, we need to take a look at some of its unique features. 
1. Design
The outer appearance of the toilet is exceptionally simple. Even though the toilet seems to be a normal two-piece toilet, you'll notice that a lot of creativity goes into its seat's design. Since it's taller than most of its counterparts in the industry, it's more comfortable than most normal toilet designs.
The toilet has a standard chair height bowl that makes usage so comfortable. Its round toilet lid gives the unit a compact size that can fit in every bathroom without experiencing any difficulty during installation. Moreover, it's a lightweight two-piece unit that is way easier to install in different bathroom styles. 
Two-piece toilets are normally easier to transport to the installation site because they have separate parts. In addition, the soft closing toilet seat won't attract too much attention every time you visit the bathroom or disturb the people sleeping in the rooms near the bathroom at night.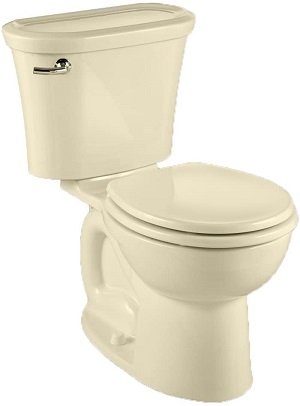 2. Water Efficiency
This is a WaterSense certified toilet that only consumes 1.28 GPF. It can handle up to 1,000 grams of solid waste and get rid of it all in a single flush. Even though it uses as little water as possible, you don't have to worry about poor bowl cleaning capability. The powerful flushing system will do the job right in the first flush.
3. Material
Its entire construction makes cleaning and maintaining the toilet a breeze. The toilet is made from durable Vitreous China and has an EverClean finish that prevents stain growth. You won't be experiencing unpleasant odors coming from your bathroom because the covering is designed to prevent mildew that usually causes the odors.
4. Flushing 
The American Standard Cadet 3 will save you money with each flush because it has a dual flush valve that is three inches and uses as little water as possible. The toilet's glazed trapway simplifies the usage regardless of the number of times you activate the flushing system. Its powerful PowerWash rim thoroughly scrubs the bowl, making cleaning it easier as compared to other toilet models. 
The unit cleans itself after every usage. You won't have to worry about piping repairs because you won't experience clogs in the drainage system. The toilet's gravity-led system, oversized flush valve, and siphon jet flushing are all designed to reduce clogs.
5. Installation
You can easily install this two-piece design toilet on your own. Asa a result, you won't have to pay exaggerated installation fees to have it fixed properly in your bathroom. The price of this device is affordable to many homeowners, especially those operating on a tight- budget. The pricing is actually proportional to its features and design quality. Furthermore, the warranty will give you a big bang on your buck.
6. ADA Compliant
You should always invest in a toilet that is easily accessible and comfortable enough to suit your specific needs. People with mobility issues will find the unit very comfortable every time they visit the bathroom. The American Standard Cadet 3 is an ADA-compliant toilet that is easily accessible and comfortable for all users. In other words, it's an all-around good idea that is suitable for almost any household.
Pros of American Standard Cadet 3 Toilet
Easy to install
Compact shape suitable for any bathroom size
Water-efficient
EverClean finish for easier cleaning
Made from durable Vitreous China material
PowerWash rim for easier cleaning
Cons of American Standard Cadet 3 Toilet
The round seat can be uncomfortable for some users
Not that cheap
Comparing American Standard Toilets with Other Brands
There are several features you should look out for in a new toilet model aside from just the brand. While there are certain reputable brands on the market to consider choosing from, there are smaller, newer models that also manufacture high-quality toilets you should consider checking out. 
Here is a general comparison of American Standard toilets against other respectable toilet makers in the industry.
TOTO vs. American Standard Toilets
The Finish: While TOTO uses a CeFiONtect finish, the American Standard toilets come fitted with EverClean glazing to help keep the toilet clean and for low maintenance. 
Flushing Technologies: While TOTO uses their Tornado flush system, American Standard uses a flushing technology called PowerWash that is equally as effective as that of the TOTO toilet models. The PowerWash technology will leave your toilet bowl looking as good as new after the powerful flush "scrubs" the bowl's surface when flushing. Moreover, the fill valve functions a little more quietly for the American Standard toilets as compared to their TOTO counterparts.
Installation: The installation process of most TOTO toilets and that of American Standard models is almost the same. This is largely because you don't have to deal with tricky bolt systems. This is especially true for models such as the TOTO Drake II and the American Standard Cadet Pro.
Kohler Vs. American Standard Toile
Price: Kohler toilets are generally more expensive than their American Standard toilet counterparts when you compare their features. In fact, the latter has become the standard of comparing other toilets.
Design: While Kohler design chic toilets with a modern feel, American Standards focuses more on quality, durability, performance, and efficiency in their toilet productions. An American Standard toilet model such as the Cadet 3 may have poor structural integrity but is great when it comes to reducing clogging compared to a Kohler toilet in its price range.
Water Efficiency: Kohler has been honored by the EPA's WaterSense certification program more times than the American Standard as a company that is dedicated to saving the environment.
Flushing Power: While an American Standard toilet is capable of flushing away even the most stubborn particulate, the Kohler may fail you in this department because you'll require multiple flushes to clean the bowl fully.
FAQs
Is the American Standard Cadet 3 a great toilet pick?
Even though the American Standard Cadet 3 is highly-priced compared to most toilet models designed with slightly similar features, it's a good toilet unit you can proudly install in your bathroom. It's a water-efficient toilet that is ADA compliant and has a comfortable height that'll transform your bathroom experience. Furthermore, it's a durable unit constructed with sturdy material and can guarantee you years of quality service.
What is the meaning of Cadet in toilets?
When it comes to toilets, Cadet refers to high efficiency in terms of water consumption. At a water consumption rate of only 1.28 GPF, you can rest assured that the Cadet 3 will save you some money on your monthly utility bills. The amount of water it uses per flush is 20% less than that of a regular toilet. A WaterSense® certified toilet such as the American Standard Cadet is a great pick for homeowners who are conscious when it shopping for household appliances and devices that are highly efficient.
Which American Standard Toilet is most highly rated?
American Standard is a reputable company in the world of manufacturing high-quality toilets across North America. Their toilet models are designed to suit different budgets and personal preferences. But some of their models are more highly rated than others. We noticed that one of their most highly rated toilet models is the American Standard H2Option. Some of the outstanding features that make this unit exceptional include ADA compliance, WaterSense certification, dual flush technology, and the EverClean surface finish.
Final Thoughts
In general, the American Standard Cadet series is not just focused on designing bathroom devices that are only great in making a fashion statement. It's a great pick mainly because the manufacturer has done an excellent job in ensuring the toilet is great in terms of comfort, quality, durability, and convenience. The toilet's unique construction gives the unit unmatchable features that meet or exceed most fashionable toilets. 
If you're shopping for a toilet with low maintenance features, then the American Standard Cadet 3 got you covered. Although the toilet uses very little water per flush, you can be guaranteed a clean bowl from the first flush. It's a water-efficient toilet that'll save you some money on your monthly water bill.