If you're like most homeowners, you've probably spent countless hours figuring out the best prints for your living room gallery wall but rarely do the same for your bathroom walls. Whether you have an empty wall to spare or you're working with a small bathroom space, your bathroom wall can be a perfect canvas to showcase your personality. In this guide, we look at some of the best wall decor ideas for small bathrooms that can make your tiny space feel comfortable and cozy.
Common bathroom wall decorating ideas include pictures, mirrors, and baskets. The secret is to make sure that you don't overwhelm your bathroom walls with too many items. Try to keep things minimalist and modern. For example, you could add a single sophisticated print above your bathroom vanity or sink.
Alternatively, you can experiment with brilliant bold colors and mix in vibrant wallpapers and watercolors. Regardless of the amount of space you have at your disposal, here are some of our favorite modern bathroom wall decor ideas for small bathrooms in 2020.
#1: Hang a Watercolor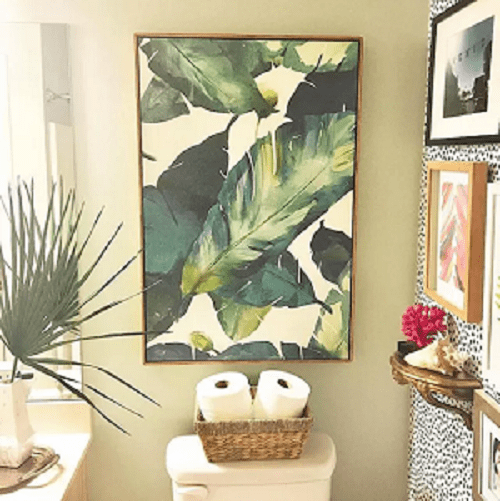 Source: @betonbargainhunt / Instagram
With this leafy watercolor, you can quickly transform the mood in your bathroom by adding depth and warmth. Depending on your personal style and preference, you can simply pick a piece of artwork and hang it above your toilet or vanity.
#2: Experiment with Attractive Tiles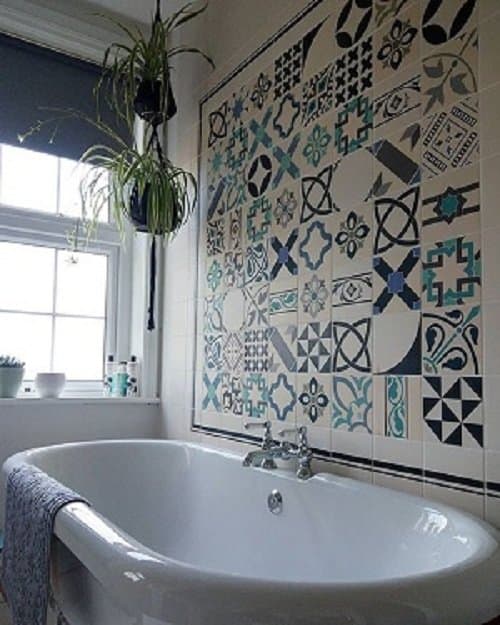 Source: @onemillhouse / Instagram
Other than colorful wallpapers and impressive art, you can experiment with expertly designed and laid tiles to enhance your small bathroom wall décor. Colorful tiles can create a show-stopping work of art on your bathroom wall. Include a border around the tilework to create an illusion that the tiles have been enclosed in a frame. This strategy makes the space feel more welcoming and luxurious.
#3: Look Down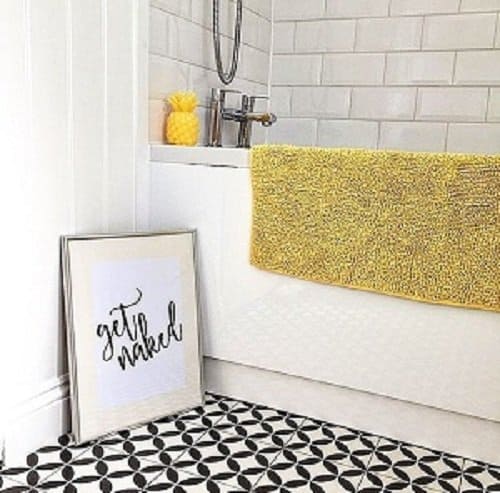 Source: @houseofspolland / Instagram
If you have a small bathroom with minimal empty space, don't shy away from laying lean artwork on the floor against your bathroom walls. Try out a cheeky print that lends a bit of fun and endless personality to your already perky room. If you have adequate space, consider a floor plant or a leaning picture to add some extra décor.
#4: Monogrammed Prints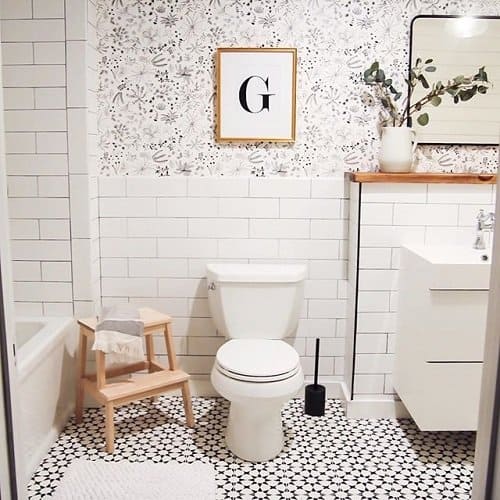 Source: @makingprettyspaces / Instagram
This child's bathroom looks adorable with a monogrammed décor. Monogrammed prints make it seamless to personalize bathroom spaces, and you can easily create a perfect chick and quaint bathroom without breaking the bank. You could also opt for a Floral wallpaper to add fun and make your bathroom inviting. 
#5: Mix in Some Patterns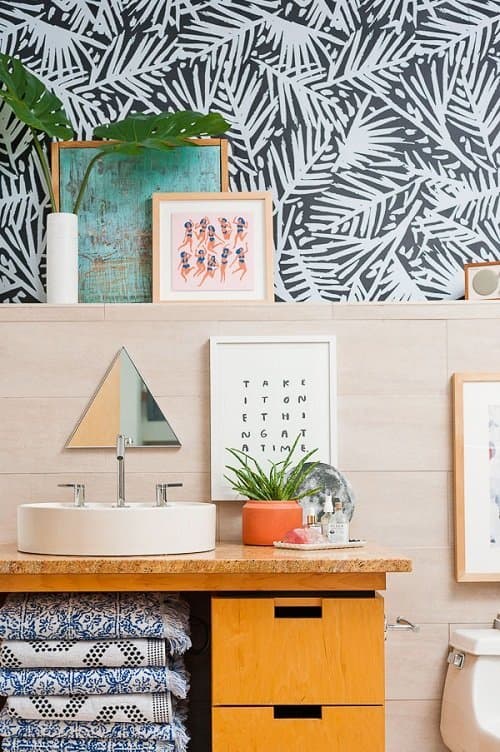 Source: Paper & Stitch
If you're looking for a perfect vacation feel, this bold bathroom décor idea from Paper & Stitch is your ultimate choice. It's bright and full of personality while still exhibiting a sense of eclecticism. You can add a pop of pattern with wallpaper, either on the upper half of your bathroom wall or throughout the entire bathroom.
#6: Go Plant Wild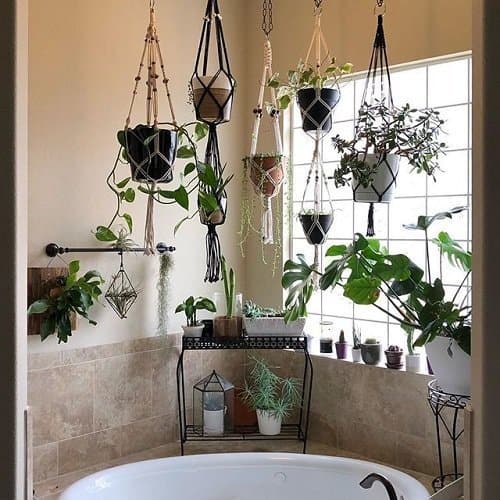 Source: @knottyplantlady / Instagram
Filling your bathroom with some greenery can make it feel like an exotic jungle without spending a lot of money. Choose bathroom-friendly plants like spider plants and place them on shelves, ceiling, vanities, and the floor as well. Filling your empty bathroom wall with greenery will undoubtedly make this space fresh and comfy – a place you won't feel like leaving. Just ensure that the plant specie you choose won't stain your bathroom.
#7: Display a Gallery Wall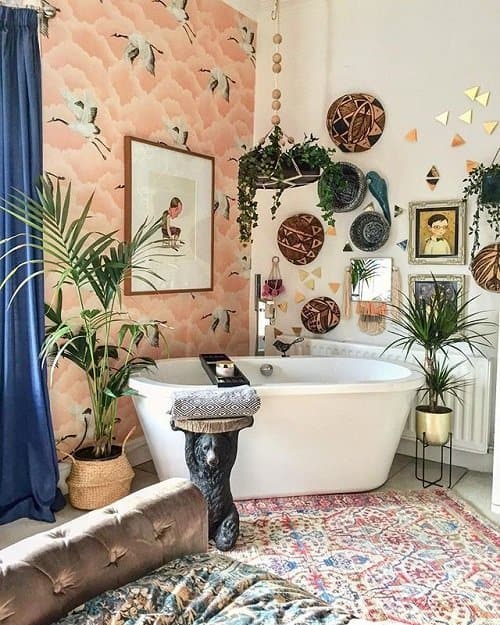 Source: @nudeandthenovice / Instagram
A well thought out gallery wall creates one of the most visually appealing spaces you can ever think of. From bold wallpapers to unique, catchy gallery and oversized art prints, there are limitless décor options when it comes to gallery walls. And since you're working with limited space, you won't have to spend a fortune to transform the look of your bathroom.
#8: Function and Beauty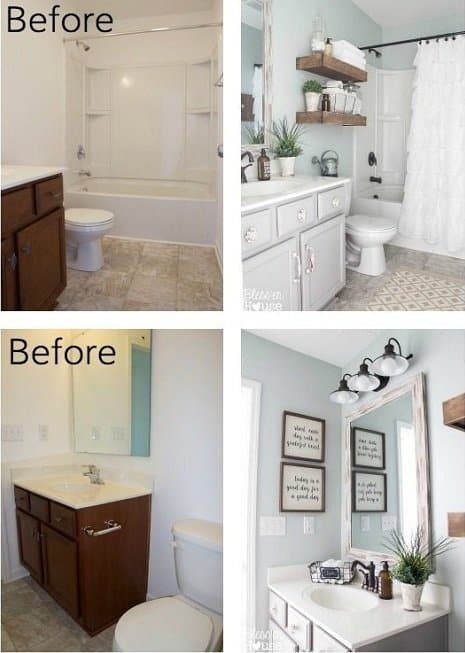 Source: Bless'er House
When it comes to bathroom wall ideas, you don't have to choose between form and function. This Bless'er House's rustic wall hook adds visual interest without sacrificing function. If you have a small bathroom with limited wall space, consider decors that double up as a shelf or hook. Try to focus on beautiful and functional accessories that match your style.
#9: Decorative Shelf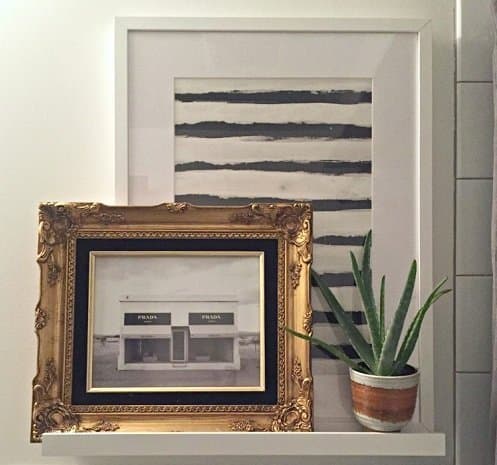 Source: 4 Men 1 Lady
Adding a simple shelf to your bathroom can be both practical and decorative. Consider it home for your bathroom decor pictures, plants, and extra personal items such as bars of soap.
#10: Abstract Watercolors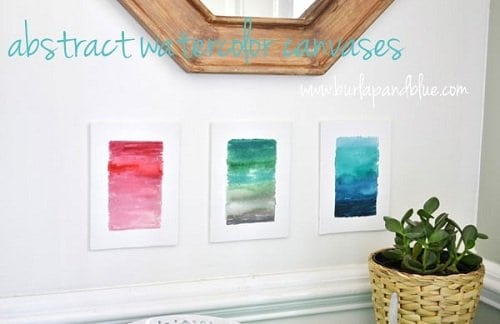 Source: Burlap and Blue
You can easily set the mood in your bathroom to serene with unique abstract watercolors. Simply paint abstract watercolor pieces with your favorite calming colors like blue, lavender, or green.
 #11: Giant Mirror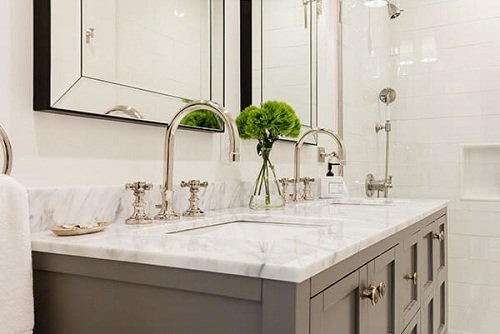 Source: Sweeten Blog
If you're looking for sleek and simple bathroom theme ideas, consider installing an extra-large slender mirror over your sink and vanity.
#12: Acrylic Photo Panel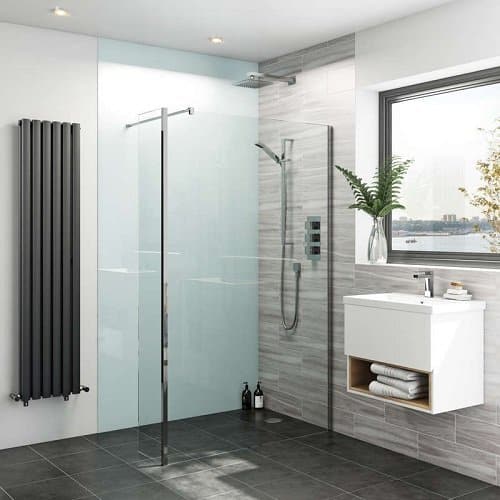 Source: Victoriaplum
Turn your vacation photo into a stunning piece of bathroom wall art. Alternatively, create acrylic wall prints using a breathtaking landscape or city view.
#13: A Bold Print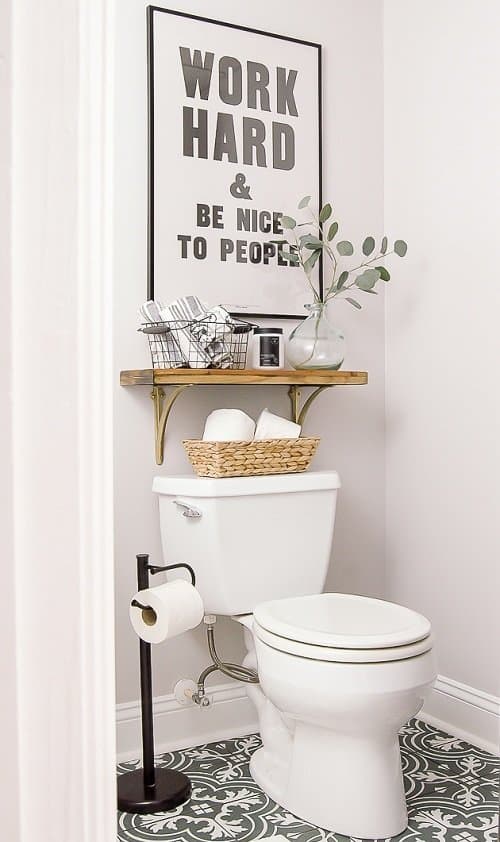 Source: Little House of Four
In this modern bathroom design, Little House of Four showcases how a print with boldfaced text can add a little visual interest and personality to a bathroom space without taking away from the minimalist, monochrome vibe. You can come up with your own printable wall art or check out predesigned models from Etsy.
#14: A Little Personality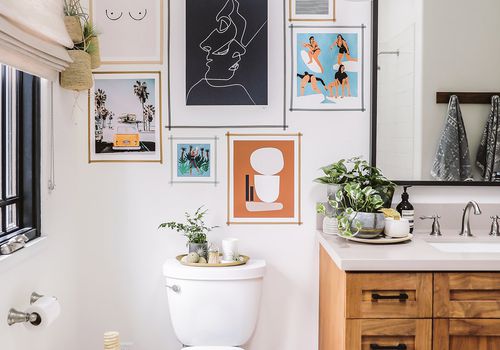 Source: Mydomaine
When it comes to bathroom artwork, always think outside the box. This unique llama print is the perfect way to put a smile on your face whenever you walk into your bathroom. Don't be shy to pick something that doesn't appear "bathroom-y." The more you become creative with your décor, the more your private room will feel more personalized.
#15: Add a Leaning Shelf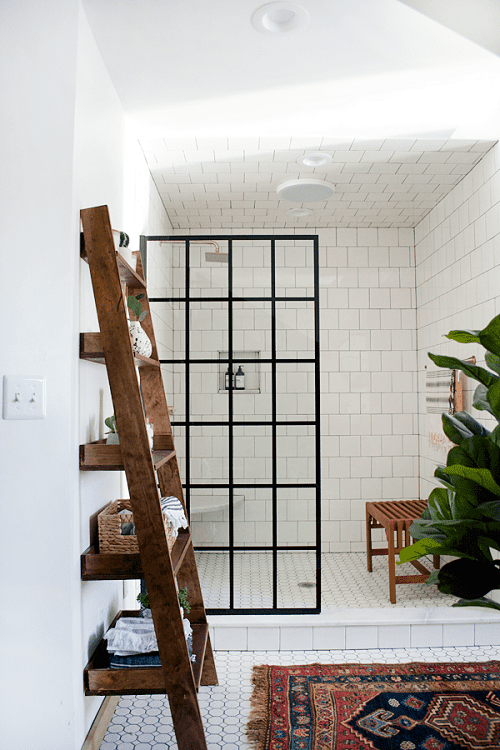 Source: Bre Purposed
Bathroom wall decor doesn't have to be simply decor. This leaning shelf from Bre Purposed adds useful storage space while at the same time filling up empty walls, especially if you have a spacious bathroom. You can still make your bathroom storage functional and aesthetic by adding a few small prints or placing a vase of flowers. 
#16: Add Some Shelves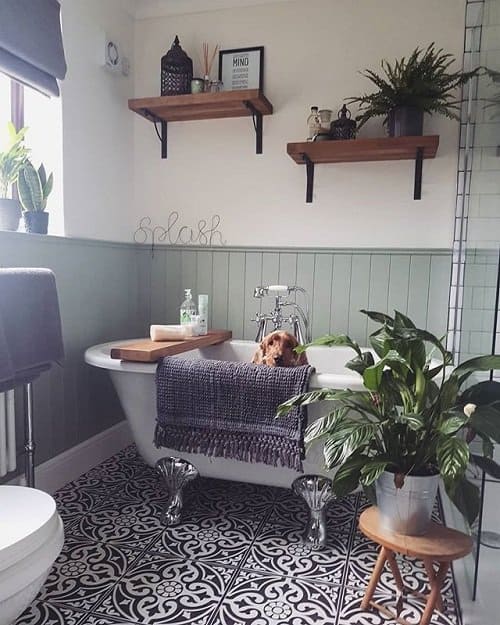 Source: @thenotsobighouse / Instagram
This is another bathroom wall decor idea that combines aesthetics and function. This Instagrammer simply filled an empty wall space on this bathroom with two lavish shelves. The shelves not only add extra storage space but also provide an empty canvas for artwork and knick-knacks to lend some visual interest. You can also curate the shelves with beautiful greenery or candles to give the bathroom even more depth.
#17: Hang a Portrait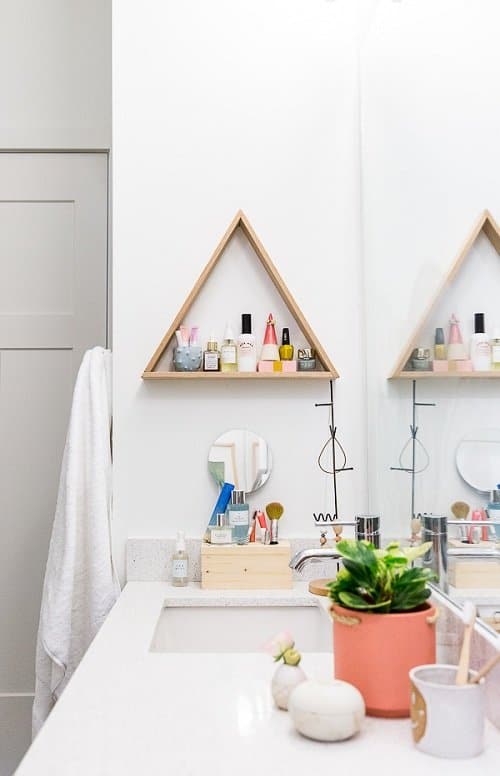 Source: Paper & Stitch
This elegant bathroom from Paper & Stitch indicates that a bathroom is a great space to hang your favorite artwork. The idea of hanging a portrait in a bathroom is a little unique, but it lends a great sense of sophistication to this private room.
#18: Gorgeous Sconces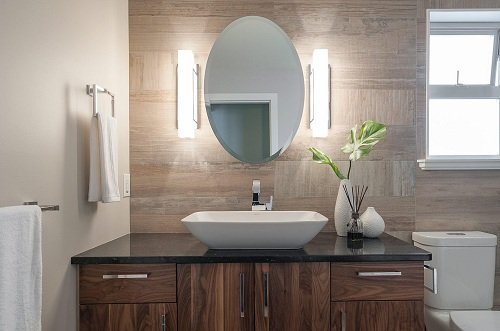 Source: Flutternyc.com
When picking out bathroom fixtures, consider things that add some touch of luxury to your bathroom space. These marvelous bathroom features stunning scones with great lighting to give your bathroom personality and chicness, yet at a budget. You can even mix in a beautiful vintage-inspired wallpaper to enhance aesthetics.
#19: Wooden Cubbies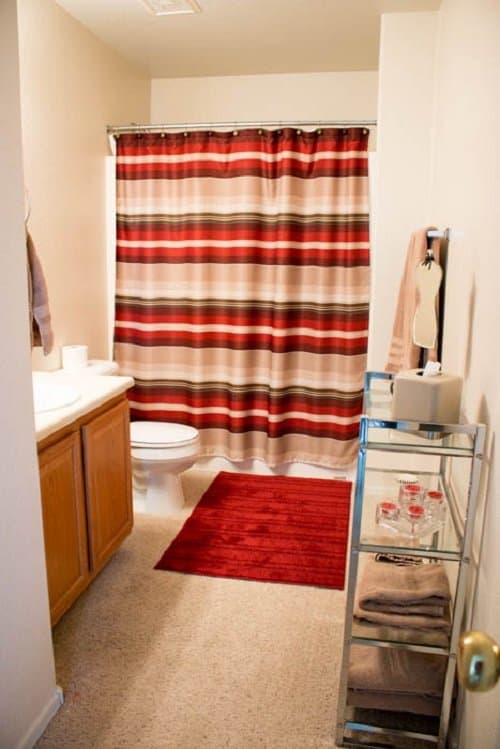 Source: Addicted 2 DIY
If you're an avid DIYer, you can construct wooden cubicles and hand them in to enhance your bathroom décor. Other than adding aesthetics, you can use the cubicles to store essentials such as tweezers, cotton balls, lotion, etc.
#20: Serene Scene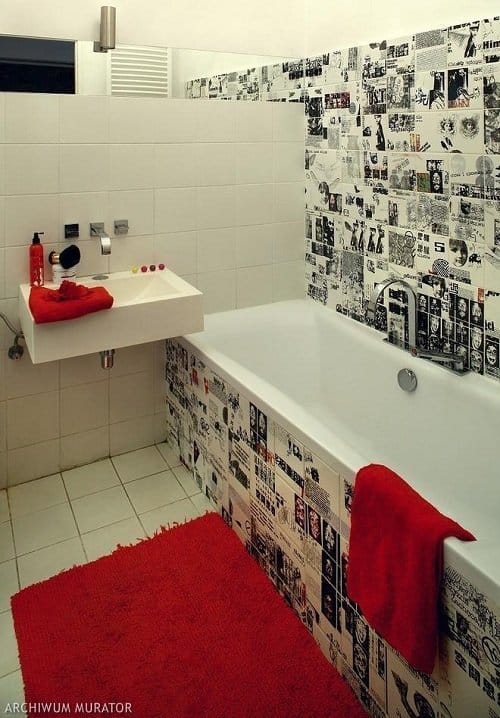 Source: Smalldesignideas.com
Start your day with calming decor. You can use photos of your favorite animals, mountains, lakes, beaches, or anything that helps you build a serene atmosphere.
#21: Love Themed Art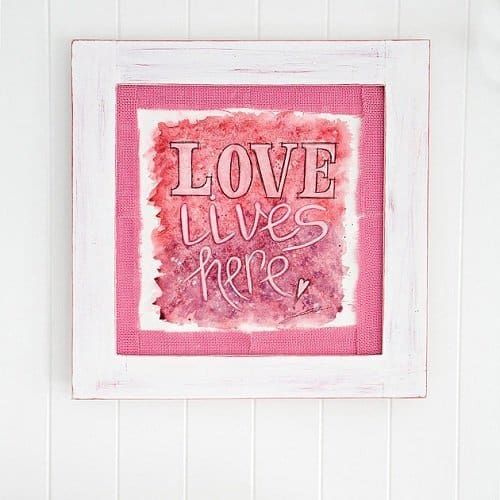 Source: House of Joyful Noise
You can utilize red and pink as your color scheme or design a watercolor piece of art that bursts with love. Alternatively, stencil on a love quote or lyric from your favorite love song for extra meaning.
#22: Bed Frame Towel Bar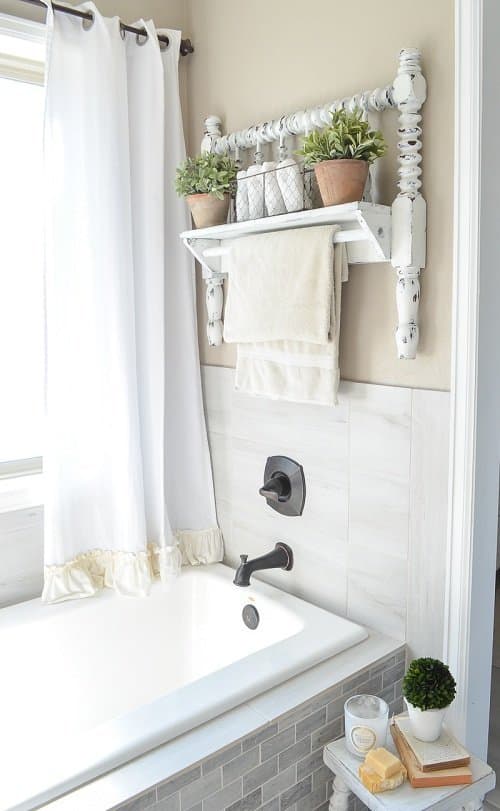 Source: Little Vintage Nest
By simply repurposing a bed frame, you can foster a vintage feel in your small bathroom. Add a simple shelf to it and towel rod to make this beautiful peace practical.
#23: Pressed Flowers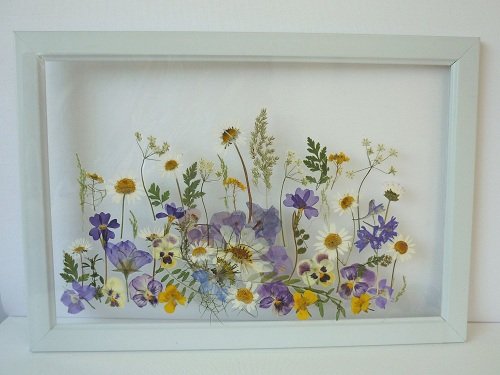 Source: Etsy.com
Whenever you take a walk through the park or go for a hike, be sure to pick those beautiful flowers for your next bathroom remodeling project. Simply press and frame the dried petals of beautiful flowers to create a bathroom décor.
#24: Popsicle Stick Hexagon Shelf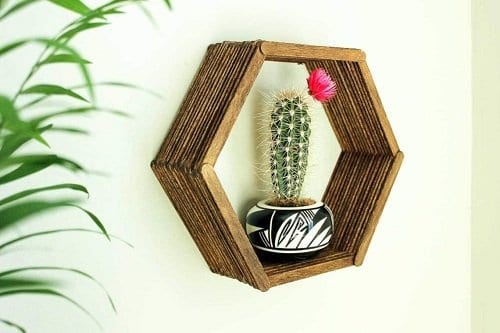 Source: Make and Do Crew
Stick together popsicle sticks to form a hexagonal shape. Add a succulent or cactus to your newly-made shelf to create a unique bathroom wall decor.
#25: Ladder Frame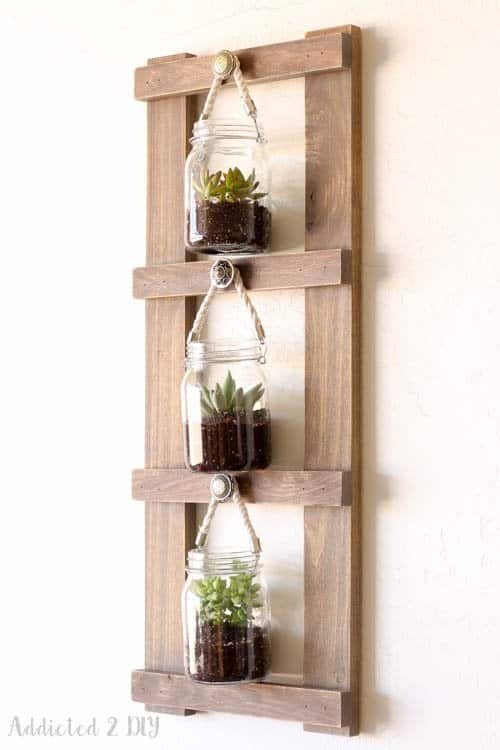 Source: Addicted 2 DIY
Perfect for outdoor snapshots and family photos, this lovely ladder frame suits many bathroom styles. Polish or stain the wood to match the rest of your bathroom decor.
#26: Framed Mirror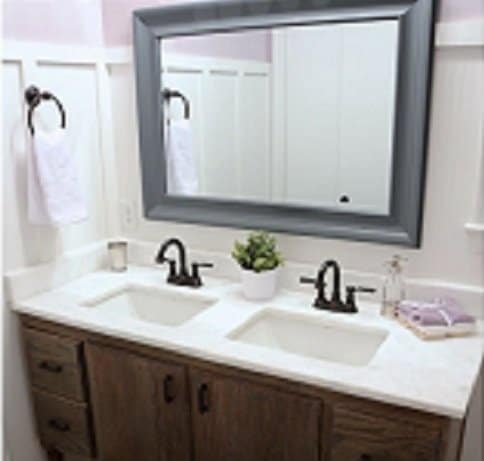 Source: Thrift Diving
Remodeling a small bathroom doesn't have to be complicated. Simply paint the frame of your bathroom mirror to give it a fresh new look.
#27: Magnet Organizer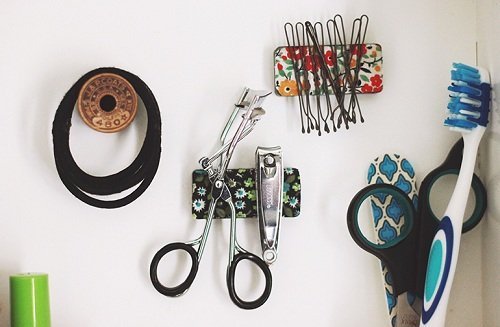 Source: The Merrythought
Wrap a decorative cloth around a magnet to create a holder for things such as bobby pins and nail clippers. This simple bathroom wall décor idea will make your bathroom more organized and trendy as well.
#28: Seashell Art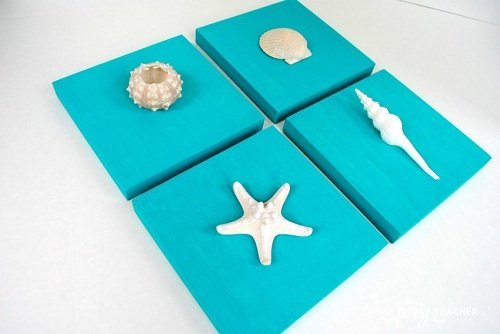 Source: The Party Teacher
Whenever you make a trip to the beach, gather beautiful seashells for your next bathroom wall decor. Simply glue the seashells to a painted canvas or piece of wood to create a decor that expresses true meaning.
So, there you with our comprehensive list of bathroom wall décor ideas for small bathrooms. Your bathroom is the place where you start and end your day, so it should be calming, relaxing, and inspiring. Whatever your vision for your bathroom is, choose a bathroom décor idea that uplifts you and makes you feel centered.