Many people enjoy having bear ornaments and figures in their homes. Bears are adorable and fluffy animals, so it should not be surprising that bears toilet brushes and standing bear toilet paper stands are extremely popular.
In this guide, we highlight a variety of black and brown bear toilet paper holders that are adorable for every modern bathroom design. However, not all of them are standing toilet paper holders.
Top Rated Standing Bear Toilet Paper Stands
If you truly adore cuddly and funny toilet paper holders, here are some top bear holders to consider:
This is a fantastic product and a cool bear toilet paper holder. The bear is relaxing on top of a log, but what stands out is the bear's realism and detail with an 8″ W x 6″ H x 4″ D. Black Bear Lounging Toilet Holder is made up of resin with a wooden dowel and includes two wall anchors and two screws for mounting. 
Both sides of the bear have two pre-drilled holes through which it hangs. This is an excellent gift for wildlife and beer enthusiasts. Furthermore, this toilet paper dispenser is ideal for a cabin or lodge décor. Follow the link to see the numerous positive reviews and the price.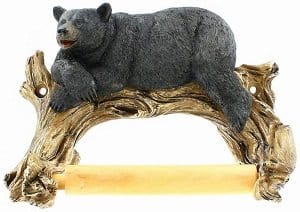 Dimensions of this cute Grizzly Black Bear Toilet Paper Holder are 8″ long, 8.25″ tall, and 4″ deep. She has a cute smile on her face. This cute little bear is happy to hold your toilet paper as you do your stuff. Besides, the bear is handcrafted from polyresin. The adorable Grizzly Black Bear Toilet Paper Holder has keyholes on the back for wall mounting. It would be a fun gift for outdoor and bear enthusiasts.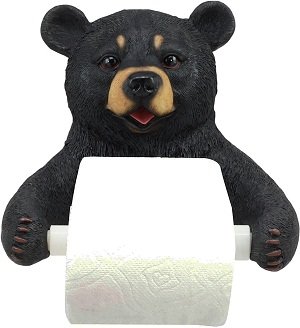 Patiently holding a toilet paper roll for you, this bear toilet paper holder is large and realistically-looking. It is a free-standing bear made of polyresin craftsmanship with dimensions of: 21.5″ H x 10″ W x 11″ D. River's Edge products strive to provide gifts for outdoor enthusiasts and bear lovers.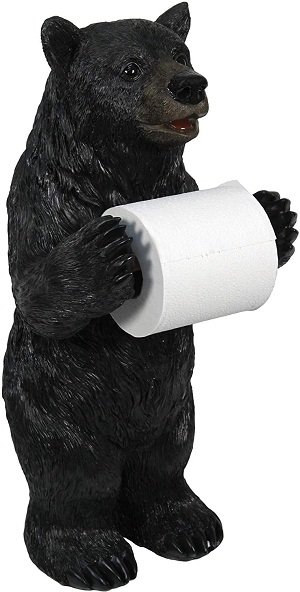 A cute-looking bear cub appears to hug the wall while the toilet paper is dispensed from his behind. It looks like it is climbing a tree. With wonderful colors and adorable features, it is a lovely detailed product made of polyresin. It has a dimension of: 8.5″ W x 7.75″ D x 14″ H. This is a fantastic gift for anyone who adores bears.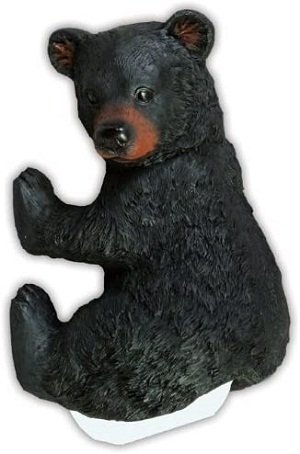 The Cute Bear on a Tree Toilet Paper Holder is richly detailed all over. It is an excellent gift for outdoor enthusiasts, and it's painted by hand. This product fits a standard toilet paper roll and comes with a Rivers Edge Pinecone Wall Mount toilet paper holder. Dimensions are: 22.9″ L x 10.8″ W x 14.6″ H.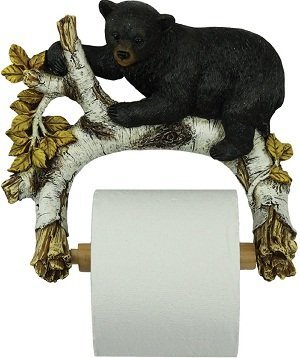 What more could a bear enthusiast ask for if he or she is provided with a magnificent big black bear sitting in front of their toilet, holding the toilet paper? It is made up of a polyresin with dimensions of 11″ Hx 6.5″ W x 6.75″ L. This is a must-have for bear lovers.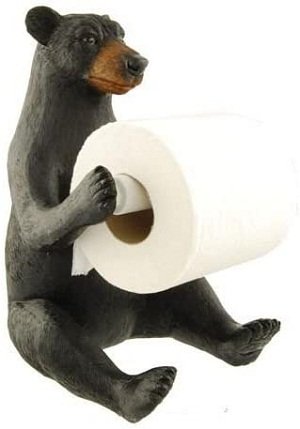 This toilet paper holder will undoubtedly impress your visitors. Cute bear paws hold your toilet paper. Made of polystone and wood rod, the toilet paper holder is 9.25″ x 4″ x 6.25″. It is usually mounted on the wall and perhaps a fantastic gift to bear lovers. To view the bears' price, follow the link.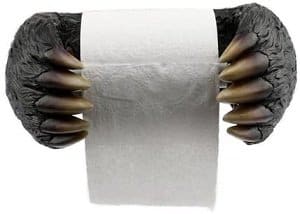 This kind doubles the cuteness with two bears. As the small cub clutches the parent's leg, the big bear stands holding the toilet paper. The bear is made up of a durable hand-painted polyresin and is 12″ tall. Indeed, it is a cute gift for bear lovers. For more details and prices, follow the link.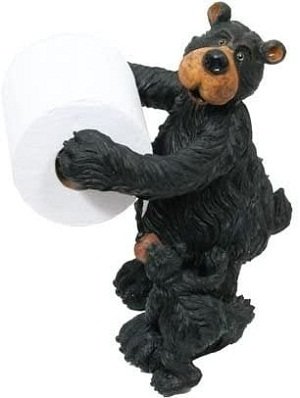 This adorable and helpful bear cub holds a roll of toilet paper for you while the other hand covers his nose. It is simply the cutest pick on our list. He is perched on a tree stump in front of a post holding three extra rolls. It is made of wood and resin, with dimensions: 6″ L x 9″ W x 22″ H. This is a must-have gift for bear enthusiasts.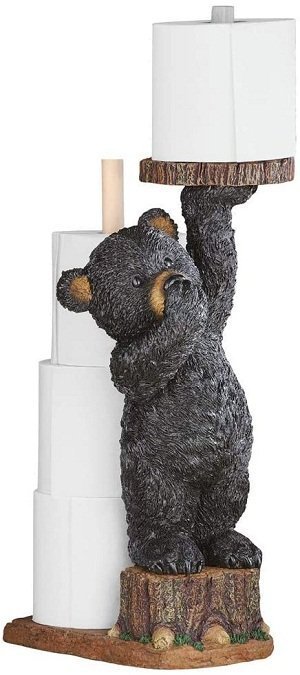 Some bears have a realistic appearance, while others have a cute cartoon appearance. This bear has a cuddly appearance and appears to be scared of you. Bear Bust Sculpture Toilet Paper Holder Rack is made of a poly resin with measurements of 7.5″ W x 6.5″ H x 6.5″ D. the toilet paper holder has two metal keyholes for wall mounting. 
The Buyers Guide: Why Buy Bear Toilet Paper Holder
Bears are extremely soft when compared to other animals. Despite being seasonal, brown bears, such as Charmin's Leonard, have a thick pelt and a thick layer of subcutaneous fat. The density and composition of the bear's fur determine the softness of an animal. Based on these standards, bears are mediocre at best.
The sea otter has the thickest fur of any mammal, with hundreds of thousands of hairs per square centimeter of skin. In comparison, a brown bear can grow about 2,500 hairs on the same-sized patch as a polar bear, while the latter grows 2,900. The reason has been, bears do not require much insulation; they hibernate during the winter. 
Chinchillas appear to have the softest, most dense fur of any land mammal. Elephants and hippopotamuses have the fewest hairs, with only a few dozen per square centimeter.
The composition of an animal's pelt is another factor that contributes to its softness. Mammals' body hair is divided into short, downy wool hairs and long, coarse guard hairs. A brown bear's fur is roughly two-thirds that of a polar bear. While wolf pelts are five-sixths wool, lion pelts are three-quarters wool. The otter deserves to be the spokes animal for some brand of toilet paper because its fur is ninety-nine percent wool. However, bears are perhaps the most commonly associated mammal with toilet papers and other soft accessories such as toys.
How to Choose a Toilet Paper Holder
Toilet paper holders were created to keep your toilet paper handy. However, their function does not stop there; they can also add a touch of style to your bathroom. Bear toilet paper holders are available in a variety of materials, styles, and shapes. Follow our guide to learn the specifics that will assist you in selecting the best toilet paper holder for your bathroom or outdoor camping toilet.
What is the Best Material for a Bear Toilet Paper Stand?
Toilet paper holders typically come in four different materials:
Resin – Very durable, easy to maintain, and clean.
Stainless steel – Due to its hard-wearing and strong properties, it is the most reliable material for toilet paper holders.
Wood – Although it may be unusual for some to choose wood, it adds charm to space and serves as a sturdy toilet paper holder.
Plastic – It's a cost-effective option that comes in various interesting colors. However, it might not be as durable as the others.
Types of Bear Toilet Paper Stands Based on the Installation
Free-standing, wall-mounted, or suction-cup models are the most common types of bear toilet paper on the market.
Free-standing toilet paper holders: These toilet paper holders may take up some space, but they make up for it with various unique designs available. They are more easily moved and stored.
Toilet paper holders with a suction cup: If you dislike drilling holes in bathroom tiles and do not want them to take extra space, toilet paper holders with a suction cup are ideal. Noting in mind that poorly made suction cups can occasionally let you down if they succumb to gravity. When primarily fixed in an awkward location, this type of holder can be tossed around like the free-standing holder.
Wall-mounted toilet paper holders: Because there is no fear of collapsing, wall-mounted holders are a preferable option. They also appear more attractive and tidier. Keep in mind, however, that the position of the toilet paper holder is critical. If you do not want a random hole in your tile, stick with the wall-mounted holder once it is installed.
Final Thoughts
Hopefully, you were able to find a cute black bear toilet paper holder from the list above. We are confident that one of these lifelike cuddly bears will brighten up your washroom.