Have you ever taken a hot shower or tried shaving in a bathroom that has no vent fan? Moisture levels can quickly build up and make this space humid and uncomfortable. Things can get even worse when you walk into a bathroom almost immediately after someone with stomach problems gets out. Well, the overall experience of a poorly ventilated bathroom is rather unpleasant. Bathrooms are highly humid rooms that require proper ventilation and should be fitted with the best bathroom vent fan with light and heater to improve comfort.
Bathroom exhaust fans not only improve the quality of air but also scent in the bathroom. It airs out extreme humidity that can fuel the growth of household mold and mildew in many bathrooms. Reduced humidity is a recipe for reduced maintenance costs, as mirrors will also less likely fog up.
Finding the best bathroom fan can be challenging due to the endless products available on the market. Fortunately, the guide below outlines some of the best products alongside a detailed buyer's guide to help you select a good bathroom exhaust fan.
Who Needs a Bathroom vent Fan?
Modern homes are designed to be more airtight and energy-efficient than before. This makes it essential to install the right ventilator to exhaust moisture and other pollutants produced by in-house cooking, cleaning, and showering to improve the health of the residents and maintain the structural integrity of the house. When you turn on your overhead or handheld shower head, humidity levels in a bathroom can reach levels comparable to tropical rain forests. The room becomes both hot and uncomfortable.
Such conditions predispose to the growth of mold and mildew in the bathroom. These fungi thrive excellently in warm, dark, and humid conditions, which are typically the conditions in your bathroom. They spread through spores, which inhabit wet and moist organic surfaces, such as wallboard, bathroom tiles, vanities, and wood. If you are facing such problems, you urgently require a bathroom exhaust fan.
Installing the best bathroom fan is an effective way of controlling the growth and spread of mold as they keep the moisture levels low. Bathroom exhaust fans are ducted from the outside, enabling them to remove moisture during hot showers and after the shower effectively.
Quick-Comparison
*Ratings courtesy of Amazon at the time of publication and can change!
Top 10 best bathroom vent fans with light and heater
Over time, Panasonic has been reinventing its superior venting equipment that removes contaminated air and moisture from your bathrooms. The Panasonic FV-30VQ3 Whisper Ceiling Ventilation Fan is among the new models that do this job exemplarily.
The majority of homeowners don't like bathroom exhaust fans since they generate some noise while operating. However, you shouldn't be worried about excessive levels of noise if you install the Panasonic FV-30VQ3 Whisper Ceiling Ventilation Fan. It is among the quietly operating ventilation fans available on the market.
However, don't mistake the silent operation of this exhaust fan for average power. The fan features a strong 290 cubic feet per minute airflow rate with a wider Sirocco blower wheel that delivers more air even at low rotations per minute compared to most bathroom exhaust fans available on the market. With this, you will be enjoying reduced operational sounds without sacrificing the power of the machine.
The installation is probably a common challenge when it comes to bathroom exhaust fans. However, the Panasonic FV-30VQ3 Whisper Ceiling Ventilation Fan can be mounted inside the shower tub or enclosure with ease. It is delivered with all the necessary items to facilitate installation, including the GFCI branch circuit wiring. However, this model doesn't include a light source.
For assured durability, the fan is solidly built with extra thick zinc-coated and galvanized steel. This indicates that it can survive even in the toughest environments without easily corroding. The manufacturer, Panasonic, provides a 6-year warranty on the motor and 3-years on other parts of the unit.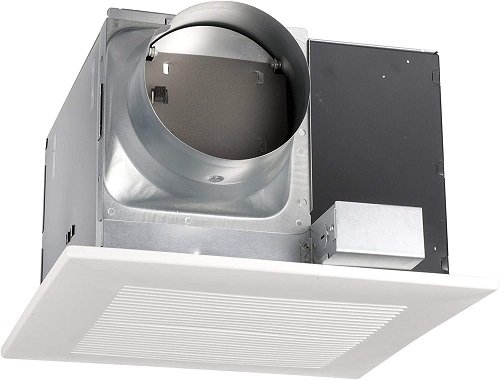 The Akicon Ultra Quiet Ventilation Fan is another quiet bathroom exhaust fan that works exceptionally well. The fan is manufactured by a reputable bathroom fan brand, probably assuring the quality of this product. As expected, the fan prevents moisture and steam from accumulating in small and medium bathrooms.
To achieve this, the unit comes with a 90CFM airflow fan. The combination of the low RPM and oversized fan makes it comfortable for those who want a low-level fan for use when taking a bath or shaving. The fan is UL listed provided it is hooked up to the electrical circuit with GFI protection. This means that it can be installed in an encapsulated tub area or above a shower stall.
Like other high-end exhaust fans in this list, the product comes with all the required wires for connecting the unit. It is also sturdily built, with a 3-year warranty placed on the entire unit by the manufacturer. Its construction features a heavy plastic with low profile grille assembly. The fan is majorly made from coated galvanized steel.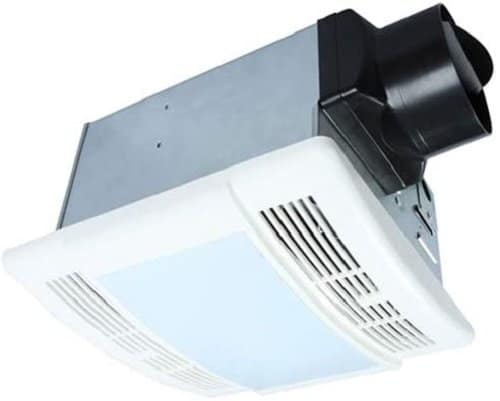 Another incredible product from Panasonic is the Panasonic FV-08-11VF5 WhisperFitEZ Bathroom Exhaust Fan. This product also confirms that this manufacturer is an industry leader when it comes to producing the best bathroom fans. As the first model outlined above, this product works perfectly for long periods. The unit is designed to exhaust humid needs of small bathrooms, working perfectly in bathrooms less than 800 cubic feet.
Besides a powerful performance, the Panasonic FV-08-11VF5 WhisperFitEZ Bathroom Exhaust Fan also produces very little sound when running. Sound levels are estimated at 0.3 sones, meaning that you can barely notice when the unit is operational. The model is also a safe and efficient bathroom fan since it is UL-listed, energy star compliant, and fully certified by the Home Ventilation Institute.
Other incredible features of this model include the Flex-Z fast installation system and the possibility of hooking with up to a 3-inch exhaust duct with an adapter. Panasonic FV-08-11VF5 WhisperFitEZ Bathroom Exhaust Fan is designed to last long, thanks to the lower operating temperatures and permanently lubricated motor. Similar to other Panasonic products, the unit comes with a 3-year warranty.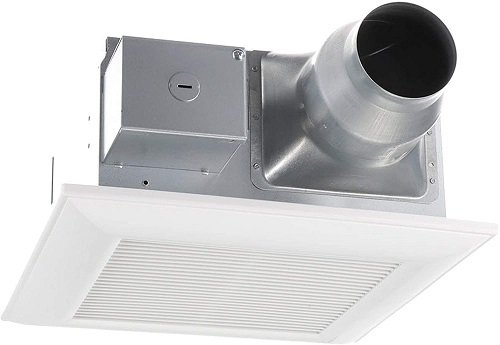 If you are searching for an affordable exhaust fan that works great for small bathrooms, the Delta BreezSlim SLM70 Exhaust Bath Fan should be your bathroom fan of choice. Operating at 70 CFM, this model exhausts plenty of air from small bathrooms with ease. This is what makes most DIYers and experienced contractors love Delta Exhaust Fans.
The manufacturer did an exemplary job with this products' design. For sure, there is no exhaust fan without noise. However, the unit produces very low noise when running, estimated to be around 2.0 Sones. The noise is at minimal levels that the manufacturer had to add an indicator light that indicates when the fun is on and running.
The Delta BreezSlim SLM70 Exhaust Bath Fan is low-profile with very low energy consumption. Its Energy Star certified DC brushless motor assures low energy consumption. You can mount the unit to your ceiling or wall in the bathroom.
As for its construction, the Delta BreezSlim SLM70 Exhaust Bath Fan has an all-metal frame built from corrosion-resistant galvanized steel. It also comes with a 3-year warranty, which is very generous for such an affordable bathroom exhaust fan. The duct diameter is 3 inches with a 7.5 square-inches mounting opening.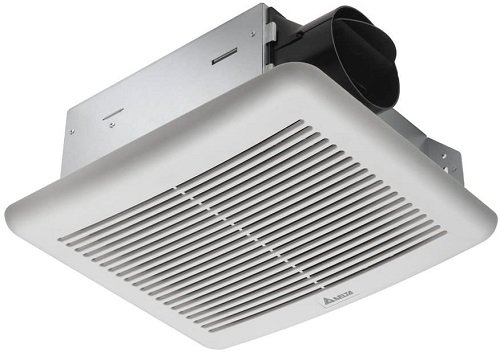 The Delta Breez GBR80 GreenBuilder Exhaust Fan is another best bathroom fan of choice for homeowners who prefer making their homes green with energy-saving equipment. With the surge in campaigns against global warming, you should ensure that you take active measures in your home to save energy as much as you can. Among the best ways to conserve energy is to install an energy-efficient bathroom exhaust fan, such as this model.
It is estimated that this Energy Star certified fan uses approximately 86% less power than other bathroom fans. With this, the fan not only makes your home greener but also provides a relaxing bathroom atmosphere. Another incredible feature of this fan is the less noisy operation. Like most well-rated fans, the unit has an average noise rating of 0.3 sones. This makes it join a few exhaust fans with such ratings.
The installation process is a common issue that DIYers should consider when selecting a bathroom exhaust fan. As for the Delta Breez GBR80 GreenBuilder Exhaust Fan, it can be used in a shower or tub enclosure when hooked to the GFI circuit. It also comes with a built-in humidity sensor that automatically turns the fan on if it detects high humidity levels.
The manufacturer is very confident with the quality and construction design of this exhaust fan that they provide a 3-year warranty. The duct diameter is 4 inches and has an 8.5 square-inches mounting opening.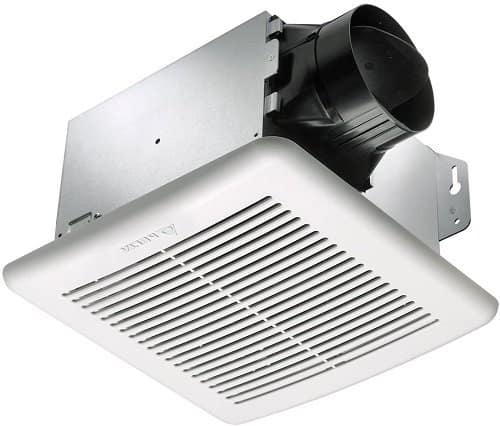 The advancing technology has resulted in modern innovative bathroom exhaust fans with incredible features. Currently, bathroom fan manufacturers produce innovative models with several ways to help you relax as you take a shower. The Broan SPK1110 Bathroom Fan with Speaker and Wireless Technology is an excellent model with such functionalities.
The unit is only a good bathroom exhaust fan but also comes with Bluetooth speakers that enable you to stream music as you shower in the bathroom. Through this, the Broan SPK1110 Bathroom Fan with Speaker and Wireless Technology definitely helps you achieve the utmost relaxation without having to take trips out of the bathroom to switch on your favorite music. The unit provides great music quality to any bathroom that is 105Sq meters or less.
Upon closer examination, you will notice that the Broan SPK1110 Bathroom Fan with Speaker and Wireless Technology is more than a bathroom exhaust fan with Bluetooth connectivity. Compared to other models, it has a 1.0 sone sound rating, ensuring that the operational noise doesn't mask your music.
The unit also moves air nicely, thanks to its blower wheel that exhausts air at 110CFM. It is energy-efficient, thanks to the long-lasting lubricated motor that is Energy Star certified. This provides an assurance that the unit uses less energy compared to the majority of standard bathroom exhaust fans in its price range. The manufacturer backs the performance of this unit with a 3-year warranty.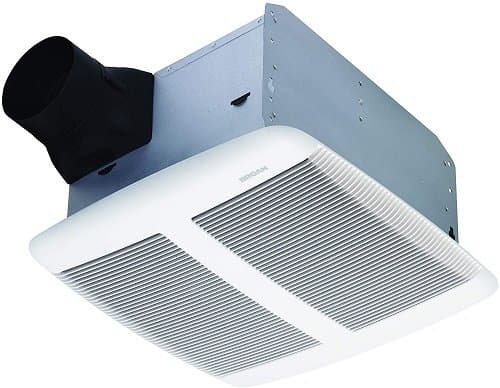 The Broan 655 Heater Bath Fan with Light is another excellently designed bathroom exhaust fan with a heater. The unit is a product of a reputable home appliance manufacturer, Broan, hence satisfies all the reasons why you should invest in it. The fan does a good job heating and eliminating humidity from small and medium bathrooms measuring up to 65 square feet.
The heater fan features a built-in heating element running at 1300 watts. This makes it a lifesaver when you need to boost your heat levels in your shower during the cold winter mornings. The unit exhausts air at a rate of 70 CFM, providing assurance that there will be no build-up of moisture on the surfaces after a hot shower.
The Broan 655 Heater Bath Fan with Light is fairly energy efficient, thanks to its dual blower wheel technology. The motor driving the blower wheels has permanent lubrication guaranteeing an extended life. Other key features of the unit include adjustable mounting brackets that simplify installation and a 100-watt light setup.
The unit is also corrosion resistant due to the 23-gauge steel housing coated with electrically bonded paint. It features a 4 inches duct diameter and sound levels at 4sones.
Like other products from the reputable Broan brand, the Broan Nutone 678 Ventilation Fan is another product in the sequel that won't disappoint. This compact unit is made to suit the immediate needs of your bathroom. It does offer not only excellent functionality but also available at an affordable price that won't break your bank.
You will like how easy the fan is to install. The process is very straightforward, and beginners may only find it challenging if they need to replace an old ventilation fan with this model. Regardless, you won't spend a lot of time before enjoying the fresh air in your bathroom from this unit. What makes it even better is that you won't have to refill the oil tank as the motor is permanently lubricated for long-lasting use.
The Broan Nutone 678 Ventilation Fan combines both bathroom ventilation and lighting. Upon switching on, the unit sucks excessive moisture and mildew from your bathroom, leaving a fresh atmosphere free of unpleasant odors. The lighting capacity also supports bulbs of up to 100 watts with a shatter-resistant lens.
Despite its superior performance, this ventilation fan performs excellently in bathrooms covering a maximum of 45 square feet area. Mounting it in a bigger bathroom may not disperse the odors evenly or cover the area adequately. Broan provides this unit with a one-year warranty.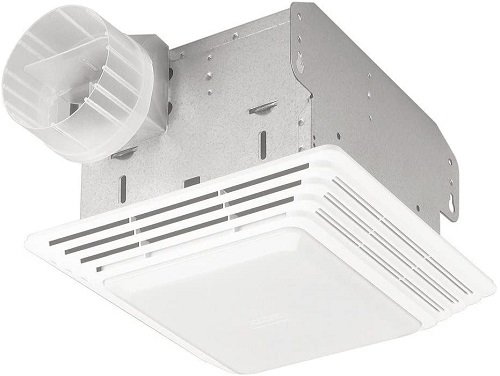 The Delta BreezeSlim SLM70 Exhaust Bath Fan is another excellently working bathroom exhaust fan with light from Delta brand of products. The unit is quite similar to the Delta Breez GBR80 Model but comes with fully dimmable 850-lumen lights for better bathroom brightness. This makes it a perfect bathroom ventilation fan and light combo for use over any shower or tub where regular bathroom lighting does not provide sufficient lighting.
Like other products from Delta GreenBuilder, the unit is extremely energy efficient. Manufacturers estimate that it can save up to 80 percent of electric usage compared to other exhaust fans available on the market. It is also energy Star compliant and operates quietly with approximate noise levels of 0.4sones while operational.
The Delta BreezeSlim SLM70 Exhaust Bath Fan is a tough product that will hold up strong in your bathroom. This is due to the corrosion-resistant galvanized steel make on the outer structure and efficient DC brushless motor. Manufacturers back this unit with a 3-year warranty.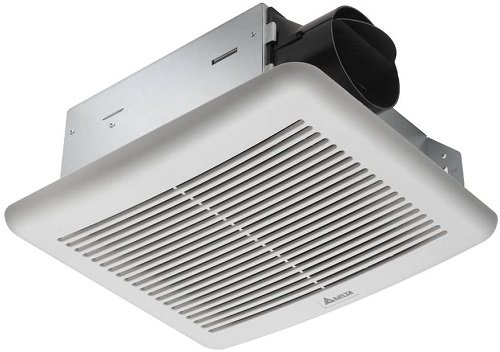 The hardest place to heat in your home during the cold winter months is your bathroom. This becomes even challenging if your bathroom has a tiled floor and walls. In that case, the Delta Breez Radiance RAD80L Exhaust Bathroom Fan can come in handy. This multipurpose unit consists of a bathroom exhaust fan, light, and heater, which work hand in hand to remove bad odors from your bathroom, provide sufficient lighting, and warm up your cold bathroom.
The unit has a built-in heating element with a thermostat that controls the temperatures in your bathroom. You will also like the quiet operation with low noise emission, estimated at 1.5 sones, which makes it among the quietest bathroom fans you will ever come across.
Like other best bathroom exhaust fans in the market, the Delta Breez Radiance RAD80L Exhaust Bathroom Fan features a long-lasting DC brushless motor that makes it energy efficient compared to standard AC units. For long-lasting use, it is made from corrosion-resistant galvanized steel with a 3-year manufacturer warranty.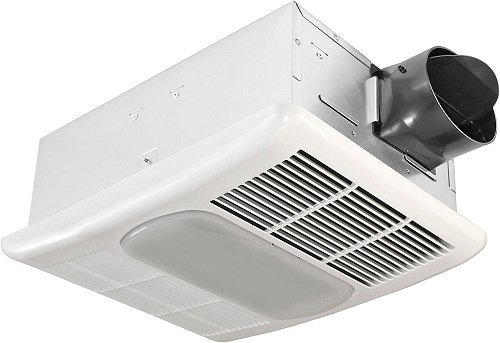 What to Consider When Buying a Bathroom vent Fan
Despite bathroom exhaust fans being straightforward fixtures, you should certainly ensure that you're making the right purchase decision when searching for these installations. Here are the factors you need to consider before you swipe that credit card:
1-    Size
The first thing to consider when searching for a bathroom exhaust fan is the size of your bathroom. Bathroom fans have varying specifications with CFM ratings that determine the amount of air per minute. The numbers indicated refer to the cubic meter measurements of a bathroom that the fan can ventilate effectively.
2-    Level of Noise
When looking for bathroom fans, you should consider the units' sound rating. The lower the noise levels, the quitter the fans. Choosing a noisy fan may keep you awake or annoyed instead of enjoying a quiet relaxing bath. It may also be irritating and keeps you awake if you need to keep it running all night long. As such, consider whisper models for low-noise operations.
Some excessively low operating fans have an on/off indicator light that enables you to know if the fan is operational or not. The best exhaust fan that is quiet should have a brushless motor. They have low operational noise since there are no brushes that grind against each other when the fan is running.
3-    Energy Rating
You should purchase a bathroom fan that consumes less power as possible. This will not only minimize the electricity bills but also reduces overall carbon footprint production. Note that just because the fan is large, it doesn't necessarily translate to high power consumption. You will find large fans that conserve energy and small fans consuming a lot of energy. That said, ensure that you read the unit's specifications cautiously and compare several options before choosing a model with high efficiency.
4-    Vent Type
You should pick an exhaust fan that is suitable for your bathroom specifications, including the location and ductwork configuration, among other factors. There are three main types of bathroom vents, namely:
Ceiling mounted vents – these are the most popular type of bathroom fans. As the name suggests, ceiling-mounted vents are installed into the ceiling, and the vents connect outside via ducts that run through the roof.
Wall-mounted vents – these vents are fixed into the exterior wall and suck air directly from the outside. A major advantage of these models is that they don't require duct connections.
Inline vents – also called remote vents, they can be installed in either the walls or ceilings. For these vents, the motor is placed between the ducts and pulls air from the outside environment remotely. Inline fans are a good choice if you need multiple fans in a large bathroom.
5-    Smart Options
Modern exhaust fans feature smart options that make them highly flexible. Some of the smart features to look out for include:
Motion activating sensors – the sensors turn the exhaust fan on when a person enters the bathroom. The fan speed and other features can be pre-set to remove moisture from low-volume everyday tasks such as shaving. However, you will need to activate the fan for high-volume tasks such as showering.
Overhead lighting – such fans can be switch-activated by motion sensors as well.
Night light – these models feature a low-wattage light that helps users find their way in the dark.
Humidity sensors – fans with humidity sensors switch on automatically when they detect high levels of humidity in the bathroom.
Built-in heaters – they feature infrared heat lamps that provide some warmth when the external temperatures are low.
6-    Durability
Like any other home equipment, you should ensure that your bathroom exhaust fan of choice lasts long and provide value for your money. The bathroom environment can be tough on electrical equipment due to the prevailing wet and humid conditions. Therefore, you should ensure that you purchase a unit that can withstand these tough working conditions as much as possible. Indicators of such units include lubricated motors and galvanized steel frames that help the fan last longer under these conditions.
---
Best Bathroom Fan Brands
Among the key consideration when choosing a bathroom exhaust fan for your home is the brand. Different brands have various product options with some performing better than others in terms of durability, price, and other features. Some of the best brands include:
Panasonic
Panasonic is an established household name that has been on the market for quite some time. This brand not only manufactures bathroom fans but is also successful in other luxury home elements and electronic products, including TVs and razors. Customers who have used the Panasonic line of exhaust fans are happy with their products, attesting to their strong brand loyalty. You will find a wide range of bathroom fans that suit multiple budgets.
Broan
Broan is another reputable brand that offers high-quality products. Though a lesser-known brand compared to Panasonic, Broan is best for trendy and reliable exhaust fans for modern applications. The best models from Broan feature wireless Bluetooth speakers that enable users to enjoy their favorite music while showering. However, a major setback for Broan models is that they have similar CFM airflow ratings. Therefore, you might not have a lot to choose from if you have a small or large bathroom.
Delta
Delta is another upcoming brand to look out for. The company offers the most affordable bathroom exhaust fans without sacrificing their quality. Delta provides ultra-quiet fans with indicator lights at the base to alert you when the fan is operational.
Best Bathroom Fan FAQs
Which is the best place to install the exhaust fan?
The best spot to install your bathroom exhaust fan is above the shower or bathtub, depending on your bathroom layout. However, this may not apply if the fan comes with a heating element.
How long should you leave the bathroom fan after showering?
There is often a lot of humidity accumulating in your bathroom after showering. Therefore, you should leave the exhaust fan running for some minutes to ensure that the bathroom environment is left dry. In most cases, the power of the fan and size of the bathroom determines how long you will leave the fan running. Generally, 20 minutes should be enough to clear any humid air from your bathroom in standard bathrooms with appropriately sized exhaust fans.
Do bathroom exhaust fans consume a lot of electricity?
The amount of electricity consumed by your exhaust fan depends on the size of the fan, power, and how long you leave it on. However, the majority of the units mentioned above do not consume a lot of energy.
Can the fan be used separately from the light?
Nearly all bathroom exhaust fans can be set up to operate independently from a separate switch with the light. However, these installations entirely depend on you. If you want to wire them up together or not, the choice is yours.
How often should I clean the fan?
Most manufacturers recommend that homeowners should clean the fans after every three months. This is because continuous use creates static electricity that restricts air movement.
Can I leave the bathroom fan all night?
Leaving your bathroom exhaust fan all night is not recommended at all. Doing this will not only make the air dryer than required but also increases the dangers of overheating. If the fan is installed properly and is of high quality, you don't need that much time to eliminate excessive humidity from your bathroom.
Wrap Up
There is absolutely no reason to endure poor air quality, foggy mirrors, and unpleasant smells in your bathroom. All you need is a bathroom fan with the right CFM rating that suits your bathroom size. The bathroom exhaust fans we've reviewed here don't use a lot of electricity and operate quietly, so they won't disturb your peace.
That said, we like the Panasonic FV-30VQ3 Whisper Ceiling Ventilation Fan because of its superior performance and quiet operation. The Broan SPK1110 Bathroom Fan with Speaker and Wireless Technology is also an excellent choice for its advancing technology that enables homeowners to enjoy music and fresh air in their bathrooms.
Ultimately, your choice of the best bathroom vent fan with light and heater will depend on your personal style and preference. Now, go ahead and pick a fan that will enhance comfort in your bathroom space.