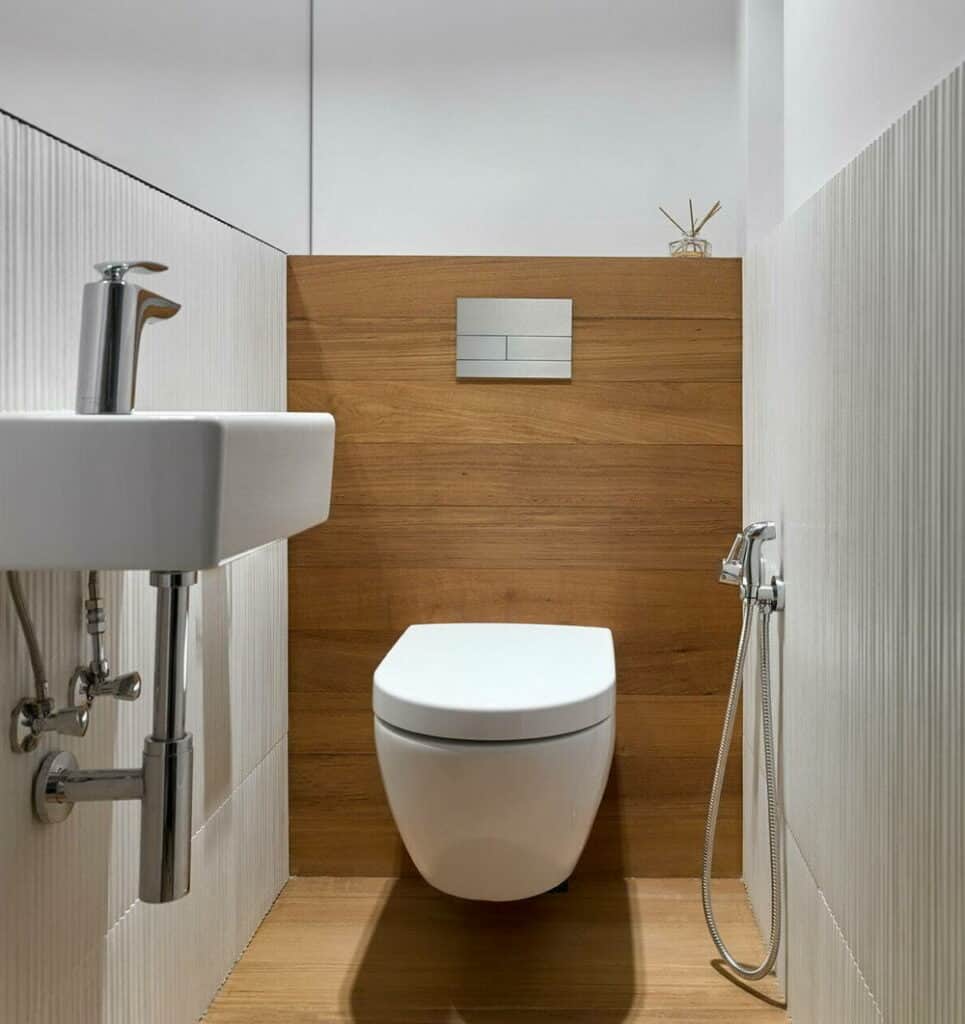 Traditionally, toilets were similarly sized, with the only difference being the shape of the bowl (round or elongated). Nowadays, manufacturers have designed a wide range of toilet styles and sizes to meet various needs of customers.
The best toilets for small bathrooms can make even the tiniest bathroom feel and look nice.
These toilet designs can help you maximize space in your small bathroom since they occupy minimal space and make the bathroom more spacious, leaving space for even a vanity counter.
In this guide, we highlight some of the features of the best toilets for small bathrooms, plus a detailed buying guide to help you make a more informed decision and choose some of the best compact toilets available.
In the comparison table below, we've highlighted some of the most important features of each product. You'll find more detailed information about each product later in the article.
Top 10 Best Compact Toilets for Small Bathrooms Reviewed
The TOTO CST244EF#01 is a perfect choice if you want to save water and still maintain elegance. The two-piece unit is made of vitreous china with a classy and sleek look. Its elongated shape and the skirted design will enhance the aesthetics of your bathroom. For a more stylish and dramatic look, you can choose between color variations such as matte black, bone, beige, or the standard cotton-white.
The unit has a compact body that occupies little space in small bathrooms. During installation, the rough-in measures around 12 inches, therefore, saving more room. Both children and adults find it comfortable to use because it has a universal height.
The TOTO CST244EF#01 toilet features a E-Max 1.28 GPF flushing system, creating a powerful flush rate that also meets the EPA Water sense requirement. This means you will be reducing water consumption at home.
The toilet is made of a 2.125-inch trapway which removes a maximum of 800g of solid waste per flush, eliminating toilet clogs. Its flushing method is gravity-based, which makes flushing very quiet.
You also have the freedom of choosing from a variety of colors to suit your bathroom theme. To make the installation easy, it comes with a clear manual so you can save the cost of hiring a plumber.
The American Standard is among the top brands in bathroom products. The Cadet 3-FloWise 1-Piece 1.28 GPF Single Flush Elongated toilet has an elongated bowl that is more comfortable to use. It has a single flush system that only uses 1.28 GPF (Gallons per flush).
This saves about 20% of water when compared to the standard 1.6 GPF. Due to its compact form, it can be fitted in squeezed areas since it occupies little space.
What makes this toilet exceptional is its height of 15.6 inches, which makes it ADA compliant, and therefore, suitable for people living with disabilities. Its flush valve is 3 inches, which is over-size, to create a very powerful flush. A single flush handles 1,000 grams of waste!
Although this toilet is a single flush, it power-washes the bowl using a pressurized rim hence keeping the bowl sparkling clean after each flush. To prevent clogging, its trapway is 2 1/8-inch wide. The ErverClean surface prevents mildew and mold from growing. With all these put into consideration, this is a highly rated compact toilet.
The WOODBRIDGE Cotton White T-0019 Dual Flush toilet saves water while offering great performance. It uses a dual flush system with a stainless steel button positioned on the cistern lid.
The button can be pushed down halfway for a light flush or all the way for a full flush of 1.28 gallons of water. These dual flush toilets save a lot of water, making them economical, even when compared to other compact toilets for small bathrooms. In addition to complying with Water Sense requirements, it is also certified.
The WOODBRIDGE Cotton White T-0019 Toilet is designed with a comfortable height, making it suitable for those with reduced mobility. For easy installation, the unit comes with a full installation kit and a pre-installed seat that closes quietly.
But despite the installation process being very easy, doing it yourself can be confusing. The model also comes with a 5-year warranty, which suggests that the manufacturer trusts in its durability.
Finally, it is also heavily featured on best compact toilet lists such as this one, as users enjoy its quiet flush and slow closing seat.
Widely considered one of the best compact toilets overall, the Saniflo Sanicompact One Piece toilet is one of the easiest toilets to install. It is also the best compact toilet for small bathrooms, especially for a half bath. This ability to fit into a limited bathroom space makes it a good choice if you want to quickly add half baths to squeezed spaces such as the basement, bedroom, attics, garage, an empty closet, or under a staircase.
This is because this self-contained unit doesn't require the installation of a plumbing system or a tank for that matter. You only need to connect it to a nearby water source. Therefore, no professional expertise is needed during the installation.
The Saniflo Sanicompact One-piece toilet can be installed in places where conventional toilets cannot since it uses a macerating feature that chops waste into a slurry then pumps it into a 1-inch pipe leading to a drainage system, just like upflush toilets.
Because of this, you can install this compact toilet just 20 inches away and 9 inches below the main drainage pipe. To add to this, it can pump water up to a distance of 9 feet vertically and 100 feet horizontally.
The design also allows for connection to a sink and flushing water from the connected sink. Water consumption is low because the flushing mechanism is set to allow only up to a gallon of water per flush, which is much less than even the 1.28 gallons per flush standard for a compact space saving toilet. Although it might be expensive, you will certainly get value for your money due to the continuous reduction of water bills.
Frequently featured in compact toilet reviews, Wellworth Elongated 1.28 gpf Toilet is a high-efficient toilet from Kohler with a versatile style. It uses an AquaPiston technology that has a patent flush engine. This innovative technology applies a powerful, fast, and plug-free flush. It only uses 1.28 gallons per flush, which reduces water consumption. Moreover, the toilet effectively flushes away solid waste and toilet paper, keeping your toilet clean.
This two-piece toilet is small and compact, and elevates your bathroom's style and look. Even with its small size, it has an elongated toilet seat with a standard height, making it comfortable for everyone. You can fit it in small spaces to save space since it is neither too large nor too small.
Just one flush is enough to clear the bowl and clean it, making the flushing systems of this toilet model very effective.
This is made possible by the fact that water gets into the valves from all sides, which results in a smooth flow into the bowl. Like other toilets from Kohler, this unit has an improved flush power due to the usage of gravity.
Additionally, it is one of the most affordable toilets of its kind in the market. It is also very easy to install and comes with a metal bracket at the bottom to support the tank. Therefore, you don't have to bore holes in the wall to fix it. The three pre-installed tank bolts save installation time, making this wall mounted toilet one of the best kohler toilets on currently available.
The Galba small toilet is one of the shortest projecting adult toilets available, measuring just 13.5×24.5×28.5 inches. Even with its small size, it does not forego the features of a full-sized toilet in terms of comfort.
Its compacted features of this galba toilet mimic those of standard conventional toilets. Children, as well as adults, can comfortably use it. Since it is very compact, it saves space and is not difficult to install, while remaining compatible with just about every supply line.
The best feature in this unit is its self-cleaning surface. After all, who likes cleaning toilets? To make it durable, this toilet is made of materials that are resistant to rusting, fading, and discoloration. It maintains its new look even with minimal cleaning.
The strong plastic material used to make the toilet seat is sturdy and looks glassy. Additionally, its dual flush system saves water by using 0.8 gallons per partial flush and 1.6 gallons per full flush. There is less noise during flushing, making this galba small toilet one of the best space saving toilets for an office settings.
Do you want to seamlessly fix a dual flush toilet into tight corners or small spaces? The White Ceramic Round Space Dual Flush Corner toilet is your perfect product. 
The unit is from The Renovator's Supply and comes with a contemporary design that will enhance the décor of your bathroom. Moreover, the product is made of White Grade A Vitreous China which is resistant to stains and scratching. Therefore, if you are looking for a durable compact toilet, this is it.
The contemporary look of this small toilet is suitable for different design settings. It also features a modern dual flush mechanism with a push-button system for easier usage.
It uses up to 0.8 gallons of water per partial flush and 1.6 gallons for a heavy flush. Cleaning this toilet is made easier by a Reno-Gloss finish.
Finally, this toilet functions just like a full-sized one, only that it saves water and space. However, it does not come with bolt covers and floor bolts. This means that you have to get them separately. Also, some people find the round toilet bowl uncomfortable to use.
If you love the splash of cool colors, the Kohler 3810-0 Santa Rosa toilet could be your best choice. It comes in a variety of colors, including sandbar, black, ice gray, and biscuit. A change from traditional white is good, although it is still available if you want to keep things unchanged. It has a perfect height, adding comfort to its style and sophistication.
Nobody likes to hear noises when using a toilet, especially in the middle of the night. This model comes with a Brevia Quiet-Close seat, which as the name suggests, makes the seat close silently when dropped. Since saving water is critical, the manufacturer has set this toilet with a 1.28 GPF system.
Even while using such a little amount of water, it does not affect its performance.
You can do the installation yourself by simply following the instructions in the provided manual. However, you might want to get help if you have never done it before.
We have selected the Danze Orrington because of its compact footprint despite having an elongated bowl. It is ADA-compliant therefore can be fitted in restrooms used by employees or the public. Its tank is elliptical, making the entire unit smaller in dimension.
Moreover, the tank is wider but not thick, so the seat can be set back without getting in the way of the user.
You don't need to worry about cleaning this toilet – all the angles in this unit are rounded, which makes cleaning very easy. You also get to save on water usage since you only need 1.28 gallons of water per flush, which meets the EPA requirements.
If you are looking for a very narrow toilet, especially for your Recreational Vehicle (RV), we highly recommend the Aqua-Magic V RV Toilet.
No matter the type of RV you own, this model is versatile enough to be fitted in it. However, the VR must be able to allow permanent toilet installation. And because this is a moving vehicle, the toilet is designed with a lightweight plastic of 7.4 pounds.
Unlike regular portable potties for camping, the Aqua-Magic V toilet is fitted with a single-handle flush system that has two functions. First, it adds water to the bowl when pressed halfway and, secondly, it opens the valve to give the bowl a 100% coverage cleaning flush when pressed all the way down.
Since a single flush leaves the entire bowl sparkling clean, you will not have a lot of cleaning to do. Anyway, who wants to spend their recreational time cleaning a toilet?
With this product, you still get to enjoy comfort with a tall height of 18.5 inches from the floor to the lid. To make it more eco-friendly, you can fit it with a water-saving hand sprayer.
Its textured lid resists scuffs and sheds water, giving the fixture a home-toilet feel. In terms of durability, this toilet is not a good choice but the plastic gives it the lightweight required on moving vehicles. Other than that, the Aqua-Magic V toilet has excellent features and offers high performance.
Compact Toilets For Small Bathrooms: Buyer's Guide
When buying a compact toilet, make sure you don't forego the most important elements which make up a toilet. These are some of the factors you should consider when shopping for a compact toilet for a tiny bathroom:
Space Saving
Now that your bathroom is already small, you have to find a way to make it hospitable for your family and guests.
Besides being compact, small bathroom toilets also have space-saving elements. For instance, some can be installed in corners, saving the rest of the bathroom space fixtures such as shower heads.
Others do not require a large tank like standard two-piece toilets do. These space-saving elements make them ideal for a half bath or squeezed spaces.
With a compact one-piece toilet, you can save ample vertical space and use it for shelves or a sink.
Low Water Consumption
About 47 percent of the water in households is used in the bathroom, with more than 24 percent of that used in flushing toilets. Putting this concern in mind, get a toilet that saves on water. Check if the toilet is EPA Water Sense compliant.
Such toilets use only 80 percent or less water compared to standard toilets. Fortunately, suppliers are using incentives to encourage people to get these models.
In some locations such as Los Angeles, it is mandatory to have an EPA compliant toilet.
If the toilet has a dual flush system, that's a plus. Choosing between a partial flush and a full flush depending on the need to save gallons of water.
Therefore, take your time to compare different toilets and settle on one that saves water the most. They might be a bit expensive but economical, saving you a lot of money in the long run.
Most of these compact toilets consume a maximum of 1.6 gallons of water per flush while others go as low as 0.4 gallons per flush. So, how much water would you have saved since standard-sized toilets use at least 7 gallons per flush?
Even after using 7 gallons, at times the flushing is not complete and you have to flush again. Compact toilets have a high flushing power to clear the bowl in a single flush.
Comfort Height
A home is where every member of your family fits, and their needs need to be considered. Small toilets have proven to be easier to use by kids without the help of an adult.
However, you can also find a small model with a comfort height of 17-19 inches, which is ideal for adults. You can get this in case you want a taller toilet while still getting a compact toilet designed for small spaces.
For people using wheelchairs or walkers, they find it easier to move around bathrooms with compact toilets that leave enough space on your floor for other things..
Dimensions
Before settling on a compact toilet for your tiny bathroom, measure the available space in your bathroom, including the clearance space. The clearance space is needed when doing fittings behind the cisterns. Also, don't clutter the bathroom.
Leave considerable distance between the sink, shower, and toilet.
The dimensions of the toilet are very important when you have limited space. As a rule of thumb, focus on the rough-in dimensions. This is very important, otherwise, you may have to send back the product.
Comfort
Ensure the toilet has a comfort height and bowl. Very small toilets might be comfortable for kids and short adults but very uncomfortable for tall people, the elderly, and people with disabilities. Legroom is also important because it determines how comfortable one will feel when using the toilet.
No matter how small the space is, you have to spare room for the legs. Generally, an elongated toilet bowl offers more comfort compared to round bowls. It can extend up to 31 inches from the wall, though the best space saving toilets will reduce this length even further.
However, you don't have to compromise personal comfort for size.
Remember that there are specific requirements for toilets intended for public use, so consider that as well if the toilet will be used by multiple people.
Toilet Seat
Some toilet models do not come with a toilet seat. Therefore, it is important to check if it is provided. The cost of the toilet is either worth it without the seat or not.
Obviously, you need a toilet seat that matches the toilet for that matter.
Material
In terms of the material for the toilet bowl, it can be made of either ceramic/porcelain or vitreous china. Porcelain/ceramic is cheap to manufacture, very durable, easy to clean, and waterproof.
Vitreous china is a glassy glazing material added to the ceramic to make it denser and shiner. Be keen on the type of material used in every part of the toilet. It can be plastic, stainless steel, or other cheap materials. The material determines the weight and durability of the product, so pay close attention to it.
Most toilets for small bathrooms are made of one of these two materials, so you shouldn't have trouble finding a toilet model that suits you.
Noise
Pressure-assisted toilets are very effective but function with a lot of noise. If you want to go for a toilet that flushes quietly, choose one with a gravity flushing system. Another worry when it comes to noise is when slamming the toilet lid.
Well, a problem shared is a problem solved. Manufacturers have come up with models whose lids close quietly while others have a slow drop. Others even have lids that can be removed during cleaning.
Cost
The finest compact toilets for small bathrooms tend to be quite expensive since they have improved features. Those features include reduced size, effective flush systems, combined tank and bowl, self-cleaning elements, and many more. Judging from how useful these features are, incurring a few more bucks to invest in them is worth it.
However, it is up to you to decide how far much you are willing to spend on a compact toilet.
Flushing Rate
A toilet's efficiency is determined by the amount of water it uses for effective flushing. Every toilet has a specific flushing system. Some toilets have large flush valves that enable more water to be flushed at a fast and more powerful rate to prevent clogs.
Others toilets have large trapways that prevent clogging when you use a bit too much toilet paper. If you want to get the best value for your money, ensure you consider this aspect to avoid the scenario of using a toilet plunger more often.
Durability
If you are going to spend money on anything, it is logical to check its durability. Some toilets are more expensive but more durable while others are cheap but less durable, of course.
This calls for you to play your cards right. If a toilet's comprehensive warranty is long, the model is likely to be very durable.
Ease of Cleaning
Cleaning the toilet is not a task many people enjoy. With that in mind, choose a toilet design that is easier to clean. Sharp edges are more difficult to clean than rounded ones. Some toilets have a self-cleaning technique and non-clog functionality, therefore, cleaning them is easier.
Style
Very few people purchase products for their homes without considering personal style and preference. You will always want to get something that goes well with the style of the rest of the bathroom. The same applies to compact toilets.
At the end of the day, you are spending your hard-earned cash, so you might as well get a product you actually like. The products we have recommended above can allow you to enjoy a luxurious, dramatic, sophisticated, or elegant look with compact toilets. Also, pay attention to the color. Off-white and standard white are very different colors.
Ease of Installation
Lastly, check if how technical the installation process is. Installing compact toilets is a bit difficult compared to standard toilets. Fortunately, most of them come with a detailed manual which makes the process easier.
If the process is complicated, you will have to get a professional to install it. Moreover, if you don't have an existing plumbing system, choose a model that doesn't require one.
Another important element during installation is the availability of fittings, bolts, and fixtures. Some models have these included in the package while others do not. Either way, you must have them to complete the installation.
Therefore, you have to choose a model that includes all the necessary fixtures if you don't have any in storage.
Wrap-Up
Having gone through our list of the top compact toilets for tiny bathrooms plus the detailed buying guide, we hope we've pointed you in the right direction.
Now, it's time to weigh your options and pick one that suits your style, preference, and budget. Feel free to reach out to us if you have further questions or if you wish to recommend one that we probably missed out.