As people continually embrace the idea of environmental conservation, a lot of effort has been directed towards reducing carbon emissions. At home, there is no better way of achieving this than using composting toilets. Unlike the standard sewer-connected toilet, the best composting toilet for caravans uses less power and water, with some not using electricity and water at all.
The majority of people who adore composting toilets are seasoned campers and hikers who spend lots of time in the woods. As an outdoor enthusiast, you'll prefer composting toilets since they don't use much water to flush waste. This makes them an eco-friendly and perfect way to "give back" to the environment. Through composting mediums, composting toilets convert waste into fertilizers that can enrich gardens and reduce the overall carbon footprint.
Note that composting toilets decompose waste much faster than conventional toilets. But if you are on the search for the best, luxurious, and high-tech composting toilet, it's important to do your research well to get value for your money. In this guide, we highlight some of the best composting toilets on the market as well as a detailed buying guide to make your shopping experience easier.
Who Needs a Composting Toilet?
Originally, composting toilets were restricted to portable camping toilets, RVs, houseboats, holiday cabins, and tiny homes. However, you can today find them even in regular contemporary homes. More families are installing these toilets to their bathrooms due to their unmatched efficiency. They convey waste into a composting tank (instead of sewer lines), where they are recycled. This makes them ideal for homes in rural areas where water supply is unpredictable or insufficient.
Top 10 Best Composting Toilets for Caravans
Quick-Comparison
*Ratings courtesy of Amazon at the time of publication and can change!
If you can afford to spend more in an advanced composting toilet, the Thetford Porta Potty Composting Toilet should be your product of choice. The unit comprises of two securely attached parts that can be dismantled when necessary. The top half holds up to four gallons of flushing water while the bottom half holds 5.5 gallons of waste.
The Thetford Porta Potty Composting Toilet is quite a comprehensive unit, and that's why it tops the list of our best composting toilet reviews. It comes with its own flusher, seat, cistern, lid, and toilet paper receptacle. The lower half, which houses the waste, is odor-sealed with a valve. Besides, the toilet has its own branded deodorizer. The top segment has a water level gauge that makes it easy to tell when a refill is necessary.
Emptying the toilet tank is easy as the spout and valve prevent splashback. You can pre-wet the bowl by pressing the add water button. This creates a liquid film that prevents waste from clinging on the toilet bowl. Any waste can then be easily emptied to septic tanks or regular toilets. Remember to pour some deodorizer into the toilet after cleaning to remove any bad smells.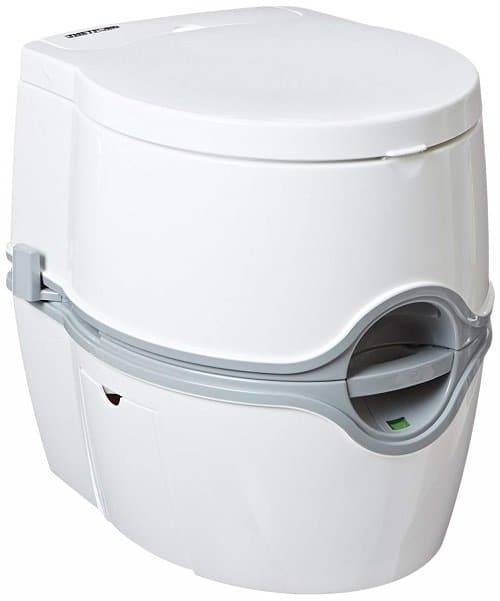 Separating solids and liquids is an important functionality of compost toilets. However, other models, such as the Camco Portable Travel Toilet, use a different approach. This unit opts to separate the flush tank from the waste storage tank. However, the two components are linked together by two firm latches that prevent cross-contamination.
The latches function to prevent the toilet seat from sliding off when being used. However, the latching system is easy to slide apart when it's time to empty the 5.3-gallon waste tank. Although the Camo portable composting toilet is not a completely dry toilet, it uses few ounces of water per flush. The portable cistern only carries 2.5 gallons of water, which is almost half the amount of water used by regular toilets.
The top flush tank is separated from the waste tank by a sliding gate valve. The valve is both scent-roof and waterproof, which eliminates any worries of smells when the unit is functional. Camco Portable Travel Toilet works well for temporary situations and off-grid homes. They are not only easy to carry around but also odor-free.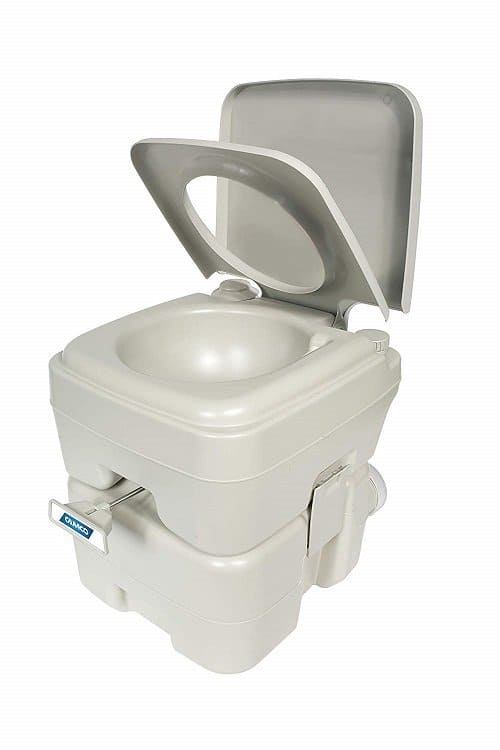 One of the best models from Nature's Head is the Nature's Head Self Contained Composting Toilet. The unit's quality is not only ascertained by Amazon ratings but is also among the cheapest options available on the market. Don't worry about its cheap price, as it doesn't compromise on the toilet's features.
Nature's Head Self Contained Composting Toilet is a space-saving and innovative unit that perfectly suits toilets with limited space. Like other dry toilets, it doesn't require any water supply or sewage connection. This makes it easy to install and maintain. Similarly, since there is no water connection required, it is perfect for boat or RV use.
To empty the tank, you can pop the clips on either side of the liquid tank and pull the whole unit with the handle. The solid waste tank that comes with the toilet can accommodate up to 90 uses before requiring emptying.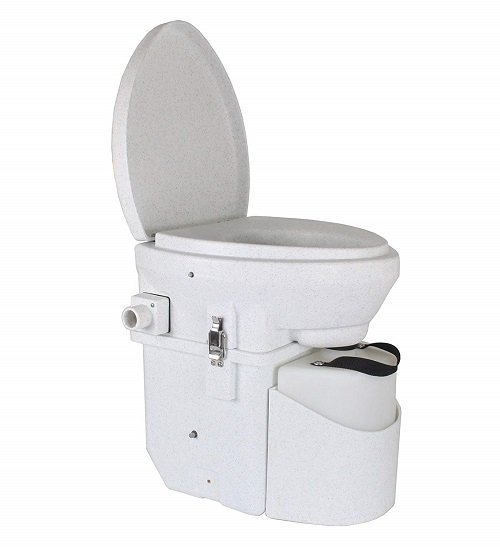 Some composting toilets may not have the necessary aesthetics but come with quality features and benefits. The Sanitation Equipment Visa Potty Composting Toilet is a perfect example of one unit that both beginner and advanced users can install with ease. Although it doesn't have an appealing look, it has outstanding functionalities.
An outstanding functional feature of this unit is the replaceable piston pump with a two-directional rinse. This provides for complete bowl surface coverage cleansing, eliminating the need to clean the bowl often. The bowl is also extra deep to enable users to sit comfortably and reduce splashes during use.
The Sanitation Equipment Visa Potty Composting Toilet is an excellent off-grid composting toilet. It doesn't rely on powered fans but comes with a sample-sized deodorizer that eliminates bad odors. For those who want a less complicated all-in-one system, this is a good choice with all the necessary features.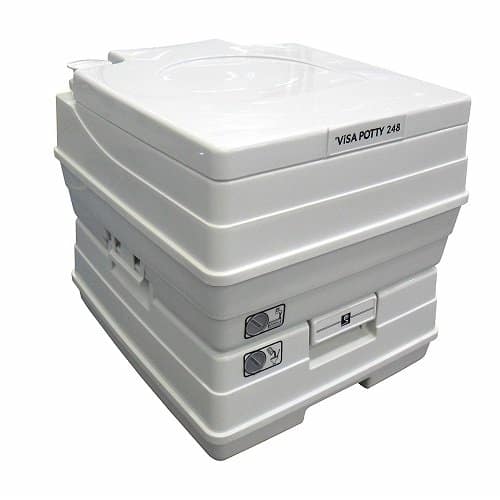 If you are an outdoor enthusiast, you have probably used a bucket to answer nature calls once in your outdoor escapades. Well, the Stansport Portable Composting Toilet takes your idea further by adding a comfortable toilet seat into your bucket concept. This not only provides additional comfort but also comes with an aesthetic appeal.
The Stansport Portable Composting Toilet is popular with campers, hunters, and survivalists. It can hold up to 5 gallons of waste, thus only lasts a day or two before necessitating emptying. It comes with disposable plastic bags that can be dumped into standard sewer lines or septic tanks.
You will certainly like the Stansport Portable Composting Toilet because of many reasons, including affordability. Once lined with a doodie bag, you can be sure that the bad odor will be kept in. On the outside, the toilet won't absorb any pee smell. It also comes with a toilet lid with a strong snap mechanism to avoid spills and smells after use.
This bucket-looking composting toilet features a 5-year warranty, making it more reliable than it looks. When empty, it weighs approximately 3 pounds but can get heavy when full. However, carrying it won't be challenging, thanks to its bucket-style metal handle.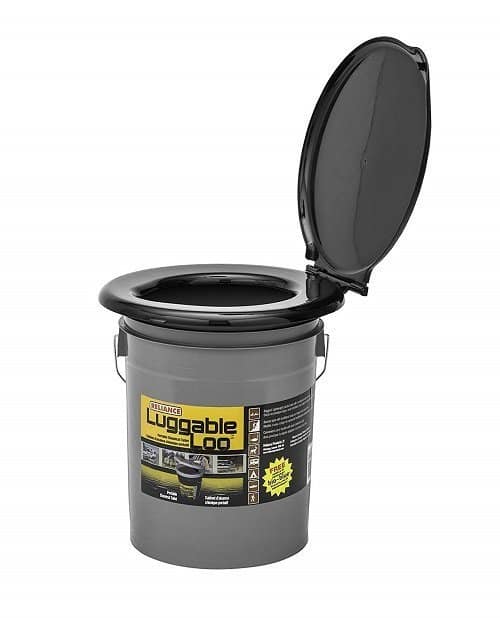 The Thetford Corp White 92853 Composting Toilet is a lowly priced camping toilet that comes with a straightforward design and many great features. Apart from the indicator line that makes it easy to know when to empty the waste tank, it has a rotating pour-out spot that simplifies emptying. This makes it a good option for those who hate disassembling composting toilets.
Odors in the unit are kept at bay by the tightly sealed valves. It also comes with a removable seat and cover that makes it user-friendly. It thrives on a piston pump flush system with a considerable punch when in use. Like other Thetford products on the market, you don't have to worry about its weight, weighing only approximately 11.4lbs.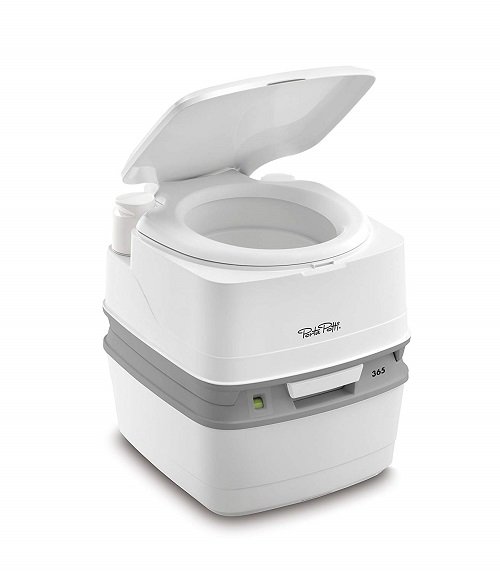 The Natures Head Dry Composting Toilet is another high-priced composting toilet and the flagship model of this manufacturer. The unit comes with a 5-vent hose, power plug, and bottle cap. All these are organized in a way that even beginners will find it easy to operate. It does not only have the most moving parts on this list but also the clearest operation manual.
It features a hand crank agitator at the base that takes care of composting with smooth operation. The ease of use makes it among the few user-friendly composting toilet options that all customers appreciate spending a little extra on.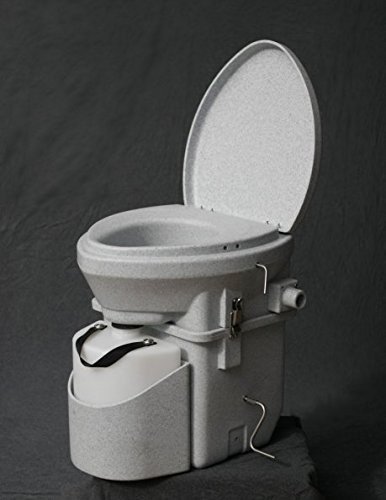 The majority of composting toilets have basic and simplistic designs, but the Sun-Mar GTG Composting Toilet breaks this rule. It comes with a D-shaped seat and a conical base that aligns with various European sensibilities. Besides its eco-friendly nature, this design brings some style into your off-grid home.
Apart from the extra-good looks, this is a basic no-frills composting toilet. It has separate chambers for liquid and solid waste. However, it doesn't have an in-built mechanism for turning the solid waste and doesn't compost in-situ. This means you will have to dump any collected waste into a septic tank or outdoor toilet.
The unit is approximately 18-inches high, making it suitable for elderly users. Its elongated seat is 24-inches long, which offers a comfortable seating angle. Whereas it doesn't flush water, it has an air vent and small fan at the back for odor management. Sun-Mar GTG Composting Toilet is made from fiberglass held together by metal hinges and screws. This makes it quite heavy and not perfect for traveling. The urine bottle and waste bucket should also be emptied separately.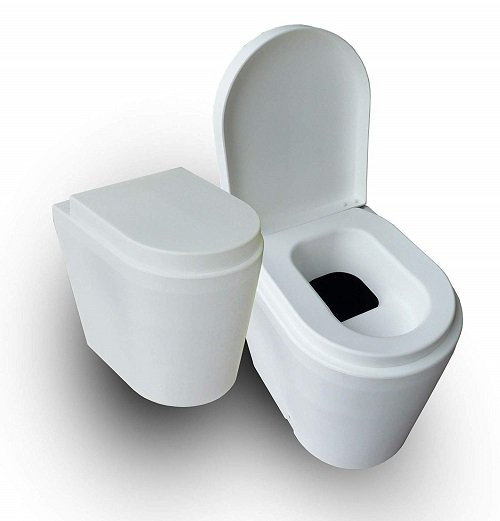 What most people think of composting toilets is that they decompose waste indoors. Well, this is slightly true, but there are other ways that composting toilets can save electricity and water. The Stansport Portable Composting Toilet is a perfect example as it doesn't directly decompose the waste but makes it easier to protect your home's groundwater.
Instead of directing waste into the sewers and landfills, the Stansport Portable Composting Toilet offers an easy way to dispose of waste. You can place this unit over the plumbing, either indoors or outdoors. Its versatility makes it perfect for road trips and can be used by little kids due to its modest size.
The unit can hold up to 350 pounds of waste, eliminating the need for regular disposal. To use it, line the interior with a bag, which can be purchased from any Stansport store. Once the bag is full, you can dispose of it in a regular pit toilet or an approved human waste dumpsite. You can even dig a deep hole for solid waste if you are out camping.
Cleaning the Stansport Portable Composting Toilet is pretty easy because of its plastic make. The plastic is strong and tough enough to support adult weight. It also has a lid that prevents the toilet's smell from reaching the outside environment. However, to further control the odor, don't use regular garbage bags but use specialized Stansport bags.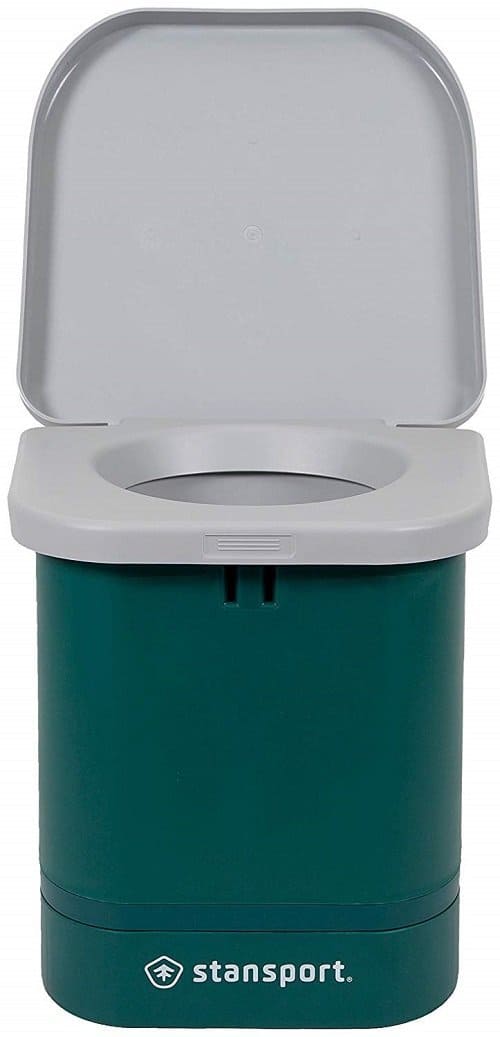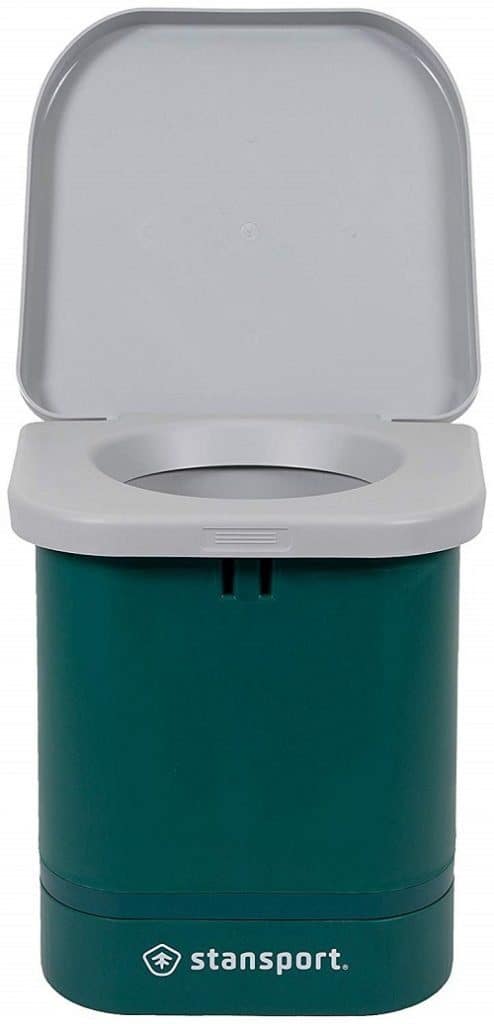 Composting toilets, as explained before, work by controlling solid waste decomposition and evaporating liquids. To achieve this, urine and solid waste should be separated. As the name suggests, the Separett Villa 9215 Composting Toilet does exactly that. The unit has a Swedish design, and unlike other units, it is a one-piece toilet, making it sturdy and eliminates the assembly process.
The Separett Villa 9215 Composting Toilet is customized for US users, meaning that its measurements and components match all the US standards. Unlike other composting toilets with a urine bottle, this toilet has a urine hose and a removable compost bucket with a lid. It also has a bin liner bag for easy disposal of solid waste.
Upon arrival, the packaging comes with one bio-tablet for cleaning. After the bio-tablet, you can continue rinsing the toilet with white vinegar at least once every week. The outside part is made from plastic which can be wiped with a damp cloth with mild soap.
The Separett Villa 9215 Composting Toilet has a strong plastic make. Whereas you don't need to worry about assembly, it requires some little plumbing. This makes it tough to install compared to other composting toilets on this list. Fortunately, it comes with all you require for installation, such as Allen wrenches, making it fun for DIYs.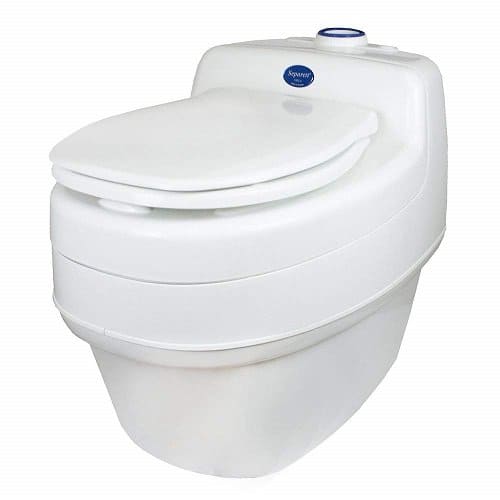 The Best Composting Toilet for Caravans
The Buying Guide
Shopping for a composting toilet can be tough. At a glance, you will think that all toilets are made the same. On the contrary, there are tons of differences when you get to the details about composting toilets.
Type of Composting Toilets for caravans
If you have never used composting toilets, you might be having lots of questions about the various types available and how they work. Whereas the working process of composting toilets is similar, their use may slightly vary. Some of the different types of composting toilets for sale include:
Self-contained
Self-contained composting toilets are a perfect option for residential homes. They can be either electrical or non-electrical and often come with several likable features. Electrical self-contained toilets have heating elements and a fan. The fan dissipates odors, keeping your toilet area free from unwanted smells. The heating unit, on the other hand, will help in evaporating liquids. Depending on the brand and model you choose, electrical models can consume between 80 and 150 watts.
Self-contained composting toilets are advantageous in several ways and they can be used without complex plumbing systems – they don't require water to function. However, you should assemble it correctly, especially the toilet's vent. Since the unit will evaporate liquids, you don't have to worry about dumping wastes. In general, self-contained units resemble the typical toilets you'll find in regular homes and can handle daily use. They are also easy to clean and maintain.
Central toilets
Central composting toilets come with either a one-pint flush system or a waterless system. Regardless of your choice, both are connected to a compost unit in the basement or outside your home. One-pint systems are less eco-friendly and not typical composting toilets since they require water and plumbing. As the name suggests, these units consume approximately one-pint per flush, which is less compared to traditional two-piece or one-piece toilets that use more than 1.6 gallons per flush.
Composting units of these toilets should be installed approximately 20 feet away from the toilet. This means that plumbing connections from the toilet to the composter are a necessity. As a result, they are an eco-friendly option that uses less water – a great option for residential use.
Waterless central composting systems, on the other hand, use no water. However, they use an airflow unit with plumbing pipe connections to transfer the waste from the toilet to the composting unit. They are a great water-saving option for those who reside in dry areas and looking to cut down on water bills. Additionally, waterless central composting toilets work well for cabin or vacation homes.
Split toilet systems
Split toilet systems are increasingly becoming a popular option for countryside residential homes. These units not only simplify your life by making the composting toilet easier to use but are also more affordable compared to other technologically advanced residential composting toilets. As the name suggests, split toilets are split into two areas – the tank and pedestal.
The pedestal comprises of the toilet area with a toilet seat. The tank is underneath the pedestal and houses the waste. Split units are great for home use as they typically separate the liquid from solid waste. Note that you will need to dump the solid waste in your compost bin whenever the tank fills up. Don't wait until it is too full, though.
RV composting toilets
As the name suggests, RV toilets are designed to be used in RVs. However, some are portable enough to be used on camping trips and road trips. RVs typically have a black tank that holds the waste, and you will have to empty out the waste in specific locations. However, using a composting toilet in an RV eliminates the need for using this tank, spraying harsh chemicals, or flushing waste.
As one of the best composting toilets on our list, RV composting toilets have a seating area and tank below. Some may include a separate container for liquids and solids, while others use the bucket-type system. Regardless of your choice, RV composting toilets are easy to use and clean.
Features of the Best Composting Toilet for Caravans
Below are the critical features to look for when choosing the best composting toilet:
Physical space
What is the ideal size and shape of your composting unit? Is your toilet spacious enough? While some units are designed for tight corners, others can fit everywhere. Some have to be installed above the toilet hole and linked to regular plumbing, while others require no plumbing at all.
You should identify where you plan to install the toilet before you make the purchase decision. This involves identifying the distance between the toilet and power and water sources. Other considerations include the type of flooring and distance to the wall, among others.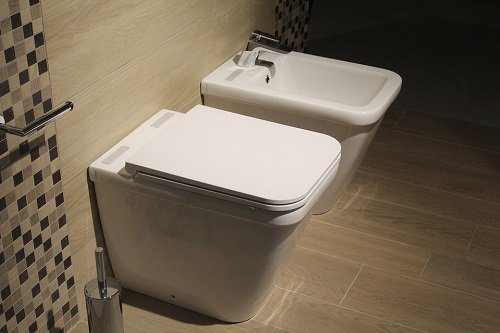 Tank capacity
How many people will be using the composting toilet? Well, some units can go for months before being emptied while others can only last a few days. This definitely depends on the number of people using the toilet and the frequency of use. Vacation cottages with composting toilets, for instance, are rarely used and won't fill up quickly.
But if you're shopping for a composting toilet for your tiny house, an RV, or an off-grid settlement, you need a composting toilet that can handle everyday use for prolonged periods. Estimating the intended use will help you choose a unit with sufficient storage capacity. Ideally, go for a unit that can go for one month or two before requiring emptying.
Local government regulations
In some states, you will need special permits to install and use a composting toilet. If you live in such regions, consult your local authorities before installing your unit. The authorities will inform you of the required regulations and provide a list of the composting toilet types approved for use in your area.
Besides, some units in our composting toilet reviews are self-contained, while others require that you dig a septic tank below the toilet or link it to a composting device within your backyard. Whichever the case, you will need a municipal permit and adhere to local plumbing codes before proceeding with any construction.
Weight
You should also put serious considerations into the weight of the unit before making a purchase. Some units with small capacities are lightweight and can be used anywhere, be it upstairs or downstairs. However, some are heavy and bulky. Heavy units are not flexible and cannot be used in some areas, such as upstairs or camping sites.
Safety
Safety issues when using a composting toilet arise in two areas: within the compost and around electrical hook-ups. Purchasing a poorly designed and malfunctioning unit is a recipe for nasty bacteria and pathogen accumulation in your toilet. The best and easiest way to enhance the safety of compost toilets is by conducting regular maintenance and purchasing the best available composting toilet for sale. The second aspect of security is with electrical hook-ups. They should be routinely checked and maintained.
Warranty
If you maintain, clean, and regularly empty your composting toilet, there is no reason to worry about abrupt malfunctioning. However, it is still a good idea to confirm that the unit you purchase comes with a reliable manufacturer's warranty. With this, you can be certain that you will get a replacement in case of unforeseen faults with the electrical system or any other parts.
Benefits of Using Composting Toilets
There are several reasons why people are turning towards composting toilets. They include:
Reduces water usage
Versatile – can be used anywhere, from RVs, to boats, to camping sites.
Low or no power consumption
Environmental friendly
Doesn't need household sewage – a great option for situations where septic tanks are expensive to build.
Best Composting Toilet Brands
Some of the well-known brands that produce some of the best composting toilets include:
Sanitation Equipment has been present for nearly half a century. Whereas you might not have heard of it in the mainstream home improvement industry, Sanitation Equipment is an excellent manufacturer of composting toilets. Some of the high-end portable composting toilets from Sanitation Equipment are great for camping or use in RVs.
If you are looking for a portable composting toilet to use occasionally and sterilize afterward, you will enjoy this company's products, especially because they manufacture their cleaning products as well. Spare parts are also easy to find and buy.
Thetford is another popular brand when it comes to composting toilets. It offers more than just composting toilets as it also manufactures traditional toilets, kitchen items, cleaning products, and more. Although they engage in multiple products, their composting toilets are among the best in our list.
Like Thetford, Camco manufacturers more than just composting toilets. Their main products suit RV users and include cover antifreeze, camping, cleaning, towing, marine, and other hardware categories. They currently have one composting toilet available for sale, which is rugged and popular among many users.
Sun-Mar is another great brand of composting toilets. The company has invested a lot of time and money to manufacture high-quality composting toilets. Sun-Mar not only engages in the production of dry toilets but also provides extensive information to various users about composting toilets that come in handy for those who have uncertainties.
Nature's Head is another popular brand with various composting toilets for interested individuals to choose from. Their products have several features that cover nearly every user need. Like other best brands, Nature's Head focuses on making products that are easy to use, so you won't have to worry about being stuck with a complicated toilet.
Wrapping Up
Finding the best composting toilet will not only save on water and electricity costs but also enable you to leave minimal carbon footprints on the environment. The unit converts your waste into fertilizers, which can be used in gardens and other green spaces. They also come in handy during camping trips, RV traveling, or when going off the grid to rural areas with limited water supply. Hopefully, this guide has helped you find a composting toilet that suits your needs and budget!
FAQs
Why prefer a composting toilet?
All composting toilets have a low ecological footprint. If you want to save on water and power usage, composting toilets should be your option. Note that traditional toilet systems use approximately 30 percent of household water consumption. Replacing your traditional flush toilet with a compost toilet can save you more than 6,000 gallons of water per year.
How does a composting toilet work?
Composting toilets have no difference with composting systems used at home. They help in speeding up the rate of decomposition, leaving you with manageable waste material. The end product is dry, odorless, and can be used as a fertilizer.
Does a composting toilet have a bad odor?
No. The solid and liquid waste is separated, leaving the system with no odor.
Where can the waste be emptied?
Any organic waste is good food for plants. Alternatively, it can be buried away. If you are on the go, observe your state's local dumping laws before disposing of your waste. Solid waste can be added to a garden compost bin and used as fertilizers. Liquid waste is full of nitrates, which make great fertilizers.