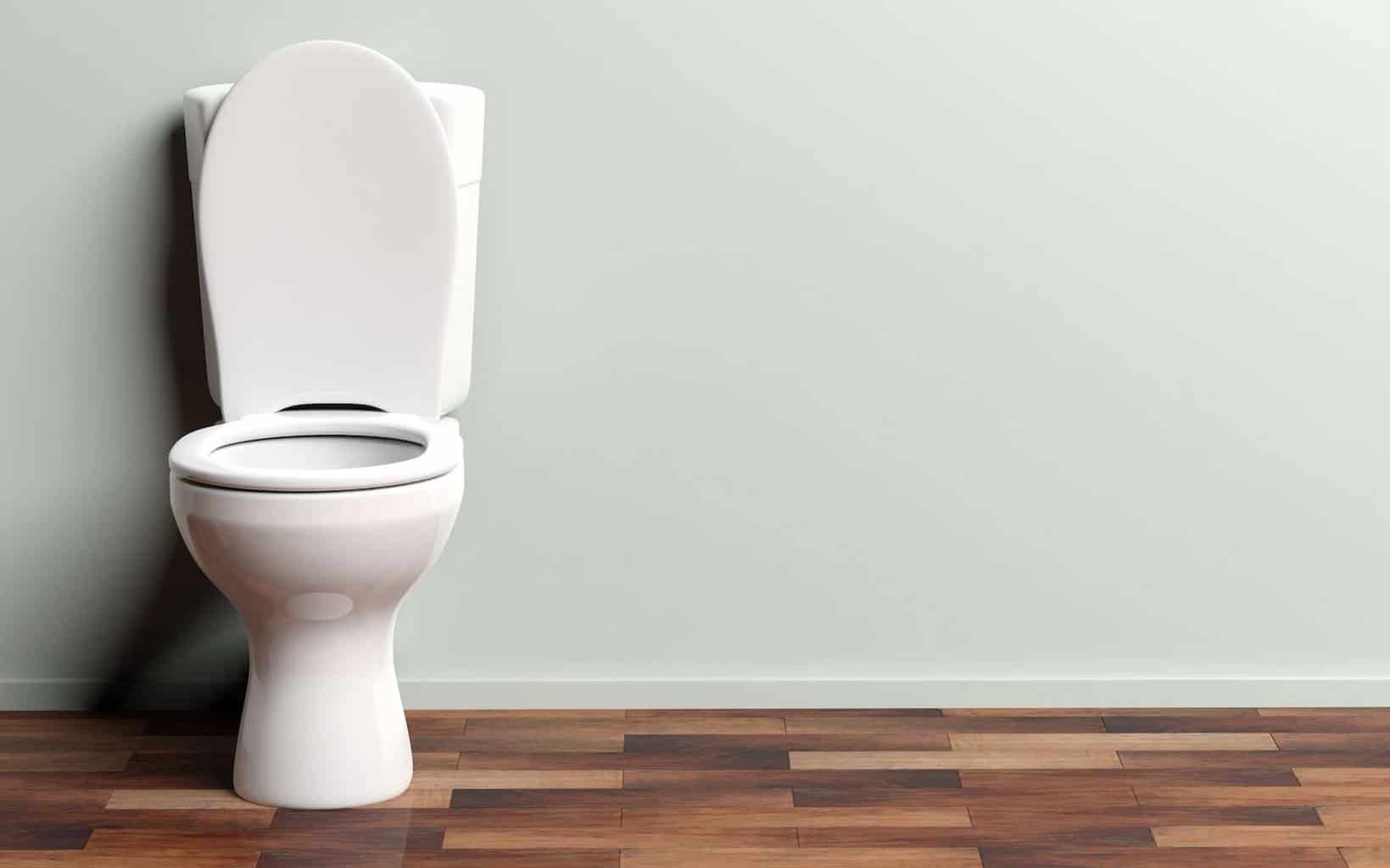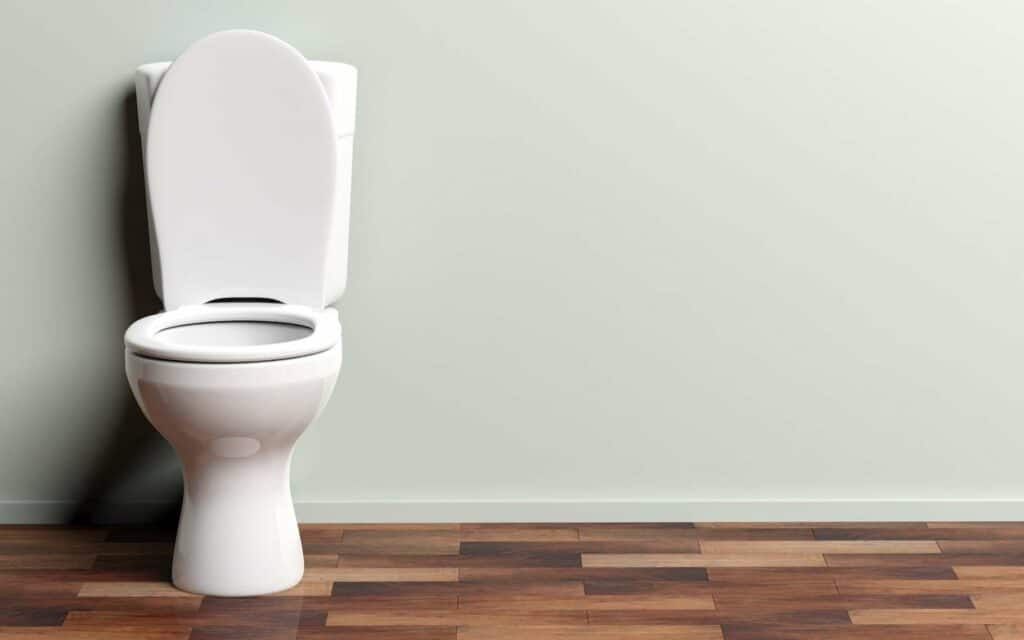 Your toilet should be able to flush down large waste successfully without clogging up, requiring more water, or taking too long to refill. Let's now take a look at the best toilets for flushing large waste. Our list consists of the most affordable and powerful flushing toilets on the market.
At a Glance: Top 10 Best Flushing Toilets To Buy
In the comparison table below, we've highlighted some of the most important features of each product. You'll find more detailed information about each product later in the article.
Best Overall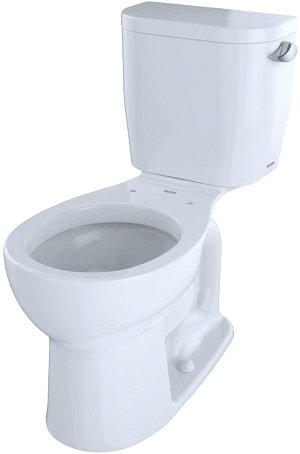 Best Runner-Up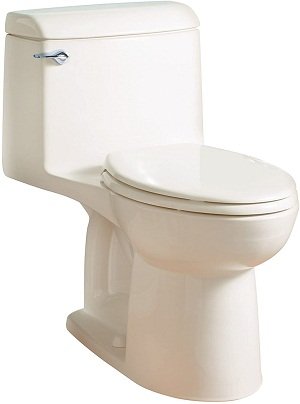 Best Comfort Height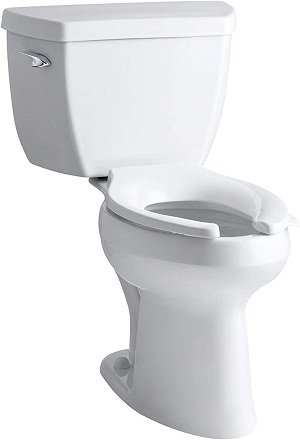 Kohler Highline
Potent flushing capability

Made in the USA

Can conserve up to 200 gallons of water in a year
Best ADA, WaterSense, Compliant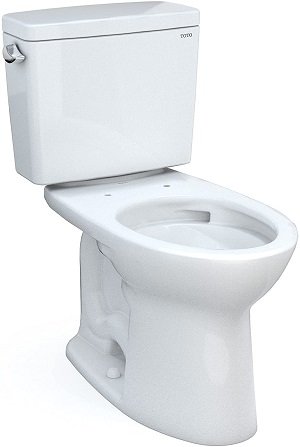 Best Budget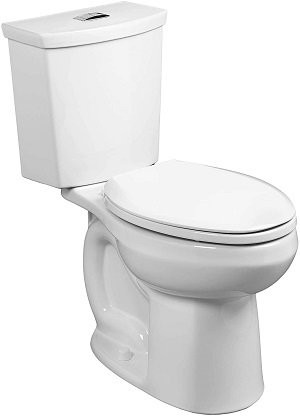 Best for Fast Flush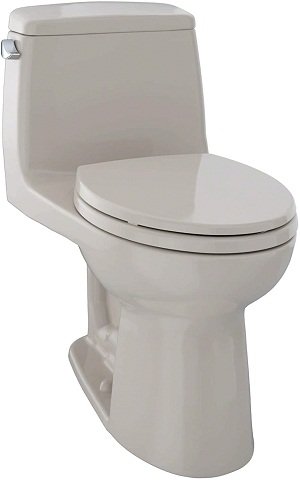 TOTO Ultramax
Its comfortable bowl

Slow and soft closing seat

Consumes less water per flush
Best for EverClean Surface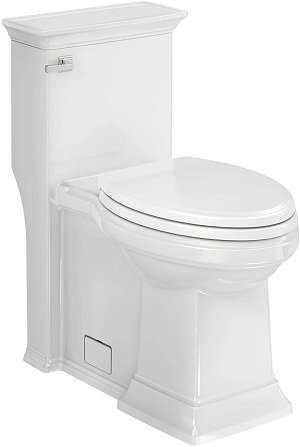 Best for Low Height Sitting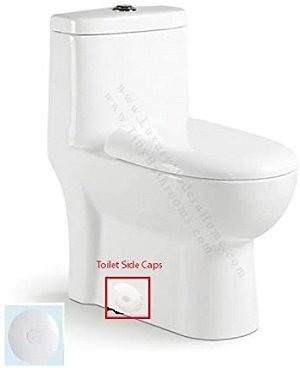 Best No-Clog Design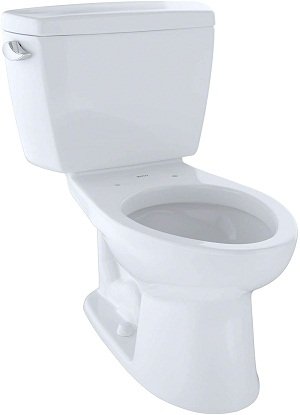 TOTO Drake Elongated Toilet
The best design from TOTO for domestic use

Double Cyclone ensures all the waste is completely flushed down the drain

The bowl remains cleaner for a longer time
Best Modern Design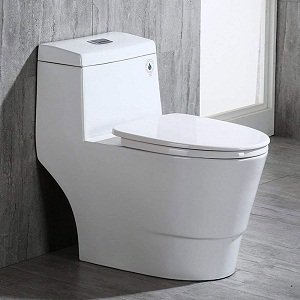 10 Best Flushing Toilets On The Market Reviewed
The TOTO Drake 2-piece toilet is a very powerful flushing toilet for dealing with large waste. The toilet's round bowl shape at the height of 15″ gives it an attractive classic design. It's ADA compliant because its design is comfortable for people with mobility challenges, as well. The toilet is mainly popular in this industry due to the powerful flush that it delivers. Its 3″ valve makes it easy for the user to experience powerful flushing that flushes large waste quickly. Each flush uses 1.28 GPF.
In addition to that, the gravity flush system gives a fairly quiet flush, and the toilet water tank is immune to sweating.
The toilet is suitable for commercial and residential settings because it can quickly get the job done with ease, which is flushing down large waste. The system's water surface area is 10 3/8″ x 8 ¼". It comes designed with a chrome flush handle. 
However, it's important to remember that you'll need to buy a toilet seat separately. There is a wide range of colors to choose from, including Sedona Beige, Colonial White, Ebony, and Bone. Meaning you can rest assured of getting a suitable color scheme that matches your bathroom's style.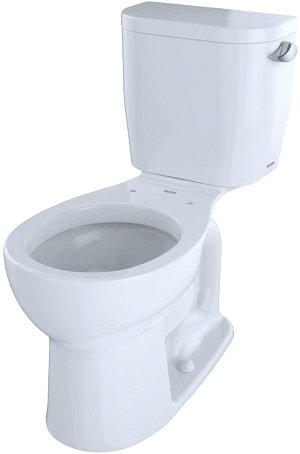 Key Features:
High profile style

Its water surface is so large

A wide flush valve of 3 inches

Glazed trapway

Excellent water tank
Many people love products from this American Standard manufacturer because of the overall quality of their products. This American Standard Champion-4 is one of their finest products. Many customer reviews consider it to be one of the best flushing toilets on the market, with a high quality dual flush system, an elongated bowl and a durable flush valve.
The ability to flush down large waste down the drain for this Champion-4 toilet is like child play. Its glazed trapway, wider valve, and siphon action enable the toilet to flush all the waste without leaving anything behind. Meaning your bathroom and the bowl will remain very clean after every flush. 
It's very comfortable to use because it sits at the height of 16.5″ from the floor. Its EverClean surface ensures that the toilet's sparkle will remain for longer. Furthermore, cleaning the toilet is like a walk in the park. The toilet will help you save some money on your monthly water bill because it only uses 1.6 GPF in each of its very powerful flushes. 
This means that the toilet uses minimal water in quickly flushing large waste with no residual mess. Moreover, if you have a small bathroom, Champion-4 is perfect at saving space. The toilet quietly and softly closes once your business is done. In fact, this is also great for those who have toddlers as the toilet can be installed close to their bedrooms. This piece comes with a 10-year warranty.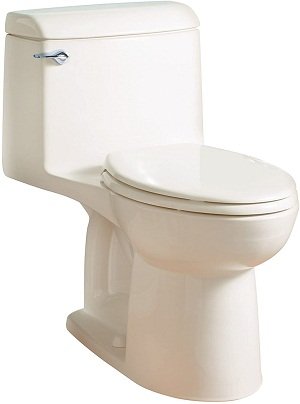 Key Features:
An elongated bowl

An elongated seat is included

Unique one-piece style

EverClean surface

Uses 1.6 GP
When they think of a kohler toilet, people know that they are looking at a high quality bathroom appliance, and this model is no exception. This two pie ce toilet features an elongated seat and bowl shape and some of the most powerful flushing systems available,. The revolutionary approach employed in the toilet's construction makes it a perfect piece for both commercial and residential setups. In other words, the toilet can hold up to heavy use, as is usually the case in commercial settings such as commercial buildings for up to 20 years.
The toilet has a compelling flushing force that is very effective for flushing large waste. With a Kohler Highline, you can rest assured that your drainage system won't be experiencing problems from time to time. Furthermore, its tank refills so fast, leaving your bathroom and the entire house quiet again. The toilet's bowls are available in two designs: elongated and round. The rough-ins are available in 10, 12, and 14″. 
Furthermore, this toilet is very water efficient, even more than most other kohler toilets, and its ability to function with a round bowl and an elongated one alike, makes it an excellent dual flush toilet option for those in need for a compact toilet.
However, you'll need to purchase the seat separately. Another downside is that its warranty is too short. It is an affordable toilet that you can install in your home or at the workplace.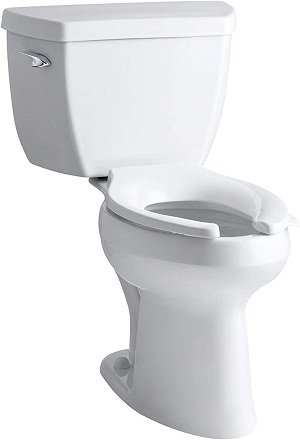 Key Features:
Elongated and round bowls

Floor installation

ADA certified 

Two-piece design

Comfortable height
If you're not necessarily looking for a high-end toilet capable of flushing large waste effectively, you may be interested in this solution. Compared to the other toilets on our list, you can easily flush large waste at a lower cost if you go for the TOTO Drake Two-Piece Elongated 1.6 GPF TORNADO FLUSH Toilet. With over 90 years of experience in the field of producing the very best toilets in the world, TOTO brings you another ADA-compliant toilet. 
Its 3″ valve is slightly larger than most of the standard toilets on the market. This two-piece toilet uses one of the quietest flushing experiences, as well. Furthermore, the design can easily fit into any bathroom style. It means that by investing in this toilet, you don't have to worry about bathroom remodelling projects before its installation. 
Additionally, its design and height it makes suitable for people with disabilities. It has a ceramic exterior that will remarkably reinvigorate the appearance of your bathroom. However, the toilet doesn't come with installation pipes, bolts, seats, and wax rings. If you want an affordable toilet certified by several regulatory bodies, this may be your perfect choice.
All of the above makes this TOTO product a great contestant for the top spot on our best flushing toilet list, even if doesn't feature a dual flush mechanism.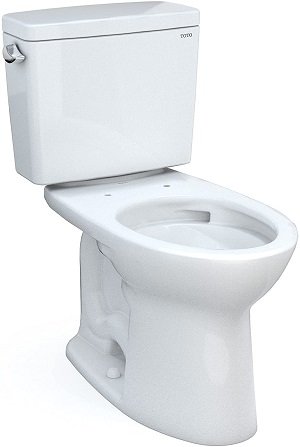 Key Features:
Certified by WaterSense, ADA, CALGreen, and CEC

Standard height from floor to rim

Chrome trip handle

E Max flushing system
The American Standard 288DA114.020 is one of the most pocket-friendly flushing toilets on our list, and we recommend it to homeowners who are operating on a tight budget, but are still in need of a new flushing toilet. Even if it's a budget toilet, it's a very powerful toilet with very high water efficiency. If those are the qualities you're looking for in your next investment, then the American Standard is right for you. 
It is another excellent product from American Standard that we chose to feature on this list because of its sleek, classic-style and performance. In fact, the toilet's powerful flushing capability and water efficiency are out of this world. 
The toilet comes with a PowerWash rim feature that forces the flushed water into the rim to create pressurized air. The air ensures your bowl is thoroughly cleaned by pushing water through the holes in the rim.
The water is then forced into the bowl jet to activate the siphon that sucks everything in the bowl to make sure it remains sparklingly clean. In other words, when you finish your business in the bathroom and flush the toilet, the entire bathroom looks immaculate.
Due to its high-powered flushing feature, this American Standard toilet only uses 1.1 GPF to flush the large waste down the drain. Moreover, the toilet is WaterSense certified. It also features a 2 inches glazed trapway. You can either choose an elongated or round design bowl. 
Another fantastic feature that makes this piece stand out is its EverGreen Surface, which prevents staining. If your bowl doesn't stain, it also means that you'll end up avoiding the growth of mold and mildew. Such a surface also prevents terrible odors in your bathroom.
Finally, the toilet is very durable, more than many other compact options available, and has a powerful flush system despite the fact that it is somewhat smaller and cheaper than your standard toilet.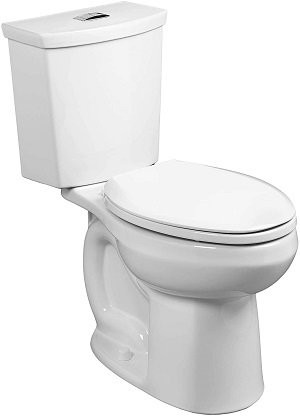 Key Features:
EverGreen Surface

WaterSense Certified

Fully-glazed trapway

High-powered flushing 
TOTO is a significant player in this industry. This particular piece is a winner when it comes to comfort and quality. It's a great toilet designed to suit people with mobility issues, adults, and even kids. The G-Max flushing system is one of the most notable features of this toilet. All you need is a single squeeze on the handle, and all the waste disappears. The flushing power is even made easier by the toilet's 3″ valve and the fully-glazed trapway.
The SanaGloss ion exterior is designed to ensure that your toilets stay clean for longer and don't stain. It's also important to remember that if your toilet doesn't stain, it discourages bacteria and mold growth. The fact that it only uses 1.6 GPF means that it's a nice piece for both your pocket and the environment.
Furthermore, the TOTO Ultramax doesn't scare toddlers or other sleepers in your house at night because it also features a soft-close seat. However, its warranty is only one year.
Thus, if your goal is to have the most powerful flushing toilet available, then this may just be the new toilet for you. Even if it has a pretty short warranty.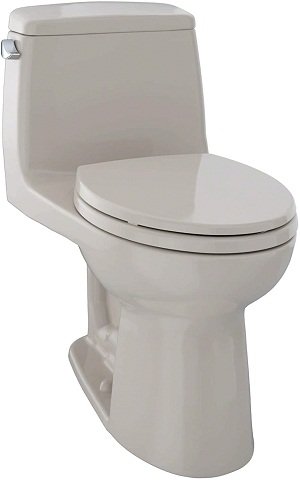 Key Features:
Perfect G-Max flushing feature

Fully-glazed trapway

One-piece elongated flushing toilet

Uses 1/6 GPF

Soft-closing seat
The American Standard FloWise toilet is a space-saving product from American Standard. Cleaning the toilet is effortless because it doesn't have nooks and crannies in its structure.
The toilet is an environment-friendly piece that consumes as little as 1.28 GPF. It's one of the best toilets on our list specifically designed to flush large waste as it can handle up to 1000 grams of waste (solid) in a single flush. Furthermore, this American Standard design is EPA WaterSense certified. 
It also features an EverClean surface making it a perfect choice for those who have a preference for aesthetics. Lustrous surfaces are always easy to clean and maintain compared to their plastic counterparts.
At 16″ from the floor and with an elongated bowl design, you can rest assured that everyone in your household will be comfortable with the toilet. It has a 3″ valve and a smoothened trap way.
While not the best flushing toilet overall, it is still a great option for anyone unwilling to invest too much effort into cleaning their bathroom. With high quality toilet seats and a high durability, this is most certainly a top flushing toilet.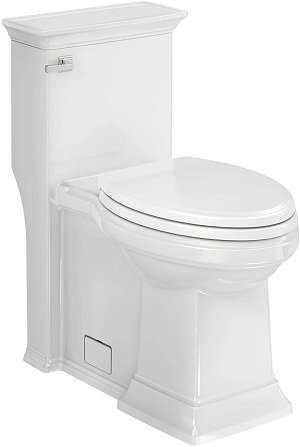 Key Features:
EverClean surface feature

Porcelain construction

Suitable for all-family use

Conserves water at 1.28 GPF

EPA WaterSense certified

One-piece toilet
Julius Toilet brings one of the best space-saving toilet designs on this list. In fact, at a length of only 24″, Julius Toilet claims they manufacture the shortest toilet across the globe. Furthermore, its trapway is concealed to make the piece even more elegant. It's a modern and sophisticated piece for a homeowner who loves being classy.
Furthermore, unlike two piece toilets that take a lot of space, this one piece toilet is surpisingly compact, making it great for children and small bathrooms.
With a great flushing system and one of the best elongated toilet bowls as its features, we gladly recommend the Julius Compact Flushing toilet to any homeowner in midst of renovations.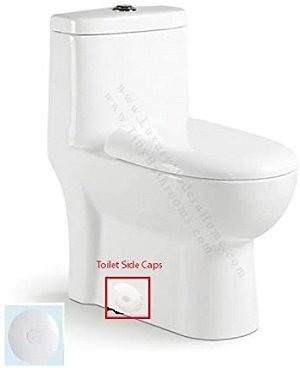 Key Features:
Concealed trapway

Very short 

Self-cleaning glazed surface

Rust resistant
In 2022, this toilet was ranked to be one of the top toilet pieces for domestic homes by most previous users and editors on various forums. It's a trouble-free toilet that is designed for flushing large waste with ease. TOTO has installed a G-Max flushing feature in this stellar product. It's a very quiet toilet, as well. 
The wider flush valve on its construction means that the toilet doesn't clog easily. With a fully-glazed trapway, waste flawlessly drains and disappears without leaving smeared stains on the sides.
Overall, it is considered to be among the best flushing toilet designs in terms of malfunction resistance and a good flushing system. Finally, the bowl is also surprisingly easy to clean.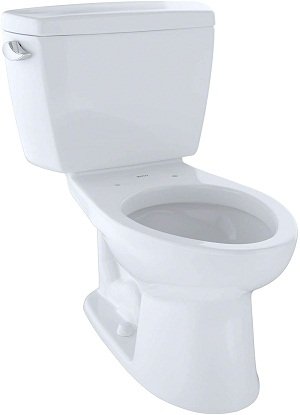 Key Features:
Double Cyclone

Fully-glazed trapway

G-Max flushing feature
Last but not least on our list of the best toilet for flushing large waste is this high-quality Woodbridge toilet. The toilet's sleek interior complements any interior bathroom design. For over 10 years, this manufacturer has consistently been producing unmatchable products. Without any grooves and corners on its structure, cleaning this toilet is a breeze. The chair-height seat makes it easy to use for both adults and kids. 
The toilet is also EPA WaterSense certified. This essentially means that it's friendly to the environment because you can save around 16,500 gallons of water annually. It only consumes 1.28 GPF. You'll end up saving a few quick bucks on your monthly water bills if you invest in this piece. 
Besides, it's a very quiet toilet that won't disturb people at night. It has a siphoning flushing capability. It also comes with a fully-glazed trapway to ensure that all the large waste is fully drained without leaving any residue on the bowl's sides. The Woodbridge toilet features a pre-installed soft-closing seat and wax ring.
All these toilet features add up to an incredibly high quality, futuristic toilet that seamlessly fits into just about any bathroom and serves as a piece of decor in addition to being a utility.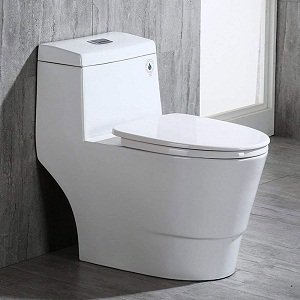 Key Features:
Sophisticated modern design

Comfortable height

Dual flush system

1.28 GPF

Soft-closing seat

5-Year warranty
Things to Consider When A Powerful Toilet
A flushing toilet is one of the essential items in any home. As a homeowner, you need to purchase a piece that fits your individual needs, budget, and bathroom size. It's also crucial that the toilet has a robust flushing system and can fully clean the bowl and conserving water in each flush.
Here are a few hints to help you choose a toilet system that will effectively flush large waste in a single flush:
1: Understand the New Generation Designs
About 15 years ago, the low-flow toilet models that could use less than 2 gallons per flush or GPF were the federal standard. However, users were expected to flush the toilet twice to flush and clean the bowl thoroughly was a waste of water. Today, manufacturers have designed improved models that come with larger trapways to help prevent clogging. Additionally, the new generation flushing toilets have larger flush valves that allow for more powerful flushes.
Furthremore, the introduction of various new standards has made choosing the right flushing toilet much harder, as there are several regulation that a model has to comply to.
2: Know the Right Cost of New Toilets
The best toilet for flushing large waste doesn't come cheap. A contractor can give you a "contractor special" offer cheaply for around $80. You should expect the glazing and other working parts to be of low quality at that low price range. You need to invest in the proper toilet because you'll need it every day for years to come. So, spending even up to $800 for a high-end pressure-assisted toilet is not a waste of money. 
Toilets are much more durable nowadays, and will the added clogging protection modern dual flush toilets offer, as well as all the different bow shape designs, there is a lot of money to be saved by frontloading a part of the cost and investing into a higher quality toilet bowl.
3: Consider One-Piece Vs. Two-Piece
There are two models of toilets that you should think about when looking for the best toilet for flushing large waste: one-piece and two-piece designs. While a one-piece design means the tank and the bowl are constructed together during installation, the two parts are separate for a two-piece toilet. In terms of performance, the two are almost the same. However, when it comes to cosmetics, it becomes a personal preference.
4: Pay Attention to Flushing Power
If you're genuinely looking for the best toilet for flushing large waste with ease, then you need to think about this feature. A system that has a high-powered flushing system, for example, will eject all the waste without leaving anything on the sides. Greater flushing power means a smaller water bill, saving you a lot of money in the long run.
5: Shop at the Right Place
If you're looking for the widest selection of brands and price options to choose from, then consider checking out various online retailers. But, if you can manage to attend bathroom showrooms or visit the suitable plumbing supply houses, you can also get a good deal.
6: Think About the Toilet's Future Repair Costs
Customized toilet seats and unique flush mechanisms are great features found in top-notch flushing toilets. But, instead of just focusing on the remarkable factors, consider the future cost of repairs. For example, repairing a custom seat can cost you more than $100.
7: Choose the Right Flusher
Numerous online retailers and home improvement stores specialize in offering various top brands models in the toilet industry. You just need to choose the right price and model with the right flush mechanism that fits your bathroom needs.
Research extensively and compare the ratings of the best toilets for flushing large waste online. Read through the various test results and reviews from other users before making that crucial decision. 
Overall, consider choosing toilets that encourage rebates on high-efficiency. EPA has a WaterSense label. Thus to earn it, a manufacturer should construct High-efficiency toiles (HET) capable of using as little as 1.2 GPF.
If you install such a toilet that has the potential of saving up to 4,000 gallons of water yearly per person, your utility company may offer you rebates. However, don't forget that even some of the HETs experience clogging problems.
8: Understand the Flush Mechanism
To save some money and avoid regular toilet repairs down the road, you need to ensure your toilet's flush mechanism is properly installed and maintained. Faulty parts and incessant leaks will increase your water bills significantly. When your seals are covered by limescale or are simply in bad condition, they end causing such costly leaks. Therefore, if you live in an area with hard water, you must regularly clean your flush mechanism. 
Any limescale that builds up in your toilet's joints will affect the seal between the pan and the toilet cistern. 
If you choose the right model of push systems for your cistern, the installation process is pretty straightforward. That actually means that you should measure your tank so you can buy the right size of flush that perfectly fits your cistern. Make sure you cut off your water supply before removing the toilet flush.
9: Beware of Bigger or Larger Bowls
More giant bowls are believed to be more comfortable for many people. Much as they may be the right choice for your bathroom, they can also create a new problem. You might start experiencing new issues such as doors and drawers that can't close properly as they did before the installation. So, before you go for that upgrade from a standard bowl size, consider taking rough-in measurements.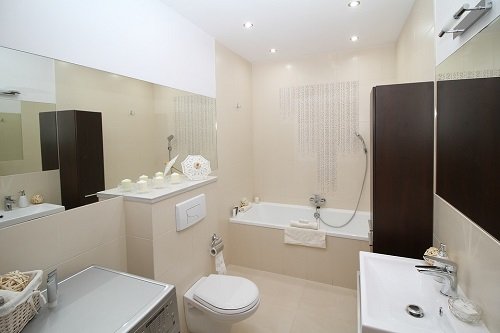 10: Go for a Dual-flush Toilet
Dual-flush toilets use about 25% less water than a regular toilet. They feature a 1.6-GPF button designed for solids and a .8-GPF button designed for liquids. They also come in fewer color and design options and are pricier compared to other regular options.
What Makes a Toilet Perfect for Flushing Large Waste?
Since the EPA put new rules in place to regulate how much water toilets can use, manufacturers have been producing toilet systems that use as little as 1.28 gallons per flush (GPF) of water. Toilets use high pressure to force water through the bowl to flush the waste compartment effectively. So using less water resulted in less-than-stellar flush performance. Manufacturers needed to change the design of toilet bowls to make them more effective and efficient. Below are some of the ways manufacturers achieve efficient flush performance with minimal water consumption:
1. Pressure-Assisted Flushing
It is common to see these toilets in very high-performing settings that hold the water in the toilet tank under very strong pressure. Pressure assisted toilets use very strong pressure to force the water out of the tank and from the tank gravity, producing a very powerful flush. These high-performance toilets are used heavily in industrial settings but are becoming more common in domestic settings as well.
The main advantage of this flushing technology is that it results in the strongest flushing toilet possible, while still conserving quite a lot of water compared to older models.
Good gravity flush toilets and pressure assisted toilets will usually be fairly easy to clean as well, due to the fact that such high water pressure usually scrapes everything off the toilet bowl during fluhsing.
2. Dual Flushing
This technique allows the water to be released more efficiently, meaning less water pressure when liquid waste is generated and more pressure for solid waste. It also uses pressure-assisted flushing to provide specific flushing performance for different types of waste.
The control over flushing power reduces the number of gallons per flush used overall, while still allowing for a powerful flushing toilet when you need one.
3. Enlarged Trapway
Generally, if you install a trap in your toilet, a piping system will lead from the bottom of the toilet to the drain. If your toilet has a large trapway, water and waste will go through it quicker. However, the trapway shouldn't be too large because it can impact the siphon action that drains waste through the outlet pipe.
Having a powerful flushing system such as the one in gravity toilets somewhat reduces the needs for such a wide trapway.
4. Ceramic Glazing
Physics says that less friction causes waste to flow quicker. Manufacturers have realized that if the toilet bowl and trapway are designed more smoothly, waste and water will flow more easily. In addition, ceramic glazing gives more durability to the usually easily damaged vitreous china.
5. Siphon Jet Flushing
Typical toilets use the pressure created when water is released from a tank to completely fill the bowl and force waste and water fast into the trapway where it will drain. A strong siphon forces the water and wastes out of the bowl.
Moreover, siphon jet flushing uses less water and produces a strong flush. Although water is still pushed from the toilet tank into the bowl, a small amount of the water is redirected down a jetway to drive water straight to the trap to help it to flow faster and create a stronger flow.
Perhaps the most powerful flushing system available for home toilets, siphon jet flushing does a great job at cleaning your toilet bowl after each flushing. Unfortunately, while it does use less gallons per flush than their alternatives, siphon jet technology is usually only found in the most expensive toilets on the market.
FAQs:
Are all modern toilets designed the same?
While almost all the flushing toilets on the market may look the same and designed to perform the same job, they're definitely not the same. Established brands always try to develop a unique design intended for a specific installation process. For instance, the appearance of a one-piece toilet is not the same as that of a two-piece toilet. Although both of them are designed to flush appropriately, their flushing mechanisms differ significantly.
Which flushing toilets do professional plumbers recommend?
American Standard Champion-4 and the TOTO Eco Ultramax toilet are the most recommended brands. That is mainly because of their exemplary performance, affordability, and easy installation processes. Furthermore, you can be guaranteed to spend less than 2 gallons of water per flush.
Why the best flushing toilets have such price differences?
Well, it's normal for various products to have different price ranges. For example, high-end brands with feminine cleaning come with more bells and whistles. In order to get more consumer approvals, many companies keep reinventing themselves and coming up with better features for their products so they can remain competitive. Hence, it's advisable to look past the price tag when choosing a flushing toilet that suits your specific needs.
Where to buy your flushing toilet?
In fact, the place where you buy your flushing toilet is not as important as ensuring you invest in the right piece. You can find the best toilet for flushing large waste in a home improvement store near you or check out major online marketplaces such as Amazon. Where you buy an item from nowadays is actually all about comfort level and personal preference.
Which flushing toilet comes with the most powerful flush?
The American Standard Champion-4 is popular for its 2-3/8 inches trapway and the muscular 4″ flush valve. This gigantic valve actually is what makes this toilet the strongest on the market. The toilet swallows large waste like a tornado.
The Wrap-Up
When investing in a flushing toilet, it's important to remember that going for the lowest price doesn't guarantee that you're getting the best bargain out there. Moreover, many of the cheap toilets don't flush properly and are very noisy. Therefore, if your bathroom sits close to your visitors' room, living room, or bedroom, it's advisable to consider settling for high-end models that often deliver quiet flushes. Since you will be stuck with that toilet for the next 10-20 years, you better make a wise decision when choosing a flushing toilet that perfectly suits your needs.