Safety in the bathroom is always a top priority for our senior loved ones. The bathroom is the commonest place where falls occur. Having said that, seniors should also have an enjoyable and relaxing bath, which is only possible with the best handheld showerhead for the elderly.
The elderly often miss the therapeutic benefits of bathing due to reduced mobility and fear of falling. By utilizing a few relaxation techniques and investing in the right handheld shower head, you can offer your seniors a pleasant bath.
Best Handheld Shower Heads for the Elderly: Reviews
So, what handheld shower head is best for the elderly? Here are our top 6 picks:
Quick-Comparison
*Ratings courtesy of Amazon at the time of publication and can change!
If you need a showerhead that provides a refreshing bathing experience, then the AquaDance High-Pressure 6-Setting 3.5″ Handheld Shower is your ultimate pick. You will not only boost the quality and look of your bathroom but also utilize its fantastic features with a contemporary design.
Cleaning this shower head is super easy, thanks to its high-quality finish and shiny surface. Moreover, this showerhead can be used both as an overhead and handheld showerhead, making it convenient for the elderly who need to take showers carefully.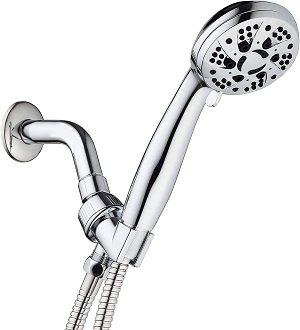 The water jets gently from the head, and it maintains high pressure even with a shower filter, making bathing easy. The pressure also ensures that there is no build-up of lime.
Many seniors love to take long showers, and the YOO.ME High-Pressure Handheld Shower Head provides the ultimate bathing experience. It has a simple design, but the showerhead is extremely effective and reliable. The 2XP turbo-powered showerhead helps conserve water and lower your monthly water utility bill.
It's not unusual for minerals to build up in conventional showerheads. Fortunately, you won't worry about this problem with the YOO.ME. With the silicone rubber jet nozzles, keeping this unit clean is extremely easy.
You can even clean the showerhead with your fingers and significantly extend its life for several years.
The YOO.ME is one of the best massage showerheads you can find on the market. With its proprietary 2XP turbocharging technology, the high-pressure showerhead will work incredibly well even under the lowest water pressure settings.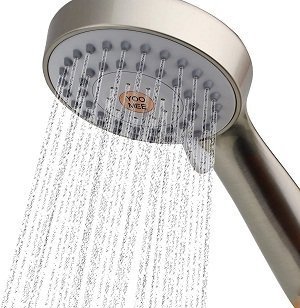 But what really sets this handheld showerhead apart is the inclusion of a 79" stainless steel hose, making it easy to reach around your body and completely flush out dirt from any crevice. As an added peace of mind, YOO.MEE offers a 1-year warranty. Lastly, the showerhead comes packaged with Teflon tape to help in the installation process.
3: Best Therapeutic Bath Handheld Shower Head for the Elderly: The Waterpik TRS-559
The Waterpik TRS-559 handheld showerhead is more than just a shower. This showerhead will renew, refresh, and rejuvenate your skin with the power of therapeutic water massage. It includes PowerPulse that brings forth all of the health and wellness benefits that are clinically proven.
It is particularly beneficial for seniors looking for a therapeutic shower that relieves muscle tension, stress, joint discomfort, and more.
The showerhead also features PowerSpray+, allowing you to enjoy a powerful and invigorating shower experience regardless of the flow rate (GPM). It comes in a modern-looking brushed nickel finish and includes a 5-foot hose so you can easily get down and bathe those who require assistance, kids, and even pets.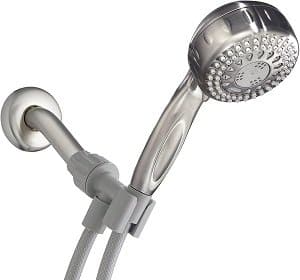 This particular model has OptiFlow technology to ensure consistent pressure, even with low water flow. You also get some great features such as five different spray modes: mist, full-body, full body massage, slow massage, and pulsating massage.
The TRS-559 is extremely easy to install through DIY in a few minutes. The bracket is also easily adjustable so you can position the shower head wherever you want.
4: Best Slidebar Handheld Shower Head for the Elderly: The AquaDance Slide Bar

The AquaDance Slide Bar showerhead offers a slide bar design, which allows seniors to easily adjust the height as well as the vertical angle of the shower wand. It still offers the option for an overhead rainfall spray for a relaxing bath.
This unique rain shower head also features six settings that are convenient for different shower requirements with a low three-way diverter system. The dual shower head spa features a chrome finish with an extra shine and brightness that compliments any dull looking bathroom.
It also supports angle adjustment options with an ergonomic handle design, making it ideal for the elderly with flimsy hands. The grip is strong and there is hardly any fear of slipping or breaking bathroom tiles with it.
5: Best Pause Control Handheld Shower Head for the Elderly: Moen DN8001CH
The Moen DN8001CH features an innovative technology that allows you to shower with high-pressure water. It comes with jets designed to deliver different spray modes to make your bathing experience refreshing. With an exclusive head featuring on and off buttons, you can slow down or stop the flow of water instantly, making it great for seniors who may need to take breaks amidst showers.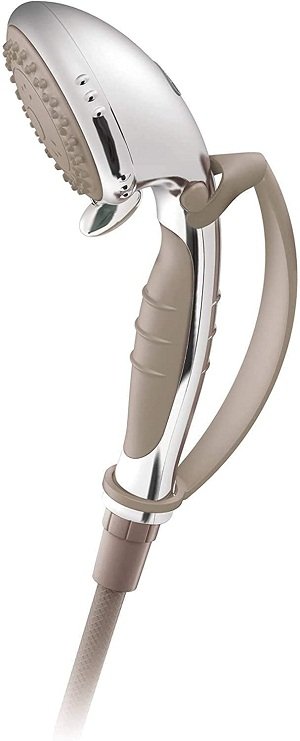 This pause control feature also helps you save water, and its safety strap and soft-grip handle helps you maintain a secure grip. More importantly, the showerhead comes with a safety strap that prevents the unit from slipping off from even the weakest hands.
Additionally, it comes with a 7 feet hose that provides flexibility and more room for movement. The extra-long hose makes it ideal for people who would want to shower while sitting, such as the disabled and seniors. The Moen shower head is also lightweight at 2 pounds and has adjustable water pressure.
This particular model is also ADA compliant, which makes it suitable for people with disabilities. The installation is simple as the showerhead comes with a clear instruction manual to make the process seamless. With a chrome finish, it can suit many bathroom décors.
This innovative showerhead comes with an adjustable magnetic slide bar, allowing you to easily lower the height of the handheld mount, making it ideal for a mobility-impaired individual. While all slide bar shower heads are adjustable, this model also features a three-way diverter plus a built-in soap basket.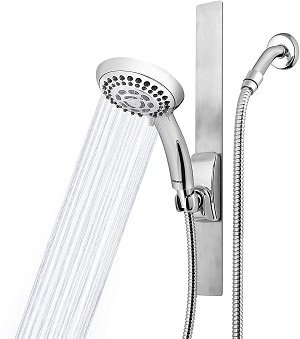 The Waterpik VSS-563MT gives you a level of convenience that is difficult to match with a conventional shower head. The stainless steel shower head also includes an innovative magnetic bracket for solid fastening. Its 4 inches wide showerhead distributes water evenly to ensure comfortable showering.
You can easily install the shower in less than 10 minutes as the installation requires no screws or tools. Most importantly, the Waterpik shower head is built to last and comes with a lifetime warranty to guarantee a prolonged useful life.
Why Handheld Shower Heads are Important For the Elderly
So, why is a handheld showerhead so important for the safety of seniors? First, put yourself in the bath slippers of a senior person and imagine having a seated shower.
First, you would turn on the water and set the right temperature. Next, you would carefully get over the end of the tub while holding on to grip bars. If you have mobility issues, you would use transfer benches to safely get over the tub edge.
Now, you would adjust the showerhead to allow the water to descend on you properly! This is where the problem arises.
As an elderly person with mobility issues, getting up every time to move an overhead mounted shower head or a conventional dual shower head can be unbearable. Moreover, you will need to bend forward to reach out and switch the control valve. All these movements are potential fall hazards!
Buying Guide: How to Choose the Best Hand Held Shower Head for the Elderly
Handheld showerheads are critical components of shower safety for seniors and the disabled. They allow the elderly to remain independent during their most private moments, such as showering.
The Problems with Conventional Handheld Shower Heads
Standard handheld showerheads are not the best choice for elderly people. Although they may be the cheaper option, these shower heads have a number of flaws that make them impractical to use and unsafe for seniors and persons with mobility issues:
The diverter is positioned in the wrong place: The button of the showerhead that diverts the water to the handheld shower is usually out of reach. It is where the showerhead is connected to the output pipe, right at the top of the shower. For seniors, tub spigot diverters are hard to reach without leaning forward.
The tubing is too short: Considering a standard tub, the shower head needs to extend from the pipe at the top of the shower all the way to the edge where the bather is seated. There should also be adequate slack to allow free movement to bathe the entire body.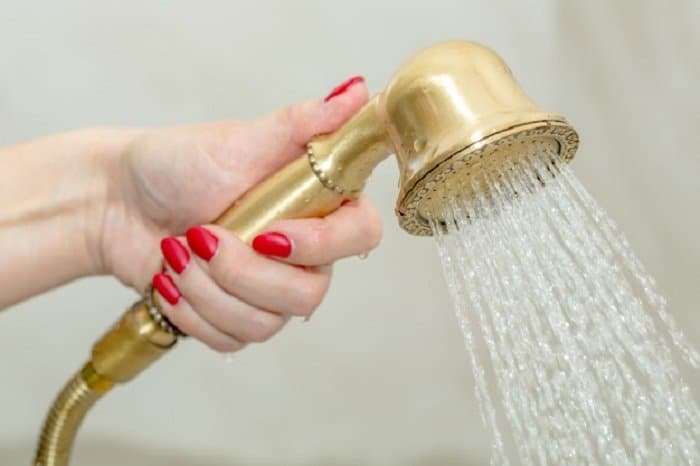 Checklist for the Best Handheld Shower Head for the Elderly
To make bathing as safe as possible for a senior, look for a handheld showerhead that rectifies the flaws above. Here are some features to take into consideration:
1: Long, Flexible Hose
Always go for showerheads with at least 5-7 feet of hose to prevent leaning forward and excessive movement while showering. A handheld showerhead with a long hose will allow the elderly person to have a wide range of movement and motion without having to walk around or stand up too much and potentially slip.
2: Easy Operation  With Turn On/Off Buttons
Choose showerhead models with the diverter switch located on the showerhead itself. Also, go for ones with easy to push ON and OFF buttons. This feature is very important for seniors with arthritic hands.
The Moen DN8001CH tops the charts in terms of ease of operation as it features functional on and off buttons.
Some handheld showerheads may cause joint pain for folks with weak or arthritis hands. ON and OFF switches also make it much easier to control the flow, instead of having to lean forward in the tub to switch the operation.
3: Variable Sprays
Some elderly people often have sensitive, thin skin. A shower head with harsher water pressure can be extremely painful and could even crack their skin. Being able to control how hard the water sprays is beneficial for elderly folks since they can get a gentler stream by simply switching between different spray settings.
4: Kink-free Hose
Consider shower heads with hoses that don't kink up and get tangled. This is often a tripping hazard if the hose gets bunched up around an elderly person's feet. Also, the bather may feel compelled to bend over and untangle the hose, which is definitely a fall hazard.
5: Lightweight
For seniors, lightweight handheld showerheads are extremely important. Again, it has everything to do with flimsy or arthritis hands. Generally, plastic shower heads are the lightest, so go for those ones instead of heavier metal models.
6: Easy Installation & Connection
Look for a handheld showerhead that is easy to attach and designed to be compatible with a variety of plumbing fixtures. Many popular handheld showerheads for the elderly don't even require special tools to install, which makes the set up very easy, even if you're a non-handy!
7: Pause Button
It may be helpful to get a handheld showerhead that features a pause button that allows seniors to halt the flow of water temporarily. This is particularly important for someone who uses a shower chair. With a pause button, the individual won't have to lean over or stand up to reach the main controls to pause the water flow. The Moen DN8001CH again suits this requirement.
8: Adjustable Angle & Height
Different seniors have different experiences with the angle of sprays for handheld shower units. Because of the handle design, if the showerhead is installed at the same mounting height as regular showerheads, you may notice that the spray shoots further out rather than down.
Be sure to get a model with adjustable angle and height to allow the elderly person to choose their preferred position. The Waterpik VSS-563MT excels in this regard.
9: Convenient Shower Head Holder
You will find some handheld shower head units that keep the holder high up so it can function as a traditional overhead shower with an additional handheld shower. For seniors, you may want to choose a unit that has at least one shower head holder bracket at a lower height, or consider purchasing a separate holder that can be installed much lower to make it easier for older individuals to access.
10: Magnetic shower Heads
As you can imagine, docking the handheld showerhead can sometimes pose a huge challenge for seniors with mobility issues.
To make it easier to put back the showerhead, consider models with a magnetic mount. This ensures that it is seamless to stick the handheld unit back on the mount even with the flimsiest hands. With a magnetic mount, it is just a matter of touching the handheld unit to the mount, and it holds.
11: Massage Showerhead
If you have muscle aches, a massaging showerhead is the ideal option to help you relieve tension in your body and joint muscles. The YOO.ME High-Pressure Handheld Shower Head features circular massage, slow massage, and pulsating massage, so you can choose the right intensity depending on your individual needs.
12: Water Pressure
Depending on the design, certain showerheads provide higher water pressure than others. Some units, such as the WaterPik showerhead utilizes the "Optiflow Technology" to enhance the pressure.
Other brands like YOO.Mee are specifically designed to provide higher pressure even if your house has low water pressure.
13: Water-saving
Last but not least, you may want to look at the water-saving efficiency of the showerhead. Many homeowners are today very proactive about water conservation, so you should consider models that utilize 2.0 GPM (gallons per minute) to 2.5 GPM. Thanks to improved technology, many low-flow showerheads will still feel as good at both low and high water pressures. Modern showerheads are also installed with a flow restrictor to enhance water efficiency.
The Verdict
Ultimately, the best handheld shower head for the elderly is one that minimizes movement at all costs. The hose should be long enough and easy to maneuver. Besides, a magnetic mount is a vital consideration as it eases the returning of the hand unit to the mount.
Overall, our best pick is the AquaDance High-Pressure 6-Setting 3.5″ Chrome Face Handheld Shower.  However, that doesn't mean that the other five products we have featured here are any less in quality, functionality, and safety for elderly people.
Consider all the factors wholesomely and pick a handheld showerhead that suits your budget and personal preference.
FAQs:
1: How High Should a Hand Held Shower Be?
Most standard showerheads are installed at about 80 inches (6'8″) from the bathroom floor to the showerhead. Since many people choose showerhead heights based on their personal preferences and the heights of those using it, positioning can range anywhere between 72 and 96 inches.
If you have an elderly individual who will be using the handheld showerhead while seated in a chair, you should opt for a much lower installation.
2: Shower Head Holders: Which one should you choose?
Consider a handicap shower head holder that you can install lower down since many standard handheld shower units still have the shower head holder fairly high up.
Generally, you will want to choose a brand of shower head mount that is compatible with the handheld shower unit you've purchased.
3: Do you have to use Teflon tape on a shower head?
It is best practice to use Teflon tape when installing a handheld showerhead, and many manufacturers often include it at no extra charge with every package.