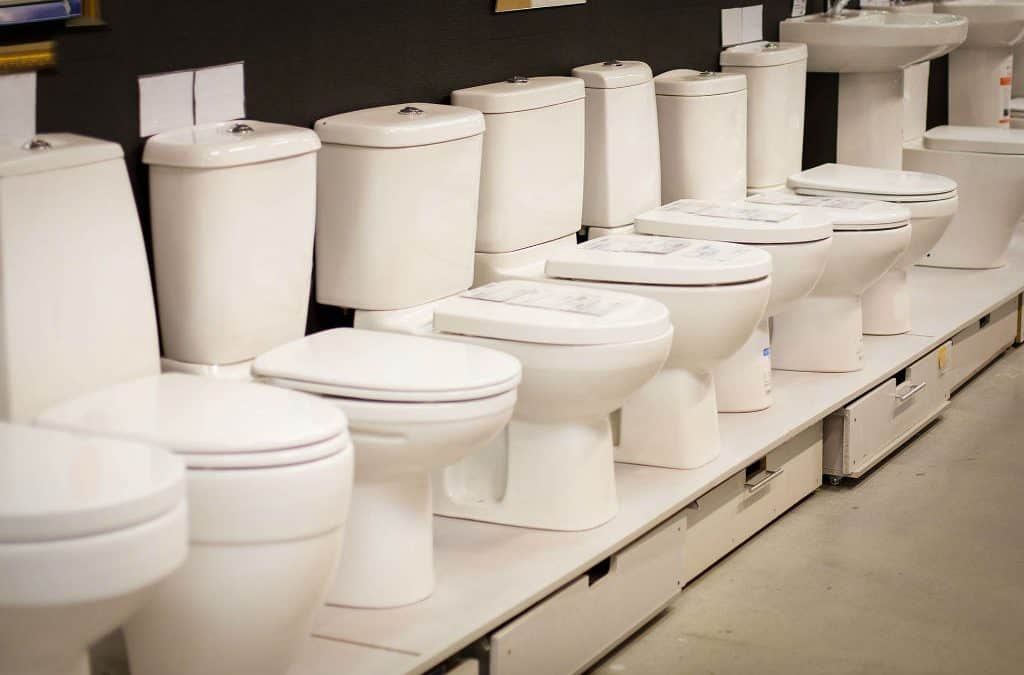 Clog-free toilets have been proven to be effective in maintaining bathrooms clean. Fortunately, you can choose a model that suits your budget and bathroom design preferences. We have done thorough research on your behalf and selected the best no-clog toilets you can find on the market.
In the comparison table below, we've highlighted some of the most important features of each product. You'll find more detailed information about each product later in the article.
Top 10 No-Clog Toilets Reviewed
There are several brands and models of toilets that don't clog, and it's easy to get lost and end up with the wrong product. Thankfully, we have combed through the market to bring you great products that meet the basic requirements in terms of functionality, price, and design.
The Japanese brand TOTO offers its one-piece toilet system with a no-clog capability. Toto products are well known for their well-thought design and durability. The TOTO Drake two-piece toilet comes with a G-max flushing system, ensuring a no-clogging experience.
Many users adore TOTO Drake toilet's ergonomic and sleek design that suits many modern bathroom layouts. You can choose from a variety of classic colors, including colonial or cotton white, bone, or beige. The height is well thought-through and suits the needs of most average people.
Moreover, this model features low water consumption, taking up only 1.28 gallons per flush. To ensure a no-clog experience, the toilet system features a wide flush valve, a special flushing system, and a computer-designed trap way.
The special outer coverage makes it seamless to clean and maintain. It also comes with a comfortable toilet seat with a wax ring to prevent slamming.
American Standard is another top brand that manufactures high-quality toilet systems. It offers high performing toilet models at competitive prices.
The American Standard White 2887218 is known not to have any clogging issues, thanks to its large flush valve that ensures a powerful flush and 2 3/8 inches fully-glazed trap way that easily channels away waste.
With these features, it is simply impossible to experience clogs. The toilet is also quiet enough and guarantees economic water consumption – it only consumes 0.92/1.28 GPF for a decent flush.
It is a two-piece toilet design with an elongated bowl of a convenient height to ensure comfortable sitting. With its Special Everclean coverage, cleaning and maintaining the toilet is seamless since dirt or bacteria don't stick to the surface. Although the design is simple, it fits merely any contemporary bathroom.
If you're looking for a luxurious and comfortable no clog toilet, then the Woodbridge T-0019 one-piece toilet could be your best pick. This toilet system looks sleek and lovely, but it is also surprisingly efficient in performance.
It boasts a siphon flushing design that provides quiet and powerful flushing to ensure no clogging.
The Kohler K-3998-0 Wellworth Elongated 1.28 gpf Toilet is another quality and durable no-clog toilet with a two-piece design. This simple but stylish toilet system will transform the look of your bathroom in a second. This particular unit features a right-hand chrome trip lever, something you should note before making your buy decision.
This two-piece toilet doesn't pose any clogging issues due to its powerful and effective class five flushing mechanism. It delivers outstanding power that sweeps off large masses in a single flush. Besides, it only uses 1.28 GPF.
The 3-inch flush valve is one of the largest in the industry and helps to deliver a powerful flush that clears waste effectively, leaving the toilet looking clean.
In terms of comfort, the toilet has an elongated bowl and a chair height for comfortable sitting down and standing up. It is a great pick if you have an elderly person in the house or a person with mobility issues.
The SM-1T254 Ivy Toilet is another non-clogging toilet with an efficient dual flushing mechanism. It boasts a sturdy design and is extremely efficient. The dual flush mechanism makes it shrug off many top competitors on the market.
The highly sought-after dual flush mechanism functions on 0.8/1.28 GPF range, which meets WaterSense Standards and EPA guidelines.
The eco-friendly toilet system flaunts a simple tank with a sophisticated design to give extra comfort to the user. It comes with a comfortable height and an elongated bowl for added versatility. This Swiss Madison toilet is also designed with a soft-closing seat mechanism to prevent slamming altogether.
WoodBridge T-0001 One Piece Toilet is a compact toilet suitable for small bathroom spaces where every inch counts. Despite its compact size, it offers great comfort and experience just like full-sized toilets.
The design has a luxurious look with white ceramic, which improves the interior of any bathroom. Since it's a one-piece toilet, cleaning and maintenance are much easier. It features a soft-close system for a quieter operation.
The dual-flush mechanism ensures water-saving as you can choose between 1.0 and 1.6 gallons per flush.
The TOTO CST744SG#01 Drake 2-Piece Toilet is a non-clogging toilet model under the two-piece category. It is equipped with a G-Max flushing system that operates quietly but prevents clogs. With a 3-inch-wide valve, a siphon, and a large trap way, wastes will be cleaned efficiently with a single flush.
This model offers low water consumption with only 1.6 gallons per flush, which helps you save up to 10.000 gallons annually when compared to other toilets. The elongated bowl with a wider sitting area ensures comfort.
This design can fit almost any modern bathroom as it comes with a glossy cotton white finish. The Cefiontect glaze coverage adds a luxurious appearance and prevents staining. The toilet will keep looking clean and shiny for several years.
The American Standard Cadet 3 toilet is extremely efficient and powerful. Its state-of-the-art design and low water consumption make it one of the most preferred toilets in modern homes.
This two-piece no clog toilet boasts a skirted bowl and a single flush mechanism. As a product from a top brand, it delivers excellent performance and value for money.
It sports a fully glazed 2 1/8″ trap way and an EverClean surface. Its siphon mechanism jets water into the bowl to ensure a complete flush each time. The Cadet 3 uses 20% less water than conventional toilets without sacrificing performance and efficiency.
WoodBridge B0500 T-0031 toilet is another no clog toilet designed to fit small bathrooms. It has a modern and elegant look and comes with everything you need to complete the installation, including a comfortable toilet seat.
It has a soft-close mechanism and stainless steel hinges that make it durable and stylish. The siphon design ensures a super quiet but powerful flushing operation without clogs or leaks.
The Kohler K-3493-0 Highline Classic Toilet is a leader in its own right. The two-piece K-3493-0 toilet is among the finest toilets in the range of Pressure Lite toilets. It has excellent flush engineering that ensures no clogging.
The Highline Pressure Lite elongated toilet uses just 1.6 gallons of water to ensure a thorough and complete flush. The toilet system is both powerful and affordable. Besides, it requires very low maintenance due to its fewer moving parts.
The toilet comes in a standard height and features a left-hand polished chrome drip lever, making it ADA-compliant. The beautiful toilet design will blend nicely with any modern bathroom setup.
Guide to Buying A Toilet That Doesn't Clog
The annoying process of plunging out clogs from your toilet is something you don't want to experience on a regular basis. Investing in the best non-clogging toilet can help you avoid this embarrassing scenario every few days.
But first, let's look at some common causes of toilet clogs and how you can avoid them in the first place.
What to Look for When Buying The Best Non-Clog Toilet?
Now, before you pick the best clog-free toilet system, you need to learn about the features to look for before buying one. Understanding the specifications of the toilet unit will ensure that you end up with a perfect porcelain throne. Here are the key features that distinguish exceptional no-clog toilets from regular toilets:
1: Materials
Most toilets are made of ceramic material that is typically a mixture of silica, clay, and a fluxing agent. The difference often lies in the color, shade, and type of finish that covers the toilet. This last aspect will define the general look of the toilet, as well as how easy it is to clean and maintain. How smooth and sleek the outer cover is will also determine how easy waste moves down the toilet to prevent clogs.
2: Flushing Mechanism
Toilets feature different flushing mechanisms depending on the manufacturer. The most common flushing types used on modern no-clog toilets are dual flush and tankless systems.
A dual flush system allows you to choose what amount of water to use. You will use a light flush for liquids and a heavier flush for solid waste, allowing you to conserve water. With a tankless system, the cleaning typically depends on the flush pressure since water does not refill the tank.
Flush systems can also be siphonic or wash-down. With a siphonic toilet system, the cleaning process is triggered by the water from the tank. When you press the flush button, the water pushes wastes down and evacuates the bowl content.
A wash-down mechanism, on the other hand, washes down the content of the bowl without evacuating the bowl. Such designs come with a deep bowl with a small water area to ensure that the content is gravitated out of the bowl.
More importantly, choose a toilet system with large flush valves and trapway outlets to guarantee a powerful flush with no clogs.
3: Bowl Types
Although this feature has nothing to do with clogging, choosing the right bowl type will ensure comfort. It's often a matter of taste and preference. The two most common bowl types are round or elongated.
Round models are more space-saving but can be less comfortable for some users. Elongated bowls are considered more comfortable, but they typically require more floor space. Some manufacturers offer toilets with square bowls, but they are currently not in big demand. You may also consider a low-profile model if you have space constraints in your bathroom.
4: Water Consumption
Studies indicate that almost 30% of water is consumed by residential toilets across the US. To help conserve water, it's important to choose toilet models that are certified by EPA WaterSense and consume less than 1.6 gallons per flush.
5: Water Refill Time
This feature is vital for any anti-clog toilet. If you pick a model with a tank, ensure that it can fill up fast after a flush. This is particularly important if the toilet is used by multiple people flushing within short intervals.
6: Installation Requirements
Some toilets are simple to install as a DIY project while others require a professional approach. Always consider the complexity of the installation process if you're planning to install the unit on your own. Alternatively, hire a professional plumber to save you the hassle.
7: Manufacturer Warranty
Like every other household fixture, toilets can fail at the least expected time. You can escape many problems with your toilet by going for one with an extended warranty period. The least period for a manufacturer's warranty is one year, but a good quality toilet should come with a five-year warranty or more.
8: One-piece or Two-piece?
Last but not least, you can choose between one-piece and two-piece toilet designs. One-piece toilets are becoming increasingly popular as they appear sleek and seamless, which makes them fit any modern bathroom design. They are constructed with fewer joints and seams, so they don't collect much dirt or moisture.
Two-piece options are still available on the market. Although they have some downsides, such as difficulty in cleaning due to joint crevices, they are often cheaper (depending on the brand) and simpler to install.
Why Does My Toilet Keep Clogging?
Here are the most common causes of clogs in toilet systems:
1: Low-flow First-generation Toilets
If you still have a toilet system designed in the mid-1990s, it cannot clear the internal trap and drain effectively. These low-flow toilets clog easily and are better off replaced.
If you don't have adequate money yet to install a new toilet unit, you can minimize clogs by reducing toilet paper use or using highly biodegradable bamboo toilet paper.
2: Blocked Toilet Traps
A toilet trap is a U-shaped pipe that always remains filled with water to prevent foul odors in the sewer line from seeping into the house.
The U-shaped bend in the trap often makes clogging easy. To avoid frequent clogs, be careful with toilet tissue usage and avoid flushing hard objects that can settle in the trap and cause clogs.
3: Flushing Foreign Stuff
Your toilet is designed to flush human waste and soft toilet paper. Flushing foreign objects that are harder than human waste will cause clogging. Things like hard paper, diapers, sanitary pads, and wet wipes are all non-flushable and can clog your toilet.
4: Toilet Paper Usage
If you stuff toilet paper down the u-trap, it will most likely cause a clog. Avoid this by folding used tissue paper instead of rolling it into a ball. You should also reduce the use of toilet paper to a bare minimum.
Here is a short video to help you boost your flush and avoid unnecessary toilet clogs:
Wrap Up!
As you've probably noticed, there are hundreds of toilets on the market claiming to be clog-free. Having gone through our buyer's guide, picking the best no-clog toilet shouldn't be difficult.
Just ensure that your toilet of choice is water-efficient, easy to install and clean, and features a powerful flush mechanism. All the models we have featured here not only have an efficient flushing system but are also stylish and comfortable to sit on.