Nothing ruins the fun of an amazing camping or outdoor adventure like receiving the nature call and lacking access to a decent toilet. Fortunately, this is an issue of the past, thanks to the invention of portable camping toilets.
The best portable camping toilet for a camper van enables avid campers and hikers to answer their calls of nature with utmost comfort. They also make camping hygienic and are inexpensive to purchase. Modern designs have also made it easier and practical to carry and use a camping bathroom.
However, choosing a high quality and portable camping toilet can be daunting, especially with the myriad of options available on the market. In this guide, we highlight some of the best camping toilet ideas and a detailed buying guide to ease your purchase process.
Who Needs a Portable Camping toilet for a camper van?
Also known as a porta-potty, camping toilets are not limited to camping trips and remote sites. They come in handy in any area where conventional toilet facilities are absent or inconvenient.
If you go for frequent camping, it is probably a good idea to invest in a portable potty for camping. This item will come in handy in completing your camping escapades while maintaining the highest levels of hygiene and environmental conservation.
It is great to have the convenience and comfort brought by these camping potties.
Top 10 Best Portable Camping toilets for campers
Quick-Comparison
*Ratings courtesy of Amazon at the time of publication and can change!
The SereneLife Outdoor Portable Toilet is a high-end portable camping chair for those with an extra budget. With the high price tag, you can be certain that you will get extra features from the product compared to others in its category.
Starting off is the 5.3 gallons waste tank that makes it a good choice for use by more than 5 people for days without emptying. It also features a 3.2-gallon freshwater tank that stores sufficient water for 50 flushes before necessitating a refill.
That aside, you will like the units' powerful flush system. The SereneLife Outdoor Portable Toilet has a superior cleaning action, thanks to its Bellows Pump Mechanism. The mechanism, which is exclusive to SereneLife products, has 3-way flush nozzles. The system cleans the toilet bowl every time the flush lever is pressed, regardless of the type of plunger used.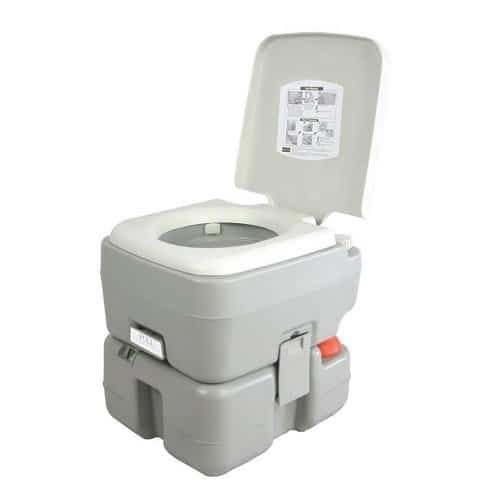 The Thetford Porta Potty Portable Toilet is undoubtedly the best portable potty for camping with RVs. Its lightweight and compact nature makes this product the best for travel-related uses. It can be used in trucks, vans, and RVs. Perhaps one appealing feature of this is the aesthetic design.
That aside, you will like the generous waste and water storage capacities offered by this unit. In that regard, it comes with a 5.5-gallon waste storage tank and a 4-gallon freshwater tank. With these, the toilet can be used by multiple people and can be flushed multiple times without requiring regular emptying.
You will also like the enhanced durability and the ease of use provided by the toilet. Apart from the modern and sleek design, the toilet has a solid construction. Compared to other camping toilets in its price range, the Thetford Porta Potty Portable Toilet is very intuitive.
This is attributed to the various convenience and performance features offered by the toilet. Among them include a battery-powered flush system, a large toilet bowl, and a comfortable-height toilet seat.
Other exceptional features of the toilet are the integrated toilet paper holder and waste and water tanks level indicators. These extras will help you easily monitor the levels of waste and freshwater in the storage tanks.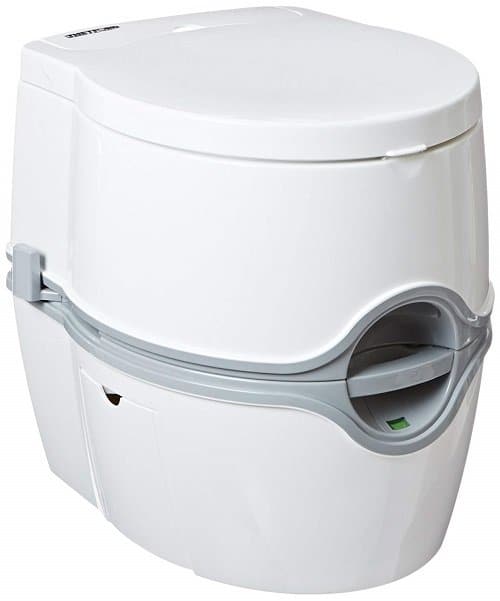 The Sanitation Equipment Visa Potty Portable Toilet is another affordable but powerful camping toilet available on the market. Like other high-end products on our list, it comes with a relatively large storage tank that probably renders the unit bulky. It also has a 3.7-gallon water tank that stores enough water for flushing after every use.
Apart from the large size, the efficient piston-pump flush mechanism makes the Sanitation Equipment Visa Potty Portable Toilet a good toilet of choice. The performance of its flush system is comparable to those of conventional toilets due to the overly functional piston-pump system. It delivers a two-directional rinse action, ensuring a thorough cleaning performance on the toilet bowl.
Besides, you will like the vented tank that this unit has. This additional efficiency will certainly make you love the Sanitation Equipment Visa Potty Portable Toilet. The product comes with a detachable sprout that can be connected to the waste storage tank for easier and efficient emptying.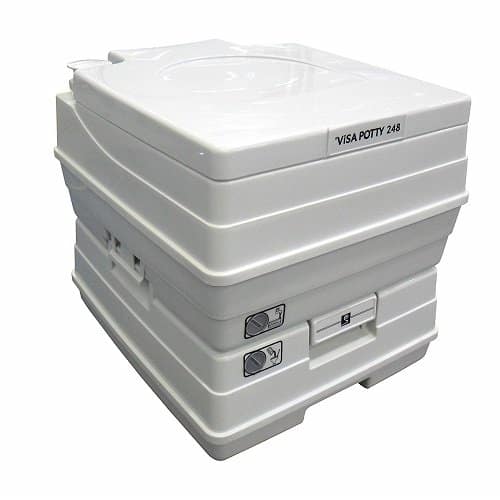 The Palm Springs Outdoor Portable Toilet is among the most affordable yet functional camping toilets available on the market currently. Despite its affordable price tag, the unit doesn't sacrifice quality and performance.
It is made of quality materials and comes with several unique features that satisfy most needs when searching for the best portable potty for camping.
Buying a camping toilet with quality and durable construction offers great value for money. The unit's tough construction provides an assurance that it can handle large weights and remain intact for many years.
To assure its durability, this unit is made with corrosion-resistant and heavy-duty materials. The Palm Springs Outdoor Portable Toilet also features a double-sealed drain valve that ensures that no odor leaks from the storage tank.
For better portability, all camping toilets should be lightweight and compact. This is exactly what this unit assures. Weighing only 9.75 pounds, you will have an easy time carrying the toilet during your camping or hiking escapades.
You will also like the simple flush mechanism that enhances its ease of use. It flushes just like a conventional bathroom toilet with an instinctive push-button that powers the flush system.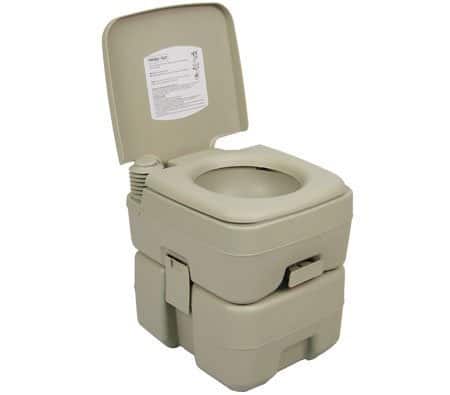 Are you looking for a high-capacity camping toilet? Well, the Reliance Products Luggable Portable Toilet should be your product of choice. The toilet features a rugged design and is made of quality materials.
This makes it strong and durable and can withstand the wear and tear associated with movements during camping, hunting, and boating escapades. Some outstanding features of this unit include:
Large capacity – the majority of camping toilets have limited capacity for human waste. However, the Reliance Products Luggable Portable Toilet comes with a 5-gallon waste storage tank, which makes it suitable for use by a relatively large crowd. It can be used by more than five people for some days without necessarily having to empty it.
Easy to use – the Reliance Products Luggable Portable Toilet features a snap-over cover and hinged toilet seat at the top. This makes it compact and takes up minimal floor space. Storing and transporting is also very easy, despite the large capacity tank.
That aside, you will also like the fact that it can be used with a double doodie bag, making it ideal for use any time you want to spend more time at the campsite. The bag makes it easy to dispose of waste without cleaning up after using the toilet and disposing of the waste.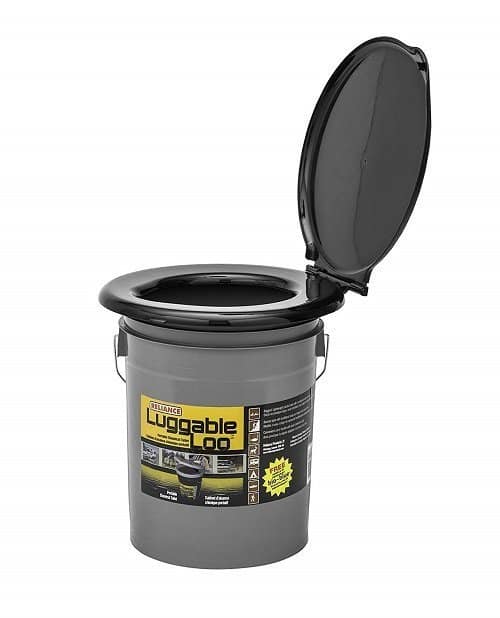 The Camco Premium Portable Travel Toilet is one of the many portable toilets manufactured by one of the most respected and renowned brands in the industry. Like other high-end products from the manufacturer, this model offers a plethora of unique features and capabilities.
To start with, the unit has a large seat and an increased bowl size compared to other competing products. But this isn't the only thing that makes this product stand out. Other features include:
Intuitive waste tank – water storage tank is one of the important components of a flushable portable toilet. That said, the waste tank used in this model is detachable, which makes it easier to remove and empty when full. Though not big enough, the detachable tank seals firmly, preventing any odor from sneaking out. The water storage tank can hold up to 2.6 gallons of waste.
Functional latch mechanism – the Camco Premium Portable Travel Toilet's latch mechanism is easy to operate and very secure. Additionally, the latch used to secure the detachable tank can be operated with one hand.
Durable – the Camco Premium Portable Travel Toilet is a premium product with high-grade construction. Like other Camco products, it is made from quality materials. It features a removable lid that can be latched for easier transport and can be removed for easier cleaning.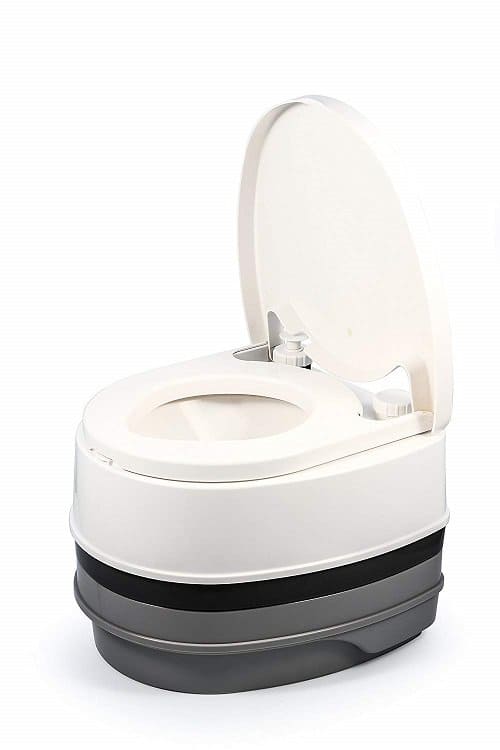 If you are searching for a camping toilet that is both affordable and functional, the Cleanwaste Portable Toilet with Waste Kit should be your product of choice. This portable toilet is quite different from other products on our list due to its folding capability.
Whereas most of the portable products are compact in size, this unit is foldable – you can easily fold it for easier storage when not in use.
Apart from the enhanced portability and affordability, you will also like its no-assembly make. Despite being a foldable unit, you won't have to engage in tedious assembly procedures if you want to use it. It also comes with a full-sized toilet seat.
The seat is supported by 3 legs that are stable and sturdy. You can as well use the lid as a stand if your weight is quite on the higher side. The Cleanwaste Portable Toilet with Waste Kit uses a bagged disposal method to collect human waste and toilet paper.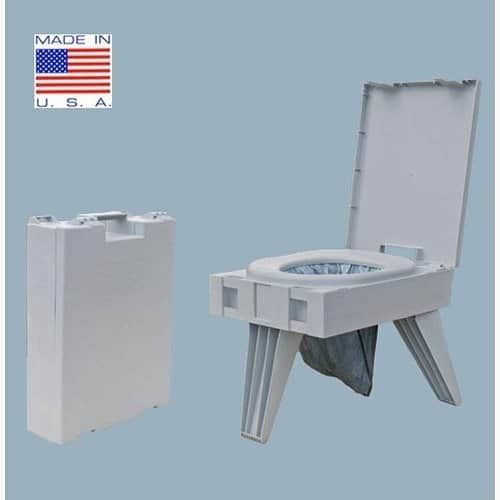 The Stansport Portable Camping Toilet is another unit designed to offer the best camping experience. It is comfortable with a full-sized seat that provides great comfort when in use. It is made from high-quality plastic that is not only durable but also easy to clean.
The toilet can handle up to 350 lbs due to its heavy-duty construction. However, despite this, it is still easy to transport. It features handy side handles that make it easy to carry around. The unit also has a lid that helps prevent spills during transportation. It can be lined with a waste bag, which you can remove with ease when full.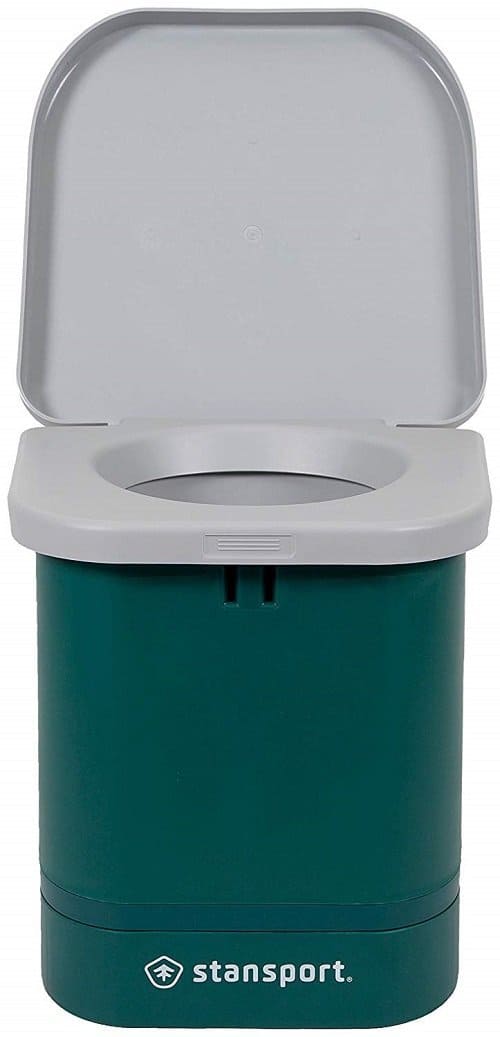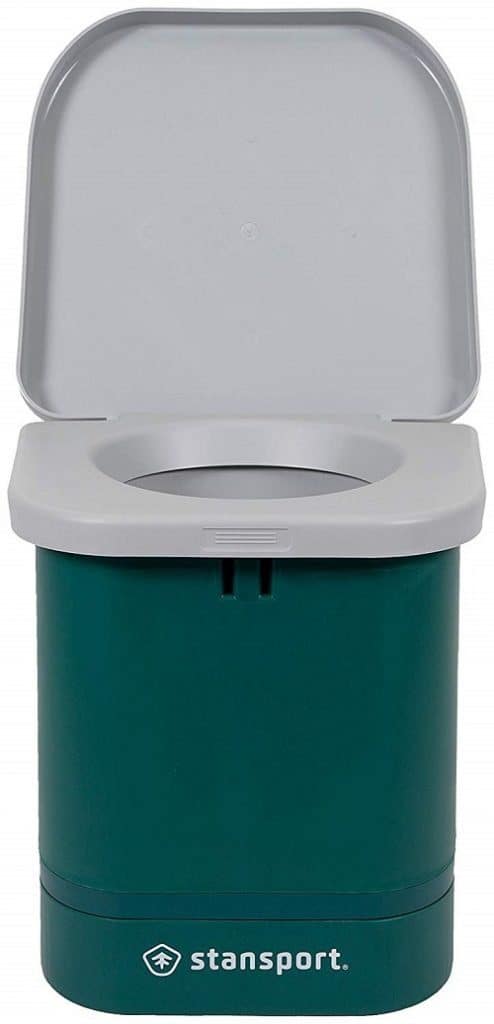 If you are searching for a compact camping toilet, the Partysaving Multiple Gallon Travel Toilet should be your product of choice. The unit comes with high-density polyethylene, 2.6 gallons waste tank, and freshwater reservoir. It is of average build and can support up to 250 lbs of weight.
Like other high-end units, the Partysaving Multiple Gallon Travel Toilet has a side valve that puts a tight seal on the waste tank. This eliminates any potential leakage of bad odor from the waste tank. The sturdy construction and compact dimensions also make it a good camping toilet option.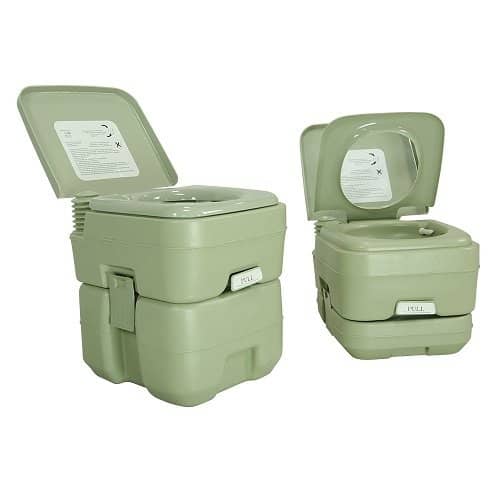 The Dometic Portable Toilet is another greatly-designed camping toilet that can be used in multiple locations. The unit has a simple design yet rich in features, providing its users with an assurance of great functionality during their camping trips.
The toilet is available in various colors for those who would like to play around with colors. It allows you to set the theme of your camping based on your favorite color.
Like other high-end products on our list, the Dometic Portable Toilet has a capacity of 5 gallons. This storage capacity makes the unit a perfect choice for use by multiple people during camping escapades. It also reduces the frequency of disposing of waste.
For ascertained durability, the unit has a quality ABS construction, which not only lasts long but also makes it environmentally safe.
What's more, you will spend less time and effort cleaning the toilet. It has a smooth body, which is very easy to clean and has a button that opens the lid. This reduces contact with the toilet, increasing your standards of hygiene.
The seat is also full-sized for adult capacity and extremely comfortable. That aside, the flushing system and high water pressure ensure that the Dometic Portable Toilet always remains clean.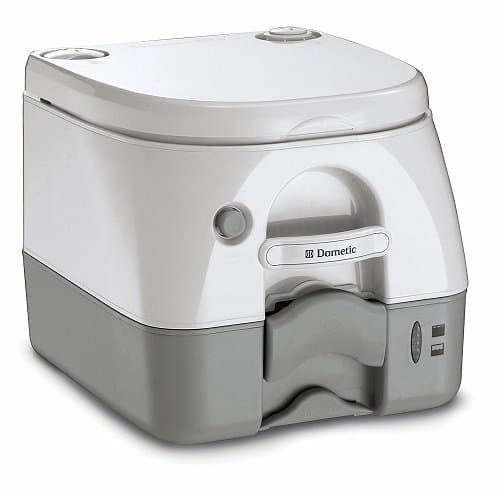 How to Choose the Best Portable Camping toilet for a camper car
The Buyer's Guide
With the plethora of camping toilets available on the market, you should be cautious when searching for the best product on the market. Below are some of the factors to consider when searching for the best portable potty for camping:
Safe waste disposal
You should be mindful of where and how you will be disposing of your waste while camping. Note that these toilets do not resemble standard toilets where flushing sends the waste directly to a septic tank or leach field through the sewer lines.
With camping toilets, you will have to handle the process of disposing of the waste yourself. This is why you should ensure that the product of your choice enables you to do this sanitarily, efficiently, and conveniently. When making this decision, consider the available waste disposal services in the camping ground.
Based on where you are camping and the surrounding community, you may have a reliable disposal facility around. Restrooms, for instance, might be a few minutes' walk from your camping site. Regardless, you should follow the stipulated instructions in your camping sites about waste disposal directions.
If the management requires that wastes should be bagged before being disposed of, you should consider purchasing a portable potty with chemical buckets or containers. If there is a pit that allows dumping of such waste, you can pour them directly inside. Always do your research before buying a portable camping toilet.
Type of Portable camping toilets
Camping toilets are available in various sizes and shapes. However, when it comes to the various types, there are a few options to choose from. They include:
a: Flush camping potty
Also known as chemical toilets, flush camping toilets allow users to seat above a vault with a reservoir that can be flushed directly under the seat. They work more like regular upflush toilets.
Most of them have a strong chemical that reduces the strength of human waste odor and performs partial disinfection. This makes it easier to deal with the waste disposal without being exposed to the foul smell in its full-blown strength.
Some flush camping toilets leave the waste while others separate and circulate the chemical treated fluid in the toilet tank. These systems also have an independent system of collecting and sealing the waste in a bag. If the bag is high-end, you might not even feel the odor of the waste.
Other systems use a dry system with no chemicals involved. They alternatively use air pressure that seals the waste, putting it in a compact form for easy disposal. Since this waste is not disinfected, you should avoid disposing it above ground or water. If there is no disposal in the campsite and you are planning to stay for some days, you should consider burying it the cat style.
b: Bag camping toilets
This is the most common type of portable potty for camping because it is less troublesome to handle. As the name suggests, they feature a bag that users will have to dispose of with the waste after use.
c: RV camping toilets
Some people prefer camping in tents while others prefer camping in comfortable RVs. If you prefer camping alongside your recreational vehicle, RV camping toilets should be your toilets of choice.
These products are best for situations that you can't dispose of the waste with ease. These toilets turn the waste into fertilizers that can be safely dropped onto a plant after camping. These camping toilets have an incinerator that turns poop into less smelly ash.
Portability
Everyone would certainly bring his or her home toilet to a camping site if it was possible – it's the toilet you are used to. However, you can't do that due to the solid pipes and plumbing systems that connect them.
That said, even with the most portable potty for camping, some are quite big and heavy to lift. If you can carry it with your car comfortably, the size might not be of much concern.
On the contrary, if you like hiking towards your camping site, you should think twice about carrying a big, heavy toilet. For such cases, consider portable toilets that can fold or compact to take up less space. The best macerating toilet for camping should be lightweight for easier mobility.
Sturdy
You should consider purchasing a camping toilet that can support your weight. This will help you avoid embarrassments of a wobbling toilet as you get busy with your business. The last thing you would certainly want is for the toilet to topple over, leaving you in a crappy situation. Choose a camping toilet that is robust enough and won't break down easily.
Simple design
Avoid camping toilets that have a lot of whistles and bells. The more complicated the portable toilet is, the more likely that it will malfunction. A very fancy system will likely make it challenging to pack and carry around. That said, go for a camping toilet with a minimalistic design.
Odors
Among the primary things to find out before purchasing a camping toilet is the smell management mechanism. For sure, you wouldn't want having a toilet that buries the entire campsite in a bad smell.
Consider buying a product with various odor management features. Commonly, most camping potties feature a double seal that prevents odors from exiting the toilet area. If your system has such similar features but still leaks out some bad smell, there could be something preventing the seal from functioning correctly.
Privacy
Nobody certainly likes to be watched handling his or her nature call business, which is why privacy is a major factor of concern. Some portable toilets have their inbuilt privacy systems that feature a small shelter with enough place to sit on. The shelters are typically miniature tents that are sold with the potty or separately. Regardless, find a product that has some form of privacy.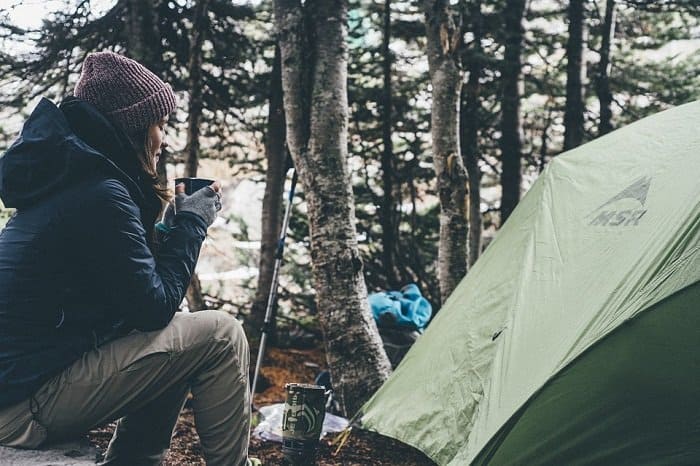 Benefits of Buying a Portable Potty for Camping
Below are the reasons why you should invest in the best camping toilet:
No use of cat holes
If you have been eating, you definitely know that a bowel emergency will catch up with you after some hours. When such situations call, time is of much essence. Without portable camping toilets, you will have to find a shovel, find a bush, and dig a hole to relieve yourself.
However, with a portable camping toilet, all these difficulties are eliminated. No shovels, no holes, and no running into the woods. You'll simply grab the toilet seat and handle your business with ease.
Eliminates nasty public outhouses
If you've gone to different campsites and hiking sites, you definitely understand how outhouses and porter Johns are nasty. To avoid such situations, invest in a portable potty that will conceal your human waste.
Comfort
Well, don't you like being comfortable when answering a nature call? Whereas others may prefer squatting when doing their toiletry business, the majority enjoy the comfort provided by a toilet seat. This is exactly what you get by taking a camping toilet with you.
Best Brands for Portable Camping Toilets
Are you buying a new portable toilet or just upgrading? Well, regardless of your situation, finding the best macerating toilet is of utmost importance. An easy way of finding this out before buying is learning about reputable portable toilet brands. Some of the well-known brands include:
Thetford
Thetford is a well-known company that sells more than just portable camping toilets. It also deals with kitchen appliances, holding tanks, emergency products, and bathroom equipment. With its well-rounded supply, you can be sure that its products are of high quality, with some being the best sellers in the market.
Cleanwaste
Are you searching for innovative and unique portable potty for camping? If so, you should consider the Cleanwaste line of products. The brand has been producing portable toilet products since 1999 and is one of the world's leading manufacturers. Their line of products is amazing for those who need the best portable potty for camping or for rooms with minimal plumbing systems.
Cleanwaste is a common brand of choice for national parks, hospitals, military camps, and other established outdoor retailers. Whereas their products don't have the prettiest designs, they make some intriguing and overly functional portable toilets.
Reliance
If you like minimalistic products, then Reliance camping toilets should be your brand of choice. The company produces simple products that are straight to the point. They make a good choice for those who don't value a lot of additional features in their portable toilets.
Camco
Camco is considerably an underdog manufacturer compared to other brands mentioned before. This isn't because they don't produce great products, but because they only have one model of portable toilet to choose from. They are popular for their antifreeze, washer fluid, marine equipment, cleaners, towing gears, and RV equipment, and their only portable toilet model is not a bad choice.
Wrap Up
Choosing the best portable potty for camping is undoubtedly a challenging task. Surely, it is a small device, but the many features to consider before purchasing makes the search process tedious. You can definitely answer your nature calls in the nearest bush, but the modern era of civilization will question your actions. This is what makes it necessary to find a portable camping toilet. Hopefully, the guide above with the products and buying considerations will ease your search process.
FAQs
What are the uses of portable camping toilets?
A portable potty for camping comes in handy if you want to go on a camping spree among other uses. They can also be used in emergencies and large-scale events such as festivals, military camps, and other outdoor events where there are no nearby regular toilets.
How do portable camping toilets work?
Portable camping toilets work just like regular toilets since some even have flushing features. The only difference is that unlike regular toilets that have waste being sucked down the drain or sewer line, portable toilets store their waste in a holding tank. Some models have chemicals that break down the waste to make it disposable and reduce the smell.
Where is the best place to position a camping toilet?
Portable camping toilets can be placed anywhere on your camping site. However, you should consider having them at some distance from your residence to prevent the smell from reaching you. Ensure that it is in a well-lit, easily accessed area and with a level ground to avoid tipping over.
Can the water inside the toilet freeze during the night?
This depends on the type of toilet that you choose. Low-end models, for instance, have thin tanks that can allow water to freeze if the external temperatures are very low.
On the other hand, some models have anti-freezing features that insulate the tank, preventing the contents from freezing. You can also add some liquid to the tank to prevent solidification of the water during low temperatures.
How often should the toilet be cleaned?
Ideally, the toilet seat should be wiped after use. This will prevent the accumulation of microbes and increase hygiene levels. You should as well dispose of the bag after use to prevent cross-contamination.