Saniflo or macerator toilets are designed to break up or macerate human waste and paper using a special blade and centrifuge the macerated waste into the main waste system. The main difference between a macerated toilet and other toilet types is the absence of sewage drain exit pipes on the toilet. This means that you can fit your Saniflo toilet anywhere on your property as long as there is access to an outflow pipe. In this comprehensive guide, you'll learn everything you need to know about the best Saniflo toilets and get a list of the top five brands to try out.
Top Five Best Saniflo Toilets
If you are looking for an efficient upflush toilet option for your bathroom, then a Saniflo toilet may be your best bet. Here is a list of the best five Saniflo toilets to consider checking out as you shop around:
If you're looking for a powerful macerating unit suitable for both residential and commercial settings, then this Saniflo model has you covered. The toilet can be comfortably placed at levels of up to 18 ft. below the sewer line. It's has a unique pump that you can connect with any washing machine, sink, or shower. If you feel the discharge pipe's diameter is too limited for your needs, you can quickly use the Sanibest Pro upflush toilet kit to fix the problem. 
The unit comes with all the essentials you need to start running efficiently. You can use the pressure chamber to start and stop the toilet. The macerator has very sharp blades for transforming human waste into a slurry. Moreover, the unit's motor is securely located in an oil-filled enclosure. The unit comes with an elongated bowl, tank, and matching kit. 
The elegant white color of the kit can easily match with most interiors gracefully. This priced unit is integrated with a sturdy grinder that can rotate at a rate of 3600 RPM to blend all the solid waste. Furthermore, the toilet is capable of clearing sanitary items that may fall into your toilet and cause clogging. Although the toilet delivers a powerful flush, it's super silent.
Features 
Tank, elongated bowl, matching kit
White in color
It can be fitted up to 25 ft. below the sewer line
A sturdy grinder that removes all waste
Can flush sanitary items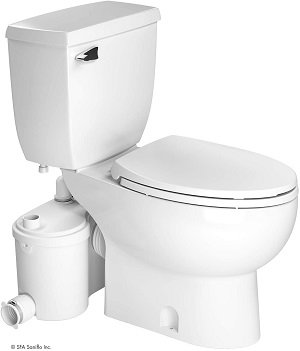 In the world of macerator toilets, Saniflo is indeed a household name. SaniPLUS is a toilet that will make your life easier and comfortable regardless of your location and the type of bathroom you have at home. This unit can fit in different settings, and it thoroughly cleans the bowl that you won't see any traces of waste left. 
Saniflo is always focused on producing toilet products that eliminate toilet-related issues in most homes. The unit comes with a toilet kit that includes a tank, a pump, and an elongated bowl; you don't have to start buying other additional accessories. The three parts are all in white, making them neutral enough to match with different interior décor styles. 
This is one of the manufacturer's latest designs that is built with a modern design. Moreover, its elongated shape makes it perfect for smaller spaces, and its structure is perfect for a floor installation. The unit has very powerful stainless steel blades and a pump that operates at a rate of 10 PSI. In addition, the SaniPLUS unit is ADA accessible, which makes it a perfect toilet for people with mobility issues. The high price of this high-end unit is justified by its exceptional features. 
Furthermore, it can connect with your bath, shower, and sink. The toilet delivers a silent flush that can't disturb people sleeping in the next-door rooms at night. It's an efficient toilet that consumes water at a rate of 1.6 GPF.
Features 
Sleek modern design
Elongated bowl
Floor-mounted
Powerful pump and efficient tank
Consumes 1.6 GPF
White in color
Silent flush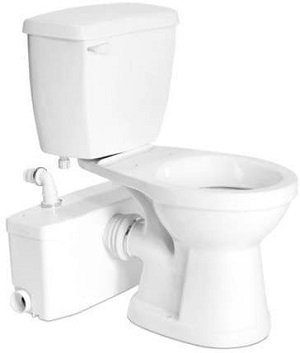 The Saniflo SaniAccess 3 toilet has an elongated bowl that makes it a perfect fit for smaller spaces. Its white color can match perfectly with different interior designs. This toilet will serve you for several years as it's constructed with Vitreous China, which is one of the strongest materials for manufacturing durable toilets.
The elongated bowl shape of this toilet makes it a great fit for small bathrooms and offers some extra comfort to users. It delivers a quiet flush that won't disturb people at night, especially those sleeping in the neighboring bedrooms. Besides, installing the toilet's pump, bowl, and tank is quick and easy.
Features 
Two-piece unit
1.2 GPF
White color
Elongated bowl shape
2-year manufacturer warranty for pumps and a 1-year warranty for other parts, including the bowl and tank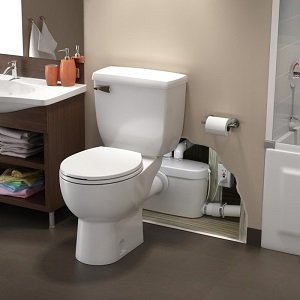 This is a self-contained macerator that is compact enough to suit small bathrooms. Since the toilet is concealed inside the unit, it's easy to match its design to your interior décor. You'll love the unit's easy installation and the power to clear all the waste in the bowl effectively. You can install this Saniflo model in various spaces around your home, such as under the stairs, attic, garage, and basement. 
The compact-sized SaniCompact can remove human waste from a distance of up to 30 meters horizontally and up to 5 meters vertically from the sewer line. The toilet measures 403mm X 220mm, which gives you sufficient room to install it on your wall without experiencing any difficulties. 
Furthermore, you can twist the unit's back elbow to a 360 degrees angle so you can easily install it in the designated space with any piping. At a water consumption rate of 1 GPF, you can rest assured that you'll save some quick bucks down the road. This is a very comfortable Saniflo toilet model for people of different sizes as it measures a recommendable height of 18.5 inches. You'll also get a Saniflo SaniCompact upflush toilet kit that you can install on different types of water draining appliances. 
Additionally, it's built with long-lasting chrome hinges and a push-button flush that you only need to touch softly to remove all the waste. Aside from its non-return valve that prevents backflows when flushing, it doesn't require complicated venting systems. Your SaniCompact unit has white porcelain glazing that makes its surface so slippery that stains and molds won't stick.
Features 
2-year warranty
Powerful pump
Easy to install on your walls
A back elbow that can rotate up to 360 degrees
Water consumption of 1 GPF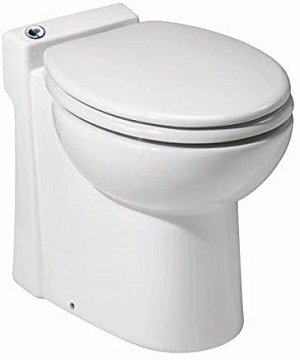 Everyone is looking for a toilet model that offers the highest level of comfort, and this Saniflo unit fits that description. If you've friends and family members of mixed-age groups or sizes, you need a toilet that has the right measurements so it can be easy on their joints.
Its round shape makes it a perfect fit for bathrooms of all sizes. At the height of 18 inches, the two-piece toilet is a convenient and comfortable unit for everyone in your household. It's also very comfortable for the elderly and adults. 
Features 
Two-piece construction
18-inch-high stand
Round bowl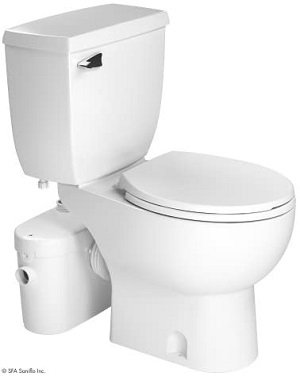 Buying Guide for the Best Saniflo Toilets
The principal parts of a Saniflo toilet include:
Blades
Impeller
Float Switch
Microswitch
When a user flushes the toilet, the system transfers the waste and paper to the blade, where it's macerated into smaller particles. The broken-down material will then flow through a much smaller pipe than the standard size found in traditional toilet types.
When the float switch is activated, the macerated slurry will go into the Saniflo tank, where it accumulates to a particular level. Next, the switch will operate the microswitch to activate the impeller. To complete the process, the activated pimp will drain the waste into the drainage system in the locality.
Considering that pushing solid wastes upwards is an uphill task, the macerator toilets are designed to transform the solid waste into a slurry that can easily go against the force of gravity. With most macerator toilets, you don't need to waste valuable time and resources digging a hole on your floor or wall.
Understanding the functioning of some of the various features of macerator toilets will help you make an informed decision when shopping for the right toilet that meets your specific needs. Some of the essential features you should look out for include:
Type Of Macerator
It's important to know that Saniflo has different types of macerators on its toilet product offering. You can opt for a grinder or a standard macerator, depending on your specific needs. Some of the different Saniflo choices to consider include:
SaniPLUS – It's a user-friendly, quiet unit designed for domestic purposes. It's easy to clean and maintain in smaller bathrooms due to its compact design.
SaniBEST Pro – This is a great option for people who want to place it in the basement as it has a very powerful upflush technology. It's also efficient as its water consumption rating is 1.6 GPF.
SaniPACK Pro – This unit is designed to work effectively for both residential and commercial settings. The toilet can work perfectly with your shower room and basin.
Water Consumption
A macerator may not be the type of toilet that comes with a powerful flushing technology, but it is definitely a one-time investment that'll save you some money down the road. Therefore, the type of toilet that you choose to buy should be powerful and efficient enough. When it comes to toilets, efficiency is usually measured in terms of the gallons of water it consumes per flush and power consumption. 
A toilet that consumes as little water as possible will help you make some quick savings on your water bill. Consider toilets that have a gallon per flush (GPF) rating of around 1.6 GPF or less. Some modern toilet brands come fitted with a dual flushing technology that is capable of allocating water consumption based on the type of flush needed. 
For instance, an efficient toilet with a dual flushing technology can allocate a utilization of 0.6-1 GPF per half flush and a 1-2 GPF per full flush. It's, therefore, essential that you check out the water consumption ratings on a toilet model before you buy it.
Power Consumption
While most traditional toilets don't need electricity to operate, smart upflush toilets come fitted with more advanced features and the latest technologies that use electricity. When installing such modern toilets, you need to settle for a toilet type that is energy efficient. This is a very crucial factor to consider when buying macerated toilets that require power to run the spinning blades and the pump.
 Check out the amount of power you'll need to operate the macerator, especially if you're interested in units manufactured by Saniflo. In other words, check the amount of power the toilet will consume/need to effectively push out the human waste. A unit that requires a power outlet of about 120 volts will efficiently push the wastes further. 
Saniflo toilets, in particular, are designed with efficient macerating technology that consumes less power to push out the wastes. While some macerators may require higher wattage to operate effectively, power consumption largely depends on the model you choose. You can find Saniflo toilets that run on batteries, as well. These units are designed for areas with power outlet issues and are easier to install. 
Installation Space
This is a very crucial factor to consider because, for instance, if you'll be placing your Saniflo toilet in the basement, you should purchase an upflush toilet. Moreover, such toilets should have very powerful flushing technologies that can effectively push the wastes upward. The basement toilet will also require extended pipework. Therefore, the location and pump power of your toilet matter a lot when choosing the right macerator.
Other styles of macerators can perfectly work in spaces other than the basement. If you've limited space, consider investing in a Saniflo toilet that is designed to save space. SaniPACK is one of the best space-saving toilet units on the market.
Convenience and Comfort 
While it's not a bad idea to choose a unit that looks great physically, it's important to ensure the toilet is comfortable and convenient, as well. If you have a large family of different-sized individuals, it's critical that you think about the issue of height. If the unit is too high for the kids and too short for the adults in your household, then it's not a convenient toilet. 
The most comfortable toilet heights are between 15 and 19 inches. These specs are available even on the Saniflo toilets listed on major online marketplaces such as Amazon. The toilet you purchase should also be comfortable on your knees. You'll determine a unit's comfort levels by checking the distance from the floor to the seat.
Pros and Cons of Saniflo toilets
Here is a list of some of the pros and cons of the Saniflo toilets that you should know about when researching and shopping for your next Saniflo toilet.
Pros
Easy installation: You don't have to drill holes, break floors to install your new Saniflo toilet. For upflush Saniflo models, you don't need to do extra plumbing pipework at installation.
Not location limited – Where you install your toilet is a personal preference because these units are very flexible.
Efficient – In terms of water and electric bills, the Saniflo macerator toilets are very efficient.
Space-saving – Saniflo produces macerator toilets that are very minimalistic in size and with sleek, modern designs.
Durability – Saniflo toilets are made of durable materials that guarantee you several years of comfort.
Cons
Pricey – Most macerator toilets are more expensive than their conventional counterparts, and their price tags may be too high for some households.
Noisy – Saniflo toilets, just like most of the macerator toilets on the market, are noisier than traditional toilet models.
Water pressure problems – Some of the low-cost Saniflo toilets have low water pressure that may leave your toilet with traces of waste and a foul odor even after flushing.
Q&As About Saniflo Toilets
How do the macerator toilet models work?
Unlike standard toilets, a macerator toilet utilizes gravitational force to send waste into the sewer. While you may find upflush macerator toilets that have to push waste upwards, the idea is to macerate human waste into a slurry that is easier to remove than solid waste.
Why choose the Saniflo toilets?
Saniflo is a reputable manufacturer of macerator toilets that are easy to install, consume less water per flush, and perform effectively. Besides, Saniflo models can be installed in areas where other macerator toilets can't be placed, such as the basement.
How long do macerator toilets last?
The lifespan of a macerating toilet depends on how well you maintain it. A two- or four-piece toilet doesn't require much maintenance. If you can take care of your new Saniflo toilet according to the manufacturer's instructions, the unit can last you up to 15 years.
Conclusion
In a nutshell, macerator toilets break down human waste into smaller particles that look like slurry. Saniflo toilets are often placed at areas that are too far from the main pipeline or at a level that is lower than the sewer line. Remember, a Saniflo toilet with a pump is worth the higher price tag compared to one without one. If you have any comments or questions about the best Saniflo toilets, feel free to mention them in the comments sections below.