Shower filters are designed to remove contaminants and chlorine from water. Although some shower filters on the market still use outdated technology, this guide narrows down on some great modern-day shower filters built on more advanced technology. The best shower head water filter for hard water is capable of removing different types of contaminants such as lead, herbicides, heavy metals, pesticides, and VOCs.
Who needs shower filters?
Every homeowner with a shower is predisposed to a lot of airborne contaminants created by tap water and heat that is generated by the shower. These contaminants can pollute your indoor air and pose hazards to you and your loved ones. In fact, inhaling chemicals in airborne contaminants is even more dangerous than drinking them in unfiltered water. The chemicals in these contaminants have the potential to increase cancer risks, birth defects, and premature births. Therefore, every homeowner with a functional shower should consider investing in the best shower filter.
A good shower filter is also beneficial to your hair and skin. While the intake of chlorine when taking a shower is minimal, it can easily penetrate your skin in the form of gas after it mixes with hot water from the shower. Scientific studies have proved that hard water with high chlorine content can damage your skin and hair. So, to avoid excessive exposure to chlorine, which may cause skin irritations and breathing difficulties, it's advisable to purchase a shower filter.
Furthermore, hard water has certain minerals that make it difficult for shampoos and soaps to lather properly. The white residue that often builds on your bathroom showerhead and faucets is caused by the reactions of magnesium and calcium found in hard water.
The same hard layer that is difficult to clean on the faucets will cover the strands of your hair and block your skin pores. The effects of this layer on your hair and sensitive skin will eventually affect your health in unimaginable ways.
Top 10 best shower head water filters for hard water
Quick-Comparison
*Ratings courtesy of Amazon at the time of publication and can change!
If you're doing a bathroom remodeling project to upgrade your shower's look and functionality, then you should consider this AquaBliss shower filter. The filter comes with a chrome casing that blends easily with most shower stall designs. The shower filter features three chambers, namely:
Cotton lining
Heavy metal and chlorine removal
Sediment removal
The shower filter is capable of removing a lot of chemicals and natural minerals in your hard water. Any shower filter that has the potential to filter out these unwanted substances before the water escapes is a crucial addition to your bathroom. However, you'll need to change the filter on a regular basis.
Although you won't be able to know the right time to replace the inner filter, this AqualBliss filter can last up to 12,000 gallons of water. This means that you should consider replacing the filter after around six to eight months. Since these replacement filters are inexpensive, you can rest assured of getting good value for your money. Overall, the shower filter is very effective in helping you prevent things like gunk forming in your bathroom fixtures and plumbing system.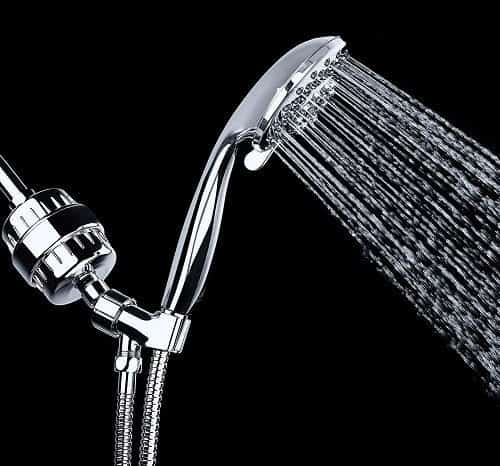 This Aquasana shower filter offers you better water quality and taste. The process of changing the filters is very easy. You only need a Teflon tape to install your showerhead. The backbone of this product is its coconut shell carbon. This means that the filter is potentially capable of blocking harmful substances and chemicals from contaminating your water.
If you often feel like your skin or hair is inadequately cleaned after washing up using premium shampoos and soaps, then you need to consider this filtration system. Even if the level of water impurities and airborne contaminants in your area is very high, you'll only need to change the filter once a year.
Once you install the showerhead, you'll immediately notice that the quality of water changes. Hair loss or dry skin issues you keep experiencing will also disappear. The blackheads and skin rashes will become less frequent because the water you're using is now free of harmful chemicals and contaminants.
According to the manufacturer, this shower filter is capable of removing up to 91% of chlorine in your water. You can actually use test strips to check your water's PH levels and see whether these claims are true. The filter is also capable of removing a number of contaminants and bacteria found in sewage water.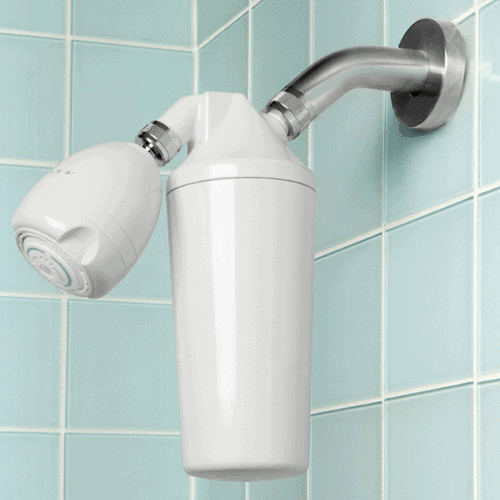 This shower filter is mainly designed to reduce the levels of chlorine in tap water. Depending on the quality of tap water in your area, the filter is capable of removing up to 97% of chlorine in your water. The other type of substance it partially reduces is copper. The filter doesn't soften water, but in terms of chlorine reduction, it is one of the best shower filters on the market today.
Your package will come with Teflon tape, cartridges, and replacement and housing o-rings. This means that you won't need to buy any special instruments in order to install your unit and start using it. Furthermore, the shower filter can fit into any standard-size shower head and the filter cartridge lasts up to eight months. When compared to other models, that is a long period of time.
The unit's construction is made of plastic with a chrome finish. Although the filter is not the finest in removing different types of contaminants from water, you should consider it if your main concern is reducing chlorine levels.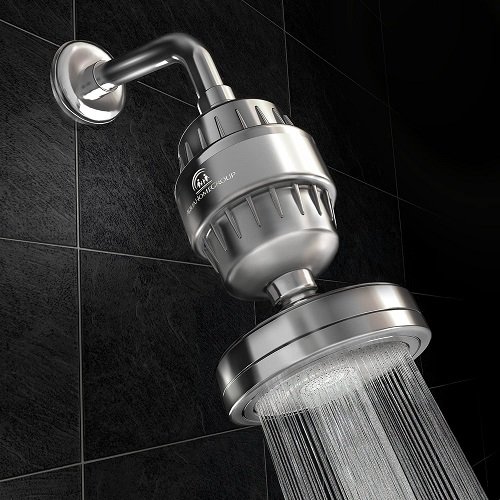 This a great shower filter for removing contaminants and chlorine from hard water in your home. Typically, tap water is treated with chlorine by the municipality to make it safe for consumption. But, chlorine can have adverse effects on your skin.
This particular shower filter is capable of removing up to 95% of the chlorine in your water, meaning that it's a very effective unit for filtering out contaminants found in tap water. The Berkey filter is cheaper because it allows you to use your existing showerhead.
The filter's lifespan is very impressive as it lasts for up to one year or up to 20,000 gallons of water. And even after waiting for that long, replacing the filter is not that expensive. The filter is capable of removing chlorine in your hard water and make the process of maintaining your bathroom easier by eliminating lime, household mold, and mildew.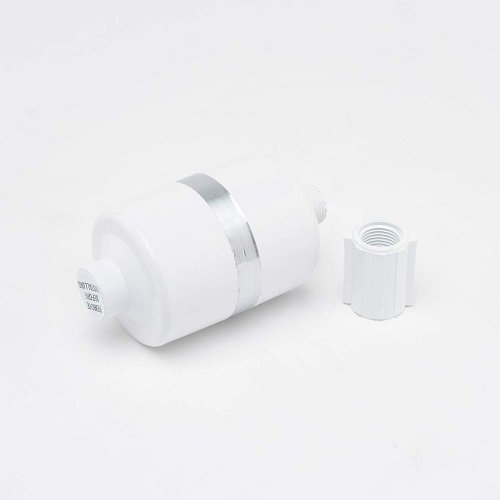 The unit is easy to install. You can quickly set it up in a few minutes and start using it since you don't require any tools for the installation. And since it doesn't come with a showerhead, you can simply attach the filter to your existing showerhead.
This is one of the most durable shower filters in our list of best shower filters. The unit is designed with two filters and each of the filters can last up to 20,000 gallons of water. Meaning that the combined set of filters provides you with longevity of 40,000 gallons of water.
The filter is capable of softening your water by removing different types of contaminants such as magnesium, calcium, chlorine, and heavy metals. The filter can also prevent bacteria and viruses from polluting your water.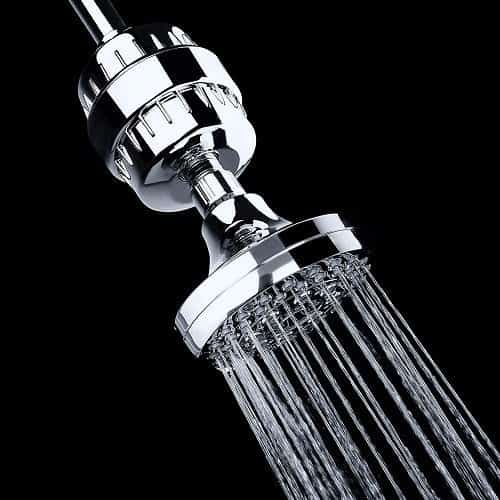 This is one of the most effective shower filters on the market today. With its 2-stage filtration process, you can be guaranteed that the filter will remove all contaminants from your water. It has a very complex filtering process that is not only capable of removing harmful substances from your water but also balances the PH level of your water. This means that after filtering out your water, your luxurious showers will become healthier for your skin and hair.
The Jonathan shower filter is also capable of softening your water noticeably in order to make it safer for your skin – it typically removes up to 91% of the chlorine in the water. When using soft water with a balanced PH and low chlorine levels, you can be sure that you and your loved ones will lead a safer, healthier lifestyle. The irritations that you keep experiencing on your skin and scalp will be no more.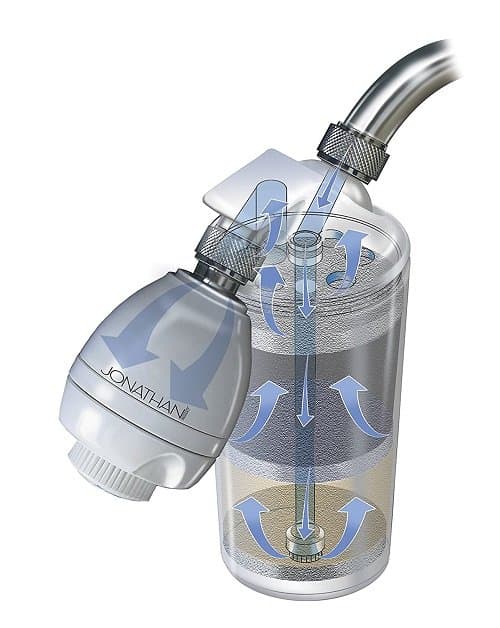 If you're looking for a showerhead that will improve the quality of your skin and hair, then this is a great filter model for you. The showerhead has a coconut shell carbon filter that is capable of removing several contaminants and impurities such as chlorine, mercury, iron, lead, and herbicides from tap water.
By removing all these impurities that have negative effects on your skin and hair, your physical appearance will tremendously change. In fact, you'll become healthier in general. The unit is easy to install: you simply need to remove your existing showerhead and replace it with the Aquasana AQ-4100 and you're all set. The showerhead has a wand, which makes using the showerhead somewhat easier. You'll notice the difference in the quality of your water after a few uses.
The Culligan shower head is very popular because it has a very efficient design. Unlike most of the other models on this list, it's designed as a showerhead without a separate cartridge for filtering the water. That doesn't mean that the unit doesn't use a cartridge to filter hard water; it has a cartridge that is housed in the showerhead. This makes the handling of the showerhead and installing it extremely easy.
If you follow the simple installation instructions carefully, you can have it installed and ready for usage within five minutes. All you need to do is unscrew the existing showerhead and replace it with this Culligan showerhead and you're good to go.
Apart from removing heavy metals and chlorine from your water, this showerhead is capable of removing bad tastes and foul smells from your tap water. The showerhead filters out all the floating contaminants in your water, leaving it sparklingly clean.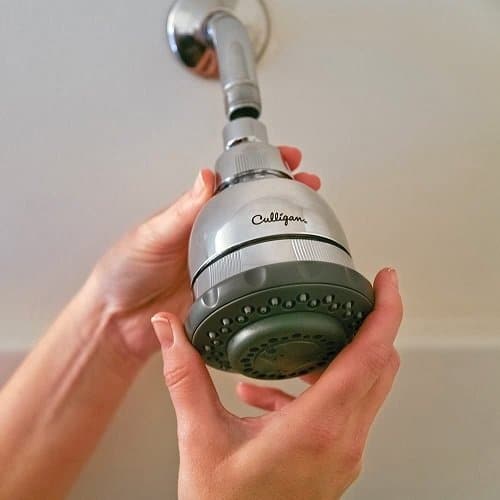 This is arguably the most affordable shower filter on this list. If you're operating on a tight budget, consider this shower filter to help you affordably improve the quality of your tap water and make life better for your entire household.
The model's showerhead uses three spray patterns, including one for massaging sprained muscles. Furthermore, your package will come with everything you need to install the unit, including a shower hose. It offers you a higher pressure that will incredibly lower your water consumption. In addition, the filter is eco-friendly.
The unit has the capacity to soften your water and reduce its chlorine levels significantly. However, if you want to remove other substances such as copper, mercury, and pesticides, you may need to purchase a different model.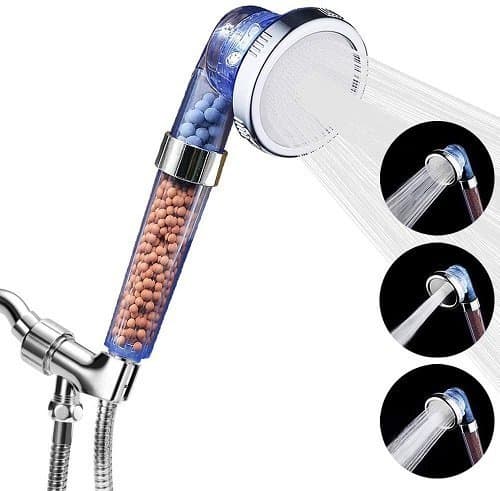 The iSpring shower filter has a stylish design that is pleasing to the eye. Since it's extremely easy to install the unit, you can simply uninstall it any time you feel it has clogged, clean it, and re-install it back without wasting a lot of time.
Although the cost of replacement filters is almost similar to that of the product itself, the investment is worth it. In other words, what you get from investing in this filter can't be compared to the cost of dealing with heavy metals and sediments in your water.
The lifespan of the filter's cartridge is six months, which is very impressive compared to other models. However, the durability of your cartridge will also be determined by the condition of water in your region.
For instance, if the water in your area is significantly contaminated, the cartridge may need replacing after about four months. If the water is not too contaminated, you can even replace the cartridge after seven months.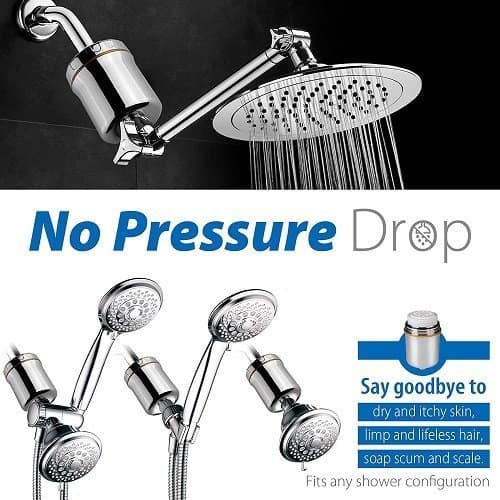 Our Top 3 Best Shower head water Filters for hard water
If you're looking to take long, warm, and odor-free showers in your bathroom, this is the perfect shower filter to try out. The filter is very effective in removing bacteria and chlorine from tap water. The process of installing this filter is so simple that you don't even need to watch a YouTube video tutorial to learn more.
If you're looking for a shower filter with a cartridge that lasts for up to six months, then this is the right unit for you. The unit is capable of handling a large water capacity of up to 16,000 gallons. The iSpring SF series has recently become very popular because of its potential to remove natural minerals, chlorine, and other harmful substances from tap water.
A majority of smart contractors and homeowners prefer this AquaBliss shower filter when executing bathroom remodeling projects. The unit is designed with an amazing chrome finish that'll blend well with your bathroom's design. The filter removes chlorine, heavy metals, and sediments in its three different chambers. The filter lasts up to 12,000 gallons of water.
how to choose The best shower head water filter for hard water
Now that you have understood why you need a shower filter in your bathroom, it's important to learn more about these devices in order to make an informed decision when buying one. There are certain things you need to know when selecting the best shower filter for hard water. So, read on to understand these crucial aspects of shower filters before you head over to our top picks.
How Shower Filters Work
A shower filter is designed to filter tap water in order to remove harmful chemicals and contaminants. Interestingly, many people don't know that tap water can be safe for cleaning and even consumption, but dangerous to the skin and hair. For instance, if you start feeling dull and sometimes irritated after taking a shower, you may be experiencing the effects of the harmful substances in hard water. The work of a shower filter is to remove those substances from the water by using effective filtration methods before the water comes into contact with your body.
Different types of shower filters use different filtration methods such as Granular Activated Carbon (GAC) and Kinetic Degradation Fluxion (KDF) to remove these airborne contaminants from the water. While GAC traps molecules, KDF uses a reaction called redox to filter out contaminants.
Initially, shower filters were only designed to remove contaminants. But, with time, the gadget has evolved into a very helpful tool that is capable of releasing essential elements that have the potential of improving the condition of your skin and hair. For example, AQUABLISS 12-STAGE shower filter, which is rated as one of the bestsellers on major online marketplaces such as Amazon, releases minerals and oxygen that energizes tap water.
Types of Shower Filters
In terms of installation, shower filters can be categorized into two main types:
In-line shower filters: This is a type of shower filter that is installed between the supply line and the showerhead. Also called portable shower filters, they are very easy to install and use.
Filtered shower heads: This type of shower filter comes with a built-in filtration system. This means that you won't need your existing showerhead when installing the gadget.
In terms of target filtration, there are about three types of shower filters:
Chlorine filters: This is the most popular type of shower filter on the market. These filters exploit media types such as Calcium Sulfite, KDF, and GAC to remove contaminants from hard water.
Chloramine filters: Even though Chloramine is not as harmful to the body as chlorine, it's advisable to have it removed from your tap water. Vitamin C is considered the best medium for filtering out this substance.
Fluoride filters: Although the effects of fluoride on the skin and hair are not clearly defined, there has been a rapid growth in demand for this relatively new Fluoride filter lately.
Is a Shower Filter Necessary?
Shower filters have lately become a necessity in every bathroom, especially if you use hard water in your shower. Here are a few benefits you can draw from a shower filter:
Improved Appearance
When substances in hard water mix with soaps and shampoos, they form a layer on your skin that can make it rough and dull. The work of the shower filter is to protect your skin and hair from such outcomes that may end up affecting your overall appearance. Remember, your looks can have a significant impact on your self-esteem. However, whether this tool is a vital gadget in your bathroom or not depends on your general opinion about appearance.
Improved Health
Chlorine can be very harmful when it mixes with hot water. It turns into a gas that can enter your body through the skin, respiratory system, or even eye sockets. Some of the health indications that you have been exposed to chlorine include chest tightness, coughing, sore throat, wheezing, and skin irritations.
The Best Shower Filters Make Hard Water Safer
If your skin feels irritated and squeaky after you step out of the shower, then you're experiencing the negative effects of hard water's contaminants on your skin. Due to the dissolved minerals in hard water such as magnesium and calcium, soaps are not capable of forming a smooth solution with the water. That is why you may notice a lot of soap scum on your bathroom accessories if you have hard water in your home. The scummy residue can also clog your plumbing and reduce the pressure of water.
The same residue can build up on your skin and block pores. More often,  clogged pores can worsen certain skin conditions such as eczema or acne. This happens because your body will not be able to produce the natural oils that are distributed on the skin through these clogged pores. Eventually, your skin will start forming zits and pimples.
According to a U.K. study, children who live in regions with plenty of hard water are 50 percent more likely to suffer from skin conditions such as eczema. Moreover, when the film forms on your skin, it becomes impossible to properly wash bacteria and filth off your skin. That is why it's important to soften your water and remove unwanted minerals such as chlorine before using it. Most smart homeowners use both shower filters and water softeners to effectively solve this problem.
Key Features to Look for When Choosing the Best Shower Filter
It's very important to research widely and scour the internet extensively before you purchase a shower filter. In fact, in order to get the best shower filter for hard water, you need to acquire as much information as possible about this relatively new invention. Read the customer reviews of various products and consult your friends or workmates who have already invested in shower filters to get a clear understanding of what you're about to purchase. Ensure you understand the pros and cons of different types of shower filters so you can make an informed decision. Overall, you should consider the following features when shopping for a shower filter:
Purification abilities
Although all shower filters are designed to filter water and remove contaminants, some of them perform better than others. In fact, you can even find a filter that has the ability to stop bacteria and certain viruses from penetrating your water.
In general, you'll find KDF, vitamin C, and carbon shower filters that remove heavy metals and chlorine from water. Therefore, it's important to select a shower filter depending on your specific needs and the condition of water in your area.
Number of cartridges
Remember, you'll need to change the cartridge of your shower filter every few months. Therefore, purchasing a filter from a brand that gives you an extra filter cartridge in your package is an added advantage.
Warranty
Purchasing a product that comes with a warranty can help you save on replacements in event of unexpected incidents. Your shower filter will be repaired or even replaced if it gets damaged before the warranty period expires. In other words, the manufacturer will take care of the repair or replacement costs.
Instructions/manual
When reading the product reviews of various shower filters, you'll notice that some of them are easy to install and maintain than others. Ensure the unit you purchase has comprehensive instructions that are easy to follow. This will help you install the unit accurately and start using it safely without damaging it or reducing its lifespan.
Durability
Shower filters last for around six to eight months. Therefore, it's wise to buy a shower filter that comes with a warranty of about six months to help you cut down on the maintenance or replacement costs.
The best shower filter will ensure that you get long and clean shower periods. In addition, consider buying a shower filter that comes with a replaceable cartridge so that you won't have to replace the entire gadget when it wears out.
Installation process
Remember, you'll need to replace cartridges from time to time. Therefore, the installation and replacement processes of your shower filter should be easy. For example, investing in a lightweight shower filter for your hand-held shower head can allow you to easily install and replace the unit. Here is a video tutorial to help you understand how to change your shower filter's cartridge.
Price
Although the price is not a critical consideration, don't just buy without comparing different prices. Not all expensive shower filters offer the best services and vice-versa. So, you should focus on reviewing the features you get for your money before placing an order.
Best Shower Filters FAQ
What are the top shower filters?
With the numerous shower filter models currently on the market, selecting the best shower filter can be a confusing process. The most popular models or bestsellers right now include Sonaki and Aquabliss 3-stage. However, it's important to consider reviewing other options and choosing a shower filter that suits your specific needs.
Is buying a shower filter necessary?
Chlorine is a powerful mineral that is capable of killing harmful pathogens found in hard water. However, it can also kill beneficial bacteria in your skin during showers. Therefore, investing in a shower filter that filters chlorine from your water before washing up is definitely necessary.
Are shower filters effective for hard water?
The best shower filter for hard water is capable of removing heavy metals and other airborne contaminants from your hard water. Your soaps and shampoos will rinse off easily because the shower filter doesn't add any salts to the hard water.
Is hard water harmful to my hair?
Hard water contains a number of minerals such as magnesium, lime, and calcium. Although these minerals are not dangerous, they can leave your hair brittle and dull. Furthermore, hard water can also discolor lighter hues. So, using a shower filter will help you remove these substances from your water and protect your hair.
What is the lifespan of a shower filter?
Just like any other product, every shower filter is designed to last for a predetermined period of time. That predetermined time varies from one product to the other. A majority of showerhead shower filters last for about six months, which is equivalent to handling around 12,000 gallons of water.
Final Verdict
Although some of the soluble minerals in tap water may be beneficial when digested, they can damage and dull your skin and hair. This happens when the minerals react with the soap you use when washing up and leaves a film of soap curd on your body. If you manage to get a good product that does exactly what it's supposed to do, this won't happen.
There are several great shower filters out there, but you need to evaluate the features of various filters and research widely to understand the condition of water in your area before choosing the best shower filter. Hopefully, this guide pointed you in the right direction as you source this important bathroom accessory. Now, go ahead and pick a unit that suits your style and budget!