Modern bathroom designs demand highly portable and user-friendly flush installations that can be easily sourced in case you need a replacement. The best toilet fill valve for hard water can ease your family's bathroom experience with no mess in its wake.
In this guide, we review some of the best reliable toilet fill valves with unmatched adjustability. These components can last about five years or longer before you'll need to replace them. However, the exact durability will depend on how often the toilet is flushed and the quality of your home's water supply.
Who Needs a Toilet Fill Valve Replacement?
If your toilet tank is filling slowly or hissing, it's a sign that you need a fill valve replacement. You may also need a new toilet fill valve if you notice the following:
You hear strange noises from the toilet tank
There is a leakage from the tank
You feel unsatisfied with your toilet's flushing power
Reviews of the Best Toilet Fill Valves For Hard Water
Here are our top picks of the best toilet fill valves for hard water:
Fluidmaster is one of the most popular toilet part manufacturers in Canada and the US. This brand is recognized for producing the revolutionary float-cup fill valve design that transformed the industry.
The 400ARHR part offers high longevity and efficiency for a pocket-friendly price. Due to adjustable height, you can install this fill valve in the vast majority of water tanks. It also features a unique roller-clamp part that enables you to adjust water usage to the amount required. Additionally, it has an impressive refill rate that is 1.5x/2x faster than other popular models on offer.
The whole item is made of plastic and uses the proprietary floating cup design. It is currently one of the most reliable fill valve mechanisms on the market. The part is also straightforward to install, and setting the height and the water level is completely tool-less. As a bonus, it's compatible with single- and dual-flush toilets.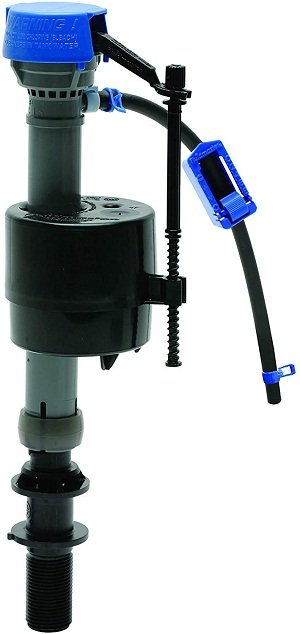 Key Features:
Universal design that fits toilets made after 1994
Height adjustment diapason of 10''-15″
Adjustable Water usage
Easy Installation with Rookie Difficulty Level
7 Years Warranty
The Techo Touchless Toilet Flush Kit is the only sensor-based flush valve on our list. It has an 8″ Sensor Range and can adjust sensor range and flush time. This model features automatic motion sensors powered by batteries. The unit is simple to install in just under 20 minutes. 
It comes with a well-designed exterior battery slot that makes battery replacement easy and hassle-free. It also comes with a screwdriver for making adjustments and a comprehensive guide that makes the installation a breeze.
The motion sensors provide unmatched sanitary convenience. The unit automatically flushes your toilet when you simply wave your hand over the sensor within its adjusted detection range.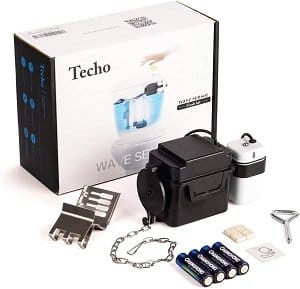 Key Features:
Touch-less technology
Effortless upgrade
Reliable motion sensor with adjustable flush time and sensing range
Easy to install and replace batteries
Long lifespan
Kohler Genuine Part Gp1083167 Fill Valve Kit is designed to fit all Kohler Class Five Toilets with 12.5″ x 3.5″ x 3″ flush valves. It is height adjustable to fit most toilet tanks, and the Silent Fill technology provides a quiet refill experience.
This Flush Valve Kit also has an adjustable fill valve that enhances water flow efficiency to help you conserve water.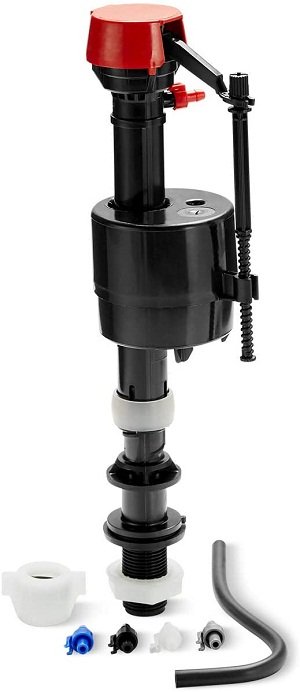 Key Features:
Kohler genuine part
Multiple fill rate inserts
Silent operation
Adjustable height
American Standard 3174105-0070A Universal Flush Valve is a universal replacement part for all Champion 4 toilets. It comes with a 7-inch tube and a 3.4-inch steel chain. This universal fill valve fulfills the American Standard requirements of busy lifestyles, ensuring durability and quality. It replaces parts such as 3174.104-0070A, 3174.102-0070A, and 3174.002-007A.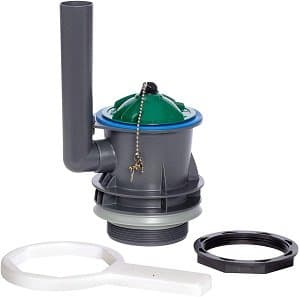 Key Features:
Universal replacement part for Champion 4 toilets
7-Inch Tube
3.4-inch chain length
The TOTO TSU99A.X Adjustable Fill Valve is manufactured to replace outdated or damaged flush valves of all TOTO toilet models. It is made purely of plastic and comes with an American standard 7/8-inch inlet pipe for water connection.
This fill valve has adjustable height and can accommodate toilet tanks of various sizes. It also has an efficient refill valve to help control the water flow and refill volume, reducing water loss. You can even tweak the refill valve according to your personal needs.

Key Features:
Adjustable height
Standard 7/8 inch inlet connection
Fluidmaster's 400CR fill valve is an excellent alternative to the previous model that works grat if you need to replace just the flapper for a toilet using a 2″ flush valve. It fits easily into the tanks from 9″ to 14″ high and offers smooth operation for at least five years of its warranty term.
The model has flexible height adjustment shafts, making it perfect for plumbers who want to have a spare universal-height part in their car boot to apply immediately if needed. It also works great for toilets with 3.5-gallon or larger discharge amounts.
The flapper part is protected by a special Microban coating that keeps away bacteria that could build up and destroy the rubber part. The fill valve is also resistant to chlorine and won't twist at all due to its sturdy frame.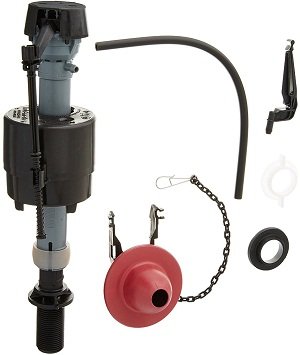 Key Features:
Designed for universal toilets with 2″ flush valves
Height adjustment diapason of 9''-14″
Water usage of 3.5 gallons per flush or more for bigger tanks
Medium installation difficulty level  
5-years Warranty
The Kohler Genuine Part 1083980 3″ Flush Valve Kit is a Kohler genuine part that offers excellent flush valve reliability and performance. It features a 3-inch water outlet and a 3-inch canister valve, making it uniquely fit all Kohler Cimarron models. The Flush valve kit is completely made of plastic.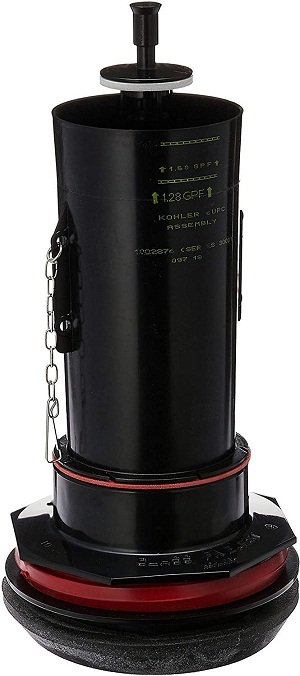 Key Features:
Kohler genuine part
Canister flush valve
3-inch canister plus 3-inch outlet
Complete assembly with a bowl to tank gasket
Next by Danco HYR270 Hydroright is an easy-to-use toilet flush valve that you can install without any tools. You won't even have to remove the toilet tank, and it literally converts any regular toilet into a dual flush toilet with two buttons within ten minutes.
The flush valve is based on technology that allows you to choose the quantity of water used per flush and save water by up to 70%. The design is sturdy and well-built to guarantee extreme durability and prevent leakage that could occur due to faults in handles and the flapper chain.
Moreover, it is chemical and chlorine resistant, which makes it invulnerable to warping triggered by hard water. Its excellent quality also ensures cost-effectiveness.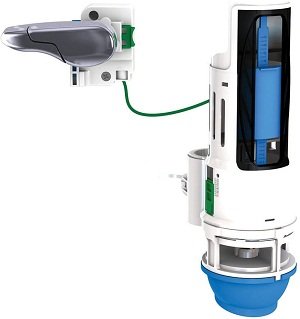 Key Features:
Water-saving flush valve design
Lever style handle
Dual flush technology with 1.6/3.5 GPF
Easy no-tool installation
Korky 528T Replacement Fill Valve for TOTO Toilets is designed to fit G-Max, Power Gravity, and E-max Toilets. Made in the USA, this high-quality fill valve is easy to install and does not require any tools or any expert input.
You can seamlessly remove your old ballock or fill valve and replace it with the Korky 528T fill valve. The Adjustable Ballcock fits a wide range of toilets and is adjustable from 8 inches to 14 inches.
It also features a 528GT Fill valve, a metal refill tube clip, a refill tube, a mounting nut, a coupling nut, a cone washer, and a tamper-proof key. The instruction manual included will guide you through the installation.
This unit is specifically designed to replace slow-filling, noisy, and leaking toilets. It comes with an innovative twist-lock adjustment to ensure a hassle-free installation.

Key Features:
TOTO fill valve
Designed for G-Max & Power Gravity Toilets
Adjusts from 7-3/4″ to 13-1/2″
Easy tool-less installation
This flush valve is a replacement for Sloan FlushMate or Gerber 99-403 Cartridge as well as Sloan ST100500 FlushMate Cartridge. Besides, it is also compatible with Sloan series 500, 501A, 501B, 503, and 504 toilet tank systems. The unit comes with a duckbill replacement valve plus a filter screen disc.
The installation process is relatively quick and simple. Moreover, the FlushLine cartridge wrench features a unit that is made of durable poly-pig steel.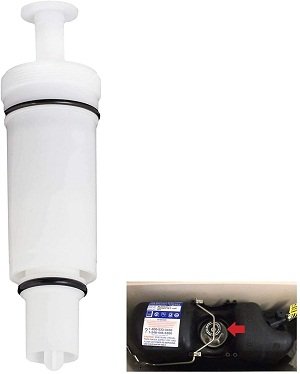 Key Features:
Easy to install
It is made of durable material
Replaces Sloan Flushmate C-100500-K and Gerber 99-403 Cartridge
Compatible with Sloan series 500, 501, 501A, 501B, 503 and 504 tanks
Flush valve cartridge include a duckbill replacement valve, as well as a filter screen disc
Buyer's Guide: How to Choose the Best Toilet Fill Valve for Hard Water
Not many homeowners are experts in how toilets work, and it's totally ok! However, if you want to choose the best toilet fill valve and install it yourself, you should know how this toilet part works. More importantly, you need to understand the critical features to look for, especially if your home receives hard water.
Types of Toilet Fill Valves
There are five main types of toilet fill valves available on the market. They include:
1: Plunger / Piston Ballcock Type
Piston ballcock is among the oldest toilet fill valve designs. These fill valves are made of cast brass to provide superior durability and silent operation. Its operating mechanism is pretty simple but effective. It features a floating ball attached to a pivoting lever. It seamlessly opens and closes the plunger stem affixed opposite the water head.
The only downside to this type of fill valve is that it does not have any anti-siphon protection and does not meet modern plumbing standards. Despite its high efficiency, most plumbers often recommend replacing it.
2: Diaphragm-Type Ballcock with Brass Body
The diaphragm type fill valve is quite similar to the plunger type and has been in existence for many years. These valves can be made of plastic or cast brass. They offer high efficiency and come with anti-siphon protection.
3: Diaphragm-Type Ballcock
This type of diaphragm fill valve features a large floating ballcock that is lifted by the water level, and once the tank is full, it closes the water inlet and vice versa. It also comes with a float rod adjustment screw to make it more flexible.
4: Float-Cup Fill Valve
Float-cup type fill valves came into the market in the late '50s. Fluidmaster was the first brand to introduce this type of fill valve, and the design features an O-shaped cut that moves up and down the main shaft. The cup is further clipped to an actuating rod using a metal spring.
You can easily adjust the rod to control the water level in the tank. This type of fill valve is almost effortless to maintain and can fit into the majority of modern toilet designs due to the adjustable-length shaft. Today, float-cup fill valves are the most frequently installed type. However, modern designs come with new mechanism types and not a ballcock anymore.
5: Floatless Type Fill Valve
Anti-siphon toilet fill valve designs continuously evolve. Floatless fill valves use a diaphragm on a mechanism that is sensitive to water pressure. These fill valves were widely used in low-profile toilet systems of the 90s due to their simple installation and compact sizes.
Since they have extremely few moving parts, these fill valves are very durable. However, they are not as widely embraced as float cup valves today.
How to Choose the Best Toilet Fill Valve for Hard Water
When shopping for a new toilet fill valve for hard water, take a keen look at your old valve and check the model number and brand to see if they are still readable. If it is not possible to read the part number, take a clear photo of the part. 
The brand and model of your toilet will also help you to match the fill valve to your toilet when shopping online or in your local store. Overall, here are the features to look for when choosing a toilet fill valve:
Material: Generally, good toilet valves that work well in hard water are made of plastics that won't corrode over time. Plastic fill valves are also long-lasting. Avoid models with metal parts that often corrode or rust under hard water. They may also collect debris from the water, which will eventually lead to malfunction or leakages. 
Toilet Tank Design: If your current toilet has a low-profile/low-fill tank, you should look only for a fill valve of this type since other designs won't fit appropriately. If you have a classic toilet tank, then choosing the replacement fill valve will be much easier since many modern fill valves are adjustable or universal.
The Price: The rule of thumb is to avoid going for the cheapest valve if you're 100% sure it's a perfect match for your toilet system. Pick a reliable part with high positive user reviews. You want to install a new toilet fill valve and forget about toilet problems for years.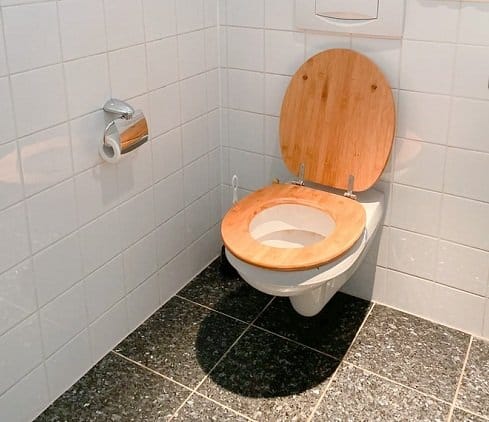 How to Replace a Toilet Fill Valve
Toilet fill valves are constantly exposed to water, and they will eventually clog or leak. Fortunately, replacing a worn-out toilet fill valve is a straightforward DIY project. Besides, today's universal fill valves are designed to fit the most common toilet types.
It's always best to replace the flapper assembly as well during the replacement of the toilet valve. That's why many toilet fill valves come as a complete kit with a flapper included.
The Process:
When replacing your old or worn-out toilet fill valve, you should follow the following steps in the correct order. Otherwise, the results may not be satisfying, or you may even flood the room:
Step 1: Drain the water – First, turn the water supply off and drain the water from the toilet tank into a large bucket. It's always a good idea to place rags under the tank just in case spills occur. Next, dispose of the water and put the empty bucket back.
Step 2: Disassemble the water tank – Remove the internal flapper in order to disassemble the water tank. Remove the gasket from beneath the fill tube and unscrew any bolt that holds the tank on the toilet bowl. Depending on the toilet model, the assembly may be different, but you will generally require a wretch to get the job done. Now, take the water tank off the bowl.
Step3: Install the new fill valve and gasket – Follow the manufacturer's manual instructions to make sure to avoid cross-threading when installing the new valve and gasket. Make sure to secure the fill valve with a lock nut to the underside of the tank.
Step4: Put the tank back – The next step is to put back the toilet tank and tighten it with the bolts.
Step5: Attach the flapper – Now, put the flapper back. Modern designs may include unique features, so you should follow the installation manual to install the flapper properly. 
Step 6: Connect the tubes back – The final step is to connect the pipes back and test the toilet system to ensure that the mechanism flushes easily and refills faster without hissing. Also, ensure that there are no leaks.
Final Verdict
Having to fill up your bucket with water to flush a toilet is never a pleasant experience. You want your toilet flush mechanism to function effortlessly. By investing in the best reliable toilet fill valve for hard water, you can bid goodbye to leaky flushes, bathroom odors, wet floors, and unpleasant bathroom experiences. 
You are just a simple DIY replacement away from a comfortable sanitary life that saves you the trouble of flush-related frustrations. A leaky outdated flush valve is not only annoying but also wastes a lot of water resources. Replacing your faulty toilet fill valve with a new part will fix your leakage problems and restore your toilet system to its optimal functionality and convenience.
FAQs:
1: Are all toilet fill valves the same?
There are numerous types of toilet fill valves available on the market, with hundreds of different manufacturers making them. Fortunately, most models are pretty interchangeable and can fit a wide range of standard toilet tank openings. However, you need to pay attention to sizes, particularly the length of the valve stem.
2: How do you know if your fill valve is bad?
Here are three proven ways to determine if you have a faulty toilet fill valve:
Your toilet runs constantly
Your toilet fails to flush, or the flush is extremely weak
It takes a long time for the toilet tank to refill with water completely.
3: How long do toilet fill valves last?
A good quality toilet fill valve should last between six and seven years. Generally, fill valves will wear out ahead of your toilet system. However, the exact longevity will depend on the quality of water in your home, the frequency of toilet use, and whether or not you use harsh chemical cleaners.