Everyone loves a tidy and clean bathroom. A clean bathroom feels welcoming and luxurious for visitors and family members alike. The toilet, being one of the most vital parts of a bathroom, gets the most attention when it comes to maintaining cleanliness and tidiness.
A dirty toilet can be problematic as it increases the chances of spreading disease-causing bacteria in your home. Fortunately, finding the best toilet plunger can help you deal with occasional blockages in your toilet and keep this space tidy and hygienic.
Read on to learn some of the best toilet plungers on the market that do the job quickly and perfectly, plus a comprehensive buying guide to help you make an informed decision.
Top 10 Best Toilet Plungers On the Market
Toilet plungers play an important role in controlling the problem of clogged toilets in both commercial and residential buildings. But not all toilet plungers are created equal. In this section, we take a look at some great toilet plungers for homeowners today. We will provide an in-depth review of the top ten toilet plungers to help you narrow down your options and get the best toilet plunger for your bathroom. Keep reading to find out more.
Quick-Comparison
*Ratings courtesy of Amazon at the time of publication and can change!
As one of the excellent plungers in the market, the simplehuman Toilet Plunger offers some unique features that make unclogging a toilet very simple. For instance, this product is specially designed with a long but narrow flange which makes it more efficient when it comes to unclogging modern toilets. If your home has modern toilets, this is the best plunger you can buy. The plunger comes with a unique magnetic collar that holds onto the cover to the plunger so you can carry them together and prevent dripping on the toilet floor. The cover is dome-shaped to unobtrusively conceal the plunger when it's not in use.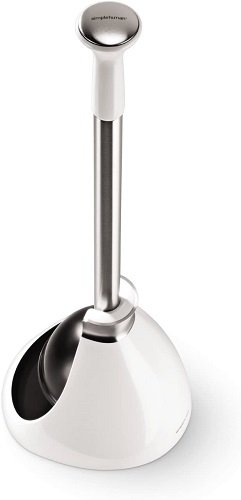 If you are looking for a reliable, durably, and highly effective toilet plunger for your home, you might want to consider the Neiko 60166A Toilet Plunger. This product features a 4-step graduated suction cup and a lightweight, rustproof, and mold resistant aluminum handle. The plunger's unique suction cup design allows it to fit perfectly in all types of toilet drain openings, including upflush toilets. The durable, super pliable rubber suction cup is designed to create a tight seal around the drain for more efficiency. The aluminum handle features a peg hole that allows you to store the plunger easily with any type of hanging mechanism.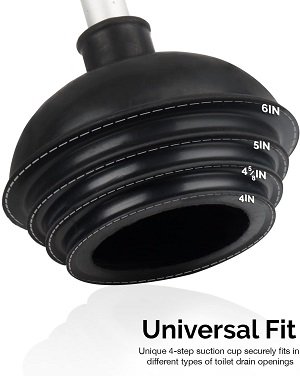 The SurePlunge Automatic toilet plunger is a unique product designed to unclog your toilet efficiently in a matter of seconds. Unlike traditional plungers, the SurePlunge Automatic toilet plunger features a pressurized CO2 (carbon dioxide) canister to eliminate clogs in your toilet. With a regular plunger, you have to position the bottom of the plunger properly to get a good seal. After that, you have plunge up and down vigorously to remove blockages. With the SurePlunge Automatic toilet plunger, one blast of carbon dioxide and the clog is dislodged effortlessly. The plunger comes with a narrow flange allowing it to reach the piping in elongated toilets and remove clogs.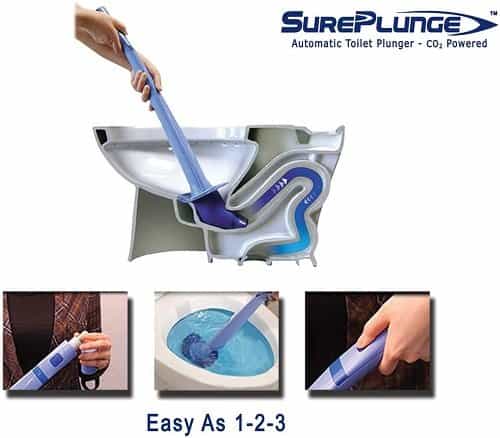 The Kleen Freak 3019000 Toilet Plunger & Twister Holder Combo Pack is one of the most excellent toilet plungers in the market at the moment and for a good reason. This heavy-duty toilet plunger features a rust-proof aluminum handle and a high-quality rubber cup with layered ridges designed to form an ultra-tight seal on any toilet bowl and remove stubborn blockages with less effort. This plunger comes in an innovative design that holds the flange in place and prevents greywater from collecting inside the holder cup. The plunger also comes with a germ guard feature to protect against odor-causing bacteria, household mold, and mildew.

The Professional Bellows Accordion Toilet Plunger features a no fold lip design to minimize the risk of splashback and is wiped clean to prevent the build-up of dirt and bacteria. Because of the accordion design, the plunger is incredibly lightweight and easy to use. Despite its lightweight, the Professional Bellows Accordion Toilet Plunger is quite powerful. This product provides more concentrated power than your traditional plunger, allowing it to unclog stubborn obstacles and blockages with little effort. This plunger works on all types of clogs for all standard toilets as well as sinks and drains.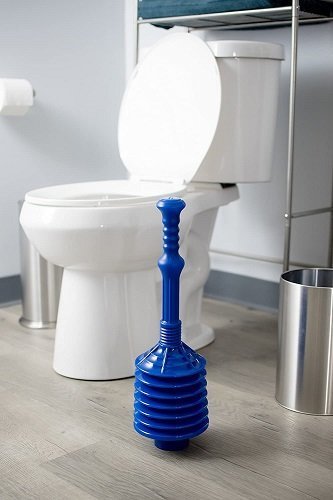 The OXO Good Grips Hideaway Toilet Plunger and Canister is one of the best plungers you can buy at the moment. The plunger features canister springs that open automatically when the toilet plunger is lifted and allows you to store the plunger neatly when not in use. This incredibly powerful toilet plunger makes it extremely easy to unclog a toilet. The shape of the handle makes it comfortable to hold. The OXO Good Grips Hideaway Toilet Plunger and Canister is ideal for small spaces and works on all toilets, including low flush toilets. It also features a smooth, ridge-free design for cleanliness.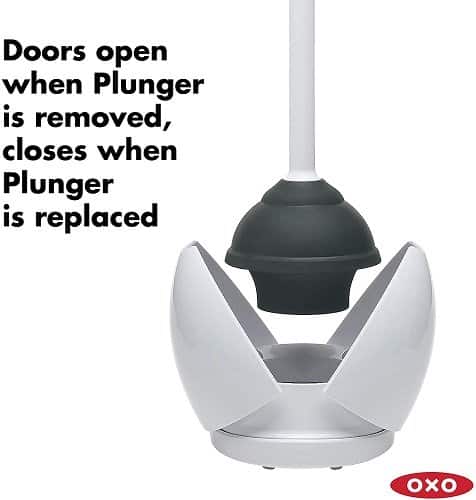 If you are looking for a simple plunger that does exactly what it says on the tin, you can't go wrong with the Master Plumber Deluxe Toilet Plunger. It's a pretty nondescript product, which is exactly what you should be looking for in a plunger. The plunger is designed to directly target the suction at the toilet drain. The rubber cup toilet plunger comes with a plastic handle in its own holder. The plunger is very well made and it perfectly fits in the holder. The compact holder sits unobtrusively near the bowl so you don't have to worry about storage space if you have a small bathroom.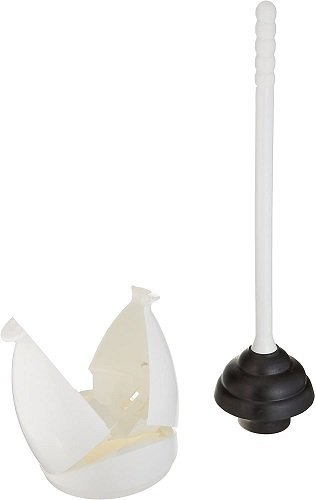 The Clorox Toilet Plunger set includes one toilet plunger and one caddy. The plunger's ergonomic design and 15.5-inch-long handle with comfort grip will help keep your hands dry when unclogging your toilet. The clamshell caddy opens up automatically when you lift up the plunger, offering a handsfree operating system. The caddy comes with a rubber base designed to keep it from sliding or tipping. This toilet plunger and caddy set comes with antimicrobial properties to protect against odor-causing bacteria and germs. The caddy set comes in a contemporary design and neutral color that easily blends in with your bathroom décor, including the bowl and the toilet seat.

Looking for an all-inclusive toilet cleaning set? Look no further than the Mr. Clean Turbo Plunger & Bowl Brush. This set of toilet cleaning tools includes a turbo plunger with a rubber grip handle with an extended rubber plunger for more effective unclogging and a large round brush for easy cleaning. The caddy holds together the turbo plunger and the round bowl brush to create a compact set that's easy to store. The caddy comes with a non-slip base hence not easy to topple over and cause dripping all over your bathroom floor by accident. The rubber grip hand makes the plunger incredibly easy to use.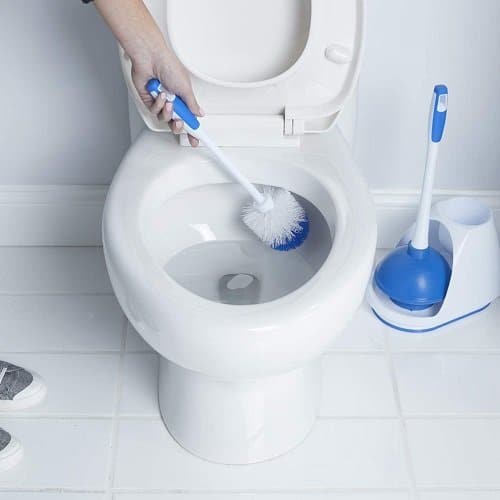 The Korky 99-4A Beehive Max Universal Toilet Plunger comes with a sturdy plastic handle in its own holder. This heavy-duty bathroom plunger will perfectly fit in toilet bowl outlets thus creating the perfect plunge for all toilet models & shapes. This powerful toilet plunger is the first plunger designed to fit the drainage openings of any toilet, including old & new HET toilet bowls. The plunger comes in a unique beehive shape which allows for easy compression with minimal effort. The t-handle provides a strong grip making it easier to use the plunger to unclog your toilet and sinks. It fits all toilets including American Standard, Kohler, and TOTO.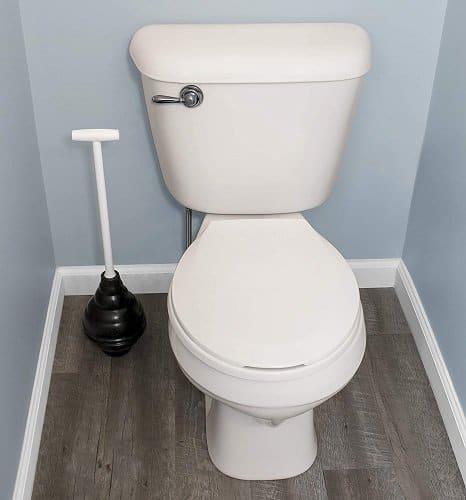 How to Choose the Best Plungers on the Market
A clogged toilet can be a massive inconvenience for you and your family. But If you have the finest toilet plunger, a clogged toilet doesn't have to be a disaster. It's imperative that you take your time to ensure that you only purchase a decent plunger for your home. In this section, we take a look at some of the factors to consider when purchasing a toilet plunger as well as tips to help you make sure that you get the right value for your money.
1-      Size
When purchasing a toilet plunger, you need to make sure that it delivers a tight seal. Some toilet plungers are made to fit in standard toilets but won't create a tight seal in modern toilets that have a different shape. Some manufacturers will specify the type of toilet the plunger works best in. Otherwise, you need to know the type of toilets you have in your home and read customer reviews to find out whether the plunger will create a tight seal with your toilet.
2-      Build Quality
The build quality of a toilet plunger is a very important factor as it determines its durability, strength, and ease of use. A flimsy product is ineffective and won't last, so you need to consider the materials used to create the plunger. Fortunately, there are several materials to choose from. Look for high-quality rubber for the suction cup and strong plastic or aluminum for the handle. Read through online customer reviews to find out if the plunger can withstand vigorous use without losing its seal or breaking.
3-      Type of Toilet
Most toilet plungers are designed to work in standard toilets. However, some toilet plungers cannot create a tight seal with low-flow toilets. If you have a low-flow toilet, you need to make sure that you purchase a toilet plunger that will create a tight seal with this type of toilet. This has to be specifically stated by the manufacturer in the product specifications. Otherwise, you will have to flush and re-flush repeatedly to get enough water in the bowl to use the plunger.
Types of Toilet Plungers
There are several types of toilet plungers in the market with each type offering different features and capabilities. When shopping for a toilet plunger, don't just buy the first one that shows up on the list. Consider your plunging needs and make the right choice. Here are the major types of plungers available today:
Standard Cup Plunger. This is the most basic and most common type of plunger. It can be used for both sinks and toilets. This is the type of plunger that most people imagine when they think of a plunger. The plunger is made of a wooden rod and a rubber cup in the shape of a ball cut in half. You will find this classic plunger in most bathrooms and kitchens.
Flange Plunger. This type of toilet plunger comes with a cup similar to that of a standard plunger but with a soft rubber flap that can fold out from inside the cup. Flange plungers are used to unclog drains and pipes but can be used in toilets, too. The flap folds out to fit over the toilet drain nicely and create the suction needed to unclog the toilet.
Accordion Plunger. This type of plunger comes in an interesting design specifically suited for toilets. The bottom is quite similar to the standard cup plunger. The only difference is that the suction cup is smaller and fits perfectly over the drain to unclog it. However, accordion plungers can be hard to use and that's why they are not very common.
These are the most common types of plungers in the market. The standard cup plunger is the most common and you will find one in almost every household. Moreover, it can be used for both sinks and toilets. The flange and accordion plungers are more suited for toilets and have smaller, more powerful suction cups ideal for clearing clogs in toilet drain pipes.
Standalone Toilet Plungers Vs. Combo Toilet Plungers and Brush Kit
When shopping for a toilet plunger, you will come across many options offering a toilet plunger and brush kit combos. Ideally, these caddy sets should be a continuous piece to make it easier to get around the different accessories. A lot of buyers love caddy sets and combo kits. Getting one of these adds efficiency to your cleaning routine. However, you don't have to buy a toilet plunger as part of a kit. If you want a standalone plunger, there are plenty of options too.
How to Use a Great Toilet Plunger
Toilet plungers work by using the force of the water in the toilet to push and clear clogs. The rubber suction cup creates a tight seal with the toilet bowl making it possible to direct the force of the plunging stroke against the blockage. Typically, the tightness of the seal determines the efficiency of the plunger. Water should not escape around where the cup comes into contact with the toilet. A tight seal reduces the amount of pressure required to break the clog or shift it down the pipe.
When using a toilet plunger, you need to create a vacuum to effectively unclog a toilet with a plunger. Seal the air vents as well as adjoining drains to create a seal and use both hands to push and pull repeatedly. However, you need to ensure that there's water in the toilet when plunging. Pull the plunger completely off the drain after pushing and pulling several times. You will see the water going down the drain after a few seconds, meaning that you have successfully unclogged your toilet.
Best Brands for Toilet Plungers:
Being an integral part of the Procter & Gamble Company since 1958, Mr. Clean is a trusted and iconic cleaning brand with a reputation for creating products that make cleaning easier and more enjoyable. Mr. Clean 440436 Plunger & Bowl Brush Caddy is no different. Featuring a sleek design, a rubber grip handle, and a stylish caddy to hold the turbo plunger and the brush together for ease of use and storage, the product quite easily made it to top 3 of the best plungers for toilets.
Based in Wisconsin, Korky is one of the largest bathroom accessories manufacturers in the US. Their products are designed and manufactured right here in the USA. The Korky 99-4A Beehive Max Universal Toilet Plunger features a unique beehive design, super grip T-handle, and a durable chlorazone rubber suction cup for power and efficiency. Korky is committed to designing products that are universal to fit the majority of toilets.
Based in Torrance, California, simplehuman is a privately owned designer and manufacturer of kitchen, bath, and beauty tools. The company is known for designing everyday tools that help people become more efficient at home. Case in point, the simplehuman Toilet Plunger. This elegant piece is well-sized for a strong grip and features a magnetic collar that prevents the bottom from dripping toilet water on your bathroom floor. This plunger does its job well and that's why it's our top pick for the best plungers.
FAQs
Are Toilet Plungers Effective?
Yes, toilet plungers are quite effective. When it comes to unclogging toilets and sinks, there is no better tool than a plunger. Proper plunging will unblock even the most severely clogged toilets. All you need is a properly functioning toilet plunger with a good seal and you are good to go.
What's the Best Plunger for Toilets?
There are many toilet plungers in the market. Some of these products offer unique features and designs that make them rise from the rest. If you are in the market for a toilet plunger, consider factors such as material, build quality, ease of use, and storage to make sure that you purchase the perfect toilet plunger for your home.
Can a Toilet Plunger Damage the Toilet?
If a toilet plunger is used properly, it will not damage your toilet system. However, using too much force when unblocking a toilet with a plunger can cause damage to the toilet. Excessive force can break the seal between the toilet and the floor resulting in damage.
Can Toilet Paper Clog the Toilet?
Yes. Toilet paper is one of the most common causes of clogs in a toilet. Some types of toilet paper tend to cause clogging than others. Thick toilet paper brands, for instance, do not dissolve easily and can clog your toilet. Using too much toilet paper can also contribute to clogging in your toilet.
What's the Best Way to Clean A Toilet Plunger?
Because of the nature of the environment in which it is used, it goes without saying that the toilet plunger should be cleaned after use. Rinse the toilet plunger with hot water and then use a bucket to swish it into a mixture of detergent and bleach. Allow the toilet plunger to air dry.
Wrap Up
The market is brimming with toilet plungers that offer more than just functionality. These products offer unique designs and features that allow them to stand out. However, the large pool of options can make choosing the best toilet plunger for your bathroom a headache. That's why we have prepared this guide.
Our top pick, the simplehuman Toilet Plunger, comes with a unique magnetic collar that prevents dripping, which makes it hygienic. It also sports a functional design that makes it easy to use and tuck away easily after use. This toilet plunger will help keep your bathroom clean and sanitary. If you have a bathroom in your home, you need to have this extremely important accessory in your cleaning set.