If you are looking for a toilet that doesn't require a lot of plumbing, consider purchasing and installing the best upflush toilet for basement. Otherwise referred to as a macerating toilet, this type of toilet functions entirely differently, with its pump directing waste upwards.
To learn more about how this system functions, head over to our detailed blog about how an upflush toilet works.
Basically, a macerating toilet system directs waste discharge to the sewage system differently, unlike standard gravity-based toilets that exist in most homes. This functionality makes these toilets a perfect option for temporary situations or for rooms situated below the sewer line, such as the basement.
Having said that, it's time to go through our best Upflush toilet reviews to find great brands available on the market. You could also skip to our detailed buying guide to have a deeper understanding of what features to look for in the best basement upflush toilet systems.
Best Upflush Toilet for Basements: Top 10 Reviews
Quick-Comparison
*Ratings courtesy of Amazon at the time of publication and can change!
The Saniflo SaniPLUS Toilet is the most useful and functional toilet system, and that's why it's the best rated upflush toilet on the market. The toilet can connect to sewer lines from 15 feet to 150 feet away without affecting its functionality. Due to its efficient design, you can connect it to any sink, shower, or bath. It features four connections that are easy to install.
The Saniflo SaniPLUS Toilet comes with a motor and pressure chamber for utmost effectiveness. As mentioned in the buying guide, it comes with steel blades that help in macerating the waste matter for easier flushing. The pressure chamber has controls for starting and stopping the unit. Once you activate the flush, water flows into the system and activates a microswitch in the pressure chamber, eventually starting the motor.
Any organic waste in the chamber is reduced to slurry as the steel blades rotate at 3,600 rotations per minute. The liquid solution is then ejected due to the centrifugal force into a container with an impeller pump beneath. The pump flushes the affluent at 10PSI to any given height within its functional depth limits.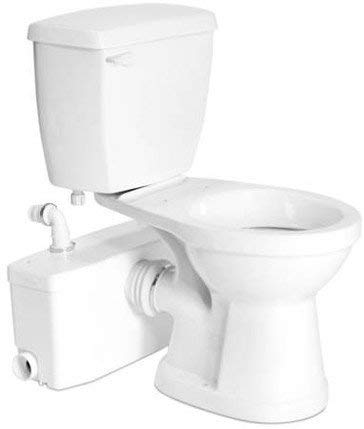 Another excellent Upflush toilet system that ranks second in our list of best macerating toilet reviews is the Saniflo SaniAccess Macerator Pump. The system allows users to enjoy a half-bathroom in any room in their home. The system comprises of a tank, bowl, and macerating pump. The bowl's design is round, which saves a lot of space.
The tank is vitreous China design with a one year warranty. For a single flush, the toilet uses approximately 1.28 gallons, which is WaterSense approved. This incredibly cuts on water consumption. Just like other high-end Saniflo models, the Saniflo SaniAccess Macerator Pump is very easy to install. It features four connections that can be joined quickly. All you need is to connect the toilet tank to the water supply, and the macerator pump to the rear plug. You'll then connect the pump to the discharge pipe and macerator to a source of electricity, and you are good to go.
The inner part of the Saniflo SaniAccess Macerator Pump unit has two segments. The pressure chamber has an option for powering on and off and a motor that drives the stainless steel blades and pump. Despite its small size, it powers a 3600-RPM blade.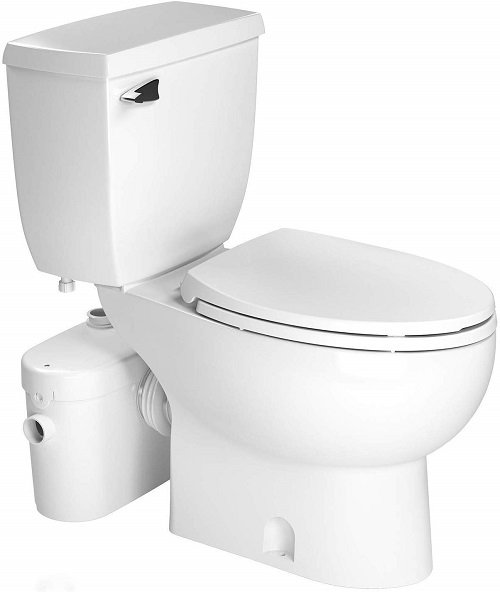 The Five Oceans TMC Macerating Toilet is arguably the best value upflush toilet system that is ideal for users looking for comfortable and easy to install Upflush toilets. The unit is extremely lightweight, weighing approximately 33 pounds and stands 13-inches high. It is a round seat unit, making it perfect for narrow room installations.
It comes with a slow-closing lid, which makes it not only less noisy but also protects injury to fingers and other body parts when installing at home. To flush the system, the button triggers the macerator automatically, which chops the waste into a slurry solution.
The Five Oceans TMC Marine Macerating Toilet bowl is made in China and features an automated pre-wetting feature, thus requires less maintenance. The unit can be installed up to 25 inches high and can push up to 2 feet high. Though not the costliest in the market, it is comparably effective. You can increase the pumping action of the system or use a pressurized water system with a solenoid valve.
Overall, the Five Oceans TMC Marine Macerating Toilet saves on water, time, and electricity. However, the low-pressure pump limits its use in other areas.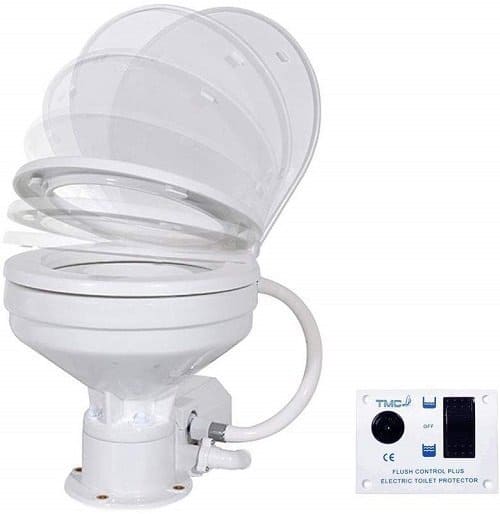 Manufacturers of the AscentII-RSW Liberty Pump designed this superior macerating toilet exceptionally with great features. They also offer a 3-year warranty, providing assured reliability. It uses 20 percent less water compared to other standard toilets, making it WaterSense certified. The performance of this unit is also high-end and requires extra care or maintenance.
Like other systems, this macerating toilet is designed for disposal of human waste, including toilet paper. It can also be used with other multiple fixtures, including sink, urinal, bathtubs, and shower. The AscentII-RSW Liberty Pump Toilet uses 1.28 gallons per flushing, meaning that you will spend less water. Its round shape also makes it a perfect choice if you need to install it in narrow rooms.
The AscentII-RSW Liberty Pump Toilet is a modern toilet that uses advanced technology, which makes it extremely quiet. This technology propels the blades before the waste enters the chamber. The unit can also be installed vertically, but horizontal pipe connections use 60HZ and 115 volts.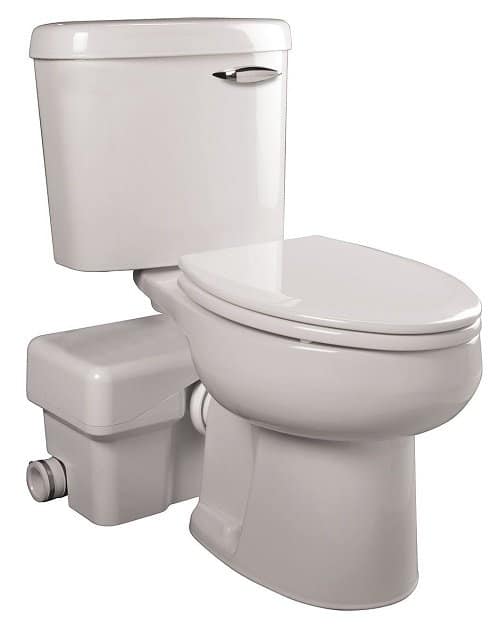 The Thetford Marine Macerating Toilet is a great macerating toilet from lesser-known manufacturers. The unit comes with great features that make it worth purchase for various reasons. For many, the unit is affordable and provides full total value for their money. To begin with, the system's overall quality is great. You won't have to worry about its sturdiness and can last for years.
Most users enjoy the toilet's performance, thanks to its compact yet overly functional nature. Setting up the unit in a small bathroom or room is much easier. Installation is also pretty easy, and DIY enthusiasts can complete it in a few hours. However, if you are not well versed in such installations, it is prudent to employ a professional plumber who will complete the process in less time.
Another outstanding feature of the Thetford Marine Macerating Toilet is its flushing technology. It comes with turbine technology, which is great in producing a powerful and clog-resistant flush. It handles even tough cleaning, and you won't be worried about flushing multiple times for the waste to drown down the drain.
You will also like the toilet system's silent flushing operation. Unlike other low-end products available in the market, this unit doesn't have a lot of noise. The Thetford Marine Macerating Toilet uses 0.7 gallons of water per flush, making it the most conservative system in the list.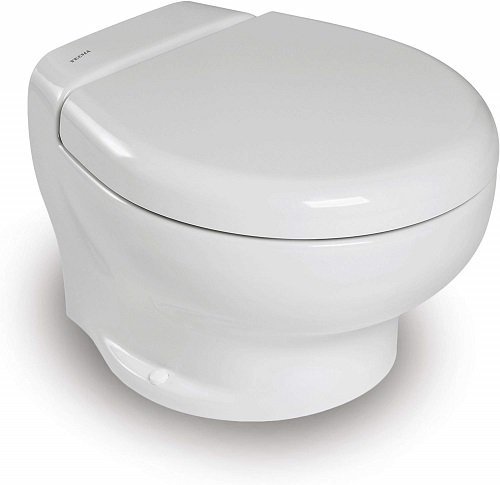 If you are living in areas where taking advantage of traditional gravity is impossible, the Bathroom Anywhere Toilet should be your product of choice. The unit greatly saves time and money by messing or rather eliminating the need to have plumbing installations or bathroom floor destruction to install a toilet system. That aside, you won't have to worry about noise or backflow issues associated with other systems.
The Bathroom Anywhere Toilet is made with a quite flush design compared to regular toilets. The unit also uses approximately 1.28 gallons of water per flush, making it among the most water-efficient systems. When purchasing an Upflush toilet, ensure that it is ADA compliant. In this case, you don't have to worry as this unit is ADA compliant and designed to suit any bathroom décor. The seat is as well compliant to ADA and ANSI standards.
The height of the toilet seat is about 18.5 inches, making it versatile and usable by kids. The unit comes with all the necessary installation hardware, and no technical skills are required during installation or maintenance.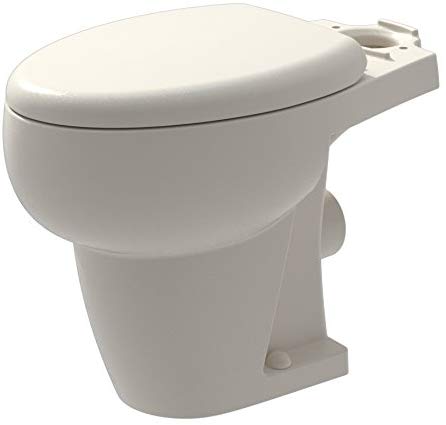 The Saniflo SaniCompact Toilet is another product from Saniflo that is compact enough to fit in narrow areas that other conventional toilets can hardly fit in. This modern-designed Upflush toilet is overly water-efficient, using only one gallon per flush. The system can pump up vertically approximately 9ft and 100ft horizontally.
Besides being water-conscious, the Saniflo SaniCompact Toilet is also a good option for those who have slight physical limitations but need to access and use a toilet. It can be installed in various locations, including the ground floor, attic, garage, basement, loft, and even on the upper floor.
Unlike most models, this unit can handle effluents from the sink and toilet. It comes with a non-return valve that prevents the backflow of water into the unit. However, it doesn't require a toilet tank and a macerating pump. It comes with an automatic pump that works once the air switch button on the top of the bowl is pressed. It also has an electronically driven flushing mechanism that allows approximately one gallon of water to pass.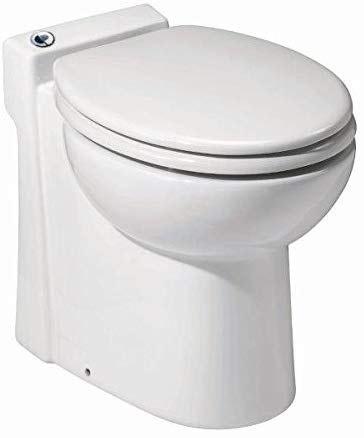 The Saniflo SaniPLUS Two-Piece Macerating Upflush Toilet is another great macerating toilet of choice in terms of performance. The unit comes with several top features that make it outstanding in the market. To begin with, the model is available in white color, which is a good choice for those looking to set up in an interior space, especially if you are cautious about cleanliness.
The other exciting feature about the Saniflo SaniPLUS Two-Piece Macerating Upflush Toilet is the elongated design. This makes the seat very comfortable to sit on, and users often have a great time using it. One limitation, however, is that the elongated design takes up more space compared to round toilets. Nonetheless, they fit in any room, lavatories, or bathroom spaces.
When it comes to water usage, the unit consumes an average amount of water, using 1.6 gallons of water in every flush. Though not very effective compared to other models in the market, it takes up less water compared to older models. The toilet is also quiet when in operation. It flushes all the bulk silently, providing maximum comfort.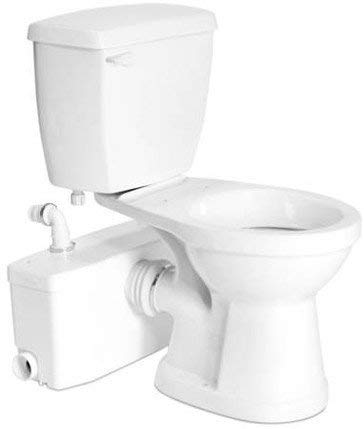 Silent Venus is a reputable toilet kit manufacturing company with Upflush toilet systems that give Saniflo products stiff competition. Despite having a few products on the market, the brand delivers reliable and strong macerating toilets that suit various rooms and uses.
One of the best products of this company is the Silent Venus Macerating Toilet Kit, which is available at competitive prices. It presents an attractive offer for those who want to create an interesting bathroom in their basement, upstairs, or any other place where gravity will work against the functionality of regular bathrooms.
The unit can manage wastewater produced by toilets, sink, shower, and bathtub, making it a great choice for those with a complete bathroom, including sanitary appliances. The Silent Venus Macerating Toilet Kit has a potential pumping power that can flush water to 19ft vertically and horizontally to 197ft. This makes the unit more functional than Saniflo pumps, which are their main competitors.
The Silent Venus Macerating Toilet Kit also has a quiet application, with an estimated noise level of 39dB. It is also slightly larger, thus cannot be installed in narrow rooms. Water consumption is low compared to other best products in this review.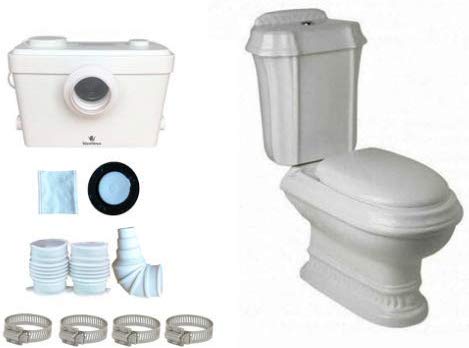 The Zoeller Ultima Upflush Toilet is another incredible toilet system worthy of being included in our best Upflush toilet review. As with other units, the most critical part of the Upflush toilet is the tank. This is what this system capitalizes on. It features sharp and reliable blades with a powerful motor that makes fine and consistent slurry. However, excessively thick sludge may result in sewer line clogging. Also, if the motor lacks enough power, it may not overcome high resistance.
Zoeller is a renowned pump manufacturer, providing assurance on the quality of the pump, and the unit's design has an elongated bowl for comfortable seating.
Instead of the full-sized macerator in high-end toilets, this unit has a mini grinder pump. It is made of thermoplastic, making it resistant to corrosion. The grinder is also made of stainless steel and rotates 250,000 per minute, probably among the best in the industry. The ball bearings are in constant contact with oil, and the shaft is coated in ceramic carbon, ascertaining its durability.
The pump functions by rotating its vertex at extreme speeds and functions up to temperatures of 130 degrees. It is an effective and stylish model that can macerate even tough toilet items such as non-flushable wipes and condoms.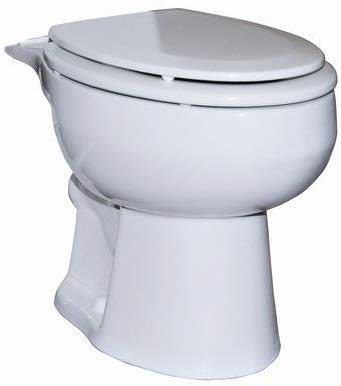 How to Choose the

Best Upflush Toilet for Basement: The Buying Guide
If you lack a drain system in the area where you need to install bathroom facilities, an upflush toilet will be a perfect choice. In some situations, you might want to install toilets in rooms that were not originally meant to be lavatories. The fact that Upflush toilets don't need a lot of ripping of floorboards or drilling on the floor makes them a perfect choice for temporary situations or extra toilets.
What to Consider When Buying an Upflush Toilet
Although upflush toilets are comparably more expensive than regular toilets, they are much cheaper and convenient to attach to a sewer line or septic. Installing these systems is quicker, cheaper, and hassle-free since there is minimal plumber ripping activities on your floors and walls.
Unfortunately, choosing the best upflush toilet systems might be challenging due to the wide range of choices available on the market. And since they are a significant investment, you should NOT make your purchase decision hurriedly.
With that said, this section highlights several factors to consider when buying Upflush toilet systems. Some products have unique features that make them exceptionally functional compared to others. So, it's important to find one that suits your needs based on the following features:
Design and Appearance
Toilets available in the market are of different designs and shapes. Whereas this wide array is good as it enables you to pick from many, finding the best can be challenging. Nonetheless, a good Upflush toilet should complement your interior surroundings. Macerating toilets are available in three designs: one-piece, two-piece, and wall-mounted designs.
One-piece, also called single-piece, has a refined look with the tank and bowl fused together. This makes it easy to clean and install and minimizes possibilities of leakage as well. On the other hand, two-piece designs, which are the popular models, have separate bowl and tanks. What makes them popular is because the parts can be replaced independently and are budget-friendly.
The third design is the wall-mounted Upflush toilet, which, as the name suggests, is installed on the wall and relies on the wall for support. They are relatively expensive and good options for small bathrooms and users with mobility issues. The benefits of wall-mounted models are that they are quitter, easily adjustable, and enable easy cleaning of the floor.
Depth of Operation
As you may already know, macerating toilets differ from standard toilets in functionality. This is why you should assess its effectiveness before making a purchase decision. If you want to install the toilet on a low-lying level compared to the sewer lines, the discharge should be flushed upwards efficiently for the system to function smoothly.
This is what "depth of operation" means. Different Upflush toilet systems have varying depths of operation. A one-level toilet system can effectively flush to a height of approximately 15ft. For ascertained functionality, ensure that you go for a toilet system that can support 18ft and above.
Flushing Options
Any toilet should empty into sewer lines, which may be below or above the toilet. Underground sewer pipes leverage gravity to pull waste downwards. However, Upflush systems are often below the septic tank or may have completely no access to sewers. This means that you will need some pumping mechanism to flush the waste upwards to the sewer once you press the push button or swing the lever.
In some situations, you might need to push the waste sideways to the septic tank some meters away. Similarly, you will need a system with enough power. Some toilet systems use electricity while others use existing indoor water pressure. If you purchase one that is electrical, ensure that your home has a constant supply of electricity. Older models often use water pressure. Whereas they save on power consumption, finding their spare parts can be quite difficult.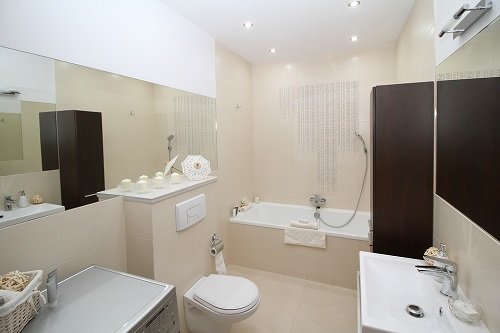 Additional Fixtures
Upflush toilets function by chopping, grinding, and mixing waste to form a sludgy mess. This state of waste takes up less space and is easier to pump compared to waste in its solid state. Therefore, if your improvised lavatory doesn't have inbuilt plumbing, you might need to install a sink, tub, or shower to make it usable.
So, if you are building a half or full-bath, ensure that you purchase a model that will allow you to fix all the Upflush toilet's additional fixtures. Note that they will empty a lot of liquid into the makeshift sewer. If they are not properly made to handle such amounts, the drainage lines may end up clogging or overflowing, necessitating frequent use of toilet plungers.
The Macerating Pump
Regardless of the toilet model you pick, you should ensure that the system's pump is effective in cleaning your waste. You can simply assess this by checking the specifications of the toilet model. Specifications that are of importance include the voltage, horsepower, and amperage.
You should also consider the construction of the toilet system seals. Upflush toilet seals made from stainless steel, for instance, are considered durable. Macerator blades made of other tough materials provide a guarantee that you will get the most from the system.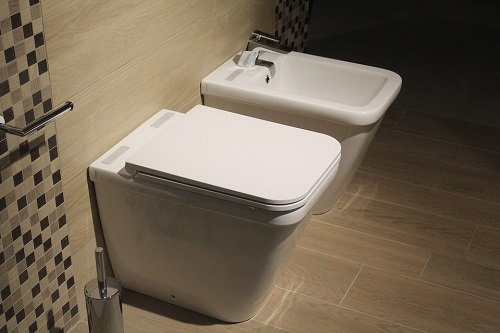 Installation
As mentioned earlier, one of the advantages of macerating toilets is that they are easy to install. However, this also depends on your skills and expertise. During installation, you will need to connect the water supply and a dependable source of electricity for electric toilet systems.
Depending on the set up of your lavatory, which could be a full bathroom, installation can take some hours to a day. Enthusiastic DIYs with some experience can handle the installation in a few hours. Always ensure that any bathroom installation adheres to your local plumbing codes.
Bowl Shape
The shape of the toilet bowl greatly determines its comfort. There are two main types of bowls: round and elongated shapes. Elongated bowls have a wider seating space, thus offer better comfort compared to round bowls. They are also luxurious bathroom additions to any home.
However, they take a lot of space. On the other hand, round bowls are relatively small and best for narrow spaces.
Gallons per Flush
You should be watchful of water consumption in your home. The Upflush toilet system gallons per flush determines the amount of water that the system consumes. Since you would definitely want to save on water bills and reduce carbon footprint, consider a 1.6 GPF toilet system. Overall, the best Upflush toilet system should be economical in terms of water usage.
Level of Noise
One of the main drawbacks of macerating toilet systems is that they produce some noise. Therefore, you should consider the noise level of the system, especially if you have people or kids who are sensitive to noise. Some toilets have a quiet flush while others flush with some noise. That aside, you should consider the nature of the lid. While some toilets have silent closure lids, others are quite noisy.
Weight and Size
The best macerating toilets in the market weigh anywhere from 17kgs while others weigh less. Checking on the toilet's weight influences its ease of installation, especially if you plan to install the system yourself. Single piece toilets are often heavier compared to the two-piece systems since they have an intact unit.
You should as well look at the dimensions of the Upflush toilet in relation to where you want to position it. The height of one-piece toilets typically ranges from 21 to 30 inches and more than 20 inches wide. Two-piece systems, on the other hand, range from 26 to 32 inches high but with a similar width.
Price and Warranty
How much can you spend to purchase an Upflush toilet? Does the system come with a reliable warranty? These are some questions you should ask yourself when heading out to make a purchase. There are both budget-friendly and expensive models available on the market. The price tag on each depends on several factors and features included in the system.
Toilets with features such as advanced flushing technology, warming seats, and siphonic systems are definitely expensive. You should also consider the warranty, which should be at least 5 years for the best models.
Benefits of Upflush Toilet Systems
Some of the benefits of installing Upflush toilets include:
Affordable – these systems are affordable both in the price and installation process.
Portability – macerating toilets are compact and can be carried anywhere.
Flexible – since these toilets can be installed below the ground level, they can be fixed anywhere you want.
Time-saving – Upflush systems save on time since there is no need to conduct a lot of plumbing work during installation. They work well as temporary fittings.
Wrap Up
With advancing technology, everything is finding a solution. It is possible to have a good toilet system even without a good supply of water or when you live far from the soil stack, thanks to macerating toilets. They make it possible to install a lavatory system even in rooms that were not designed to be used as lavatories.
When searching for the best Upflush toilet systems, consider several features, including the installation, space availability, design, price, and color. These toilet models stand tall on several features with the utmost functionality.
However, their only limitation is the noise that most people encounter when using such toilets. That said, our Upflush toilet review has hopefully eased your shopping experience.
Best Brands for Upflush Toilet Systems
Although Saniflo is considered the best Upflush toilet brand, other brands such as Zoeller, Silent Venus, and Liberty pumps also produce some excellent models.
FAQs
How do Upflush toilets work?
Macerating toilets differ greatly from normal toilets. One of the major differences is in the waste removal. These systems feature a pump system that has a blade that shreds and liquifies the solid waste matter. This makes it easier to be flushed upwards.
Can macerating toilets cut other items such as sanitary napkins, chewing gums, and dental floss?
No. It is advisable that you don't throw such items in the toilet system. Upflush systems only cut human waste and toilet paper.
What are the requirements for installing a macerating toilet?
If you are a DIY enthusiast and want to install the toilet on your own, you should have a reliable water source, electricity, and discharge drains.
Between macerating and regular toilets, which is better?
Upflush toilets are important in situations where there are no underground drain pipes or rooms that were not designed to be lavatories. Therefore, they make a good option for temporary use. Deciding which model is better relies on individual circumstances.