As modern lifestyles shift towards minimalist living, small bathrooms are increasingly becoming common. If you're not endowed with an ample barroom space, you may need to consider installing a corner toilet to free up room for a vanity or other crucial bathroom accessories. Understanding corner toilet rough-in dimensions will ensure that you eliminate the need to break up a wall or remove a closet to create space for your toilet unit.
What is a Corner Toilet?
As the name suggests, a corner toilet, sometimes referred to as a space-saving toilet, is installed in the corner of a bathroom instead of against a flat wall as regular toilets would be. The bowl of the toilet looks and functions just like a regular toilet system, but the water tank is specially shaped into a triangle shape to tuck into a corner easily.
So, if you have a significantly smaller bathroom and looking for a means to maximize the space, a corner toilet could be the perfect solution.
Standard Corner Toilet Rough In Dimensions
There are two essential dimensions to consider when choosing a corner toilet system: technical dimensions and room dimensions.
1: Technical Dimensions 
Technical dimensions refer to the 'rough in' dimensions required for the toilet. You must ensure that the positioning of the toilet drain is enough to account for the 'rough in' measurements of the toilet unit you're purchasing. Although it's possible to move a toilet drain, it's something you want to avoid at all costs due to the strenuous and costly floor-breaking and plumbing work involved.
2: Room Dimensions 
Room dimensions refer to how much floor space the toilet unit will take up in the bathroom. While corner toilets are extremely space-saving, not all units will fit in all small bathrooms. Measure how far the toilet system will jut out from the corner and whether any cabinets or doors might be in the way.
How To Measure Corner Toilet Rough In Dimensions 
To determine the rough-in of a corner toilet, measure and mark the rough-in length out from each adjacent wall. Just like regular toilets, most corner toilets have a 12″ rough-in. Use a straight edge to mark two perpendicular lines running from the marks you created in the previous step. If it measures 12″ from the framing both ways, that is the rough-in measurement of the toilet. On rare occasions, you might find a corner toilet with a rough of 10 inches.
Depending on whether you have extra tiling on the bathroom wall, you may need to move the flange before installing your corner toilet. If your wall's thickness increases by more than 1/2 inch, then you probably need to move the flanges. Since the 1/2 inch will be from both adjacent walls, it means that the distance from the corner would be about 17 inches. Alternatively, you can opt for a 10-inch rough-in toilet if you don't wish to move the flanges.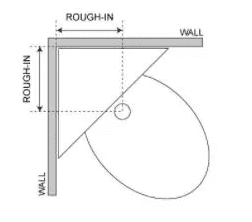 Top 5 Space Saving Corner Toilets
Sometimes it's almost impossible to find a small toilet to fit into a tight space, and that's where corner toilets come to the rescue. Here are our top picks of the best corner toilets on the market today.
American Standard is a renowned brand in plumbing and bathroom fixtures. This corner toilet unit is easily tucked into a corner of even the tiniest bathrooms. With its round-shaped toilet bowl, the unit will take up minimal space. The low flush volume also provides excellent flushing performance. Besides, the EverClean surface makes cleaning easier and less frequent.
Key Features:
ADA round toilet for both tank and bowl
Durable and easy-to-clean since it's made of quality vitreous china 
Oversized 3-inch flush valve with a chemical resistant flapper
Ever Clean, antimicrobial surface
When it comes to the best corner toilet selection, you must verify your distance from the wall to know how far the toilet will stretch towards the door. The Renovator's Supply toilet comes with a convenient depth of just 33.75 inches from the corner to the rim, saving you space. It features ceramic material resistant to stains and scratches. The tank front is specially curved for added aesthetics, and the whole unit has attractive decorative detail.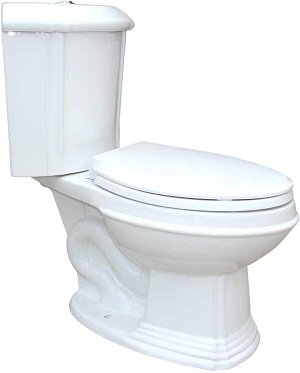 Key Features:
Coated in Reno-Gloss to prevent staining, scratching, and streaking
The dual flush system uses 0.8/1.6 GPF for water-saving
Intricately carved detail gives it a pretty and distinctive look.
This traditional design corner toilet system saves bathroom space and water too! The efficient dual flush system allows you to select a lower level of volume of water for liquid waste and a higher level for large waste, which saves you money.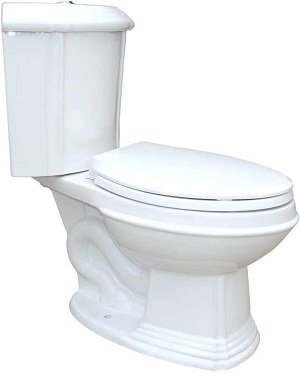 Key Features:
Heavy Duty Construction
Space-Saving Design
Elongated Bowl And Seat For Added Comfort
Dual flush system
32-1/4 H x 19 W x 33-3/4 Proj and 12-inch Rough-In
Perfect for Unique Small Room Bathrooms
With a clean, modern design, this corner toilet is an excellent selection for tiny bathrooms. It will complement any small bath regardless of the decor. It comes with a heavy-duty porcelain bowl, which is resistant to scratching and is very easy to clean. Moreover, the dual flush mechanism allows you to control water consumption and save water in the long term.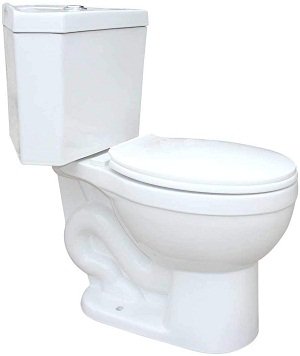 Key Features:
2 Piece – Round Toilet Bowl/Seat
29 H x 17-1/4 W x 30 Projection with Seat Height 14-7/8
Dual Flush System
Space-saving
Heavy Duty Porcelain
Scratch Stain Resistant
Clean, modern design
Comfort Height
The Bathroom Anywhere Corner Toilet is the only macerating toilet unit on our list. If your goal is to create more bathroom space, this unit comes with hidden plumbing, ensuring maximum space-saving. Since a toilet tank occupies 12-15 inches, hiding the cistern behind the wall gives you more space for other bathroom essentials.
To give yourself more "bath-room," consider installing your upflush tank and outlet pipe behind the wall. This is especially helpful for hallway or closet installations. You won't need floor plumbing, meaning that you can install the unit in any location.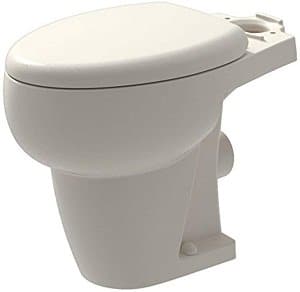 Key Features:
Macerating Unit         
Hidden plumbing system
It comes with a 3-year limited warranty.
At 1.28 GPF, the toilet matches water conservation regulations.
Wrapping Up
Overall, corner toilets can help you maximize space in your small bathroom. Just be sure to take your measurements right and ensure that your toilet unit is at least 15 inches from the center of the toilet to the side of any wall or obstruction and not closer than 30 inches to other sanitary fixtures.
FAQs: 
How much space do you need for a corner toilet?
Most plumbing codes require a corner toilet to be installed at least 15 inches from the center of the toilet unit to any side wall or obstruction (such as cabinets) and not closer than 30 inches to any other sanitary fixture (measured center to center). There should be at least 24 inches of clear space in front of your toilet or bidet.
Does a corner toilet save space?
Yes! Corner toilets typically come with a smaller, round bowl, and the tank and is shaped like a triangle to snugly fit into the corner of the bathroom – space that is ordinarily wasted. Besides, you won't require a lot of plumbing systems to install a corner toilet.
Can you put a standard toilet in a corner?
You can frame the corner of your bathroom and install a standard toilet if you prefer. However, one benefit of installing a corner toilet is that it won't protrude into the bathroom space as far as framing a flat surface and using a non-corner toilet.