A toilet paper dispenser plays a vital role in any bathroom, be it residential or commercial. Besides regulating the quantity of toilet paper you consume, it seamlessly rolls out and curbs the tissue paper. When shopping for a toilet paper dispenser, consider how often the restroom will be used, how often it will be serviced, and how much space is available for the toilet paper dispenser.
Toilet paper dispensers are available in a variety of sizes to accommodate normal or jumbo rolls, as well as a variety of choices and accessories to meet almost any demand. Here are the key factors to consider when choosing a toilet dispenser:
Toilet Paper Holder Dimensions
Every toilet dispenser accepts a specific "roll size." The diameter of the toilet paper roll, including paper and core, is equal to the diameter of the toilet paper holder, which determines whether the roll is categorized as "jumbo" or "standard." Because most dispensers are not adjustable, you must always use the stated roll size for that device after you have chosen one.
Toilet Paper Dispenser Capacity
Typically, the level of maintenance a dispenser requires is directly proportional to the number of rolls it carries. You can choose between single roll, double roll, and quad roll commercial toilet paper holders, depending on the number of people using the bathroom. The fewer rolls you have, the less upkeep you will have to do. However, you may need more space if you need more rolls.
Toilet Paper Dispenser Stub Roll Section
In the past, people had to choose between risking running out of toilet paper in a single roll or throwing away the low (stub) roll when toilet paper rolls run low. That is no longer the case. Many multiple roll dispensers are now built to keep extra rolls of toilet paper safe until the first roll is completely used, reducing the possibility of stub roll waste or the regrettable occurrence of running out of paper.
In horizontally aligned models, sliding panels can be shifted over to reveal the next roll. In contrast, the next roll can slide into place in vertically aligned models once the stub roll is exhausted.
How Do San Jamar Toilet Paper Holders with Stub Roll Sections Work?
If you have a San Jamar Toilet Paper Holder, you first need to fill the main compartment with a new jumbo toilet paper roll. Next, move the roll into the stub area once utilized down to a 5″ or 6″ stub roll, depending on the model. Only when the stub roll is finished will the new roll become accessible, allowing you to use every last sheet on every roll without worrying about your toilet paper running out.
Open vs. Enclosed Roll Toilet Paper Dispensers
Toilet tissue dispensers are available in both open and enclosed designs. Each has advantages and disadvantages.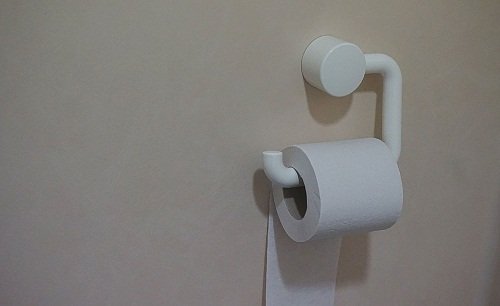 Pros of Open Toilet Paper Dispensers:
Often less expensive than enclosed dispensers
Ideal for establishments looking for an affordable option
Easy maintenance
Cons of Open Toilet Paper Dispensers:
Maybe more prone to bacteria
Pros of Enclosed Toilet Paper Dispensers:
Easier to clean and more sanitary
May hold more paper than their open counterparts
For easy viewing of remaining paper levels, some have translucent covers
Some have cut out viewing slots for monitoring paper levels
Cons of Enclosed Toilet Paper Dispensers:
Usually more expensive than open dispensers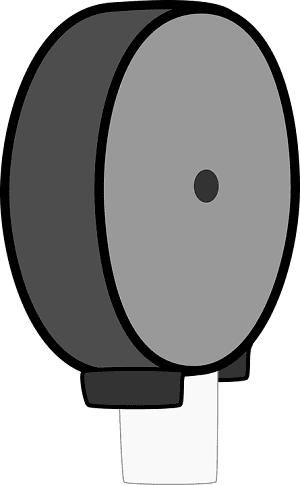 Types of Toilet Paper Holders
Toilet tissue dispensers come in recessed, partition mounted, and surface mounted styles.
Recessed Toilet Paper Dispensers
When space is an issue, it is the most preferred choice
Designed to be put flush with the wall
Normally planned for and installed during build or remodel, not after the fact.
Surface Mounted Toilet Paper Dispensers
More traditional than recessed toilet paper dispensers
When space is not an issue, this type of installation is used
Attach directly to the stall or wall
When an upgrade is desired without a major renovation or in case it breaks, it can be replaced
Partition Mounted Toilet Paper Dispensers
This is another option when space is an issue
Combines toilet paper and disposable toilet seat cover dispensing
To serve both at once, it is mounted at the center, between the two toilet stalls
Serve both compartments at once
For more efficiency in a single unit, sanitary napkin disposal options can be built right in.
What Styles of Toilet Paper Holders are There?
Depending on your bathroom style, you can choose from a wide range of toilet paper holder designs, from industrial to modern. A bronze-colored brass holder with small engravings on the sides is an excellent choice for a vintage-style bathroom.
You can also opt for a copper wall-mounted toilet paper holder. Its traditional and simple design will look great in an industrial-style bathroom. However, modern interiors beg for stainless-steel or aluminum holders with a sleek and simple design that can be wall-mounted or attached with a suction cup.
Futuristic Toilet Paper Dispensers
Designers come up with new ideas to incorporate into your daily life as the digital age takes over the world. You can now buy a toilet paper holder that also serves as a storage shelf for your phone while you are in the bathroom.
Choose an elegant stainless-steel toilet paper holder free-standing and has a storage basket at the bottom to keep magazines or extra toilet paper for a neat appearance.
You can also find a tall free-standing toilet paper holder that can hold up to four toilet rolls without the need for additional storage. Alternatively, you can choose one made of stainless steel with a chrome finish that will last you a lifetime and is simple to clean.