Bathroom taps are crucial fixtures that can make or break a bathroom design. They are essential to your bathroom, and you must be careful while buying them. Selecting the perfect taps for your bathroom is very personal. There are several factors that you must consider before buying them. For instance, you should purchase practical, stylish, reliable bathroom taps that go with your bathroom design. 
Fixtures will stay in your bathroom for a long time, so make sure to buy a perfect design that completes your bathroom look. So, you must weigh all your options to choose the suitable taps for your bathroom. Here are some tips you should remember before buying taps for your bathroom.
1. Water Pressure
To get a good flow of water in your bathroom taps, it is essential that you choose appropriate taps for your home. If you have a boiler system, you'll have medium water pressure in your bathroom taps. But if you have a gravity-fed system, you'll have low pressure in your home taps.
Taps like wall-mounted and floor-standing will need high water pressure to perform well. Pillar taps and taps with two handles will need low water pressure. If you use high-pressure taps in case of low water pressure, you will get slow water flow, meaning it will take more time to fill a bucket. Match your taps with the water pressure in your home so that you don't have to wait half an hour to fill a tub.
2. Tap Holes
If you want to buy a bathroom tap, you should match it with sanitary ware. First, note down how many tap holes you have in your bath, basin, and bidet.
Basins: Most bathroom basins come with 1-2 pre-drilled tap holes. Some modern designs also have a single tap hole that uses mono mixer tape. Traditionally styled water taps come with two tap holes, one for cold water and the other for hot water.
Bathtub: You can drill holes into your bathroom tap in case of acrylic baths. But drilling holes is possible if you are using stone, resin, or cast bathtubs.
Bidets: Most bidets on the market have a single tap hole, so they are easy to buy.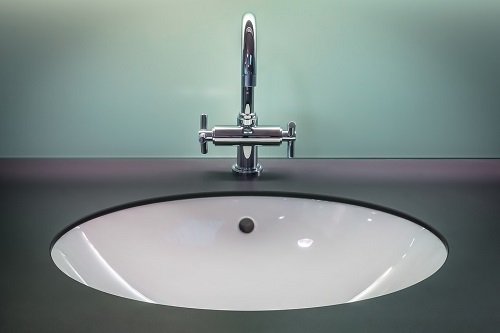 3. Compatibility
The most important factor while buying bathroom taps is the compatibility factor. Taps are mostly sold separately from your fixtures, so you have to make sure to buy compatible taps. Simple and general fixtures can go with general bathroom taps, but designed fixtures need specific types of taps. Also, consider the position of the tap. For example, will they be on the side, or do you want them in the middle?
All these issues will come when you install taps, so decide these things beforehand.
4. Mix and Match
If you want a beautiful look to your bathroom, then make sure to match your bathroom taps with the rest of the bathroom design. You can buy whole sanitary ware with the same design along with bathroom taps. Matching your bathroom taps with other items will make your bathroom look cool and unique.
5. Save Water
While buying bathroom taps, make sure that they work properly. Some taps are just for decor and don't help save water. If you don't know what type of taps you get, you can get the help of Blueline plumbers to help you with any plumbing-related issue.
6. Styles
The style of taps greatly impacts the overall look of your bathroom design. A beautiful bathroom design with a modern basin, bathtubs, and taps can add beauty to your decor. There are two types of tap styles that you can use for your bathroom.
Traditional: If you want a classic look to your bathroom, go with traditional taps such as cross-head handles and pillar-type taps. These types of faucets add elegance that never looks old-fashioned.
Contemporary: Contemporary taps go with minimalist designs for a modern look. They are available with modern features such as waterfall and touch-sensitive taps.
Types of Bathroom Taps
There are many types of bathroom taps available in the market. They include:
Pillar Taps
Pillar bathroom taps are one of the most traditional taps used in bathroom design. They are now available in different modern styles if you want contemporary types of bathroom tapes. These taps can go with any bathroom design and work perfectly in achieving the desired water temperature and pressure. Pillar taps have individual cold and hot water taps, which can help you choose water temperature.
Pillar taps come in two styles-crosshead and levers. Levers are available in different ranges and designs so that you can match them with your bathroom design. Cross-head taps are more traditional taps that can give your bathroom a classic look.
Waterfall Taps
Waterfall taps look attractive and give your bathroom a unique look. These mixers' tap types come with an open-top spout that can make the water look like a waterfall. They come in various sizes and designs and have a single, easy-to-use handle.
Mixer Taps
Mixer taps can combine hot and cold taps into a pillar. They have separate control for cold and hot temperatures. They are a simple and modern alternative to pillar taps. With the help of mixer taps, you can easily control the water pressure and temperature. You can buy traditional mixer taps with rounded or sharp lines to go with the decor. These taps are the best if you want to avoid burns or any damage to your basin.
Wall Mounted Taps
Wall-mounted taps are modern and provide a contemporary look to your bathroom. These taps are the best alternative to your old boring deck-mounted taps. They can also add flexibility to your bathroom decor. If you have a small space, these taps work best as they clear the space around your basin.
Wrapping Up
To choose a bathroom tap, you need to consider several factors. Always go with the taps that can add beauty to your existing bathroom décor without compromising functionality.