Old trends are long gone! People are adopting new lifestyles and moving into houses and apartments that are relatively smaller. The same is true for the bathrooms, which are often attached to the bedroom and have less space. But you would want it to be comfortable and look more spacious, right?
However, making everything functional and beautiful in a small bathroom might be challenging. The reason is that you are supposed to ensure that you get the maximum out of the minimum with appropriate settings and utilize every inch and corner.
Keeping in line with that, we are here to make things as easier for you as possible. Below are a few techniques that will enable you to cut out all the fluff and maximize what you already have like a pro!
1. Choose Suitable Tools
It will be convenient for you to match the tools according to the size of your bathroom. Such tools include taps, shower tools, basins, and commodes. For a smaller place, you should seek some sleek designs that don't make you compromise on your settings.
Ensure that the tools you choose give you the proper water pressure and don't waste your time and money. Once fitted, it is not easy to replace them. Therefore,  keep the measurements in mind while you purchase them.
2. Keep A One-Color Tone
To make your bathroom look spacious, you must use light colors. In fact, give the walls and ceilings the same color. By giving it the same tone all over, your bathroom will look more roomy than it is.
One more innovative thing you can do is, match the color of walls and ceilings with the floor tiles. Such color combinations give the same texture to the whole bathroom.
For instance, if you have a shower cabin, put a glass door to the shower cabin and make sure to give the same color to the walls inside, synchronizing with the whole bathroom. You may even add some artwork to the walls to give them a vibrant feel.
On the other hand, contrasting colors might attract you, but they will ultimately compromise the washroom's overall look and its wideness.
3. Add A Sparkling Flair
Suppose you have a smaller space. That doesn't mean you become boring. Use some attractive bathroom accessories to make that place exciting and inspiring. For example, you can add beautiful racks alongside the mirror. Besides looking beautiful, it also becomes handy to increase the storage capacity within the bathroom.
You can also attach fancy hooks to the walls and door to hang your clothes or towels. Some storage baskets can also be incorporated to make the shelves more appealing. One more option is that you may put towels, toilet rolls, and other useable in the baskets. Such useful tricks can save you space and time and make your washroom look spacious.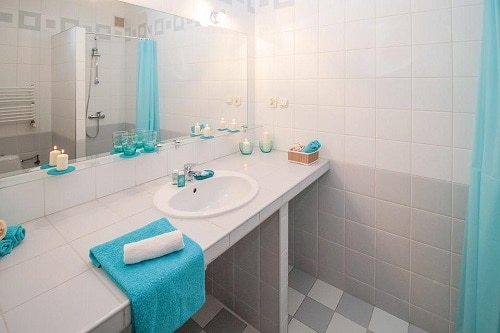 4. Shower Cabin Over A Tub Is Better
Never add a tub to the bathroom if you want to ensure that your shower space covers less ground. A tub occupies much more space, making your area look even smaller.
Instead of a tub, go for a cabin with having glass door. You can also add small shelves to increase storage options. It will also be helpful for the light to come into the shower area and make it look large.
5. Build Cabinets Beneath Counter Basin
As you have a separate shower area, it is best to utilize the space and build drawers under your basin shelve. It is the best option to increase your storage capacity. Moreover, you may store your vanity necessities in those drawers.
These cabinets can be made from wood, and then you can design or paint them according to your preferences. Or, you can also keep them in their original wood form to give them a unique look. Or else you may match it with the color of your bathroom. Make sure the whole vibe doesn't dry up when you try to save space.
 6. Use Mirrors In More Than One Way
You can add a large mirror on one of the walls of your bathroom. Natural and artificial light can reflect from the mirror to make it bright and broader.
Another aspect of adding a mirror is that if you don't want to add a large mirror, go for small mirrors but add more than one so you can use them as a storage tool.
Ensure the basin shelve's primary mirror is not oversized and compliments its surroundings. You may also fix the mirror on the main cabinet doors. Doing this means you won't have to manage extra space for the mirrors. It is an ingenious way to increase storage options and add a necessary item at the same time.
Conclusion
With more and more people wanting to live conveniently, it has become essential to live in congested spaces. So nowadays large houses are not endorsed anywhere. Most people live in apartments where clutter must be kept to a minimum, and everything should be in order. So making good use of your space is the real deal. Learn all these methods so you can effectively control your environment on your own.