Plumbing systems are one of the most critical fixtures for commercial or residential establishments. Its role is to distribute sufficient water supply and deliver waste out of your building to the main sewers to keep your space in constant comfort and safe.  
Because of its importance, you must keep these systems in optimum condition. Damage can affect your entire building and become a health hazard to your occupants. In addition, repairing your plumbing systems can be costly, depending on the gravity of the damage. You can protect them by installing a valve cabinet.  
 
Whether commercial or residential, every building has several valves dedicated to supplying services. These valves can consist of gas line services, central water supply, and other utility services in the building. Most buildings install these valves in their exterior areas, exposing them to outside elements, and can be a protruding hazard.   
What are Valve Cabinets?  
Valve cabinets help conceal and protect pipe fixtures, wires, and irrigation systems. It is vital to keep your plumbing fixtures safe from outdoor elements that can diminish their quality, so valve cabinets are your plumbing maintenance's best friend.  
These cabinets are easy to install regardless of the location, either on walls, flooring, or underground surfaces. Some forms of this valve box have a glass or transparent plastic window to allow a person to inspect or view inside without unlocking the valve box cabinet. This design can help identify the content if having some problems with its openings.   
Aside from allowing easy access to your plumbing system, here are some other advantages if you install valve cabinets;  
1. Safety  
There will always be unwanted emergencies such as a pipe burst in your home or building, especially gas lines and water pipelines. It must immediately isolate the main supply before it causes significant damage or injuries to your property and the people inside. Luckily, if you have a valve box, you can quickly turn off the main supply line through convenient access.  
2. Blends with Building Surface  
A valve box also benefits by concealing your plumbing fixtures to blend in with the building surfaces. Some valve boxes sit flush with the building walls and hide eyesore plumbing fixtures that do not mix well with your establishment's interior design. Suppose the priority of the building structure is aesthetics and keeping it beautiful and luxurious. Fixing this problem won't be a hassle with the valve box because it can help blend those fixtures and valves into the building surface.   
3. Easier Repairs and Maintenance  
Maintenance is essential to maintain your plumbing fixture's quality and longevity. Most valve boxes consist of many valve networks of those interconnected pipes for utility supply for your commercial building. During repairs and maintenance, valve boxes help as they can quickly shut off the line by accessing the valve box.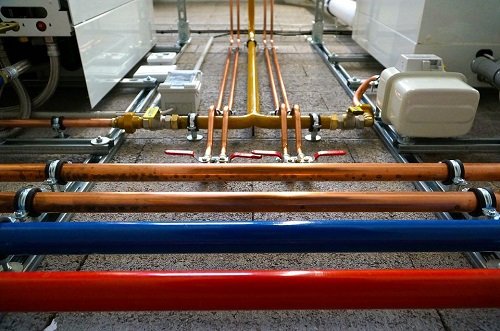 4. Increase Plumbing System's Lifespan  
Valve boxes and cabinets protect your plumbing system from harsh external elements caused by numerous factors that can be inevitable. Rainwater is one of the most common harms that building components must ensure protection from as it is very corrosive. A typical way for building systems to have a corrosive main supply valve is due to its vulnerability to rainwater. It is more likely to substitute those elements earlier than their service life span. Valve boxes can mitigate this issue by not allowing rainwater and any potential hazard to infiltrate the valve openings.  
 
The Bottomline 
If you're thinking about installing valve cabinets in your commercial building, remember to consult your contractor and ask for details about where to purchase these products. Ensure that you order from a trusted manufacturing company that is proven to provide quality products.