The Kohler Corbelle K-3814 is a modern toilet with a simple design that'll look stunning in your toilet. The Corbelle is a water-efficient toilet that is crafted in ceramic material and features a hidden trapway, which eliminates too much piping outline. In addition, it's a WaterSense certified toilet that uses 1.28 GPF, saving you a lot on your utility bills. Moreover, cleaning is easy because its surface is smooth with a non-stick coating. We hope this Kohler Corbelle toilet review will guide you into choosing the ideal toilet for your bathroom.
Kohler Corbelle Toilet Review
The Kohler Corbelle is a two-piece toilet that is cheaper than most of its one-piece counterparts on the market. If you're looking for a great toilet design that is also a perfect performer, then replacing your current toilet with this sleek unit is a sensible choice. 
Specifications
White in color
Height of 16-1/2 inches without the seat
Measures 29-3/8″ x 31-3/8″ x 16-1/2″
Weighs 105 pounds
Made from Vitreous China
Elongated shape
Consumes 1.28 GPF
Rough-in of 12 inches
Handle placed on the left side
WaterSense certified
ADA compliant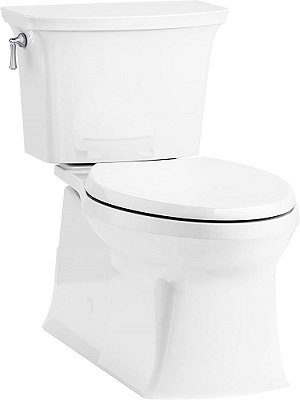 Some of the outstanding features that make the Kohler Corbelle Toilet stand out from its competitors include:
1. Powerful Flushing System
This is a WaterSense certified toilet that consumes 1.6 GPF, which will be an ideal upgrade for homeowners who are still using a standard toilet that consumes up to 3.5 GPF. A toilet that conserves water will help you save some quick bucks down the road when you receive your next utility bills.
The unit uses Kohler's advanced AquaPiston Technology to provide a 360° flush. Flushing at 360° ensures that the entire bowl is thoroughly cleaned every time you finish your business in the bathroom. Moreover, the AquaPiston canister provides a leak-free performance, which will ensure that you don't have to worry about dealing with costly water damages caused by leakages in your bathroom.
2. A Rimless Bowl Rim
Many people get confused when they hear about rimless bowl rims on certain toilet models. The Kohler Corbelle has a large opening at the top side of its pan. This is the spot where water from the unit's tank jets out and goes down the bowl outlet. The water then scours the bowl for a thorough flush and rinse.
The rim is designed to prevent water from splashing all over the floor every time you flush the toilet by guiding the water flow. The Kohler Corbelle's design is called rimless because there is no water distribution through rim holes on the bowl rim. Cleaning and maintaining a rimless bowl is a breeze because you don't have any hidden areas where grime, limescale, and bacteria can build up.
No dirt will get stuck under the rim, and all the waste particles will be easily washed down the pan whenever you flush your toilet. All you need to properly clean underneath the lip is a sponge or soft cloth. Moreover, you won't need special chemicals or hard brushing to dislodge the stuck dirt because there aren't any creveses on a rimless bowl design.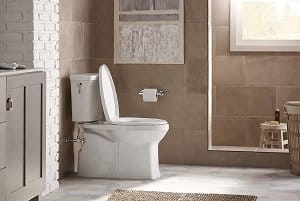 3. Exquisite Design
The thickness of the Kohler Corbelle K-3814 gives this toilet a striking difference between the unit and other Kohler toilets. In other words, while the focus on the other models is on the toilet tank design, the Kohler Corbelle K-3814 is all about the base. The base's width is almost the same as that of the unit's bowl and is very solid-looking. In fact, the difference in width between the base, bowl, and tank is very small.
4. Unmatched Comfort
The height of the toilet is very comfortable. The toilet measures 17 inches from the floor to the seat, which is around 2 inches taller than most standard toilet models. That means the toilet is ADA compliant and comfortable for people of all ages and those with mobility issues.
5. Non-stick CleanCoat
The toilet has a CleanCoat coating similar to Standard's EverClean surface glaze and Toto's CeFIONtect designed to ensure there is no mold build-up and staining in the bowl. Furthermore, a toilet with this coating makes cleaning a breeze. The coating or glaze creates a super-smooth bowl finish preventing waste particles from stubbornly sticking to the surface of your toilet's bowl.
In fact, the coating facilitates the swirl flushing and leaves you with a thoroughly cleaned toilet bowl after every flush. In addition, you won't see the ugly skid marks that form on the bowls of toilets without the coating or special glaze.
Kohler claims that their CleanCoat finish inhibits water scale growth and other stains associated with hard water. So, if you use hard water in your area, investing in the Kohler Corbelle is a great idea.
An ultra-smooth bowl surface discourages the accumulation of human waste and debris and offers no micro-crevices where microbes can hide. The surface repels dirt and water, letting it run off in droplets.
6. Smooth Skirted Design
Additionally, its base is extremely smooth. The minimalist, smooth design that doesn't have other designs on the front and sides adds to the toilet's aesthetics. Furthermore, cleaning a smooth base is very easy; all you need to do is regularly wipe it with a damp cloth.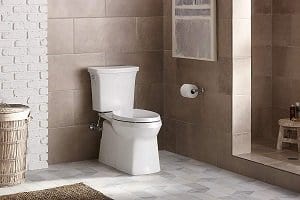 7. Excellent Shape
The toilet has a narrow tank and a vertical handle lever on the left side. The two-piece toilet has an elongated bowl. A toilet with an elongated shape is typically more comfortable than a round-shaped toilet design. However, you should also know that a toilet with an elongated bowl such as the Kohler Corbelle K-3814 consumes a lot of space and thus might not be ideal for tiny bathrooms.
8. Easy Installation
You don't have to be a trained plumber to install a toilet on your own. Installing this Kohler unit is a little bit easier compared to some standard toilets on the market. Moreover, with Kohler's patented ReadyLock System, you can quickly install your toilet without needing the help of an experienced plumber. The skirted trapway installs so easily to the flange and seamlessly attaches to the unit.
The toilet's secure installation doesn't require drilling. In fact, the brand's ReadyLock Installation System has raised the bar in the industry. However, you should remember that two-piece toilets have two parts, and lifting them into place can be challenging.
How the Kohler Corbelle Compares To A Leading Competitor
One of the leading competitors that we found comparable to the Kohler Corbelle is Toto's TOTO Vespin II. This Toto toilet has a skirted design and performance that is almost similar to that of the Kohler Corbelle.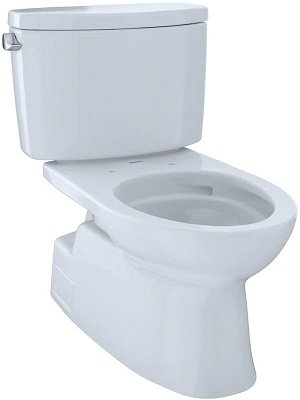 Here is a quick head-to-head comparison between the Kohler Corbelle and the TOTO Vespin II.
Flush System
The Kohler Corbelle has Kohler's patented AquaPiston Technology, which provides a 360° flush. At that angle, you can rest assured that your toilet bowl will be cleaned meticulously. Furthermore, being a two-piece unit, having a leak-proof performance is a great addition.
The TOTO Vespin II, on the other hand, has Toto's patented Tornado Flushing System, which is not only very efficient but also very powerful to ensure a thorough bowl rinsing.
The two toilets consume 1.2 GPF, which makes them WaterSense certified. So, if you want to reduce your carbon footprint and save some money on your water bills, then the two toilets are an ideal choice.
Design
The Kohler Corbelle has a solid, thick base that is as wide as its bowl and tank. In addition, the toilet's smooth skirted design makes cleaning so easy and quick. The Vespin II, on the other hand, has a curved front and a narrower base compared to the Kohler Corbelle. But, the Vespin II does also has smooth skirted sides, which are very easy to clean.
The two toilets are both ADA compliant and of a two-piece design. Whereas the Kohler Corbelle has a standard height seating, the Vespin II has Universal Height seating. That means the two toilets will measure over 17 inches (with a seat installed) from the floor. That is a comfortable height for a wide range of users who find smaller toilets somewhat uncomfortable.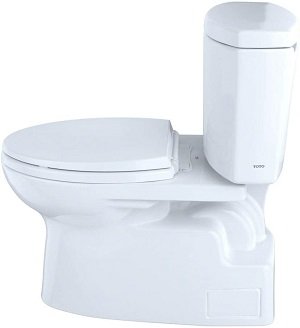 Installation
There is some difference when it comes to installing the two toilets. The Kohler toilet comes with Kohler's ReadyLock Installation System, which makes the process of installation very easy. But, while installing the Kohler Corbelle is a lot easier, installing the Vespin II might be a little bit challenging to first-timers.
The Verdict
The two toilets are similar in some ways, including look, comfort, price, design, and performance. The most noticeable difference between them is Kohler Corbelle's installation process, which is much easier. According to our assessment, the winner is the Kohler Corbelle K-3814 with a broad, sturdy square base.
Wrap Up
When choosing the perfect Kohler toilet for your new home or bathroom remodeling project, you'll be inspired by the design and performance of this model. Thankfully, Kohler is a reputable household name for manufacturing a wide range of sleek toilet designs to choose from. So, you won't have a problem finding the perfect unit to match your bathroom decor. 
The toilet's elongated shape and ADA height ensure that all your bathroom visits are as comfortable as possible. If you have any questions or suggestions, feel free to share your contributions in the comments section below. We genuinely hope this Kohler Corbelle toilet review has given you the insights you need to make an informed decision. Overall, this Kohler toilet is water-efficient, modern, and easy to install.