Many of us would agree that Kohler makes exceptional bathroom fixtures. The brand is known to manufacture toilets with excellent functionality and stylish looks. In fact, many people choose Kohler bathroom fixtures primarily because of aesthetics. If you're looking for a smooth, stylish, and modern toilet system, then you'll never go wrong with the Kohler Tresham line of toilets. In this Kohler Tresham Toilet Review, we look at every feature that makes this model a wonderful pick for truly luxurious bathrooms.
Why Choose Kohler Tresham Over Other Toilet Models?
When you take a look at The Kohler Tresham Toilet, you'll instantly be mesmerized by its gorgeous, modern yet traditional look. But besides the looks, it's a highly durable and functional Kohler toilet that will serve you efficiently for several years. The Tresham is a two-piece toilet design that's easy to carry, simple to install, and completely leak-proof.
However, you'll need to get a toilet seat of your choice since the package doesn't include a seat. Fortunately, installing a toilet seat is easy, and it gives you more control over your customization. In terms of water efficiency, the Tresham is WaterSense certified and consumes just 1.28 gallons per flush. By updating your bathroom with this toilet, you can expect to save thousands of gallons of water each year. 
Kohler Tresham Toilet Review
In a nutshell, the Kohler Tresham K-3950 is a simple, distinctive, and elegant toilet. And since toilets are significant investments that will stay in your home for several years, you'll want to choose something durable, efficient, functional, and comfortable. One guarantee you can have with the Kohler Tresham K-3950 is that it matches up in all these aspects.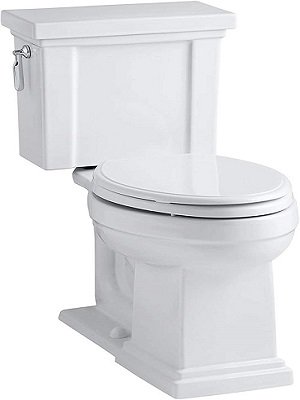 Specifications
Colors: White, Almond, Biscuit, Black, Ice Gray, Cashmere, Dune
Seat Height: 16-1/2″
Weight: 73 lbs
Dimensions: L 29-3/16″, H 31-1/4″, W 16-5/8″
Shape: Elongated
Flush: 1.28 GPF
Handle: Left-side
Material: Vitreous China
Rough-in: 12″
Certification: ADA & WaterSense
The Kohler Tresham Key Features
Kohler always equips its bathroom fixtures with a plethora of impressive yet functional features that you'd love. Here are some outstanding features that make The Tresham K-3950 one of the most sought after toilets on the market today:
1. Comfort Height
If you or anyone in your household has a hard time with toilets that sit lower to the ground, the comfort height feature will come in handy. This design feature gives you a toilet seat at chair height, making it more comfortable for you to get on and off the toilet seat.
The Comfort Height toilet measures just over 17″ from the bathroom floor to the seat, meaning that it's ADA Compliant and suitable for different users. Whether you have seniors, disabled, or people recovering from surgery in your home, they'll find it easy to use this toilet.
2. Two-Piece Design
With a traditional two-piece design, the Tresham toilet is easy to haul up staircases and even easier to install for DIY enthusiasts. The Kohler Tresham has a simple design that looks almost traditional. Other than the elongated bowl, everything else is square or rectangle. Even the front part of the tank features a square indent design. Also, the handle sits on the side of the toilet tank and is vertical instead of horizontal.
3. A Wide Range of Colors
White is certainly the most popular color for Tresham toilets. But if you prefer other colors, the Tresham line has a wide range of impressive colors to choose from. You can find exceptional hues such as light creams and light greys or exotic shades like rich, seashell cashmere.
4. Elegant Features
If you're fashion savvy, you'll adore the look of this elegant toilet. The Tresham adds extra flair to its appearance, and it will undoubtedly make a statement with its eye-catching and sophisticated appearance.
5. Elongated Seat
Round toilet seats are gradually falling out of favor in the modern decor world, and rightfully so. These bowls are known to be uncomfortable and offer limited space for your body. With Tresham's elongated seat, you won't have to grapple with that inconvenience.
6. Matching Fixtures 
The Kohler Tresham line of products comes with matching fixtures that ensure you achieve a coordinated look in your bathroom or home. You can get matching accessories such as pedestal sinks, vanities, and other essential fixtures for your bathroom needs.
7. Powerful Flushing System
The Kohler Tresham features AquaPiston technology and gravity to quickly siphon water from the toilet tank to the bowl. Every flush is swirled 360° around the bowl, ensuring the entire bowl gets a thorough cleaning.
Besides, the AquaPiston canister's seal is 90% less exposed than a regular 3″ flapper, making it virtually leak-proof. Although two-piece toilets are often more prone to leaking than their one-piece counterparts, this added feature eliminates this problem effectively.  
8. Water Efficiency
The Tresham consumes 20% less water compared to standard 1.6 GPF toilets. So, if you're upgrading from an old standard toilet, you can expect to save roughly 16,500 gallons of water each year. Other than being great for the environment, this toilet also saves you significant money on water bills.
9. Easy Clean Enamel
Kohler uses high-quality materials that are a breeze to clean, especially on their toilets. With a smooth, glossy enamel finish, you won't have to worry about scrubbing away your day.
10. Bulk Flushing Action
Kohler is considered a trendsetter in the lavatory design world, thanks to its groundbreaking plumbing. The Kohler Tresham is one of the few toilet models on the market that provide a powerful bulk flushing functionality, making it easy to get rid of large loads in a single flush.
11. One Year Warranty
Kohler always stands by its work, and that's why you get a one-year warranty on Tresham parts and workmanship. Kohler also boasts an exceptional customer service line. If you have any problems, you can get expert advice in a cinch.
Pros of The Kohler Tresham Toilet
ADA Compliant
Easy to Install
WaterSense Certified
Distinctive Design
Cons of The Kohler Tresham Toilet
Toilet Seat Not Included 
Being a two-piece toilet, it's harder to clean
Kohler Tresham Vs TOTO Drake II
It's difficult to find a toilet model that rivals Tresham's distinctive elegance, but the TOTO Drake II matches up in terms of features. Here is a quick roundup on how the two toilet models compare head to head.
Design
Both Kohler Tresham and TOTO Drake II are elongated-bowl, two-piece toilets with impressive looks. However, the Kohler Tresham has a more traditional rectangular tank with sharp edges. The front part also has a square indent design. Although the Drake II also features a square tank, it is much smoother. It also doesn't have sharp edges, and the front face is smooth. Overall, the Drake II has a more modern look, while the Tresham has a more traditional appearance.
Sitting Heights
Both toilet models are ADA Compliant and measure just over 17″ from floor to seat. While the Tresham is Kohler's Comfort Height toilet, the Drake II is TOTO's Universal Height toilet. Either way, both toilets are ADA compliant as they offer ideal heights for people who find it difficult standing up or sitting down on standard toilets.
Flushing Systems
Both toilets are water-efficient, consuming just 1.28 gallons per flush. They are WaterSense Certified and use 20% less water per flush than standard toilets. While Tresham uses Kohler's AquaPiston technology to provide a highly efficient and powerful flush, The Drake II uses Dual Cyclone Technology that is equally powerful and effective.
Price
Although none of these toilets comes with a toilet seat, they are similar in price. To check the current prices on Amazon, click on the images above.
The Verdict
Choosing the winner between The Kohler Tresham and TOTO Drake II boils down to your personal style and preference. The two toilets match up in almost every area, including performance, aesthetics, comfort, and water efficiency. When it comes to design presence, you may want to choose a modern-looking toilet such as the Drake II or a more traditional unit like the Tresham.  
Wrapping Up On The Kohler Tresham Toilet Review
Overall, the Kohler Tresham is one of the brand's more upscale lines designed for luxurious bathrooms. If you want your bathroom to showcase a special image that mixes a glimpse of traditional and modern designs, then this is the Kohler toilet to go for. It has a sleek look and comes in multiple colors to match any bathroom décor.
Besides the aesthetics, the Kohler Tresham toilet is an earth-friendly, water-conserving toilet unit that offers a powerful flush and bowl-cleaning functionality. It's also ADA-compliant, making it great for people of all ages and mobility abilities, including the elderly and disabled. Its our hope that this Kohler Tresham toilet review has enabled you to decide if this model is right for you. And when you finally decide to install the Tresham in your bathroom, be sure to let us know your experience with it.