With more people trying to build or remodel their homes to save as much space and energy as possible, tankless floor-mounted toilets are becoming a popular option in residential bathrooms. Here is a brief description of the toilet for those curious about how it works. 
Tankless toilets do not have toilet tanks and are usually small, saving space in your bathroom. But that's not all; the toilets are designed to use minimal space and less water than conventional toilets. These toilets can be mounted on the floor or the wall. Here, we will take a look at the best tankless toilets for floors.
In the comparison table below, we've highlighted some of the most important features of each product. You'll find more detailed information about each product later in the article.
Best Overall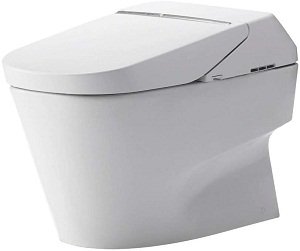 Best Runner-Up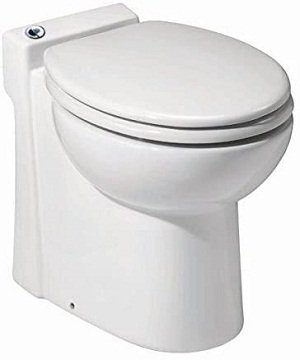 Best Ever Clean Surface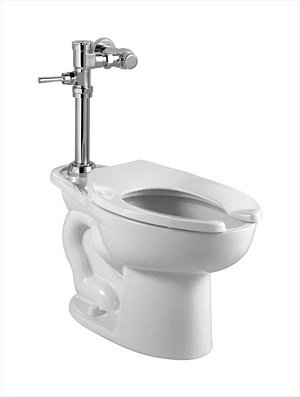 Best Budget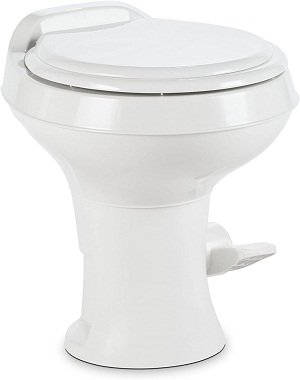 Best Wall Hung Tankless Toilet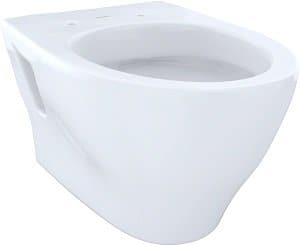 Who Needs a Tankless Floor Mounted Toilet?
Apart from the unique space-saving ability of toilets with no tank and low water usage, the toilet's design allows it to refill almost immediately. Households with many family members will surely appreciate this feature as it reduces the time you would have to wait before using the toilet. 
Also, if you have limited space in your bathroom and you're seeking to make optimum use of that space, then this toilet is for you. Those looking to cut down on water bills will find tankless toilets an ideal fit, as they utilize less water and allow you to spend less when compared to conventional toilets.
Our Top Five Picks
Now that you know why you would need a tankless floor-mounted toilet, here are some of our top recommendations for your home. 
Using a Toto Neorest 700h can easily change your toilet routine for good. Although the toilet is one of the most expensive on this list, it is worth every cent spent on it. The Toto smart toilet has a fantastic range of optimized features to give users the best experience.
The bowl design includes a powerful electric pump, and everything about this toilet points to attention to details and effectiveness to the flushing system. A major highlight of this toilet is its superior bowl construction; the material used is a CeFiontect glaze, making it impossible for waste to stick. 
The Tornado flushing system, which the toilet uses, deviates from the conventional rim holes that most toilets have, lined along the bowl rim. This design ensures that there are no crevices for dirt and germs. TOTO products are known for their emphasis on hygiene and eco-friendliness, but this unit trumps all previous designs. It is not just a toilet; it is an experience all by itself.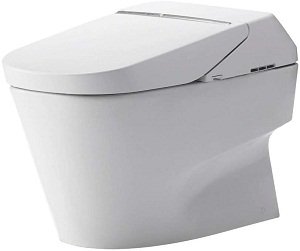 Quick Features
Air dryer and air deodorizer
It features a cyclone siphon jet-flushing system
Hands-free automatic flush
It features remote-controlled options
Adjustable Temperature seat
Automatic open and close lid
Ideal for tight spaces and small toilets, the Sanicompact is specially designed to maximize room and save water. The compact shape and self-contained design is an excellent choice for people with physical limitations. 
A non-return valve installed on this Saniflo toilet prevents water from flowing back into the area.
Suitable for those on a budget, the toilet uses approximately one gallon of water on each flush. The Sanicompact comes with an electric timer that trims down flush time to 15 seconds and enables it to refill immediately. It's designed to fit any installation requirement, and it also comes with a discharge elbow that rotates 360 degrees.
Another great feature of the Sanicompact is its macerating function, enabling the toilet to disintegrate waste into smaller forms. Those interested in eco-friendly products will appreciate this feature and its effect on the ecosystem.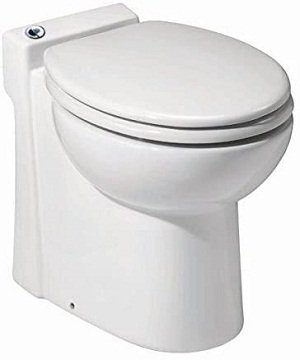 Quick Features
Flushes up to 9ft vertically. 
Uses approximately 1 gallon of water per flush. 
Flushes up to 9ft vertically. 
Uses approximately 1 gallon of water per flush. 
Features a compact design. 
Saves space
Self-macerating function
Specification – 18.25 x 14.5 x 15.75 inches
The American Standard Madera, which comes with a fully glazed 8-inch trap way, is designed to fit into tight spaces and save space. This toilet features a manual flush system, and its design is unique compared to other tankless floor-mounted toilets. 
The toilet automatically improves the look of any bathroom in which you fit it. Apart from the aesthetically appealing design, the toilet has some valuable features. A robust direct siphon jet action that comes with the package ensures that you save water and get all the waste out with one flush. This unit consumes approximately 1.6 gallons of water per flush, is efficient, and, genuinely, its value worth.
Perhaps the highlight of this American-made toilet is its EverClean features, ensuring that the toilet surface is always clean. It inhibits the growth of odor-causing bacteria, stains, mold, and mildew, providing your toilet surface is always spotless and bacteria-free. One big drawback of this toilet is that you need to buy a separate seat to install with this unit.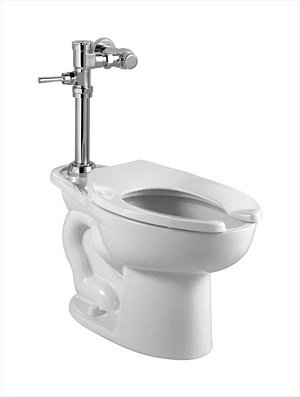 Quick Features
Ever-Clean surface
Water-efficient
The unit is ADA compliant
Specifications 28.25 x 14 x 30 inches
Designed with recreational vehicles in mind, the Dometic 300 series toilet is the perfect companion for a vacation away from home. The smart toilet ensures you never miss home, even when you are far away. It has a full-size seat and comes at the same height as most residential building toilets. 
Additionally, the weight of the toilet (at just 8.25 pounds) makes it easy to travel around with and does not add an extra burden on the vehicle. You can remove waste via an effective and powerful triple jet flush triggered by a foot pedal. The water-saving quality of this toilet means you only get to use one gallon of water per flush, which is ideal for camping and travel vehicles.
Specially designed for recreational vehicles, this toilet ticks all the boxes for a perfect RV toilet. As with all elongated toilets, this one provides comfort to your thighs, and the standard height makes it suitable for adults. The toilet has a valve system that shuts out waste and ensures that bad odors do not flood your vehicle.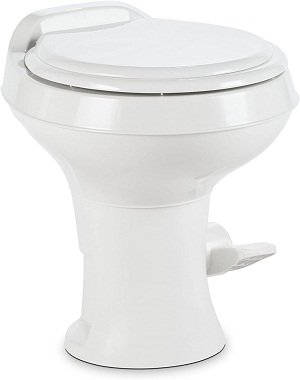 Quick Features
Standard height
Triple Jet action flush
It is lightweight at 8.25 pounds
It's a perfect RV toilet
It features a foot pedal flush
5: Best Wall Hung Tankless Toilet: TOTO Aquia Cotton
If you are looking to save more space in the bathroom and clean your bathroom floor of plumbing fixtures, then the Toto Aquia Cotton is for you. Unlike several other units on this list, the toilet has some fantastic features as it is wall-hung. This unit by TOTO will slot nicely into a 30″ x 45″ space without much fuss.
This minimalistic TOTO toilet design serves two functions. First, it saves a lot of space, and secondly, it makes cleaning straightforward, as, in reality, the hidden tank means there is only a little area to clean. Add this to the CeFIONtect surface, which requires only water for cleaning, and you have a super easy toilet unit to clean.
As with most wall-hung toilets, you have the option of deciding the height of your Toto Aquia upon installation. This is possible as the bowl support is installed in the wall as opposed to floor-mounted models.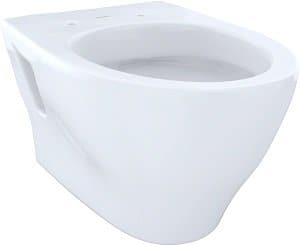 Quick Features     
This unit is wall-hung.
It features a dual flush system. 
Skirted design
CeFIONtect bowl finishing
Elongated bowl
Low water consumption
Specifications – 23.75 x 15.75 x 17.5 inches
Buying Guide: Factors to Consider When Going for a Tankless Floor Mounted Toilet
Whether you are trying to save space or incorporate modern toilets with a minimalistic design into your building, there are some crucial factors to consider when going for a tankless floor-mounted toilet. These toilets come in various styles, sizes, and weights, and there is no one-size-fits-all toilet type. You have to consider which one would work excellently in your bathroom. Let's look at some factors to consider when buying one of these models.
Costs
It is no gainsaying that tankless toilets are usually more expensive than conventional toilets. Well, that may be true when you're paying upfront, but if you consider it as a long-term investment, you discover it pays off long-term. Families with many members will benefit from using a floor-mounted toilet model, as it considerably reduces the amount spent on water bills.
Installation Requirements
Tankless toilets come with demanding installation requirements, unlike plumbing-less toilets. As they require concentrated water pressure to function effectively, these toilets are mostly used in large public and commercial buildings which have the capacity to support them. A lot of residential buildings simply do not meet the right plumbing requirements to have one installed. 
Getting tankless toilets without the appropriate plumbing requirements can leave you and your house with leaks, damaged pipes, or even worse. 
Make sure to check with a professional plumber before attempting to buy the tankless models. Also, to avoid complications in the future, the installment of a tankless toilet should only be done by a professional.
Power Outages
Suppose you live in an area that experiences storms or other natural events that might cause power outages, you should weigh your options carefully before opting for a tankless floor-mounted toilet.
Since these toilets rely heavily on electric pumps to function, it could spell real trouble for you if there is a power outage for an extended period.
Utility
Before buying a tankless model, one question you should answer is—what do I need this toilet for? You can use it to save space in a tight bathroom or for a camping trip in recreational vehicles. 
Still, many people appreciate the model for its minimalistic design and aesthetic appeal, and others point to the toilet's design to be ideal for physically challenged individuals. Whatever your reasons are, there is sure to be one model that suits your preference in the picks above.
Floor Mounted Toilet Vs. Wall Hung Toilets
Toilets are usually not the first thing that comes to your mind when thinking about a house, but the truth is that no home or bathroom is complete without a toilet. With the growing popularity of tankless toilets, whether to go for floor-mounted or wall-hung models depends on many factors. There are a couple of factors to look at before deciding which to go for. Here, we take a look at some of them.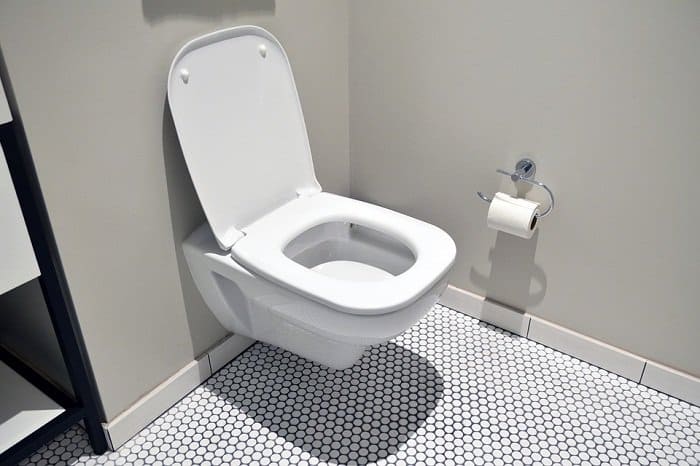 Space
One of the first things you are looking at when going for one of these tankless toilet models is to save space. In this area, the wall-hung model slightly edges it out. Technically, the difference in size between floor and wall toilets is usually insignificant, but because the wall-hung models have their tanks installed in the wall, they save that extra space.
In particular tight spaces, it is usually challenging to meet building requirements when installing a floor-mounted toilet. But this hurdle is eliminated with the wall models, as when compared to their floor counterparts, they can save an average of 10 inches. 
Additionally, since the bowl of wall-hung toilets can be positioned several inches off the ground, more space can be created, and cleaning the toilet area generally becomes more straightforward.
Installation
One vital factor to consider when installing toilets, in general, is the installation part. Incorrect installations have the potential to cause significant problems in the future. In the case of tankless toilets, the floor-mounted toilet is generally easier to install. 
Wall-hung models require more time, equipment, expertise, and advanced plumbing. Also, wall hung toilets cost more money to install since the wall would have to be removed and reinforced after installation. Whether you are going for a wall-hung model or the floor-mounted version, it is ideal to hire only professional plumbers for the installation.
Cleaning
In terms of cleaning, wall-hung toilets come out on top. They are easier to clean due to two factors. First, since the base of wall-hung models does not touch the ground, space underneath is easy to reach and clean. Also, as the tank is installed in the wall, there are no crevices or tight corners to clean, and dirt or dust has nowhere to pile up. There is a greater area to clean with floor-mounted models, and dust can accumulate around the toilet's base.
Appearance
Both the wall-hung and floor-mounted toilet models have modern and minimalistic designs, and it is only a matter of personal aesthetics and style when making a choice. Different manufacturers have introduced innovative designs that are pleasing to the eyes and serve particular purposes. 
Height
Floor mounted toilets come with a fixed height, and they cannot be adjusted and must conform to the existing shape of the bathroom. On the other hand, the models that can be mounted on the wall are more flexible and can be adjusted up to 19 inches off the ground. The standard installation height is 15 inches, but disabled and physically challenged individuals might favor a higher seat to ease the process of sitting and standing up.
Maintenance
Even the best of toilets will need repairs after some time, and if you end up getting a good toilet, that may not be too often. While you might think that floor-mounted toilets are generally more accessible to fix than wall-hung models, that is not always the case. However, some models allow easy access to the tanks without a lot of tearing down and reinforcement.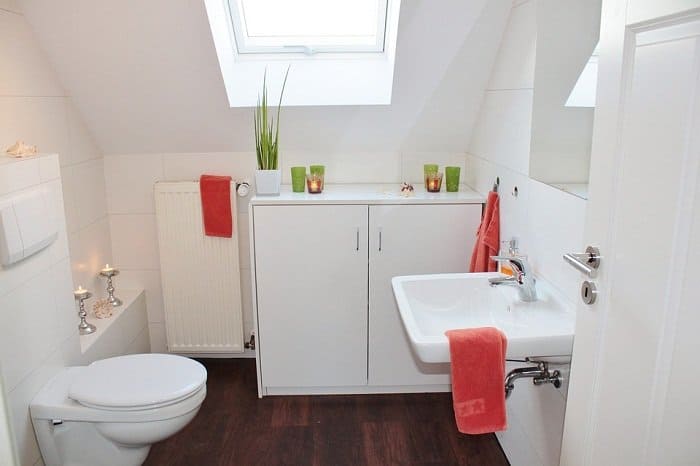 Tips for Getting the Best Out of Your Tankless Floor Mounted Toilet
While floor-mounted toilets with no tanks do not have as many problems as many conventional toilets, it is still essential to take proper care of your toilet. Follow these tips to get the best out of your tankless models.
Dispose Properly 
An obvious maintenance tip to follow is correct disposal. Flush only toilet paper and human waste down the toilet drain. Diapers, paper towels, cotton swabs, and feminine products clog toilets faster, so avoid passing them down the drain.
No Harsh Chemical Cleaners
Avoid using harsh chemicals to unclog or clean your toilet. Even though they unclog the toilets, they are harmful to pipes and could damage the pipes if used frequently.
Maintenance Checks
It is vital to schedule periodic checks to ensure your toilet is in good condition. Even though there is no problem visible to the naked eyes, toilets need to undergo routine checks to forestall potential problems. It is necessary to check your toilet at least once a year. Professional plumbers can detect minor issues or even help improve the functions of the toilet. 
FAQ
How Does A Tankless Toilet Work?
A tankless toilet does not utilize water tanks like conventional toilets. Instead, it relies on a pump that has enough pressure to push waste down the drainage system.
Can I Put a Tankless Toilet in My Home?
Yes, tankless toilets can fit into almost any space, and they would look great in your home.
How Much Gallons of Water Do Tankless Toilets Use?
Most tankless toilets use as little as 1.6 gallons of water per flush, and newer models have reduced that to 1 gallon per flush.
Wrapping Up
By now, you should know more about tankless floor-mounted toilets and able to make informed decisions about which one best suits your style and space. Overall, all the toilets listed here are excellent options, and your choice boils down to personal choice and budget.
If we had to recommend just one of these toilets to you, our pick would be the Toto Neorest 700h. If money is not an issue and you are willing to dole out the cash for a quality experience, this toilet is the ideal option since the features and performance are top-notch. However, if that model is beyond your budget, then the Saniflo Sanicompact is an excellent alternative.