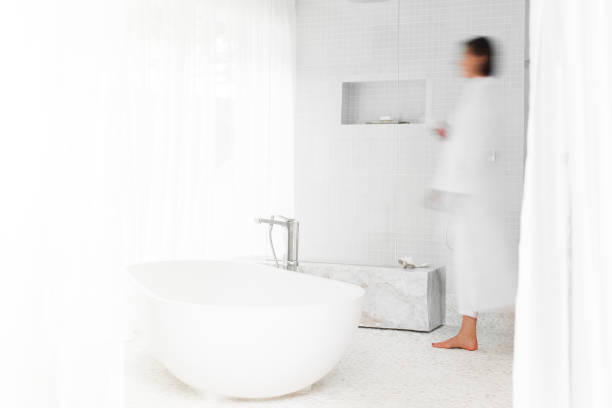 Walk-in showers can be an excellent way to save space in a small bathroom, but they also come with some downsides, chief of which is the fact that they offer almost no privacy.
People will usually resort to using a shower curtain to remedy this issue.
But what kind of shower curtain is the best for a walk-in shower? What material should shower curtains be made of, and what is their best length?
The right shower curtain for walk-in showers should fulfill specific requirements, from being water and mildew resistant to serving as an aesthetically pleasing part of bathroom decor.
What Should the Best Shower Curtain for a Walk-in Shower Have?
A shower curtain for a walk-in shower doesn't just serve as a privacy cover. It is also an important part of the bathroom's aesthetic and can even improve your shower's safety. Ranked in the order of importance, here are the things you should pay attention to when buying a shower curtain.
Ensure To Choose a Quality Material
A high-quality shower curtain will usually be made of durable yet good-looking materials. For example, simple nylon is quite durable, but it has a cheap plastic look which reduces the worth of its waterproof feature by quite a lot.
A better choice would be higher quality vinyl shower curtains, which combine the resilience of nylon ones while also being easier to paint on and simply looking better. It is also cheap compared to a fabric shower curtain.
Another popular choice is cotton shower curtains, which can give your shower area an extremely luxurious feel.
Still, they have the downside of not being as resistant as vinyl curtains.
Still, a fabric shower curtain can be a cool choice as long as you dry it between uses. An additional benefit of cotton shower curtains is that they can be dry cleaned and steam cleaned if necessary.
Therefore, choosing between a fabric and a vinyl shower curtain boils down to personal preference.
Choose a Long Shower Curtain Over a Short One.
Not only that a longer shower curtain for walk-in showers provide more privacy than a shorter one, but it will also make a better choice for keeping water inside your walk-in shower. Finally, a long curtain offers greater protection from the cold air in the rest of the room.
Choose shower curtains made of a heavier material.
When buying a new shower curtain, remember that its primary purpose is to keep the water inside and the cold air outside and not to serve as a part of the bathroom's decor.
Heavier curtains are great for this, as they are much better at keeping the water contained within the shower and offer extra protection from anyone entering the shower room as they are harder to move.
Choose a Shower Curtain That Matches the Aesthetic of Your Bathroom Floor
Finally, as shower curtains come in many unique patterns, you are free to choose one that will match the rest of your bathroom. Still, it would be a good idea not to compromise the quality of the curtain to get one that helps decorate the walls more.
The Best 5 Shower Curtains for Walk-in Showers
Now that we have explained the criteria on which you should base your shower curtain purchase, we can move on to creating a list of the best ones currently available on the market.
WELTRXE EVA Shower Curtain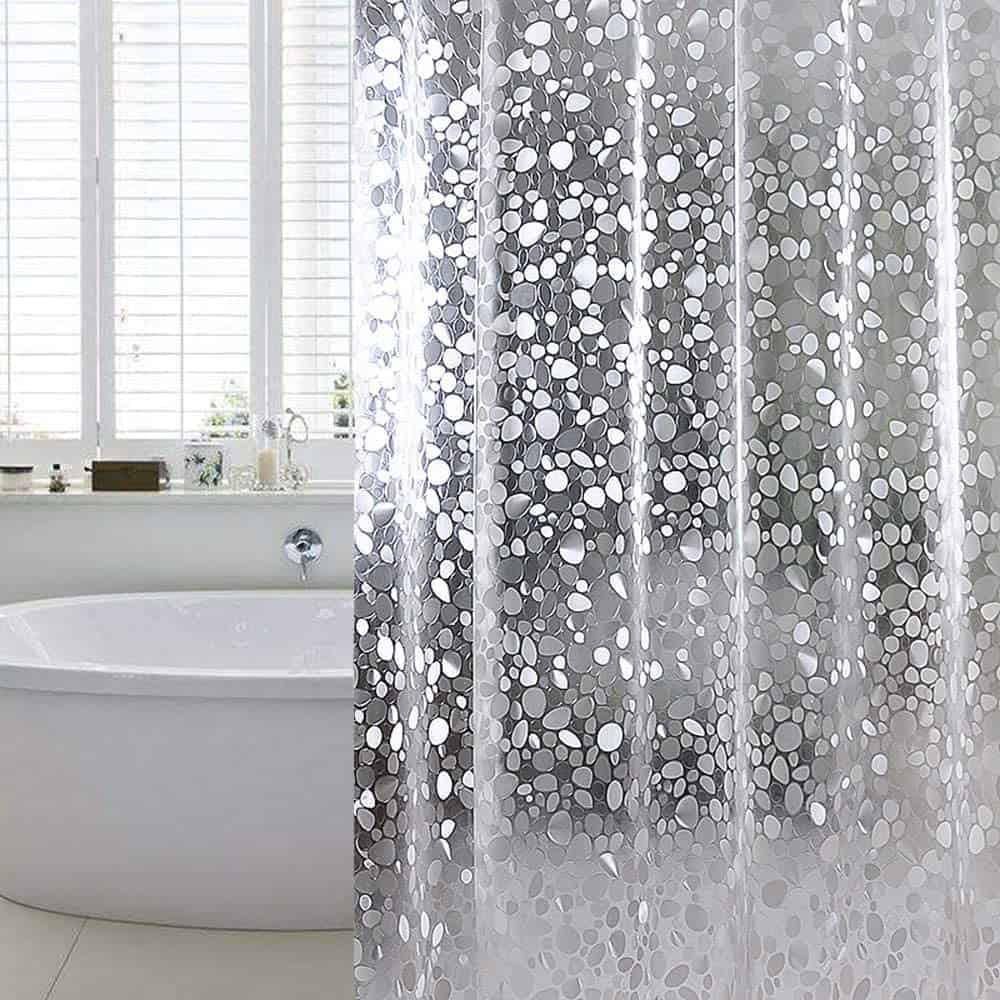 One of these best vinyl shower curtains for walk-in showers is that you can purchase this product from EVA material. It has a very pleasing aesthetic, and thanks to its rust-proof metal grommets and a set of magnets to keep its bottom side in place, it is also quite stable, keeping the water in the shower area no matter the size situation.
Furthermore, this shower curtain is surprisingly low maintenance, as you won't need to dry clean it and can simply use a sponge to remove any stains.
Finally, it is also moderately transparent, allowing light to enter your walk-in shower without revealing the person inside it.
mDesign Fabric Shower Curtain, Hotel Quality Waffle Weave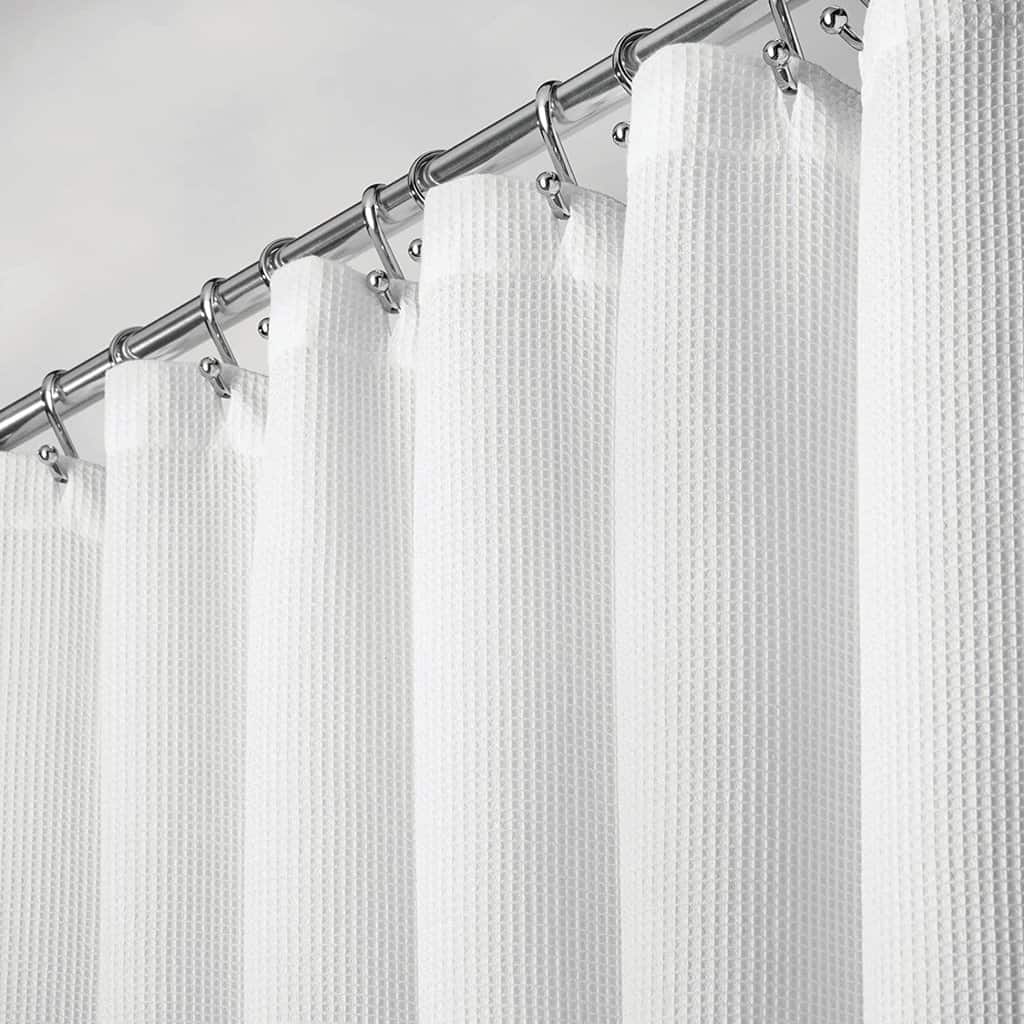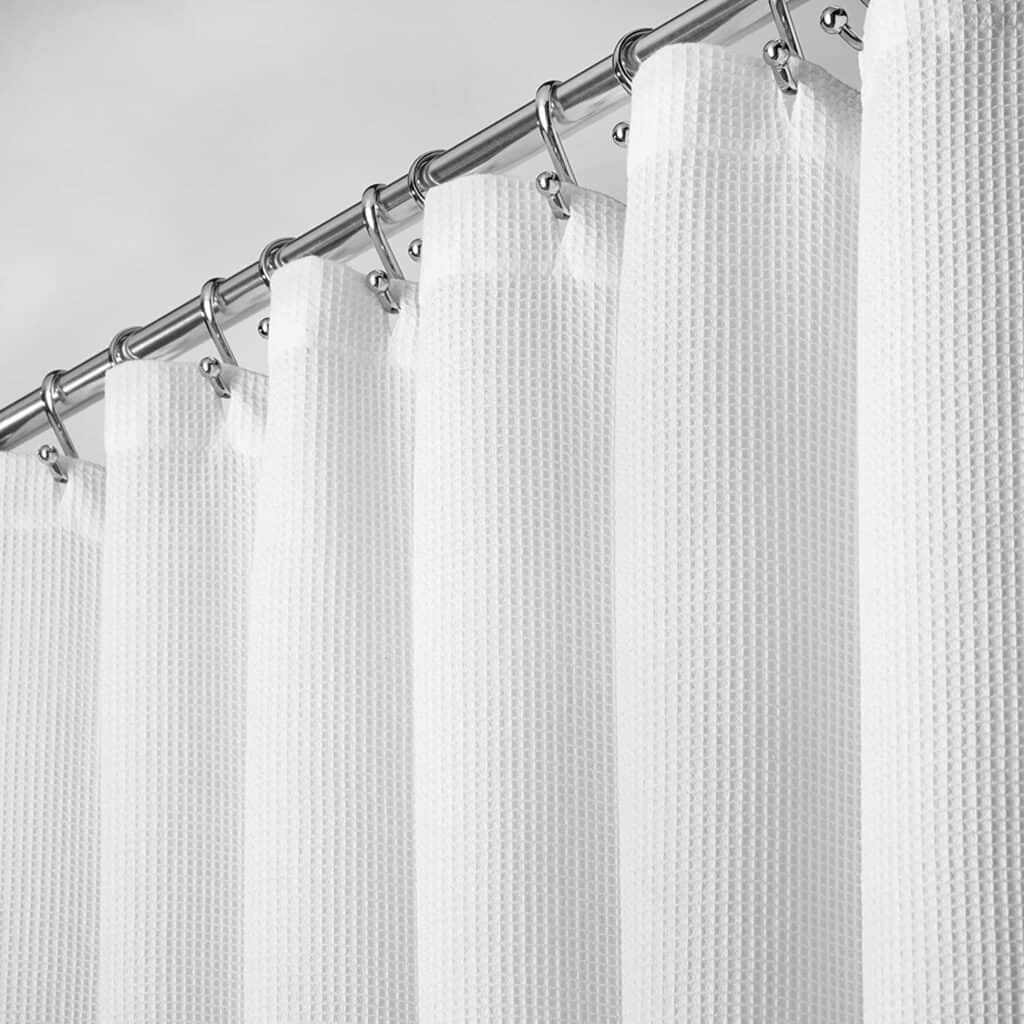 Made of heavy polyester fabric woven to prevent billowing, this solution from mDesign is the ideal shower curtain for those who want their walk-in showers to be obscured all the way from the ceiling to the bathroom floor.
The shower curtain is also quite nice to look at, with a classic waffle weave that will compliment just about any shower tub setup.
Furthermore, it features metal grommets compatible with most hooks, making it easy to install and use.
Finally, it is also quite low maintenance as it can be stuffed in the washing machine alongside your clothes as long as you make sure to keep it at a temperature suitable for washing polyester.
CYPL No Hooks Needed Waffle Weave Shower Curtain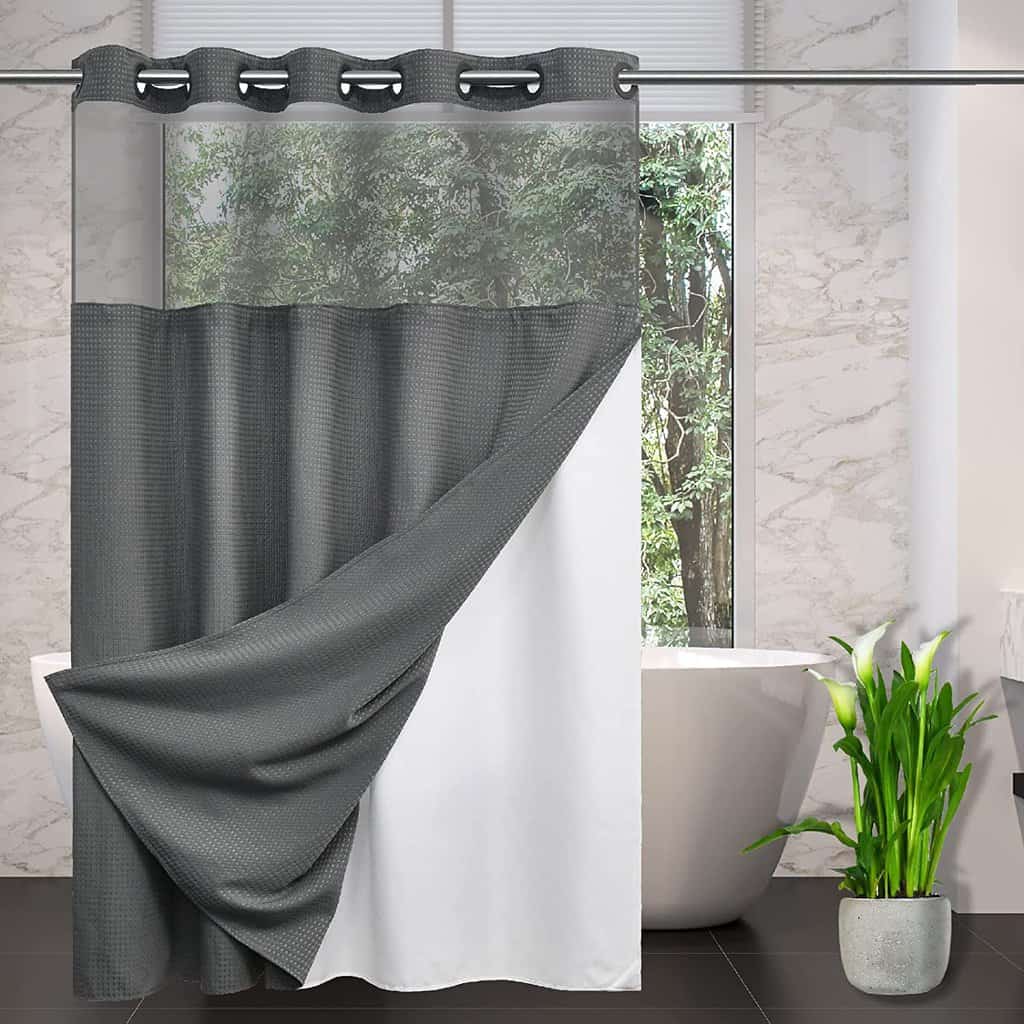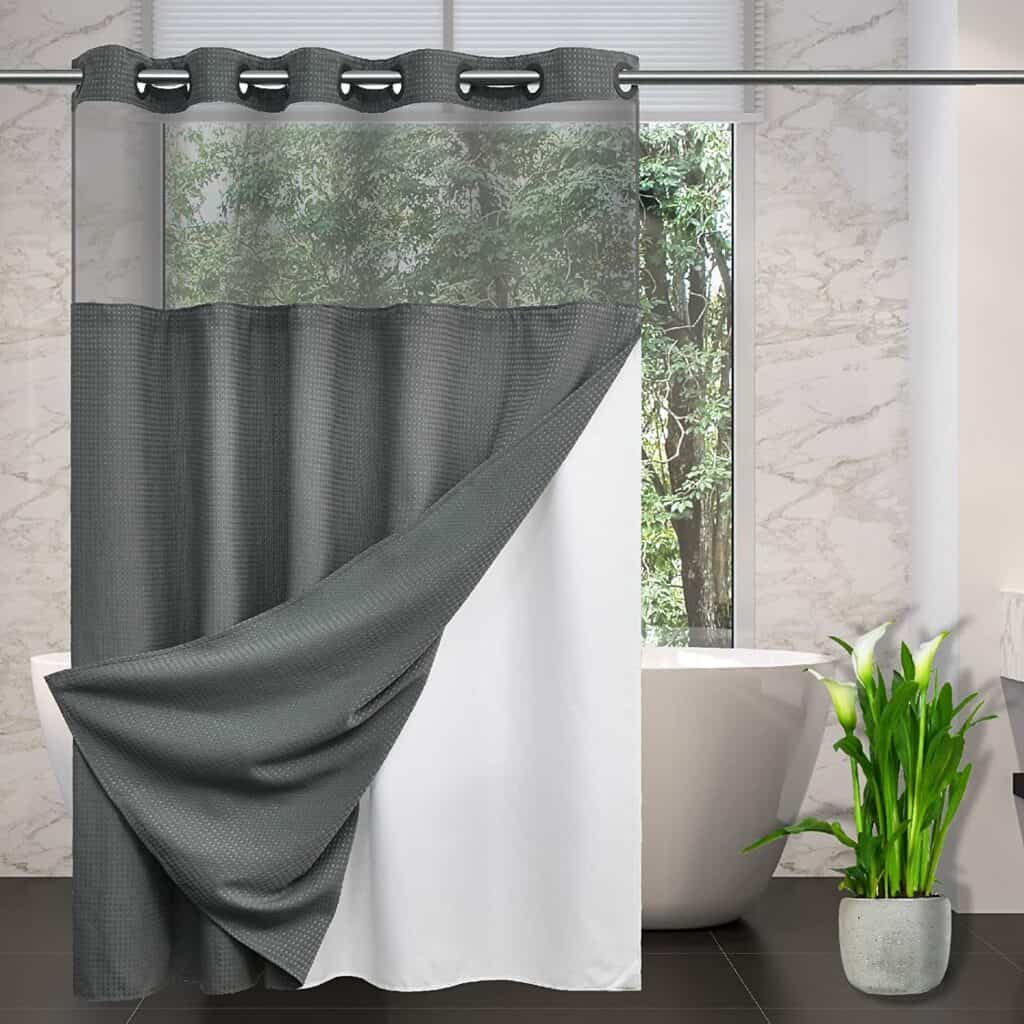 Another waffle weave solution on our list, this hookless curtain is an excellent choice for anyone who wants to obscure themselves completely while showering.
Thanks to its dense weaving and dark grey color, this curtain provides you with all the privacy you want while still providing you with some light, thanks to the viewing window on the top side of the curtain.
Furthermore, you won't need any hooks or other elements to install it, a simple curtain rod will suffice, making this one of the most convenient and easy-to-use curtain liners on the market.
Finally, the color of this shower curtain will have a great appeal to those who prefer the darker colors of the spectrum, making it an excellent choice if you are looking to decorate your bathroom in a more retro style.
Lush Decor, Yellow and Gray Zuri Flora Shower Curtain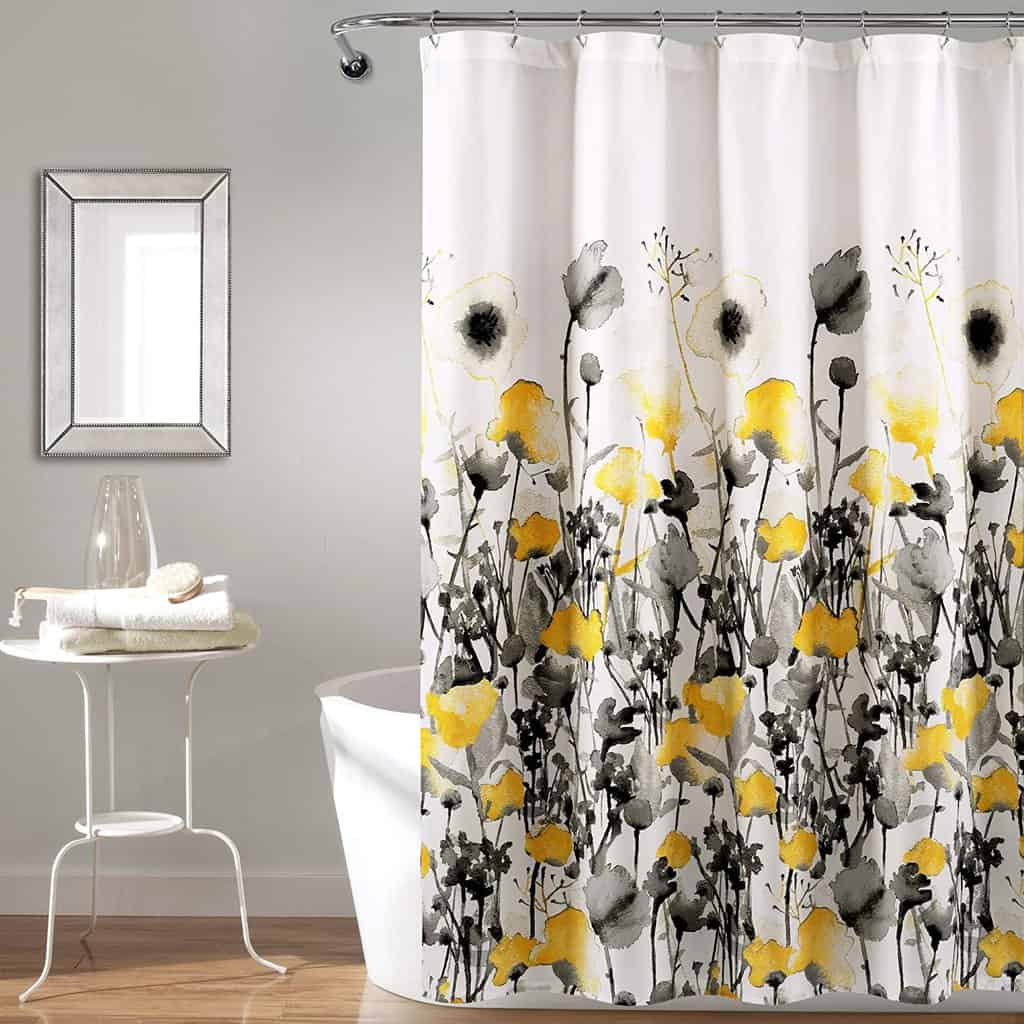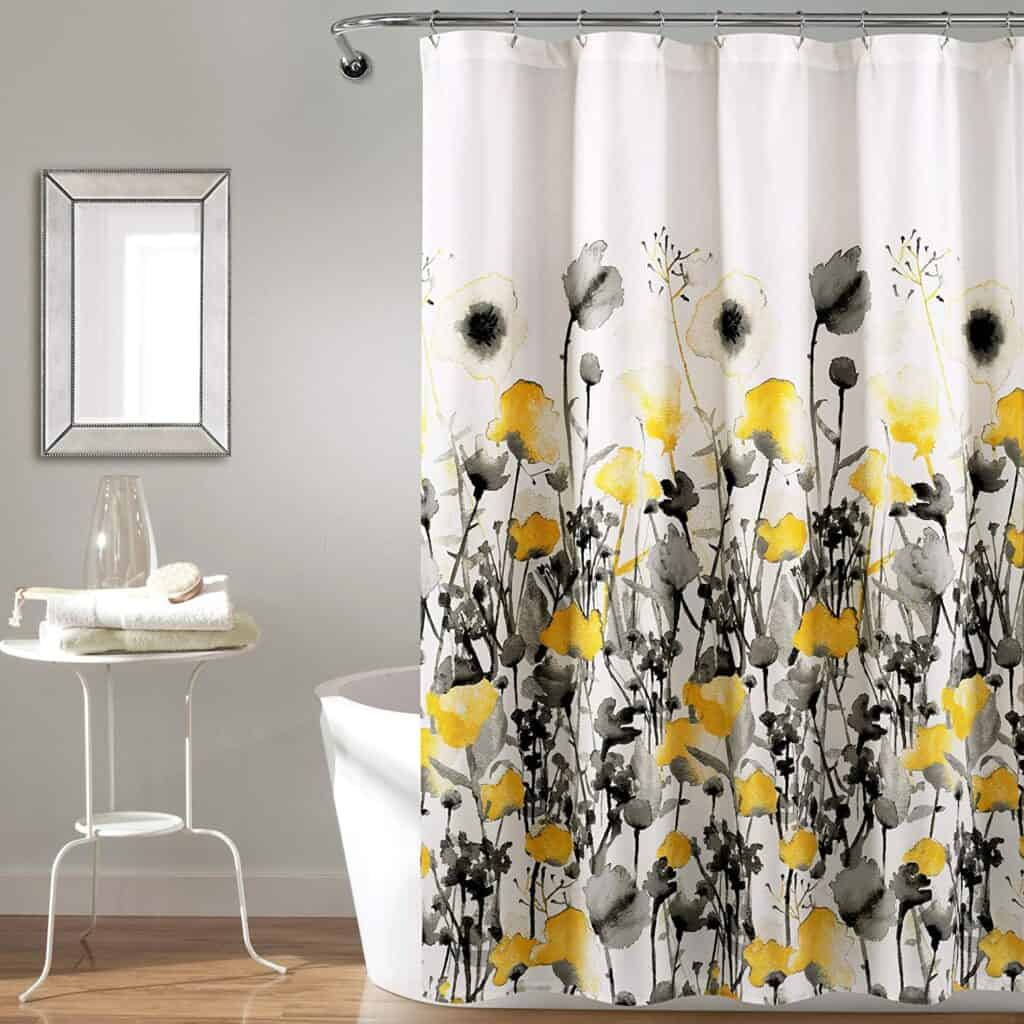 Incredibly aesthetically pleasing, this floral pattern, this walk-in shower curtain made of polyester is also very durable, allowing you to put it in a washing machine.
Additionally, it features a high-quality shower liner that allows you to fold it in such a way that it doesn't take up much empty space when you aren't in the shower.
Finally, it is compatible with just about any curtain rod, making it a great choice for most bathrooms regardless of the type of shower you have.
Bean Products Cotton Shower Curtain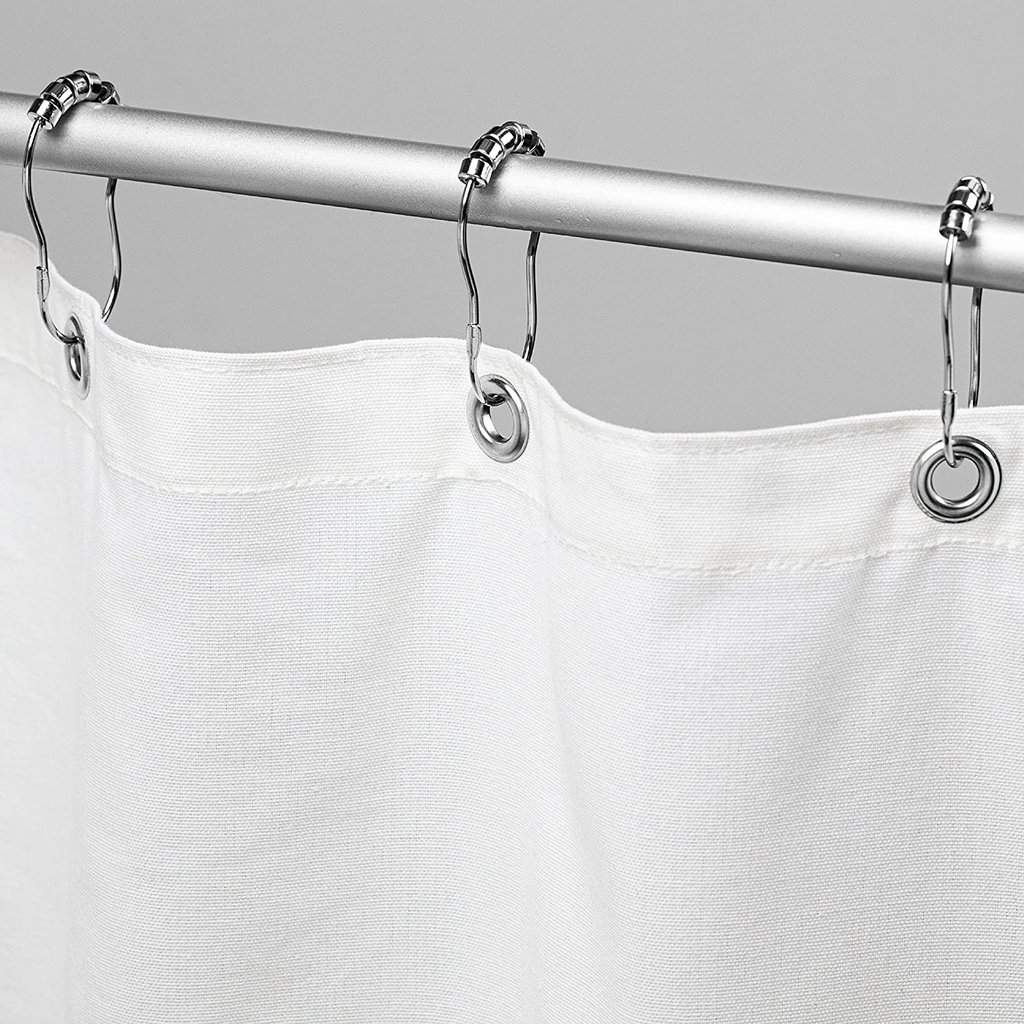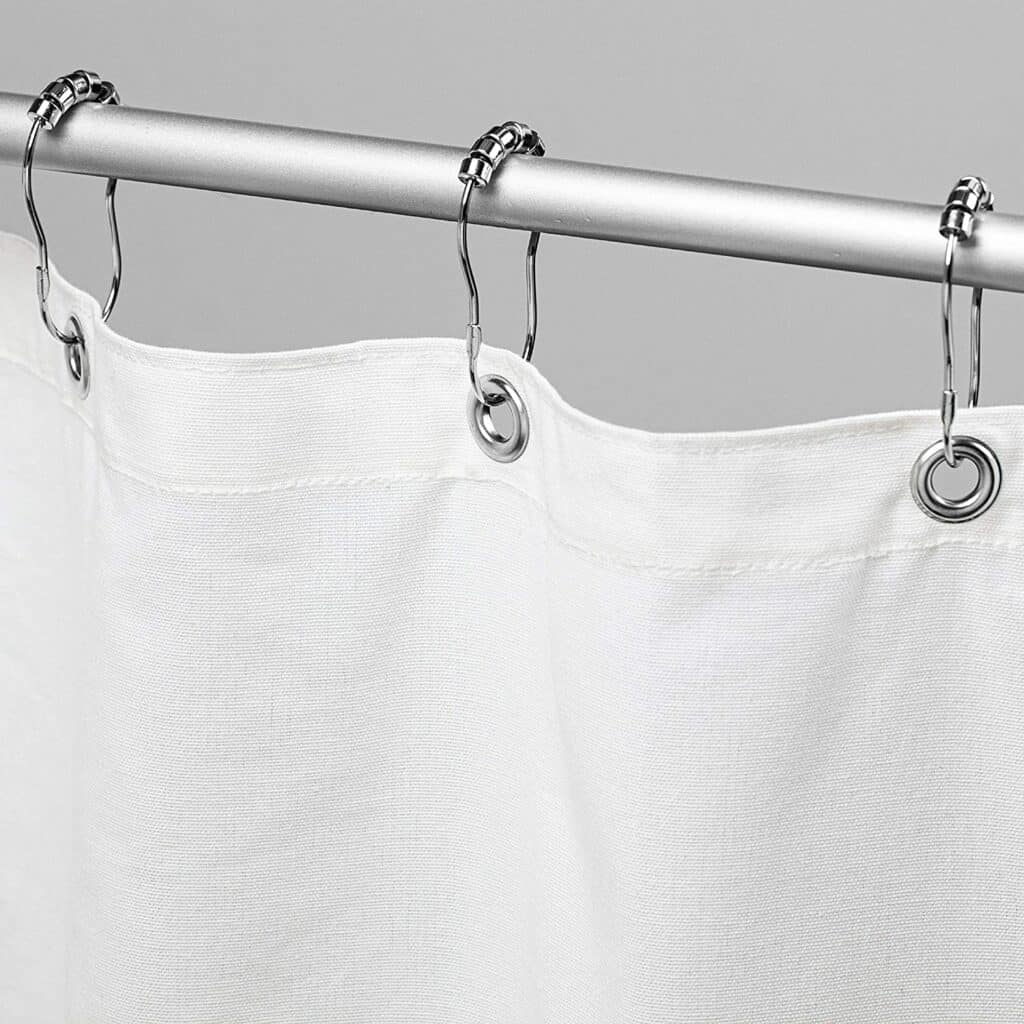 A deceptively simple but very durable cotton shower curtain, it is much heavier than your usual vinyl shower curtains and is almost entirely resistant to billowing.
It also has one of the most functional shower liners found in cotton curtains, making it easy to fold and move out of the way when you aren't using your shower.
Finally, its simple design makes it very pleasing to the eye, with the white cotton fabric looking great in just any bathroom regardless of the tile colors.
Frequently Asked Questions
Can You Put a Shower Curtain On a Walk-in Shower?
Yes, it is possible to install a shower curtain on a walk-in shower. In fact, most shower curtains are designed to be compatible with walk-in showers, as more and more of these showers are built in small, modern apartments in which space is an issue.
What Size Shower Curtain Do I Need for a Walk-in Shower?
This choice will depend entirely on how long you want your curtain to be, as well as the size of the shower.
While having an extra long shower curtain might be appealing, it may not be practical for a small bathroom, so plan accordingly. Still, if you choose a curtain that is too short, you will have to face a different problem: the water getting out of the walk-in shower and into the room.
How Do You Hang a Shower Curtain in a Shower Stall?
Some showers use metal grommets and a system of hooks to hang the curtain on a special rod. Other hookless curtains simply connect to this rod by a system of metal rings. This will depend on the model of your shower curtains.
How Do You Keep Water in Walk-in Shower?
One of the shower curtain's primary purposes is to keep the water inside the walk-in shower. Because of this, you should always choose a highly waterproof material for your shower curtain that reaches all the way to the floor.
Conclusion
Choosing the best shower curtain for a walk-in shower is no easy task. What separates the best shower curtains from the rest is a higher quality waterproof feature and the ability to fit more than one bathroom style.
That said, you should place functionality over looks when choosing your shower curtain and choose one that reaches the floor to avoid water spilling out of the shower. Heavier fabrics are better than lighter ones, as they are less likely to billow and expose you while showering.