Nice homes and fancy hotels are synonymous with sleek Japanese toilets that truly enhance the lifestyles of users. TOTO Promenade II Toilet is one of the best products manufactured by TOTO, a household name in the world sanitary ware. In fact, TOTO produces some of the highest quality toilet designs that are known for being eco-friendly. The Promenade II will be a valuable addition to your bathroom remodeling project that will add ease and pleasure to your life. In this TOTO Promenade II Toilet Review, you'll learn everything you need to know about the Promenade II and give you a few reasons why you should consider it for your next bathroom upgrade.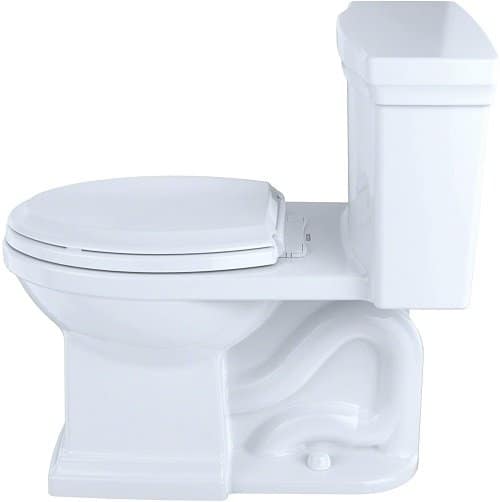 TOTO Promenade II Toilet Specs
Cotton white in color
Elongated shape
One-piece toilet design
Measures 28-1/2 x 17-3/4 x 31-1/4 inches
Has a seat height of 17-1/4
ADA Compliant 
Weighs 91 lbs
WaterSense certified
The handle is on the left side
Made from Vitreous China
Flushes 1.28 GPF
Key Features of TOTO Promenade II Toilet
1. Beautiful and Durable Design
TOTO Promenade II Toilet is a beautiful unit that can comfortably complement different bathroom designs. Its universal height that meets the ADA criteria is also very comfortable for users of different heights. Additionally, the toilet's elongated height is quite comfortable according to most people as compared to the round design that some toilet makers have opted for on their toilet designs.
The toilet comes with a soft close seat feature which ensures that occupants of rooms near the bathroom where it's installed are not disturbed at night. Furthermore, the piercing bangs caused by noisy lids on certain toilet models can quickly damage the bowl rims. TOTO produces sturdy and long-lasting toilets that can serve you for several years without worrying about toilet renovations.
2. Tornado Flushing System
The unit comes with TOTO's Tornado Flushing System, a powerful flushing technology that uses three water jets to produce a whirlpool-like flushing effect. Essentially, the flushing technology ensures that all the waste has been thoroughly cleaned from the toilet's rimless bowl.
3. Water Conserving Flush
The toilet is very efficient when it comes to conserving water and saving you some quick bucks on your water bill. With water consumption of only 1.28 GPF, you can rest assured that the toilet is a great investment. Many people are actually not aware that the older toilet models in their homes use even up to 4 gallons of water per flush. That means getting exaggerated water bills and affecting the environment. This an eco-friendly product that meets the EPA WaterSense and CALGreen standards while still delivering a powerful flush.
4. Easy to Clean and Maintain
The one-piece design makes cleaning a breeze as compared to the two-piece toilet designs. In addition, the toilet has a CeFiONtect glaze that protects the rimless bowl from accumulating bacteria, stains, germs, and other particulates that can lead to mold growth and very bad odors in your bathroom. 
That means that you can easily keep your toilet cleaner for longer. All you need to properly clean your TOTO Promenade II toilet, just like most toilet bowls on the market, is a standard toilet brush. Moreover, the toilet has a rimless bowl design which eliminates the hidden surfaces that are usually very hard to clean on other toilet designs.
5. Simple Installation 
Installing a one-piece toilet design is easier than installing a two-piece design toilet. The toilet has a standard 12-inch rough-in that you can quickly mount on your floor without too much difficulty. The unit comes with a toilet seat, unlike some toilet models where you'll be forced to buy a toilet seat separately.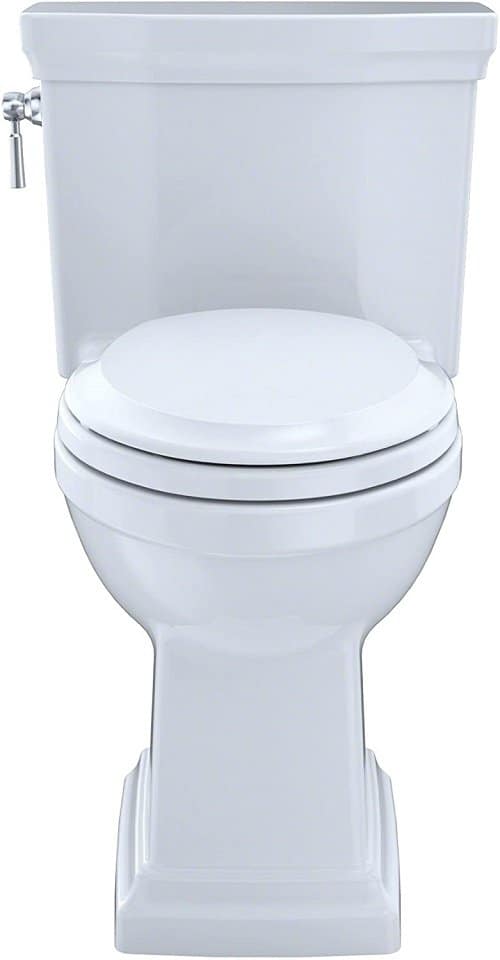 6. One-year Warranty
TOTO provides you with a 1-year warranty on this product, which is an assurance that what you're investing in is a reliable, quality product.
7. Superior Technology
Once you invest in this TOTO toilet, you won't have to worry about a toilet seat that can pinch your child's fingers or even noisy slamming, especially at night. This toilet has a soft closing lid that won't potentially damage the rim or wake up people in the middle of the night.
8. Durable
The construction of this unit is very durable. It's made from vitreous china, which is known for being very sturdy. That also means that cleaning the toilet for all the years it will be in your bathroom is very easy. Remember, purchasing sanitary ware from a reputable brand such as TOTO comes with its perks. 
The toilet maker offers you competitive pricing on all their products, so you don't have to sacrifice quality when purchasing the TOTO Promenade II toilet. Moreover, the toilet is very hygienic and can match most bathroom designs in modern homes.
Things To Consider When Buying Your Next TOTO Toilet
Since any average person needs to visit the toilet several times in a single day, it's critical that you purchase a good toilet that you'll be comfortable seeing or sitting on every day. Thankfully, the modern-day sanitary ware market is full of all kinds of toilet designs and models that are designed for every need. So, there are certain features to look for in every toilet before you make a purchase. Here are some of the critical things to consider when choosing a toilet so you can get a unit that suits your specific needs.
Seat Height
It's very important that you consider the height of the toilet so that you don't invest in a unit that will be uncomfortable for some of the people in your household. The TOTO Promenade II toilet has a universal height that is ADA compliant and thus comfortable for people of all sizes. 
That also means it's not uncomfortable for people with disabilities. For instance, if you intend to house your aging parents down the road, then this is a great one-piece toilet to consider installing in your bathroom. Moreover, the toilet can be installed in public bathrooms, apartments, and homes. 
Buttons and Levers
It's wise to think about the buttons and levers used on the toilet you want to buy. Most modern models come fitted with push buttons that are easier to use. The handle on the TOTO Promenade II toilet is on the left side. If you're water conscious, it's advisable that you opt for the two-button option, which ensures that you use smaller amounts of water for partial flushing and more water only when you want full flushing power.
The Rough-in
Rough-in is a term that is often used in plumbing to refer to the distance from the wall to the bolt cap of a toilet. Typically, most toilets have rough-in measurements of 10″, 12″, or 14″. It's, therefore, important that you measure the rough-in before buying a toilet so you can find the perfect fit. The TOTO Promenade II toilet has a rough-in of 12 inches.
Color
Most toilets are white in color. A white cotton toilet such as the TOTO Promenade II will give your home a good resale value if you eventually decide to sell your home. However, colored toilets can be confusing when it comes to matching them with your interior decor. You should only go for colored toilets when you want to blend the unit with the existing background.
One-Piece Vs. Two-Piece Toilets
One-piece toilets are considered to be sleeker than their older two-piece counterparts. Although the one-piece toilet designs such as the TOTO Promenade II unit are heavier to carry, they're easier to install, clean, and maintain. In general, the one-piece toilet design is the most recommended option nowadays. Furthermore, these one-piece toilet designs are more suited to modern styles that you see in contemporary homes.
Price
Today, there is a wide range of toilet models for all price ranges. Most toilets on the lower end of the price spectrum are the older models, especially the two-piece designs. But, if you're looking for a stylish toilet that will match your modern home, then you should consider the high-end one-piece designs such as the TOTO Promenade II toilet that costs around $500. Most of the toilets on the higher end of the price spectrum come fitted with fancy features such as tornado flushing technologies, heated seats, and built-in lights, as well.
An eco-friendly toilet that doesn't consume a lot of water per flush will also save you some money on your monthly water bill. In a nutshell, if you fall somewhere in the middle, then settling for this TOTO toilet is a good idea.
Wrap Up
Overall, the TOTO Promenade II toilet is a modern toilet design that will remarkably transform your bathroom's appearance. TOTO has wrapped some of its best technologies into this one-piece toilet to develop one of the best toilets on the market. Feel free to leave your comments below about this amazing TOTO Promenade II Toilet.
FAQs
What does CALGreen certification mean?
There are various certification standards that you should look out for on sanitary ware, such as the CALGreen certification, so you can rest assured that a toilet is a quality product. The CALGreen code is set by California Green Buildings Standards. These codes are very crucial when it comes to buying quality toilets, faucets, showers, vanities, and flush valves. So, if you want to remodel your bathroom and install a new toilet, you should ensure it meets these standards, just like the TOTO Promenade II does.
Which is the universal height toilet bowl?
According to the Americans with Disabilities Act (ADA) of 1990, products such as toilets should be ADA compliant to ensure that they're comfortable for people of different abilities and ages. Therefore, since the TOTO Promenade II is an ADA compliant product, it can be comfortably used by children, adults, and even people with disabilities.