Maintaining good hygiene standards in your washroom is of immense importance. Things are getting automated a lot these days with technological advancements, and toilet systems are not left behind. The best automatic flush toilets are equipped with a sensor on their tank to automate flushing. 
The sensor automatically activates the flush mechanism once you wave your hand over it. This prevents the spread of pathogens from the toilet flush button to other rooms in your house. In this review, we take you through the best touchless flush toilets, their pros, and their cons, plus a detailed buyer's guide to make your decision easier.
Quick-Comparison
*Ratings courtesy of Amazon at the time of publication and can change!
Who Needs An Automatic Flush Toilet System?
Despite having a sensor that automates the flushing mechanism, touch-free toilets are similar to ordinary toilets and shipping costs are nearly the same. Unfortunately, the major source of germs in a home is the toilet module. A touchless flush technology is hygienically advantageous as germs do not spread to other rooms in the house due to toilet module users touching the flush button or handle every time they use the toilet.
A touch-free toilet system is beneficial to anyone who cares about utmost hygiene at home as the risks of being exposed to germs are highly reduced. The sensor typically eliminates the need to use your hands. 
5 Best No Touch, Automatic Flush Toilets Reviewed
Here is a review of the top-rated touchless flushing toilets that are available in the market:
This is an exceptional touch-free toilet module that would solve most of your toiletry needs. There aren't many that can be compared to the TOTO Neorest range. Apart from it being touch-free, it has other comfort features that make your washroom look more luxurious and relaxed.
It is remarkably expensive due to its unique features, such as an automated lid that closes and opens on its own, a bidet spray and dryer combo, and remote control for switching the spray settings.
The bidet spray technology allows users to enjoy five different water pressure settings and a front and rear cleanse. It allows the user to move the wand into any place you want it to be, and it cleans itself after use.
Its dual flush ability distinguishes it from other models. When operating on a tornado flushing system, water swirls around the bowl with three powerful nozzles, ensuring a thorough cleaning. Depending on the left-over in the bowl, users can distinguish between a light (0.8) and heavy (1.0) flush. Moreover, it is eco-friendly as it meets water sense standards.
Impressive Design…..
Additional ingenious innovations include the premise on the bowl, which is a superior way to eliminate waste than a dry bowl and a deodorizer that sucks and filters bad smells in the surrounding area.
The outer part of the bowl is skirted, making it more appealing than other products that come with a bare trap way. It's available in different colors, including cotton and beige.
Additionally, this TOTO toilet module is comfort-height, meeting the ADA standards, and ensures the seating position is reachable to people of all abilities. People with limited agility will have less stress when bending down and standing up.
This is our best overall product. Although it is expensive, for several reasons, it combines the finest modern technology, ensuring comfort and a sparkling clean washroom.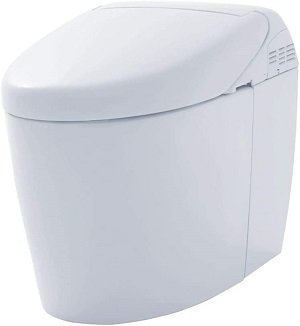 The quality and uniqueness of the VOVO STYLEMENT TCB-090S smart toilet are unquestionable. This flush-free toilet module has a rectangular bowl designed for firmness and a touchless flush system.
The smart seat sensor detects the user to distinguish between a small flush and a large flush, which provides hands-free operation (1.12 GPF / For 35 PSI). The toilet also comes with a heated seat, warm water, and a warm air dryer. Additionally, the toilet has a premium bidet with a self-cleaning stainless steel nozzle and auto deodorizer.
The VOVO STYLEMENT TCB-090S also features an automatic deodorization and wireless remote controller. With a click of a button, the toilet can perform posterior, feminine, and turbo wash functions alongside auto deodorization.
Additionally, the toilet has a tankless flushing system that powerfully cleans the toilet bowl without leaving stale water from the pipes. With its eco-friendly design, you can significantly reduce toilet paper and water consumption. That's why it's a cUPC, cETLus certified smart toilet.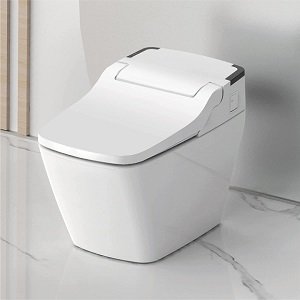 The EPLO Smart One Piece Toilet With Remote Control comes with an automatic Smart seat sensor that detects the user and distinguishes between small flush and large flushes, providing hands-free operation. It uses just 1.1/1.6 GPF
With a heated seat, warm water, and warm air dryer, this smart toilet provides a premium sanitary experience. Moreover, it has bidet features with self-cleaning stainless steel nozzles with auto deodorization.
The smart remote controller performs posterior, turbo wash, and feminine functions with auto deodorization. The tornado wash powerfully cleans the bowl without leaving any debris in the bowl. More importantly, the eco-friendly design reduces toilet paper and water usage, making it an IAPMO EGS & cUPC certified smart toilet.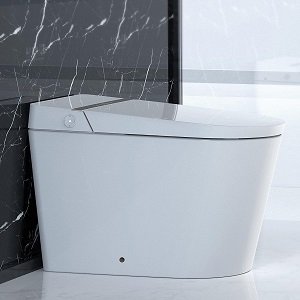 Keeping in mind the quality of the Kohler brand, this model has a sensor for self flushing. However, it uses AA batteries, which you can buy in stock if they run out of power.
Its bowl is elongated and not particularly big. Kohler K-5401-PA-0 is eco-friendly as it has a dual flush mechanism that will push o.8/1.28 gallons through the bowl on flushing. This helps clean germs off the bowl.
It is attractive as its external is furnished with a bright color. With a one-piece design, it is coupled with a comfortable height-sized seat. Considering its quality and attractive nature, this is the no-touch toilet module to invest in. 
Luxurious Finish…
In addition to its automated flush activation, you would notice that Kohler K-5401-PA-0 has plenty of things that will make you go for it. It utilizes just 0.8 gpf for liquid waste and 1.28 gpf for solid waste hence meeting the EPA standards. Moreover, it achieves a Map score of 800 grams on its performance scale. Such a score range is highly recommended.
With a universal height, the bowl is slightly taller than the standard toilets (2 inches taller). It provides you with a more natural chair-like seating position. In case you have a small bathroom, it can fit a twelve-inch rough-in, measuring 26.13 x 17.25 x 21 inches.
Contrasting other contestants, the seat comes as part of the package. Overall, this smart toilet would be a good option if you would love to upgrade and get more advanced. It's available in several unique themes and a wide range of colors. It is not just limited to black, biscuit, almond, dune, cashmere, sandbar, and white.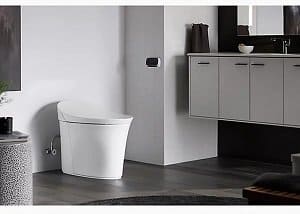 This smart one-piece toilet adopts a tankless, ultra-thin, simple modern style. It comes with a heated toilet suitable for most bathrooms. This high-quality ceramic toilet is also equipped with a luxurious smart bidet seat and a wireless remote.
The LCD screen instantly reflects water and seat temperatures, and the side button control and remote control system are more convenient. It also has a soft-close toilet seat with an LED night light. The Smart Bidet Toilet features an instant heating system with warm water. The heated seat and warm air dryer provide six levels of temperature adjustment, giving you perfect care in the cold winter.
Additionally, the super adsorption force of diatom adsorbs odorous particles and converts harmful particles into oxygen particles. This creates an oxygen-rich space, keeping your bathroom environment fresh at all times.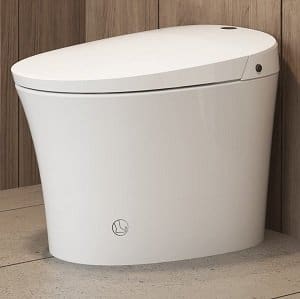 Benefits of No Touch, Automatic Flush Toilets
There are various benefits to having a touch-free toilet, including:
Convenience: Self-flushing automatic toilets are easy to use. You simply need to wave your hand above the bowl to flush and eliminate all waste in the bowl.
Hygiene: Reducing chances of touch is a tremendous hygienic benefit. Since the bathroom surfaces are a source of germs, reducing direct contact with surfaces reduces exposure to harmful pathogens. Another advantage is that the self-flushing toilet module will bail you out if you have behavior to forget to flush.
Water Conservation: Touch-free flush toilets prevent multiple flushes in a short range of time because they provide one powerful flush. Regular toilets, on the other hand, require multiple flushes to ensure that the waste is gone.
Modern: As far as technology is concerned, keeping up with the times is essential, and installing one of a kind is a step in the right direction.
What to Look for in A Touchless Toilet
Touchless flush toilets improve your living standards by transforming your bathroom through internal design and upgrading technologically. Irrespective of style, exterior, power, and price, you ought to follow standards to avoid making common mistakes buyers make while shopping. Before making your buying decision of the best touchless technology toilet, consider the following features:
Water Efficiency: One thing that toilet module manufacturers focus on during designing and processing any toilet is minimizing levels of water consumption. Most modern models aim to reduce the amount of water used from 1.6 gallons per flush to at least 1.28 gallons per flush, making it more eco-friendly. You may also need to choose dual-flush toilets over single-flush toilets to save more water.
Brand Name: Before making any investment, you should settle on a quality brand that may not end up flooding your house. Examples of well-known and trusted brands are Kohler or American Standard brands.
Bowl Shape: Bowls are either round or elongated. Everyone has a different taste. However, a round bowl is recommended for a limited space, while a bigger space that prioritizes comfort would require an elongated bowl. Also, consider whether you want the bowl to be at a comfortable height that is two inches higher than an ordinary toilet module. In case of any mobility issues, comfort height toilets would fit best.
Rough-in: Make sure you check your current toilet module user manual and find out the size of your rough-in. You can also get the measurements by taping them. It will enable you to avoid returning products to the seller after finding out they do not fit the waste outlet.
Waste Outlet: Your plumbing system will determine what you will go for. Keep in mind that there are two types of waste outlets, the most common being through the floor and the other one has back outlets.
Budget: We would only recommend you go for a touchless technology flush toilet if you have an average or higher budget range. Most would range from $500 or more, and there are a few available going lower than the said price. 
Bowl Height: In case you want comfort, you have to go for a convenient one. Many models and designs in the market provide you with so much comfort, as they are standard-height toilets. Comfort-height toilets usually tend to be taller than ordinary toilets. Their heights can be the same as that of a chair, making them easier to sit on.
Kit or Full Unit: Getting a brand-new unit with a sensor toilet flush custom-built with this technology is excellent. However, there are those kits that give you headaches after buying since youll need a complete toilet tank repair kit. You have to overcome such obstacles before fixing them. The KOHLER K-1954-0 Touchless Toilet Flush Kit is one good example of a touchless toilet that requires expert installation.
How do Touch-Free toilet flush mechanisms work?
While it looks a bit advanced, the principle behind the flushing mechanism has existed from a while ago. It is only lately that these designs have begun to gain power in the industry.
Down the line, they work by using sensors positioned at the top of the tank. Moving your hand just above the sensor signals the flush system to send water through the bowl to clear the waste. In case the sensor gets spoilt, in most cases, lifting the tank lid would flush the water manually.
Most outstandingly, the design of no-touch toilets prevents users from having direct contact while flushing. This reduces the accumulation and spread of bacteria in your home, creating a cleaner and pleasing environment.
In most products we have reviewed, they require the user to wave their hand over the sensor at around two to three inches. It is the rough range of the electromagnetic fields.
Wrapping up
To have a touch-free flush toilet in your home is so amazing. Considering the different models and designs available in the market, all you have to do is wave your hand around the sensor, and an automatic flush wash away all the waste. Although the prices of touchless toilets can be significantly high, these toilet units make life easier and add a modernistic feel to your bathroom.
Overall, the best self flushing toilet is the TOTO Neorest MS920CEMFG#01 Washlet with Integrated Toilet. Although is is relatively expensive, it's worth the investment if you consider the comfort, aesthetics, and hygienic benefits it offers. You'll never have to grab a toilet plunger or brush to clean your toilet module.
FAQs:
How Much Do Touchless Flush Toilets Cost?
If you're considering a whole new unit, you can expect to pay anything in the range of $500 to $800 for a good quality touchless toilet. You can choose between round or elongated bowls and one-piece or two-piece models to get some wiggle room.
Why does my Kohler Touchless Toilet keep flushing?
A possible cause is that water from the flush valve might be splashing on the Touchless module or underneath the tank lid as the toilet module is refilling. Ensure that the refill hose is implanted as far off as possible into the flush valve. To lessen splashing, change the position of the hose.
Why is my touch-free toilet flushing by itself?
When there is a flush stopper breakdown, the toilet module may end up flashing itself anytime. The flush valve must seal completely after each flush to prevent water from leaking. If the seal malfunctions, the toilet tank drips water into the bowl continuously. To solve this, just put a few drops of food coloring into the toilet tank, and if you notice the same in the bowl, consider replacing the seal.
How do urinals know when to flush?
Usually, hydraulic valve urinal flush controls connect in line with the water supply inlet pipe into the cistern. This senses short-term drops in pressure within the water supply. The valve then releases a measured amount of water into the cistern each time there is a pressure drop.