Campers and RV travelers today cover several miles to get to their camping destinations, and one major challenge is often the limited access to electricity. This detailed Westinghouse iGen2500 review sheds more light on why you need a reliable portable inverter generator.
You shouldn't interrupt your regular lifestyle just because you're out in the woods or a hurricane has cut off your home from the power grid.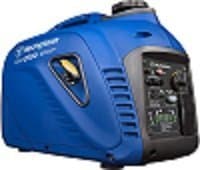 Product Overview: The Westinghouse iGen2500 is a Portable Inverter Generator designed with the recreational user in mind. It produces up to 2, 200 running watts and 2, 500 peak watts, making it excellent for recreational uses such as camping and tailgating or for emergency home backup during power outages.
Overall Editor's Rating: 4.5
| | |
| --- | --- |
| Feature | Editor's Rating |
| Noise Level |  4.8 |
| Ease of Use |  4.6 |
| Reliability |  4.3 |
| Value for the Money |  4.3 |
Summary
When you hit the road for off-grid expeditions or you encounter emergency power interruption in your home, a versatile, super quiet inverter generator can deliver reliable power when and where you need it.
Whether it's a hunting camp or a tailgate party in your recreational vehicle, having reliable electricity supply to power basic amenities such as ACs and fans is crucial. Of course, you'll find a myriad of portable generators on the market, but choosing a dependable and easy-to-use model requires some research.
We have combed the market on your behalf to bring you this inverter generator with lots of premium, cutting-edge features at a pocket-friendly price. It costs nothing near other popular generator models in this category.
Westinghouse iGen2500 Review
The Westinghouse iGen2500 is the supreme portable generator for home backup and RVs. It is lightweight and compact, making it easy to move around by one person. With its tiny size and weighing only 48 lbs (net weight), the versatile generator will snugly fit in your RV storage without hassles.
It still produces impressive power – 2200 running watts against 2500 peak watts. It is fuel-efficient and produces safe power for any electrical device, including small refrigerators.
Unlike traditional open-frame generator sets, the iGen2500 produces clean and stable electrical power to safely power sensitive electronic devices like cell phones, laptops, or kitchen equipment. The power is safe and dependable, just like your home's main supply. The iGen2500 is powered by a 4-stroke Westinghouse engine and automatically regulates power output based on load requirements.
In other words, the generator produces just enough electricity to power what you connect to it, which improves fuel efficiency and reduces exhaust emissions and noise. Moreover, the iGen2500 features a spark arrestor that is approved by the U.S. Forest Service. So, you can safely use it in forests and parks.
With a 98cc, EPA compliant engine, the iGen2500 is amazingly soundless and you can barely notice when it's running. Thanks to its radical engine economy mode, you can choose to run it at low revs when you don't require a lot of power and save on fuel costs.
In fact, the 1-galoon gas tank can keep the generator running for up to 6 hours when powering 50 percent load. For ordinary domestic or RV applications, the average load ranges between 25 percent and 50 percent, meaning that a single refill will last you between 6 to10 hours.
The impressive LED display shows the remaining run time, fuel level, power output, and voltage level. Whether you're using it for your domestic essentials during outages or to power your RV appliances, you can count on Westinghouse iGen2500 to provide efficient and reliable power.
A Review of Westinghouse iGen2500 Specifications
The Westinghouse iGen2500 portable generator is adored by motorhome owners and campers for good reasons. Its impressive price, compact design, reliability, and lightweight are just a few valuable features of this versatile generator.
Here is a quick summary of the Westinghouse iGen2500 Technical Specs:
| | |
| --- | --- |
| Technical Spec | Rating |
| Running Watts | 2200 Watts |
| Surge Wattage | 2500 Watts |
| Run Time | 7.7 Hours at ¼ Load |
| Fuel | Gasoline |
| Tank Capacity | 1 Gallon |
| Weight | 48 Lbs |
| Covered Outlets | Yes |
| GFCI Outlets | No |
| AC Outlets | 1X Duplex 120 V 20A (5-20R) |
| DC Outlets | 2X 5V USB Port |
| Automatic Voltage Regulation | Inverter |
| Indicators | Low Oil, Output Ready, Overload |
| Data Center | Power Output, Fuel Level, Voltage, Remaining Run Time |
| Fuel Tank | Steel, 1 Gallon |
| Fuel Gauge | Yes |
| Noise | 52 dBA |
| Emissions | CARB, EPA |
| THD | <3% |
| Spark Arrestor | Yes |
The inverter generator delivers a stable sine wave power output with harmonic distortion of less that 3 percent at peak load, but at normal load of 50 percent, the harmonic distortion is less than 1 percent. So, the power output will not harm any sensitive electronic devices like TVs, laptops, or phones. Additionally, the engine exhibits a 98cc internal displacement and comes with a mechanical choke and recoil starter.
The generator unit features a built-in carry handle for easy transportation. Furthermore, the generator is designed with an automatic low oil shut-down and power overload protection. When the unit is nearing overload, the overload indicator flashes red light to warn you of potential overload. That way, you can shed off some load by unplugging some appliances. However, if you unknowingly add more load, the system will automatically cut off the electricity supply.
Another unique feature of iGen2500 is the easy-to-access control panel that houses the outlets. It comes with 2 duplexes (AC outlets) and 2 USB ports. Don't be fooled by its modest size, this tiny generator is ideal for powering a wide range of home appliances like small lights, electronics, and small kitchen appliances like coffee makers and mini refrigerators.
Noisy generators can be a nuisance, not just for you but for your neighbors as well. Luckily, the iGen2500 is built with low tone mufflers to make it super quite. The double-insulated enclosures further lock in the noise to enable super quite and silent operation.
Here is a summary of the Westinghouse iGen2500 review features:
Lightweight and Compact Design: The iGen2500 comes with a built-in carry mechanism and weighs just 48 lbs.
Comfortable handle for easy transportation
Clean power that safely powers sensitive electronic devices like cell phones, laptops, and TVs.
Powers Sensitive Electronics Such as Laptop Computers, Cell Phones, & More (2200
2200 Running Watts and 2500 Peak Watts at 3% THD
Comes with a 120 VAC 20A Duplex Outlet and 2 USB Ports (5V DC)
Enhanced fuel efficiency of 30-50%
Features a double-insulated acoustic enclosure to ensure silent operation
Low tone mufflers and cooling fans reduce operating noise
Comes with a 3-year warranty
EPA Compliant 
A Review of Westinghouse iGen2500 Pricing
The Westinghouse iGen2500 portable generator costs between $550 and $700 on Westinghouse shop, Walmart, Amazon, Frys.com, and Norwall.
How the Westinghouse iGen2500 Compares to other Brands
The Westinghouse iGen2500 Inverter Generator is outstanding in terms of smooth, quiet operation, portability, and reliability. So, how does it compare against other popular brands in this category?
1-    Better Control panel Display than Honda EU2200i 2200-Watt Super-Quiet Portable Inverter Generator
For many people, Honda is a favorite brand when it comes to generators in the 2000 watts range. Despite the impressive performance of the Honda EU2200i Portable Inverter Generator, it lags behind in terms of innovative control panel features. Honda has not included components like fuel gage, propane accessibility, overload alerts, etc. Again, the Honda EU2200i portable Inverter Generator require oil changes within the first few hours of operation to clear factory debris.
2-    Lower Operating Costs than Yamaha EF2000iSv2 Gas Powered Portable Inverter
Yamaha is a household name when it comes to portable generators. It often enjoys the privilege of being imitated by cheaper brands. The Yamaha EF2000iSv2 Portable Inverter is perfect for emergency or sporadic use. It runs quietly and works well if you only need to run it occasionally. However, if you rack up the hours with this generator, it will begin to consume excessive oil, making the operating costs escalate.
Powered by a 4-Stroke OHV Westinghouse Engine, the iGen2500 inverter generator automatically adjusts its engine speed to generate only the amount of power you require for enhanced fuel efficiency. You can simultaneously plug in large appliances such as furnaces and refrigerators while powering your power-sensitive necessities like laptops and smartphones.
3-    Better Noise Control than Pulsar 2,000W Portable Gas-Powered Inverter Generator
The Pulsar 2,000W Portable Gas-Powered Inverter Generator is another less expensive portable generator model in the 2000 watts category. While most generators hum loudly at high loads, this model seems to have more issues with noise and engine misses at full load.
It can clock up to 1600 watts, but getting anywhere closer to that range can give it more problems and make it really loud. Again, it's not very friendly to carry around and it runs rough at light loads. However, if you give it some break-in periods, it can give you value for your money.
The ultra-low tone (noise levels of 52 dBA at 25% load) of the iGen2500 inverter generator makes it perfect for community-friendly use.
How we Reviewed the IGen2500 Inverter Generator
We reviewed the iGen2500 Inverter generator based on the manufacturer's specifications and what the customers who have actually used the generator say about their experiences. With a 2200 rated Watts and 2500 Peak Watts when operating at 3%THD, this compact generator is powerful enough to manage most household devices like small refrigerator, TV, lighting points, laptops, phone charges, etc.
It is something you can take out for camping and never worry about having power around the clock. Although 2200 watts is not adequate to power your AC system, you can rely on small fans to improve indoor air quality in your RV or home.
Everyone seems to agree about the quiet operation of the inverter generator and the number of hours it can run on a single gallon of gas. If you're looking for something to run for several hours every day, this is something you can consider due to the impressive price tag.
With the right maintenance, your iGen2500 Inverter generator should provide the same durability as Yamaha and Honda models.
The Westinghouse Brand
The splendid iGen2500 Inverter Generator is manufactured by Westinghouse in Columbus, Ohio. The brand is recognized for producing dependable and highly-innovative products that you can rely on. They did not disappoint with this generator model that offers numerous cutting-edge features.
Model No: iGen2500
Manufacturer: Westinghouse
Starting System: Recoil start
Engine Size: 98cc
Weight: 48 lbs
Voltage: 120 V single
Surge Watts: 2500
Rated Watts: 2200
Fuel Type: Gasoline only
Cooling System: Air cooled
Grade Type: Recreational
Consumer warranty: 3 years
Price: Moderate
Pros
The iGen2500 is an ideal portable generator for RVs and home backup. It's very lightweight and small enough to be carried around. Here are the most featured pros of the IGen2500:
Impressive power of 2200 running watts and 2500 peak watts
Safe for sensitive electronic devices like mobile phones and laptops
Easy-to-use control panel enables efficient operation during emergency situations
Stress-free and pretty easy to start and operate
Has a convenient overload protected panel
Designed to automatically regulate speed to produce only the energy required at any moment hence saving on fuel
Comes with a 3 years warranty
Reasonable price tag
Features 2 120V 20 Amp Outlets and 2 USB Outlets
Extremely quiet
Offers up to 10 hours of run time on a 1.0 gallon gas tank
 Features "Efficiency Mode" for optimum fuel efficiency
LED rotating digital display indicates fuel level, voltage output, remaining run time, and power output.
EPA, CARB, and USFS Compliant  
Parallel capable using the Westinghouse Parallel Cord that can be bought separately.
Cons
It's hard to come by any negative reviews of this portable inverter generator. However, the few that filter through are extremely negative, and they seem to point to faults in units that are incompletely assembled or delivered broken. This often causes problems when starting the generator or permanent problems due to wrong assembling or incompatible parts. Here are the cons of the IGen2500 generator:
Lack of wheels for easy pulling and pushing during storage
Not suitable for heavy duty power equipment like ACs
Isolated cases of faulty deliveries
Overall Verdict
According to our Westinghouse iGen2500 review, this product could easily be the top inverter generator in the 2000 watts category. Westinghouse is a respected brand and very upkeep about customer service.
Other than isolated concerns about damaged units that could have resulted from mishandling during the shipment process, we haven't heard of any negative reports about the product. It performs excellently both for domestic use and camping. The 3-year warranty also shields you from any eventualities.
Our Rating: 4.5
Westinghouse iGen2500 Customer Reviews
David Crowder: 5 Stars
It took me several weeks to research the right inverter generator that meets my requirements and budget, and I finally settled for the iGen2500. My decision was based on IGen2500's impressive power, extra features, reputable brand name, and their 3 years warranty at half the price of some of generators in this category.
I have been using it for over a month now to power various appliances in my camper. I run it for more than 12 hours daily to power a refrigerator, 55 inch LED TV, 2 16 Watt bulbs, 1 Blue-ray DVD, 2 fans, and a 800-watt coffee brewer, not to mention charging phones, laptop, and tablet. The generator is very quiet and fuel-efficient; you won't even notice its running. I am extremely satisfied with its performance so far!
Jane Smith: 5 Stars
Choosing the Westinghouse iGen2500 was pretty straightforward for me because of the brand reputation, Amazon reviews, warranty terms, Youtube videos, and of course, the more obvious price point.
Many customers have good things to say about this portable inverter generator, and I am now part of them. The first thing that impressed me about the generator is how easy it was to prep and how quiet it runs. I loaded up the unit up to 50 percent load for about 45 minutes just to get acquainted with some of its features and performance.
Without going into the diatribe, the generator remained stable and worked perfectly well during the testing period. I plan to use this unit quite often for mobile jobs and during occasional emergency power outages. I have one critique on the outset, though. Westinghouse engineers should have incorporated a small latch to allow easy side cover release when servicing the generator. But overall, I am happy with the unit.
Glen Maclauren: 5 Stars
We live off the grid, so I use this inverter generator every day for several hours. Once a week, all I do is change the oil and have it set for another week of operation. I have clocked 1200 hours on it in just 8 months. It is extremely easy to start and works great. I would buy it again!
Chris Morgan: 2 Stars
I bought this inverter generator on "Amazon Warehouse Deals" and it came with cosmetic damage. I unboxed it, oiled it, and filled up the gas. I ran in for 10 minutes and it wouldn't start again.
After several hours of troubleshooting, I found out that the spark plug and plug boot were broken. It's like someone rolled the engine down the assembly line, who knows? I called Amazon and they couldn't take it back since I had fueled it.
I figured out I could have it running by buying new sets of plugs and boot. And yes, it ran but it sounds like a garbage disposal that someone threw a spoon into. I am pretty sure it won't last long. I won't take another chance with this machine.