Non-biodegradable toilet bowls, toilet seats, and urinals are some of the things that end up in landfills. In fact, more than 7 million toilets go into US landfills each year, which is not good news for our environment. If you are planning to remodel or renovate your bathroom and don't know what to do with an old toilet, you'll be glad to know that there are several eco-friendly ways to dispose of your old John.
Why Replace an Old Toilet?
Toilets, like many other fittings in your home, ultimately succumb to wear and tear and will need to be replaced over time. Sometimes you may just be looking to upgrade to a newer, more water-efficient and comfortable model or replacing a faulty unit that keeps breaking down.
Replacing an old, inefficient toilet system with a new water-efficient model also helps reduce the amount of water you use for each flush by up to 50-75 percent. Older toilets don't only waste water but also develop stubborn stains or cracks over time.
Either way, you need to find a safe way to get rid of your old toilet instead of taking it to the dumpsite where it could become permanent landfill waste. Once you have installed the new toilet, there are multiple options available to dispose of the old one, including recycling or repurposing it.
Safe Ways to Dispose of an Old Toilet
When making a decision on what to do with an old toilet, safety should be your number one priority. Toilets are heavy fixtures, so be sure to call for assistance when carrying an old toilet from your home or business to wherever you plan to dispose of it.
Before transporting your old toilet, make sure you have eliminated all of the water from the tank. You can do that by using a turkey baster, a handheld pump/siphon, or a sponge and a bucket. Do not attempt to break the toilet to dispose of it in tiny pieces. Chinaware is very dangerous when broken since the pieces are razor sharp. Always follow proper channels to safely dispose of your toilet and avoid environmental contamination or injury to others.
Depending on your state and city regulations, here are some safe ways to dispose of your old toilet:
1: Local Habitat for Humanity ReStore
The Habitat for Humanity program is basically a group of retail centers that sell new and slightly used household items, including toilets. They use proceeds from the sale of these donated items to fund local building projects.
Contact your local Habitat for Humanity ReStore to see if they accept old toilets and to determine who will tank your toilet once you remove it from your home.
2: Local Solid Waste Disposal Company
Call or visit the website of your local solid waste disposal company to see if they offer curbside pickup for toilets in your municipality. Some entities will take away your old toilet if you leave it on the curb even without prior notice, but others require advanced notice before collecting the toilet from the curb. However, others may not allow for curbside pickup for such large items.
If the service is available in your municipality, place the toilet unit out for pickup on the actual day specified by the service provider. It's sometimes advisable to remove all non-porcelain items, such as the plumbing items inside the toilet and the toilet seat prior to pick up. Ask the company if they require such preparations.
If you live in an apartment complex, check with your waste disposal company to see if they allow disposing of old toilets in the dumpster.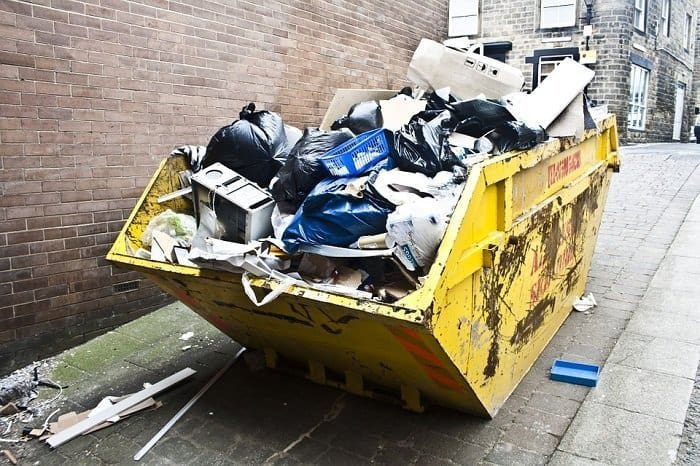 3: Take Your Old Toilet to a Transfer Station or Landfill
Depending on where you lie, you could bring your old toilet to your solid waste disposal firm's transfer station or your city's landfill. A transfer station is an enclosed facility that sorts through waste prior to transferring it to various landfills around your state or country.
These facilities often handle the drop off of large, bulky items that are not allowed for curbside pickup. But remember that there might be a fee involved in disposing of your toilet at such a center, especially if you are a non-residential customer of the company. Be sure to contact the firm before dropping off your old toilet to inquire about any potential fees and their mode of payment.
4: Drop Off Your Toilet at a Local Recycling Center
Drop the old toilet off at your local recycling center that accepts porcelain. Get recommendations from your local water district or water authority to get reputable recycling centers to bring your old toilet to. Again, you might be charged some fee when you drop your toilet at certain centers, so call the recyclers in your region to compare quotes before choosing a recycling center to dispose of your old toilet.
5: List Your Toilet with Online Recycling Groups
Online recycling groups such as Freecycle provide descriptions and locations of items available for free from members of your local community. Share your contact information and a brief description of the toilet you're listing.
Once another member of the group contacts you, arrange for a convenient day, time, and place for them to come and pick up the toilet. Some waste disposal companies often partner with such online groups and can give you recommendations on who to contact by email or phone with your listing.
6: Repurpose Your Old Toilet
Upcycling, sometimes referred to as creative reuse, is the process of converting an old or discarded toilet into something more useful and beautiful. It typically grants an item a better purpose.
If you feel a little creative and need to repurpose your old John, here are some impressive upcycling ideas to try out:
Yard Decoration: Instead of disposing of your old toilet, you could consider re-purposing it into something useful, such as a decorative planter. You can use both the bowl and tank to plant decorative flowers and place them in a garden. Just fill the base of the toilet and the tank with potting soil to create a beautiful and functional flower pot. You can even add pieces of glass and tiles to dress up the exterior of your new planter with a unique mosaic pattern.
Wall Hangings and Sculptures: Use the toilet seat or lid as a blank canvas for your painting project. You can also use a toilet seat as a photo frame for hanging beautiful pictures in your home.
Fish Tanks: You can easily turn the back of your old toilet into a fish tank. To successfully pull it off, you'll need a little plumbing know-how. You can even use the bowl to store fish food or supplies.
Pet Bowl: Turn your old toilet into a pet bowl by simply cleaning and sanitizing the toilet and removing the tank. Stop up any open areas and pour drinking water for your pets into the bowl. Keep the bowl full to ensure that large dogs won't have to lean so far to drink.
Alternative Seats: You can turn an old toilet into a chair by simply cleaning the toilet, gluing the seat and the lid securely, and repainting it to match your décor. Also, consider adding wheels to make the seat easy to move.
7: Toilet Recycling Programs
Some local authorities have functional recycling programs where they crush porcelain toilet bowls, mix it with concrete, and use the final product to build sidewalks and roads.
Check with your city to see if there is any recycling program that involves toilets. Your local solid waste company could be the best place to get resourceful information when looking for toilet recycling programs in your area. They may require you to remove non-porcelain materials such as the toilet seat, bolts, and other plumbing fixtures to prepare the toilet for recycling.
8: Disassemble it Into Parts
You can also break down your old toilet for parts that you can use for various projects. Components such as bolts, nuts, valves, flanges, washers, elbows, and hoses can be extremely useful in the event that other toilet systems in your home break down. Some parts such as handles and flappers can be retrofitted onto other toilet systems.
9: Sell or Give It Away
If your old toilet is still in proper working condition, you can consider selling it or gifting it away. List the toilet in online platforms such as Craigslist or local newspaper and you could be surprised by the number of people looking for a great deal on second-hand toilets.
If you find it difficult to get a buyer, consider donating it to someone who will appreciate a working toilet regardless of the color, shape, or style.
Final Words
Never attempt to dump your old toilet in an area not designated for such kind of waste. This can harm the environment and attract serious fines or other legal consequences. Simply explore the recycling options we've discussed here or, better still, repurpose it or donate it to someone who will make good use of it.