​There are so many models of great toilets with excellent reviews under the $300 price range to consider. An established toilet manufacturer focuses on designing an affordable piece that is stylish, effective, and efficient. The best budget toilet should allow you to handle your business without worrying about maintenance. However, with the dozens of great options out there, choosing the most suitable budget-friendly toilet for your bathroom can be confusing. 
We took the time to read as many reviews as possible and compare the various features of these affordable toilets. By scouring the internet and reading through customer and expert reviews online, we came up with a list of the best budget toilets to consider in this price range. 
Quick-Comparison
*Ratings courtesy of Amazon at the time of publication and can change!
Who Needs The Best Budget Toilet?
Regardless of color or cost, every homeowner needs a functional toilet. The best budget toilets under $300 are designed for homeowners looking for great units that can fit into relatively smaller spaces. These budget toilets are designed to conserve as much water as possible by cleaning the bowl thoroughly in a single flush. 
While it's critical to choose a sleek design that easily integrates with your modern bathroom's style, you need to make sure it has a sturdy and durable construction. This ensures you don't keep spending on maintenance or replacing your toilet every time you're doing a bathroom remodel. 
TOTO CST744SL#01 Drake is a stylish design with an elongated bowl for accommodating taller users comfortably. This is a unique commode for older people or individuals with mobility issues (those who find setting down and getting up uncomfortable).
It is one of TOTO's best releases that are not only ADA compliant but also WaterSense certified. The toilet comes with a G-Max flushing system that is extremely powerful compared to the other budget toilets on this list. You can use 1.6 gallons in each flush to get rid of loads of waste. All you need to do is softly press the left-side mounted chrome handle.
The toilet seat for this unit is purchased separately to give users some wiggle room in choosing what best suits their needs. This can be an additional expense or better comfort, depending on how you look at it and what you're looking for in a budget-friendly toilet.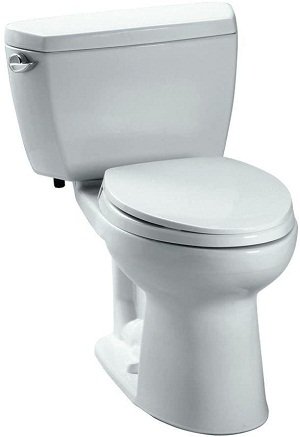 The unit is delivered as a two-piece set. According to most of the customer reviews we read online, a majority of users were comfortable with the packaging and instructions from the manufacturer. 
The unit is not only durable but also efficient and powerful. The toilet's construction is made of a sturdy material called vitreous china. It means that you'll get an affordable unit that you can comfortably use for decades without spending a dime on replacements.
This one-piece design will give your bathroom a contemporary, sleek look. Cleaning the toilet is easy and fast because it comes with a skirted trapway. The toilet's dual flush qualifies it as a low-flow toilet that doesn't waste water in channeling waste into the drainage system. The toilet is WaterSense certified.
Height-wise, the Woodbridge toilet has a comfortable construction. In essence, the toilet is very comfortable for older people or individuals who have mobility issues. You don't need to worry about dealing with slamming lids or pinched fingers because the toilet has a soft close seat. The seat will not slam in the middle of the night and disturb people in nearby bedrooms.
Woodbridge has done an amazing job in manufacturing multiple colors of this particular toilet. Aside from having an elegant smooth exterior, the toilet has a glazed bowl that ensures all the waste and debris is rinsed away quickly with each light flush.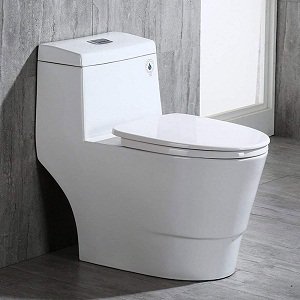 The toilet's 5-year warranty is an assurance that Woodbridge has done an impeccable job on the WoodBridge T-0019 Dual Flush Elongated. You'll set your mind at ease once you buy this toilet.
This is one of the best choices for people who are looking for small, affordable toilets designed to fit into small spaces comfortably. The The Horow Small Toilet is perfect for powder rooms or compact spaces. 
The toilet comes with a skirted trapway. Cleaning this stylish toilet is almost effortless.
Apart from being durable, this small toilet employs a siphon flush feature that ensures the bowl is cleaned quickly and soundlessly. In addition, the toilet uses less water in each flush because it has a dual flush option.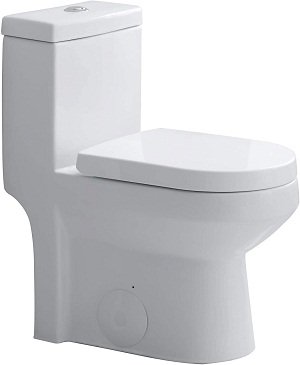 The toilet will help you save some dollars down the road with its light flush. It doesn't produce a lot of noise when closing because it has a soft close seat toilet. 
The small toilet has easily accessible chrome buttons located on top of the tank lid. The toilet's concealed trapway and nested seat within the lid gives the design a lustrous appearance. The toilet can perfectly match with various modern styles of bathroom fixtures to transform it into an upscale space.
This is one of the most basic two-piece or coupled toilets that come with a dual flush feature. This is to ensure that you don't use up too much water unnecessarily.
The TOTO toilet gives you a low flush that conserves water and a tornado flush option that ensures all the solid waste in the bowl is completely wiped out. The Dynamax Tornado is a TOTO patented technology. 
It's so efficient in ensuring that the toilet is meticulously cleaned by using a 360-degrees flushing power. While the flush uses 1.6-GPF, the light flush uses only 0.8-GPF. The TOTO Drake Two-Piece Elongated Dual Flush has a ceramic glaze on the inside of the bowl to ensure no waste sticks to the walls after flushing.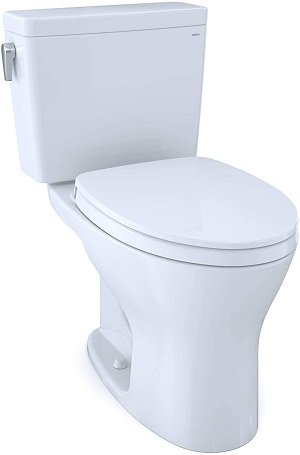 This is one of the most comfortable toilets on our list because it has an elongated shape. Any type of elongated seat design can easily integrate with this TOTO two-piece toilet. Furthermore, it has a smaller size that keeps your bathroom well-prepared. 
TOTO is a reputable household name in this industry. The toilet comes with a one-year warranty.
The DeerValley DV-1F026 toilet is super-efficient when it comes to saving water in each flush. The unit gives you an option of either a partial or full flush to ensure maximum water savings. The ceramic construction of this one-piece toilet is resistant to stains and scratches for durability and limited maintenance. 
The tank and bowl are integrated for easy cleaning. The toilet is constructed with one of the most durable materials, vitreous china, for long-lasting usage.
The toilet comes in an all-in-one package that includes a soft closing seat feature, the toilet itself, a flush valve, floor bolts, and a high-quality wax ring. This means that you can easily install the unit in your bathroom without hiring the services of a skilled plumber. 
The toilet is capable of flushing loads of waste with just 1.28 gallons of water per flush. The toilet's dual flush features offer a 0.8-GPF option for liquids and a 1.28-GPF for solid waste. 
The floor-mounted configuration is designed for small to medium-sized spaces. The unit weighs around 100 Ib when fully assembled. DeerValleyBath is a fast-growing brand with a promise to deliver high-end products in this industry.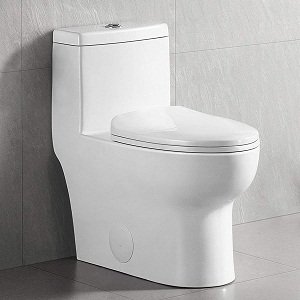 The toilet is a shiny commode designed for modern bathrooms. The skirted construction of this one-piece toilet makes cleaning a walk in the park. The toilet comes with a siphon flushing mechanism to ensure maximum water savings.
Buyer's Guide For Best Budget Toilet Under $300
Here are some of the most vital factors to consider checking out when shopping for a budget-friendly toilet for your bathroom:
One-Piece Vs Two-Piece
A one-piece toilet comes with a tank fused with its bowl, while a two-piece unit comes with a separate tank and bowl. Since the bowl and sink of a one-piece toilet design come fused, handling the unit during shipping can be challenging. However, they're ideal for smaller spaces and are easier to install for obvious reasons.
On the other hand, shipping a two-piece toilet is much easier. Even though the process of installing two-piece toilets is slightly complex, they tend to be cheaper than their one-piece counterparts. Furthermore, the two-piece units require larger spaces.
Efficiency
Efficiency refers to the amount of water you need to flush waste away per a single flush. Therefore, you need to check out the toilet's flushing system when assessing a unit's efficiency levels.
A toilet that comes with a dual flush is more efficient than a single flush unit because the former allows you to do either a partial or a full flush. This means that you can flush liquid waste with a partial flush to avoid wasting water.
But, if you have to purchase a single flush budget toilet, then consider going for a toilet that has a low-per-flush ranking. This is to ensure that you significantly reduce the amount of water needed in each flush. 
Additionally, you should opt for toilets with gravity-assisted flushing mechanisms that use less water compared to siphonic jet systems.
Design
You shouldn't overlook the visual design of the toilets you're considering just because you're on a budget. You want a unit that looks nice and compliments your bathroom's décor. The design and overall construction of the toilet should also be comfortable to the users. You could even opt for a corner toilet design if you have a tyny bathroom.
Cleaning
Hygiene is a sensitive matter when it comes to investing in budget toilets. It's worthless to invest in an affordable option that takes you hours to scrub and clean because it stains easily. It's important to remember that one-piece toilet designs are easy to clean compared to two-piece toilets: two-piece toilets have several crevices.
Moreover, the material also matters. Toilets that are made of durable and easy-to-clean materials such as vitreous china and ceramic are easy to maintain than those made of porcelain and plastic. Settle for a manufacturer that caters to minimal yet effective cleaning requirements.
Size
Taller toilets with elongated bowls are more comfortable for older people and people with agility issues because users don't need to bend as much. On the other hand, kids and shorter people might find these tall toilets uncomfortable. Your best bet is settling for the best budget toilet under $300 that is comfortable for most members in your household.
Dimensions
Buying a toilet that doesn't fit in your bathroom can be a huge waste of money and time. Since every listing comes with the exact dimensions of the budget toilet, ensure that you measure your space accurately. Read through all the specs on the listing keenly to avoid making costly mistakes down the road.
Accessories
While some toilets come without toilet seats and other crucial accessories, others are delivered as an all-in-one package. Although investing in an all-in-one package might sound like a good bargain at that price range, buying some of these accessories separately is often a cheaper option.
How to Install a Budget Toilet
If you've never installed a toilet before, it's better to consider hiring an experienced plumber who will get the job done right the first time. Furthermore, trying to install it all by yourself may lead to costly damages. 
However, if you're a handy person or savvy enough to follow instructions to the detail, consider these simple tips for installing a toilet in your bathroom.
Ensure the toilet fits securely – check whether the anchor bolts on your floor match perfectly with the toilet bolts for a secure fit.
Ensure pipes connect properly – Make sure the wastewater piping under your toilet fits the tubing under the bowl.
Connect the water to the toilet – Connect home water supply or tubing to your toilet to ensure there is seamless water flow to your toilet's tank.
Cleaning and Maintenance
Just like any of the other home fixtures in your home, your toilet has to be cleaned and properly maintained for it to serve you best. Maintaining a clean bowl requires a thorough cleaning of the inside and outside of the bowl. 
Instead of scheduling the cleaning for weekends so you can clean a big mess at once, it's better to be hygienic by cleaning the toilet regularly. This is the best way to avoid disgusting odors in your home and keep the unit in good working condition. 
Keep your toilet hygienic by using toilet bowl cleaner tablets and fresheners. Consider using recommended toilet cleaning brushes and baking soda in cleaning your toilet, as well. 
Addressing Common Budget Toilet Complaints
Most of the reviews we came across revealed that water wastage is one of the biggest concerns among budget toilet users. Thankfully, manufacturers know about all that, and that's why they have come up with modern toilet designs with cyclone and dual flushing systems. These are innovative technologies that are designed to save as much water as possible per a single flush.
Another common issue that emerged is dealing with clogged toilets. In order to avoid such hiccups, it's advisable to invest in budget toilets with powerful flushing capabilities. A toilet can be efficient even if it delivers a powerful flush.
Benefits Of Budget Toilet Systems
In hindsight, some of the positive toilet reviews largely focus on the easy-to-install and maintain aspects of budget toilets. The common praises that I came across positively talked about the minimalist look of the small toilet tanks. Others talked about the efficiency of the flushing mechanisms of these budget toilets.
If you shop around carefully, you'll find nice-looking toilets that flush quickly and thoroughly. Although most of these types of affordable toilets tend to be small in size, they're perfect for users in this category.
Even the cheaper options flush quickly and look nice. They are usually a bit smaller, but many people find them perfect for small bathrooms. 
Although the toilets reviewed on our list are relatively cheaper compared to their more expensive counterparts, functionality and performance are not compromised. Since buying a toilet is not something you do every day, it's wise to take the time to research extensively and ask around before you invest in your next unit.
FAQs
Is investing in water-saving toilets cost-effective?
A low-flush toilet saves water per flush and in the long run. Regardless of whether your piece is a pressure-or gravity-assisted model, water-saving toilets will considerably save a lot of water as it channels waste away from your home. A low-flow toilet will help you start saving some quick bucks.
Which is better, 1-piece or 2-piece toilet?
In terms of performance, the two types of toilets are the same. Furthermore, the interior may look the same, especially if the two types of toilets are from the same manufacturer. Both types are efficient and have the same flushing power if they're in the same price range.
Is an elongated toilet better than a round toilet?
While an elongated toilet is considered more comfortable, especially for older people and kids, a round bowl saves space. In addition, elongated toilets are more expensive than round bowls.
Wrapping Up
Now that you know more about the best budget toilets under $300, it's easier to choose a piece that will make an impression in your home. All you've to do is evaluate your specific needs and thoroughly assess the features of each of the toilets on our list before buying. 
Our top pick on this list is The CST744SL#01 Drake 2-Piece Ada Toilet. This is because the toilet is made of one of the most durable materials in the industry called vitreous china. So, at a bargain, you won't have to worry about remodeling your bathroom or replacing your toilet for decades. Additionally, it offers high-end features inexpensively.