Vanity is a key component in a bathroom. However, if you have a small bathroom, you are going to have a hard time finding a small bathroom vanity that will not only give your washroom an aesthetic update but also provide more counter space for storage. The best bathroom vanity for storage will add flare of elegance in your bathroom and help you hide pipes and other less visually appealing areas — such as the area under the sink — in your tiny bathroom.
Are you looking to renovate your small bathroom or make it one of the most attractive spaces in your home?  A small bathroom vanity is a luxurious home element that will do the trick. Typically, the top side becomes the sink and the bottom part is a space where you can keep your stuff.
You will be getting a basin and some storage space from one product, arguable the best space-saving ideas for your bathroom. In this article, we'll be looking at some of the best vanities for small bathrooms to help you take back some of the space in your tiny bathroom.
Best Bathroom for Storage Reviews
With the right components and décor, your small main bathroom can be quite functional. A bathroom vanity, for instance, can make all the difference in your tiny bathroom. You can find an attractive bathroom vanity with a simple online search. However, the challenge is finding one that fits your small bathroom and complements your bathroom décor.
Below, we've compiled a list of the best small bathroom vanities complete with comprehensive reviews to make your search easier. Read on.
Quick-Comparison
*Ratings courtesy of Amazon at the time of publication and can change!
The Fresca Manchester Gray Traditional Bathroom Vanity is a beautiful, compact bathroom vanity that can be the perfect solution to your space woes. With a convenient width of 24 inches, the Fresca Manchester bathroom vanity features a sturdy construction that combines a sturdy wooden MDF panel and wood veneer. The sink and the countertop are constructed with ceramic. This vanity includes a cabinet, countertop sink, and installation hardware in the packaging. You don't get a mirror or faucet, but you can purchase them separately. The vanity has soft close doors that allow you to easily access the storage space and the area under the sink.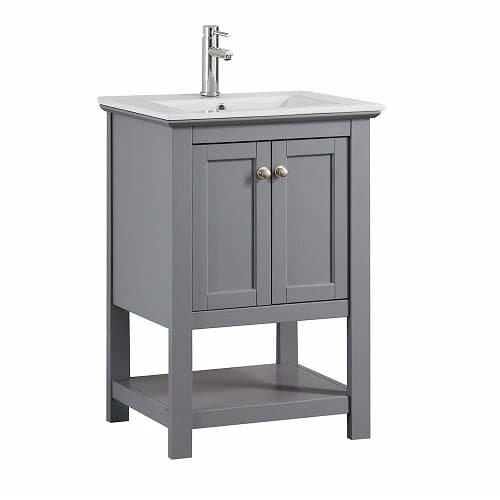 The 24-inch Bathroom Vanity Set by YOURLITEAMZ is one of the best rated small bathroom vanities in our list. It features a wooden cabinet vanity and glass vessel sink with faucet and drain.  The vanity, sink, and faucet are built to last. The modern round sleek surface glass surface is scratch- and stain-resistant, which makes it long-lasting and easy to clean.  The vessel sink is handcrafted from tempered glass by skilled artisans result in a functional work of art that complements your bathroom décor perfectly. The product comes with an installation manual and other installation hardware in each box for easy installation.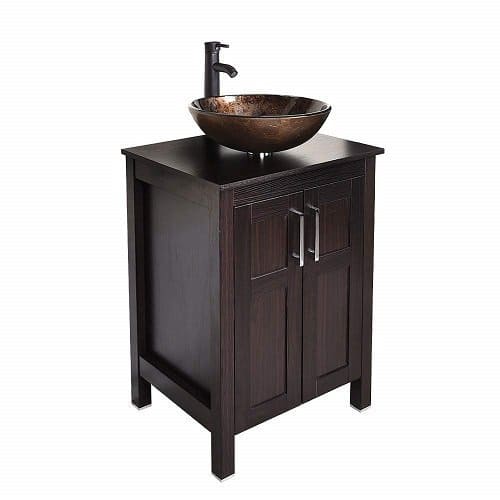 The Legion Furniture WLF6020-W Vanity with a sink can be a great solution for the space problem in your bathroom. This compact set gives you an opportunity to increase storage space in your bathroom and add some style to your space. This solid poplar construction features a white ceramic top with an integrated sink and pre-drilled faucet hole where you can mount a faucet of your choice. On the front side, you will find two doors with a pair of metal doors that open to a storage shelf where you can keep some of your stuff. The wooden slats running across the bottom of the vanity provide additional storage space.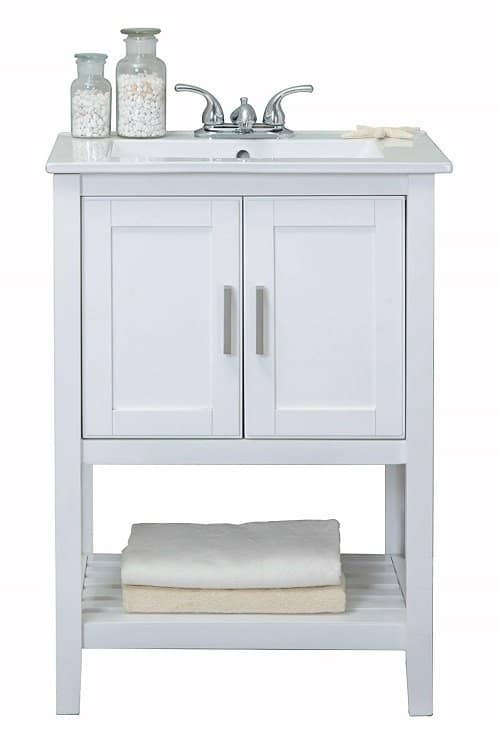 The RunFine RFVA0069W vanity is the only product in our list of the best small bathroom vanities to be recommended as Amazon's Choice, and for a good reason. This compact vanity consists of an integrated sink and shelving units. You will find a pair of slow-closing doors — with a drawer at the bottom — with chrome knobs on the front side of the vanity. The 6.5-inch integrated sink is large enough to allow for comfortable face and hand washing. The sink is made of Vitreous China, a ceramic material glazed with enamel for a long-lasting durable bright finish. Keep in mind that this product only comes in one size.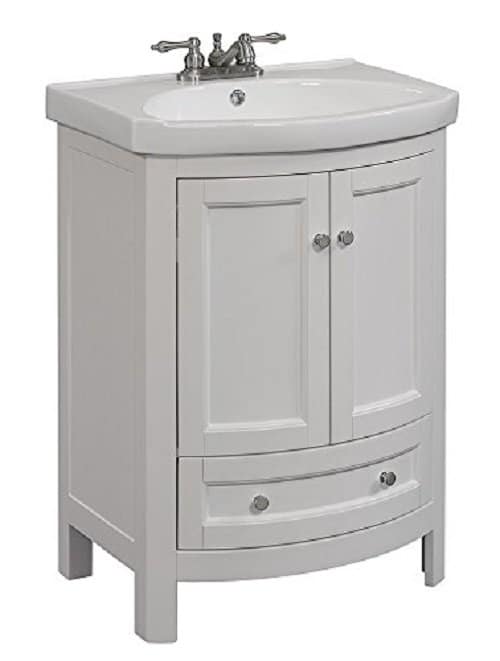 The eclife Bathroom Vanity Combo features an 18.4" black wall mounted bathroom vanity with a glass sink top combo designed for small space bathrooms. It is sturdy and useful for any home. This compact and sturdy bathroom vanity is stylish and modern-looking. It's one of the best ways to add comfort to your bathroom without having to spend a fortune. The vanity comes with a glass top, mirror, and a chrome-plated faucet. This compact bathroom vanity features a sturdy MDF construction, which makes it moisture as well as water-resistant. It is corrosion free and resistant to other environmental factors.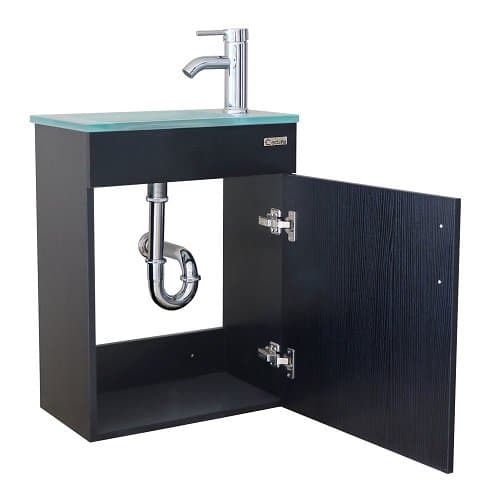 The Walcut 36″ Bathroom Vanity comes in a luxury design that will definitely brighten your bathroom and improve your property's value. This unit comes in a high-quality MDF wood construction that complements any bathroom décor and is built to last. The countertop and vessel sink feature a high-quality tempered glass surface that is extremely easy to clean up. The vanity also features a wooden cabinet and plenty of storage space, glass vessel sink, mirror, chrome faucet, pop-up drain, P-trap, and some installation hardware. With its stylish appearance and ample storage space, this 36″ gives you the best bang for your buck.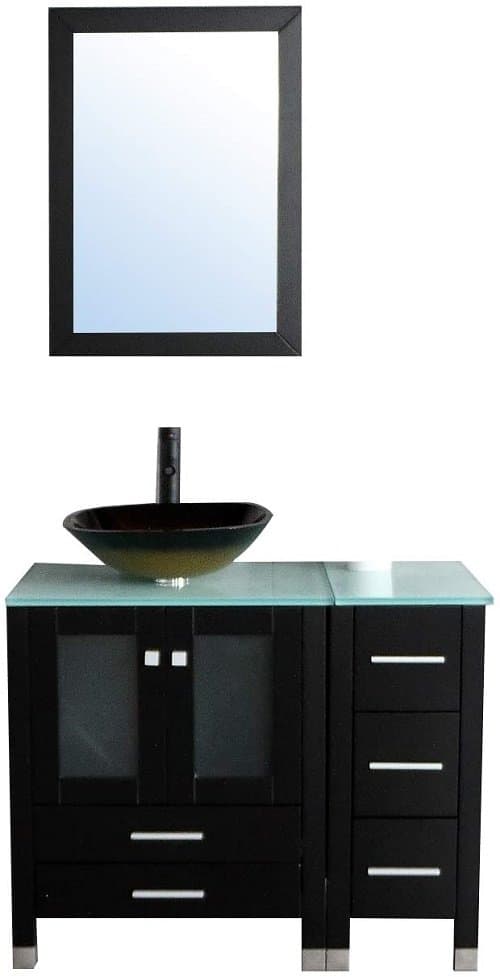 The Sliverylake 36 Bathroom Vanity and Sink Combo is one of the best small bathroom vanities in the market. This sturdy, 36-inch bathroom vanity comes in a modern and stylish design and is made to fit any bathroom décor. The cabinet is made from a durable medium-density fibreboard and covered with PVC to protect it from corrosion. The construction features a 0.5" thickness tempered glass surface top which makes it easy to clean up. With two cabinets that carry four drawers and a single primary storage area, you have all the space you need. This small bathroom vanity also comes with a mirror, a glass top, and all the hardware required for quick, easy assembly and installation.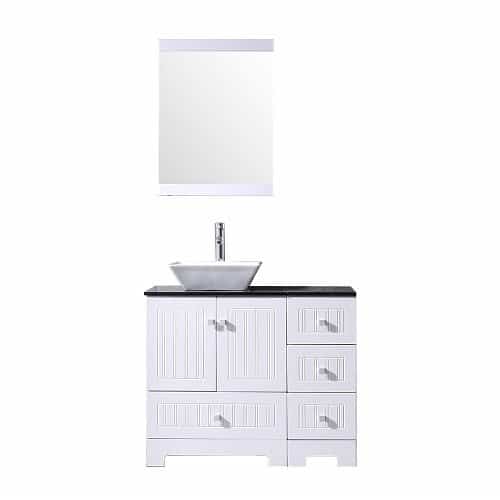 The AECOJOY Bathroom Cabinet features a simple and straightforward design and high functionality, which makes it one of the best small bathroom vanities in the market. This 24-inch wood panel construction is built to last and will easily complement the rest of the décor in your small bathroom. The artificial hand-painted design adds to the simple design and will create an authentic statement piece in your bathroom. The vanity comes with a couple of shelves that will greatly help with space-saving in your bathroom. The vanity also comes with an Espresso cabinet and a 26.5-inch long mirror in a wooden frame. The mirror is simple but it will add to the elegance of your washroom.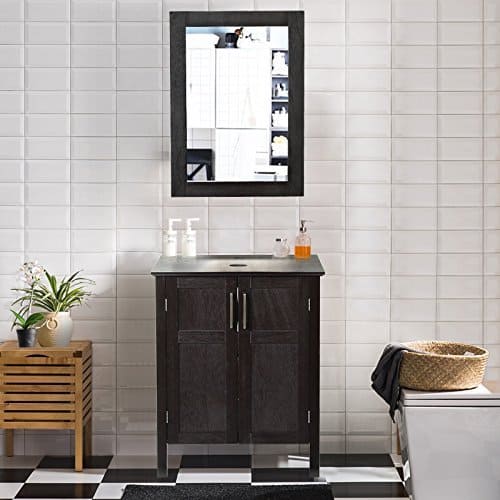 The BATHJOY 24-inch Bathroom Wood Vanity Cabinet is a great option for you if you are looking to renovate or redesign your bathroom with a wooden vanity. There is a pair of soft-close doors on the front that gives you access to the drawers and storage space. This product needs assembly and you can get it done easily following the installation instruction. It comes with a vanity cabinet, chrome faucet, ceramic sink, mirror, pop-up drain, and extra installation hardware. With its smooth 0.5-inch tempered glass finish, this product will give your bathroom a modern look and increase the value of your home.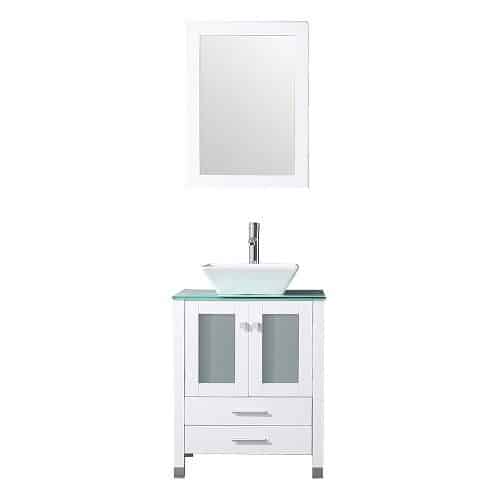 If you are looking for a sturdy, compact, and well-designed vanity for your tiny bathroom, the Small Bathroom Vanity Cabinet with Sink- PE1612W by Fine Fixtures could be what you are looking for. This amazing vanity features a full luxury design that makes a visually appeasing statement in your small bathroom. The product adds elegance and plenty of storage space in your bathroom. On the front, you will find a door and a bottom drawing that give you access to the area below the sink and the storage space. The vanity is made out of wood with matte chrome handles.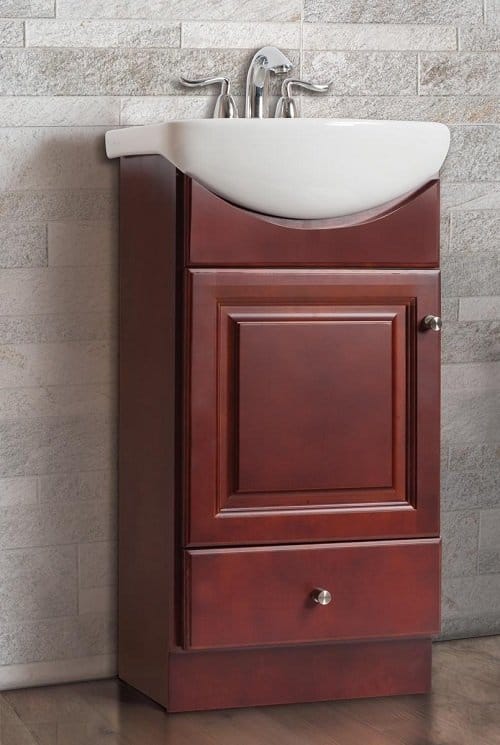 How to choose the Best Bathroom Vanity for Storage
A bathroom vanity is an essential statement piece that can make a lot of difference in your bathroom. It's something that you are intending to use for a long time, and it's probably going to cost you a pretty penny. Therefore, a lot of research needs to go in the process of choosing a bathroom vanity for your tiny bathroom. In this section, we'll focus on the factors you should consider when buying the best bathroom vanity.
Size
Size is one of the most important factors to consider when choosing a bathroom vanity. Bathroom vanities come in a wide range of sizes and you have to take into account the size of your bathroom before spending your money on bathroom vanity. If you have a small bathroom, you don't want to buy a large vanity that will look out of place in your tiny powder room and vice versa. Take the measurements of your bathroom space and select a bathroom vanity accordingly.
Materials
Bathroom vanities are made from different materials, each material offering a unique set of advantages and disadvantages. The levels of moisture and humidity are alarmingly high in the bathroom. Materials used to make bathroom vanities should be able to withstand moisture damage and other mold-related effects. Common materials include MDF, plywood, and solid wood. Now, let's take a closer look at each of these bathroom vanity materials and examine the main advantages and disadvantages of each material.
MDF (Medium Density Fireboard). This material is comprised of small pieces of wood and composite fiber held together by wax. MDF is 30 percent solid wood and is one of the most common bathroom vanity materials because it's appealing and doesn't cost a lot. The only downside to MDF is that it's not moisture resistant.
Plywood. Most household furniture items are made of plywood. It's a common bathroom vanity material. As a bathroom vanity material, plywood is an inexpensive option to solid wood, although it doesn't quite match up when it comes to longevity. That's because plywood is not exactly moisture resistant and tends to crack and peel over time when exposed to moisture.
Solid Wood. Solid wood is largely considered to be the best bathroom vanity material. It's the strongest and most durable material for vanity cabinets. Solid wood vanity cabinets can withstand the high levels of moisture and humidity for a long time. The only problem is that solid wood can be very expensive.
While we're still on the topic of bathroom vanity materials, let's not forget countertops. There are several options to choose from, each presenting a unique set of advantages and disadvantages. Common bathroom vanity countertop materials include concrete and solid surface materials such as Formica, quartz, granite, and marble. All these materials come in a wide variety of colors and textures, and some are more expensive than others. Your choice of countertop material will depend on your budget and preferences.
Functionality
The bathroom vanity you select should be functional and complete. Consider the other components the bathroom vanity comes with and choose accordingly. For instance, some bathroom vanities are sold without components such as mirrors and faucets. Others don't come with countertops or hardware for drawers. Buying these components separately can be a hassle, which is why you should carefully consider functionality when shopping for bathroom vanity.
Design
Another key factor to consider when shopping for bathroom vanity is design. While it's important to make sure that you purchase a functional and complete bathroom vanity, design plays an essential role too. Before you buy bathroom vanity, make sure that it matches with the rest of your bathroom décor. Failing to match vanity with painting and other bathroom components will throw the bathroom's entire look out of balance.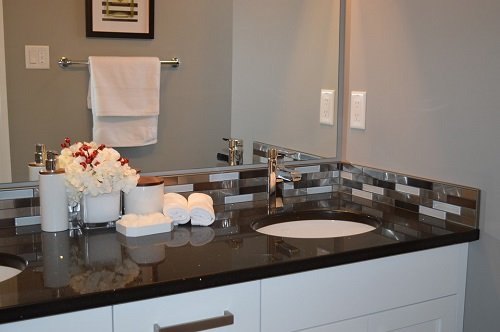 Installation
Installation is a crucial factor when it comes to bathroom vanity cabinets. Every bathroom vanity out there needs some sort of assembly. Assembling systems vary from brand to brand, so be sure to pick one with a simple installation procedure. Otherwise, you might end up spending a few bucks hiring a professional plumber. Typically, these products come with an instruction manual detailing how to safely assemble and install them. However, some vanity cabinets come preassembled and don't need any form of DIY installation.
Number of Sinks
When shopping for bathroom vanity, consider the number of basins or sinks the vanity comes with. If you live alone or as a couple, bathroom vanity with one basin should suffice. If you have more than two people living in the household, it'd be really convenient to have a vanity with two sinks to reduce waiting time during busy mornings. However, your bathroom needs to be spacious enough to accommodate vanity this size. Plus, you don't really have much of a choice if your bathroom is tiny.
Free Standing or Wall-Mounted?
A bathroom vanity can be free-standing or wall-mounted. A free-standing vanity rests directly on the floor with a kickboard covering the space underneath the doors, which makes it fully enclosed. Standing bathroom vanities offer a lot of advantages. For instance, they offer plenty of storage for all your bathroom products and they are designed to conceal all your plumbing — you don't have to worry about the ugly plumbing underneath being exposed.
On the downside, standing bathroom vanities can take up more space in your bathroom. Wall-mounted, or wall-hung vanities, on the other hand, are attached directly. The vanity is not in contact with the floor, meaning that there's a clear space beneath the vanity.  Wall-mounted bathroom vanities come in a wide range of shapes and sizes. A wall-hung vanity can be attached to different heights on the wall and offer several advantages over the free-standing counterparts.
For instance, a wall-mounted vanity creates the illusion of more space, making them the perfect option for a small-sized bathroom. Wall-mounted vanities also make it easy to clean the space underneath as they don't have legs. Since they don't sit directly on the floor, wall-mounted bathroom vanities allow you to show off your tiles, making them a fashionable and chic choice. Their stylish, ultra-modern designs coordinate perfectly with contemporary décor schemes and state of the art toilets.
Best Bathroom Vanity for Storage Brands
The RunFine RFVA0069W Small Bathroom Vanity is hands down the best product on our list. RunFine manufactures washroom related products. Founded in 2005, RunFine has grown to surpass even some of the oldest, most respected brands in the industry. The company is known for making high-quality bathroom products, and the RunFine RFVA0069W small bathroom vanity doesn't disappoint.
Legion Furniture WLF6020-W Sink Vanity is a close second in our list. Founded in 2004, Legion Furniture is one of the finest and leading manufacturers of bathroom vanities and other furniture items in the United States.  All products are handcrafted by experienced professionals to provide unique designs, creation, originality, and unsurpassed value. The WLF6020 is no different.
The PE1612W New Petite Vanity by Fine Fixtures snatched the third spot for its elegant design that doesn't compromise functionality. Founded in 2005, Fine Fixtures aims at providing unmatched quality and competitive value for consumers. Their bathroom products, including the PE1612W New Petite Vanity, are geared towards the consumer who appreciates beautiful design but also values a good buy.
Wrap Up
A bathroom that lacks space can be more functional with the addition of well-designed bathroom vanity. Hopefully, you've learned the criteria for choosing a vanity for your small bathroom as well as the top 10 small bathroom vanities on the market. Our top pick, the RunFine RFVA0069W Small Bathroom Vanity, comes in a compact wooden MDF build and a vitreous china basin. Its moisture and corrosion-resistant and built to last.
If you are looking for the best vanity for a small bathroom that will last a long time, this product will not fail you. All the products on our list are high-quality and any of them is a solid choice for a small main bathroom.
FAQs
What Is Bathroom Vanity?
A bathroom vanity is a piece of bathroom furniture designed to hold the sink, hide the pipes in the area below the sink, and provide additional storage space. A bathroom vanity combines a bathroom basin or sink and the storage surrounding it. The extra storage from built-in shelves and drawers is often used to store toiletries, medications, and hygiene products.
What Is the Best Bathroom Vanity Material?
When it comes to bathroom vanity material, solid wood shows the best results. Products made from MDF and hardwood plywood are quite strong and durable, too. They are also pretty inexpensive compared to solid wood constructions. Glazed marble and vitreous china are preferred materials for the countertop and sink respectively. 
What Is the Best Size of a Bathroom Vanity?
The best size for a bathroom vanity depends on the size of your bathroom. The typical bathroom vanity size ranges from 12 to 84 inches. Choose according to the size of your bathroom. For small bathrooms, go for a bathroom vanity that is 36 inches and below to give you more room for the toilet, shower head, and other bathroom fixtures.
Do I Need A Plumber to Install A Bathroom Vanity?
In most cases, you don't need professional plumbing skills to assemble and install a bathroom vanity. Most of the products are shipped with installation manuals as well as the necessary hardware. However, it's always a good idea to call a plumber if you are experiencing difficulties installing and attaching the components.
Where Can I Buy Bathroom Vanity?
There are numerous places to purchase a bathroom vanity. However, it's always better to buy online. We recommend that you order from Amazon, it's fast and easy. No hassles, just order straight from your computer and have it delivered to your doorstep. Buying from Amazon may also be cheaper.