From taking steaming-hot showers in winter to bathing kids after a playful day at school, your bathroom should provide a comfy escape from life's hassles. You can literally create your own personal spa to repose after a busy day at work.
If you're sick of waking up to an old, outdated bathroom, we share innovative ideas and tips on how to redesign and remodel your bathroom into a cozy, inviting, luxurious spa. Great design is the foundation of a perfect bathroom. Begin by considering the amount of space at your disposal. 
The fact is, technology is hugely impacting bathroom designs across the globe. Many bathrooms across the US and the world at large have new high-tech features, including toilets with self-closing lids, auto-flush, and even motion-activated lighting to help you move around the bathroom with ease during the night. Our expert tips will ensure that the final look of your bathroom makes you feel clean, refreshed, and relaxed. 
There is so much to consider when designing or remodeling a bathroom, but here are the basic amenities to consider: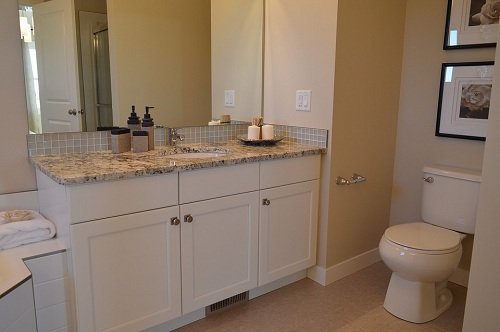 There is so much to consider when designing or remodeling a bathroom, but here are the basic amenities to consider
Intelligent toilets (Heated seats, Automatic flushing, Self-cleaning wands, Deodorizing seats)
Custom shower benches
Heated floors that utilize programmable thermostats
Custom glass shower enclosures
Body spray shower systems
Built-in shampoo shelves and niches
Handheld showerheads
Custom linen hutch cabinets
Above toilet cabinets
Vanity cabinet towers
Bathroom floor tiles (Glass, Porcelain, Natural Stone, and Ceramic Tile)
Countertops (Granite, Cambria, Hanstone, Silestone, and Caesarstone)
Lighting fixtures (Motion-activated lighting)