Taking a shower is everybody's way of ushering in a new day or washing away the tiring effects of a long day. Being such an essential routine, investing in the right shower head makes the experience refreshing and more enjoyable. Whether you are still utilitarian with your bathing methods or seeking an aesthetic bathroom addition, having the best dual shower head for low water pressure will maximize every second of this experience even if your home receives low water pressure.
Perhaps a common question with many people is whether dual shower head systems are better than regular single head shower heads. Without a doubt, dual shower heads provide a steady yet calming stream of water and include a handheld shower head to cover a wider area. This makes it a perfect choice for those who like sharing intimate moments in their shower or want to be fully covered by the soothing shower water.
If you are in the market searching for dual showers, this guide outlines some of the best models available on the market. We've also pieced together a detailed buying guide to help you make an informed decision.
Who Needs a Dual Shower Head?
Two showerheads are better than one in most instances. In many models, dual showerhead designs feature a stationary head coupled with a handheld showerhead. That said, purchasing the best dual shower head makes sense in the following situations:
Showering with your partner, your kids, or with a pet. Dual showerheads eliminate the argument as to who gets the shower head first.
If you want to save time in the shower – especially early mornings – to avoid being late for work.
If you want to experience the efficiency of rinsing your hair and body at the same time. The stationary head shower will stream water to your head as you rinse the rest of the body with the handheld showerhead.
If you just want to experience more luxury and convenience by integrating your shower system with other smart home technologies.
Top 10 Dual Shower Heads for low pressure
Here are our top 10 best dual shower head systems to consider if your home experiences low water pressure:
Quick-Comparison
*Ratings courtesy of Amazon at the time of publication and can change!
Without a doubt, having dual showerheads makes your showering and cleaning experience enjoyable. However, a significant drawback is that you will use a lot of water. Since you want high-pressures to feel clean, water bills build up with the use of both heads instead of one. Fortunately, the Ana Bath Anti-Clog Dual Shower Head is there to help homeowners cut on their water bills while enjoying the convenience of dual showerheads.
The Ana Bath Anti-Clog Dual Shower Head has a flow rate of 2.3 gallons per minute, meaning that you will use less water even when both showerheads are at full blast. Whereas the water pressure might be reduced as well, the drop is not significant to even notice.
Both showerheads are five inches wide, making them ideal for massage and rainfall showering modes. Each of the heads also has five pattern options that add to their versatility. They also feature a plastic face make to eliminate calcium and limescale build-up, thus easing cleaning. Otherwise, the other parts are made from stainless steel that is corrosion-resistant.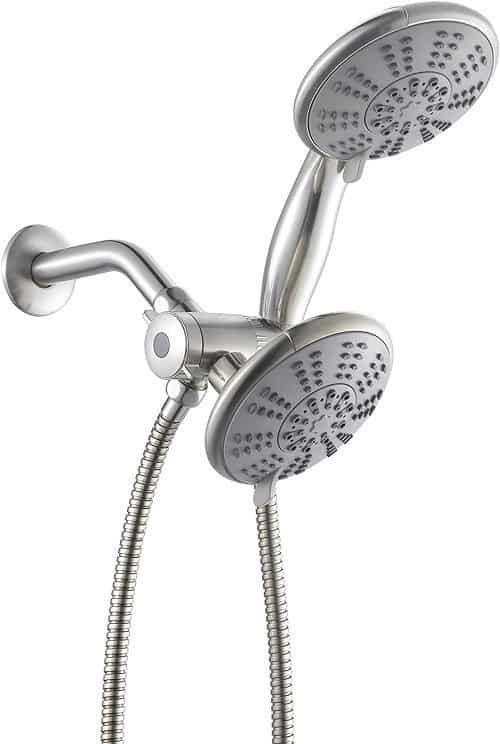 There are many spa-like showerheads available on the market, but the HotelSpa Ultra-Luxury Handheld Dual Shower Head is probably the most luxurious. What sets this unit apart from other dual showerheads is the large seven-inch head with an abundance of spray settings and durable construction.
The ultra-luxury rainfall unit coupled with the multi-setting handheld showerhead can be used separately or together for an amazing showering experience. The seven settings include the power rain, hydro-mist, pulsating massage, water-saving, eco rain, rain/massage, and rain/mist.
The HotelSpa Ultra-Luxury Handheld Dual Shower Head comes with a 5-ft flexible stainless steel hose with brass hose nuts that enables a tool-free installation. You will also like the functionality of the 3-way diverter with an anti-swivel lock mechanism.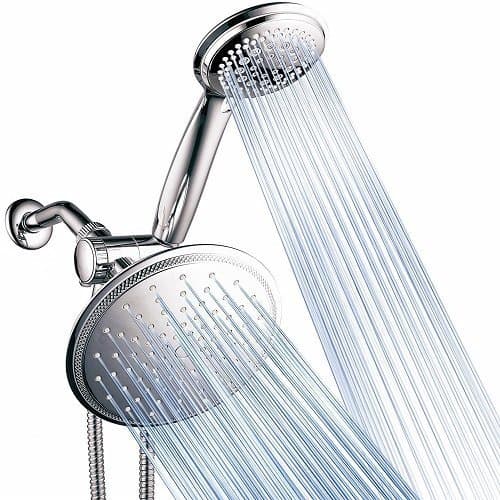 When searching for the best dual shower head, you should choose a model with a mode of setup that works best for your showering needs. As for the AquaDance 7" Premium High-Pressure Shower Head, you can use it as a standard head shower that remains fixed to a place or leverage the body wand for comprehensive cleaning experience. The unit is a good choice for individuals looking for a spa-level shower but on a budget.
The feature highlight of this model is that both showerheads have diameters of seven inches. The size means that you can get rainfall shower settings to add some luxury and decadence to your showering experience. This provides an immersive experience, especially if you have both showerheads running together.
To switch between the various modes, the water regulator valve located at the base of the unit makes it easy. The valve allows adjustments of three settings, enabling users to use one or both heads at once. This provides additional convenience and flexibility when showering.
Adding to the AquaDance 7" Premium High-Pressure Shower Head's luxury is that each head has an individual knob that users can select between six spray settings. The options include massage for sore muscles, pulsating, and water-saving modes that help in cutting down utility bills.
That aside, you will like the incredible reliability and durability of the AquaDance 7" Premium High-Pressure Shower Head. Both heads are made from stainless steel with chrome finish, providing an assurance of minimal corrosion and wear down. The jets are also easy to clean, as you only have to wipe them and remove any accumulating lime deposits. Installation is also very easy, and you don't need a professional plumber.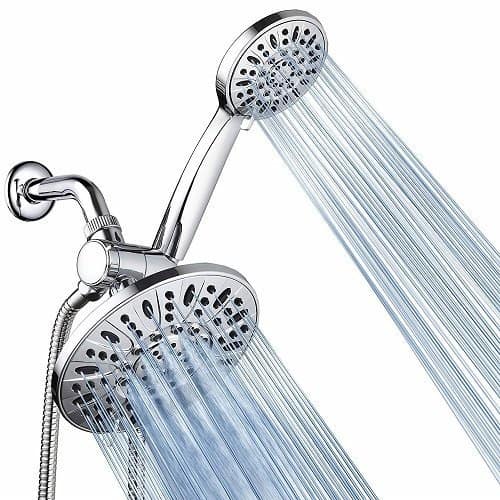 If you are in the market for showerheads with spa-like experience, consider a model that is large and features multiple spray settings. The HotelSpa Ultra-Luxury Handheld Dual Shower Head is among the models that provide this. One feature highlight of the unit is the SpiralFlo design that allows water to stream like rainfalls, adding to the luxurious feel of showering with this model.
The unit is also designed for low maintenance as attributed by the polished steel with plastic faceplates. The plastic prevents the build-up of calcium and limescale and also makes it easy to clean the unit. The dual showerhead system features a 6-inch rain showerhead, patented 3-way diverter, and anti-swivel lock nut.
The HotelSpa Ultra-Luxury Handheld Dual Shower Head has various settings, including the rain/massage, power rain, pulsating massage, hydrating mist, and water-saving rain, among others. Installation of the unit is very easy, as it requires minimal or no tools. The manufacturer also provides a limited lifetime warranty on the product.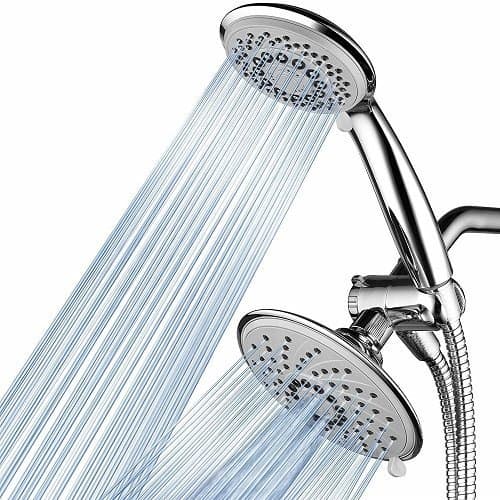 The luxurious Hydroluxe Full Chrome Dual Showerhead is a 3-way shower head combined with a handheld showerhead that provides up to 24 varying water flow patterns. The handheld showerhead latches into a fixed showerhead, creating a second showerhead that provides just the same water flow since they are almost similar in size.
The main settings of the unit include the power rain, stay-warm mist, soft eco rain, pause mode, and massage modes. Since both showerheads have different control dials, you can combine different modes from different heads to provide a soothing shower. The patented 3-way water diverter handles water switching and allows users to turn one showerhead off with ease.
The Hydroluxe Full Chrome Dual Shower Head also has an angled adjustable overhead bracket with anti-swivel nuts that allows users to adjust showerhead configurations depending on the preferred showering needs. Installing the unit is very easy, thanks to its tool-free design that leverages conical brass hose nuts that can be tightened even with bare hands. The chrome finish also fits perfectly into modern bathroom designs.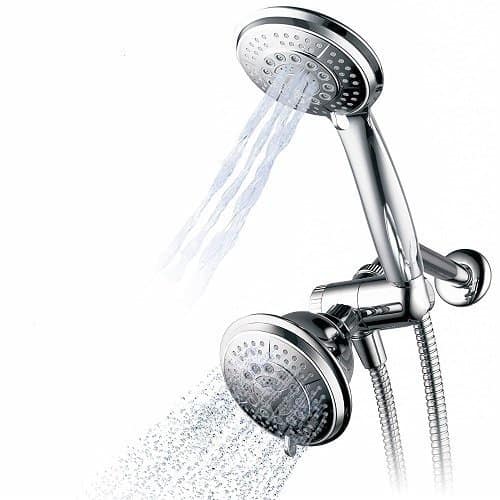 Dual showerheads certainly provide more convenience and power to a regular cleaning routine. However, a common issue with most installations is their weight. Despite the fact that you will clean yourself faster and thoroughly, they are bulky. That said, if you are looking for a small and less intrusive showerhead, the Delta 7588RB In2ition Dual Hand Held Rain Shower should be your product of choice.
Even if you have an ample and spacious room in your bathroom, you will like the sleek and integrated design that elevates the general appearance of your bathroom by this model. Like most units, the handheld portion of the Delta 7588RB In2ition Dual Hand Held Rain Shower snaps into the central unit. That way, you get to enjoy a rainfall showering experience with ease. You can as well separate them to get water from each head separately. The snap mechanism is quick and reliable, eliminating any assembling worries.
The Delta 7588RB In2ition Dual Hand Held Rain Shower is probably designed for massaging and relaxation – three of the five settings are massage settings. This means that you can spend a lot of time enjoying a luxurious and comforting showering experience. The unit also has a pause feature, which gives users time to lather up, saving water without sacrificing on the temperatures and pressure.
Cleaning the unit is quite easy, thanks to the included soft rubber nozzles. Since they are not made from metal, you don't have to worry about calcium deposits and limescale build-up. Even if they do appear, you can simply wipe them off with little effort.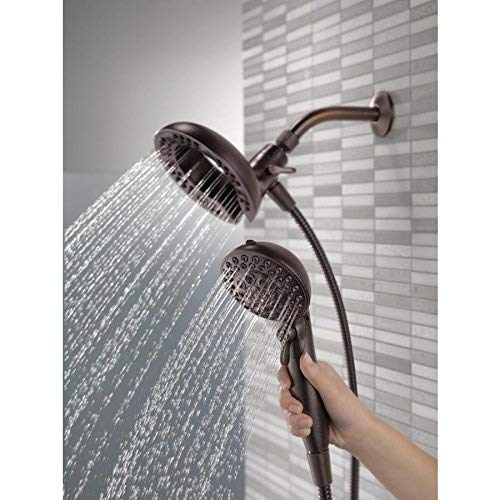 If you like the idea of having a dual shower head with an adjustable shower bar for adjusting the height of the handheld showerhead, the Lordear Commercial Flexible Dual Shower Head is a good choice. Unlike the Mariner model, this showerhead is more compact and fits both showers with limited and extra spaces. Setting up the unit is very simple, as the shower bar sits directly below the fixed showerhead unit.
As mentioned, you can change the position of the handheld unit or remove it according to your showering needs. Besides all these intrigues, the Lordear Commercial Flexible Dual Shower Head is very easy to install. Unlike units from the Mariner where you have to mount the shower bar into a stud, you only need a heavy-duty suction cup to fix this unit in place. As a result, you don't have to be an experienced handyman to install the shower.
Both showerheads come with five spray settings, providing a spa-like experience. They are also low-maintenance units, thanks to the chrome finish that prevents corrosion and the face rubber nozzles that eliminates worries of calcium or limescale build-up.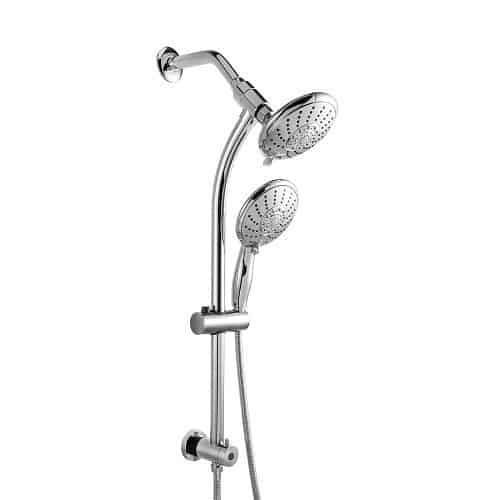 The majority of dual showerheads on the market feature a fixed unit and handheld head design. For them, this is a flexible and versatile design for their showering needs. However, if you prefer to have dual fixed heads, the Neptune Dual Shower Head should be your product of choice.
For this model, a water diverter connects both heads, making it different from other typical models that allow users to divert water from one shower head to another. This model doesn't have a regulator between them. As such, water blasts from both heads simultaneously when you turn the tap on. Because of the proximity of both heads, there is no reason to try switching between the two heads.
Despite both heads being in a fixed place, both have a ball joint that enables users to swivel them according to their needs. You can also create a crisscross spray pattern or have one pointing up while the other points down for rainfall experience. Each of the showerheads has three spray settings, including water-saving mode and full-pressure massage. You can operate each head independently, ensuring that you get a mix of different spray patterns and pressure.
Installing the Neptune Dual Shower Head is easy and requires minimal tools – you only need a tightening wrench. The design and construction of both pieces are strong and sturdy to last for many years. Moreover, the faces of the heads are made from plastic to prevent easy corrosion and easy cleaning. The chrome finish prevents rusting as well.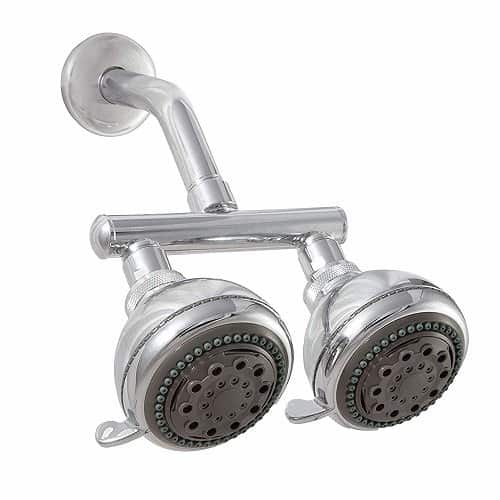 The DreamSpa Ultra-Luxury 9" Rainfall Dual Shower Head is a heavenly showerhead that provides an amazing bathroom experience. For starters, it brings to reality the push-button feature for effortless control of water flow. It is also a durable model featuring a premium all-chrome finish that lasts longer.
Like with other showerheads, you can shower with full pleasure and quickly by holding the comfortable handheld showerhead. You can also adjust the flow rate settings easily using your thumb, eliminating the typical use of dials. It is also exciting that you can install the shower anywhere. The angle-adjustable solid brass nut provides a leak-free connection. Also, the setup is tool-free and can be done in minutes.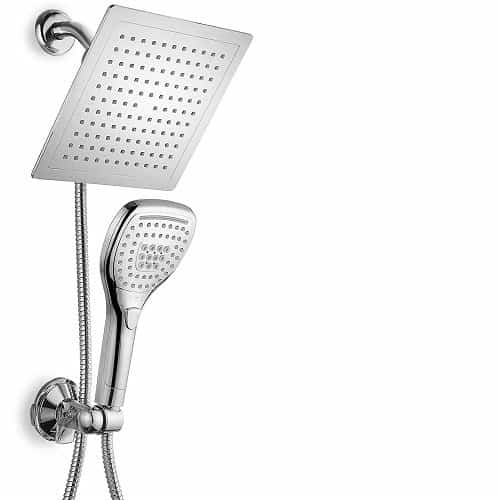 If you are confident about the size of your bathroom, the Mariner 2 Combination Shower Head System should be your model of choice. The Mariner is built for those who want to enjoy the utmost flexibility and luxurious, large showers with minimal barriers.
The majority of dual showerheads designs available on the market have both parts attached to the same base. However, for this model, the handheld showerhead connects to a spate shower bar installed into the wall. One advantage of having the bar is that you can slide the flexible head into the bar for more flexibility, eliminating the need to hold the head every time.
The construction of the Mariner 2 Combination Shower Head System is undoubtedly incredible. Both heads are made from stainless steel polished with metal finish. This coating provides a reassurance that they remain in pristine condition for a long time besides elevating the appearance of the showerhead.
To ease clean-up and maintenance of the unit, the faces of both heads are made from durable plastic. This prevents corrosion and calcium or limescale build-up.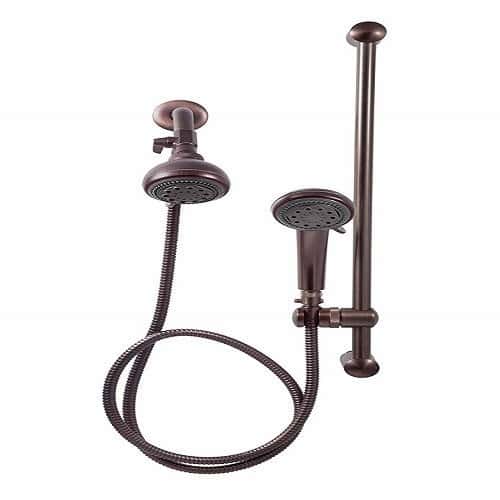 How to choose the Best Dual Shower Head for low water pressure
The buying guide
Even with our list of the best dual showerheads outlined above, you should find more information about the specifics of each product to make an informed purchase decision. This buying guide will help you understand what to look out for when buying dual showerheads for low water pressure. 
How do dual showerheads work?
As the name suggests, dual showerheads provide double showering experience. They consist of two showerheads linked to the water supply of your bathroom using a diverter. Always make sure that you purchase an easy to install and easy to use showerhead. Showerheads with handheld units have a diverter valve that allows users to switch off the showerhead extension if they want to use the overhead unit alone. The handheld piece has a special hook on the wall or along the slide bar for easy access and storage.
What are the features to consider?
Dual showers are not completely new to the market, but you should have a clue on the specific features to consider when buying one. That said, check out for the following features:
Format Options
Dual showerheads are available in three main configurations:
One single 2 in 1 showerhead
Two distinct showerheads, with one overhead and the other on a sliding bar
Two distinct shower heads with separate mounts
Each of the configurations has different benefits and disadvantages. The single 2 in 1 showerhead, for instance, are neat and compact but do not provide an immersive showering experience compared to other subtypes. Similarly, the showerheads with one sliding on a sliding rail provide a lot of options for configurations and angles, but the installation of mounts and sliding bars may become complex.
That said, you should evaluate your situation and the size of your bathroom before making a choice. For instance, if you don't own the house, go for dual shower heads that don't require major modifications on the walls. If the home is yours, invest in something that lasts longer even if you'll spend a little more on a professional plumber.
Build Quality and Finish
When purchasing a dual showerhead, find a solid and ruggedly build model that you can count on for years after. For that case, go for metal fixtures instead of plastic pieces for both dual shower head and standard setups. However, note that solid showerheads with all-metal construction cost more compared to plastic models.
Fortunately, nearly all dual showerheads are constructed from stainless steel metals to brighten up your luxurious bathroom elements. This provides an assurance the unit won't rust a few months after the installation. You will also find units with chrome finishing, which offer a great overall appearance as well. Be cautious with plastic made showerheads as they will likely give in to tough use and may not look good in your bathrooms as well.
Spray Settings
For the majority homeowners, an essential part of showerheads is their ability to provide personal spray settings. Well, if you are in this fold as well, find a dual shower head with multiple spray settings. Most of the models reviewed here have more than six spray settings. This gives you unlimited flexibility to enjoy your showering sessions.
Hose Length
Like the spray settings, the hose length is another feature that depends on your personal preference. However, it is obvious that showerheads with a longer hose provide more flexibility, especially if you prefer manual showering with the handheld showerhead. Showerheads with long hoses are best for tall individuals or those who need a longer reaching hose to position high above the main shower. The hose length also comes in handy if you want to use the showerhead for other functionalities, such as washing your pets or the bathroom floor and walls.
Showerhead Dimensions
Dimensions of the showerhead are essential since they determine the space covered by the water spray. Showerheads with large diameters have water sprays that cover a wide surface area compared to those with small dimensions. Also, if you are looking to enjoy a spa-like experience, consider showerheads with wide head dimensions.
Flow Rates
Showerheads come with built-in removable restrictors that monitor the amount of water flowing from the unit. Therefore, before making a purchase, take some time, and check if your product of choice has this feature. You can remove the restrictor to increase the flow rate of your dual showerhead to experience powerful and increased water pressure. You will also benefit from many spray settings that the models pack.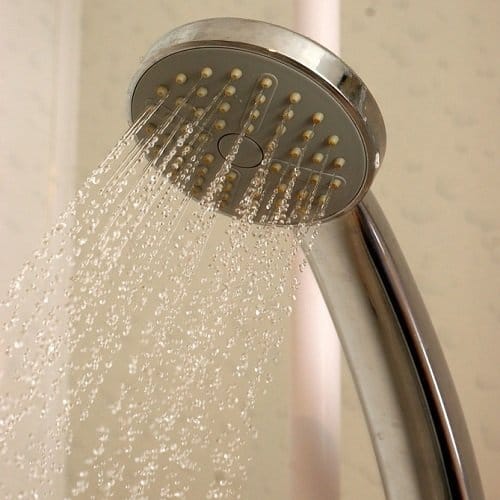 Diverter Valve
You will notice that the majority of dual showerheads have diverter valves that regulate water flow between the two showerheads. The valve could be in the form of a simple switch since the main idea is to close water from flowing through the other head while using the other one. Some high-end models come with a three-way diverter that makes your showering experience even better.
Anti-clog Nozzles
Dual showerheads are relatively potent shower appliances compared to other products. However, a major concern is the restriction of water flow by scales or limescale build-up on the showerhead. With continuous use, scale, or scum forms at the nozzles, reducing water flow and pressure significantly. However, the best products should have active anti-clog nozzles that prevent and reduce any build-up of limescale. The nozzles should as well prevent bacteria accumulation, which may clog the nozzles and lessen the water pressure.
Ease of Installation
Even avid DIYers dread installing products that affect the plumbing systems of their homes. Fortunately, installing dual showerheads is one of the easiest jobs compared to installing an overhead shower from scratch. This is because these models can be fixed into a pre-existing standard shower arm. Since they just require minimal mounting, no tools or advanced plumbing knowledge is required. You will have your dual showerhead functioning within minutes.
Warranty
Investing in any bathroom product – including showerheads, vanities, bathtubs, and toilet seats – requires a cautious and thorough evaluation. Among the things to consider is the presence of a warranty. You should purchase a dual showerhead with an extensive warranty as it proves the manufacturer's trust in the build and quality of the product. For these products, the majority of them have a lifetime warranty, which gives you full confidence that the company emphasizes quality.
Best Dual Shower Head Brands
Some of the best dual showerhead brands on the market include:
AquaDance
AquaDance is a well-established company selling quality and unique products on the market. The company has manufactured reliable and high luxury showerheads for more than 20 years. What makes AquaDance stand out is the cutting-edge technology and innovation that they put into the manufacture of their products. All these contribute to superior performance, which justifies the relatively expensive nature of their products.
Ana Bath
Ana bath is another performing brand that claims to be passionate about taking your showering experience to a higher level. The company assures this by producing various products that transform your showering experience. Ana bath has been in the market for almost 20 years, providing reassurance of quality products.
Moen
Moen is another leading faucet brand in North America that deals in a wide selection of kitchen faucets, bathroom faucets, garbage disposal products, showerheads, accessories, and more products for residential and commercial use. The brand delivers products that combine meaningful innovation, lasting value, and useful features.
Clofy
Clofy is a premium brand that provides incredible kitchen and bathroom fixtures. The brand is committed to providing amazing products that reflect technological innovativeness, elegant designs, and superior level functionality.
Wrap Up
Installing the best dual shower head in your bathroom is a significant upgrade to your bathing experience. There are many high-quality models on the market, including the Mariner 2 Combination Shower Head System and the AquaDance 7" Premium High-Pressure Shower Head. These products, among others, provide much-needed versatility and better showering experience even with low water pressure.
Before settling on a product from this list, consider the various factors we've highlighted here, including the cost, functionality, water usage, installation requirements, and the design of your bathroom. You can also go over our best handheld shower head reviews if you already have an overhead showerhead.
FAQs
Can you use both showerheads at the same time?
For the models reviewed above, you can use both heads simultaneously. This should be the case as well for all other showerheads. This feature enables dual showerheads to provide the best showering experience over standard showerheads.
Are dual showerheads expensive?
Dual showerheads are not quite expensive. The price of dual showerheads averages less than a hundred dollars. However, some are considerably pricier than others based on various features.
Are dual showerheads convenient?
Dual showerheads are definitely convenient because they bring forth a combination of two showerheads. They also offer various showering versions in one unit.
Which are the best dual showerhead brands?
Some of the brands with reputable products include AquaDance, Ana bath, Moen, Hydroluxe, DreamSpa, and Clofy. Their products are of high quality and available at a reasonable price.