A toilet paper holder is one of the few pieces of home décor that most homeowners don't pay much attention to, even though they have them in their bathrooms. These simple pieces of metal attachments in the bathroom are designed for dispensing toilet paper. Although funny Butler toilet paper holders are not as elaborate as other bathroom appliances such as toilets or showerheads, they serve a critical function. 
Why Invest in a Funny Butler Toilet Paper Holder?
There is a wide range of funny Butler toilet paper holders to choose from based on your bathroom's style and storage needs. Depending on the level of convenience that you're looking for, you should try out different designs of the most contemporary toilet paper holders on the market. 
You can take advantage of the storage space that comes with some of these holders for storing spare toilet paper rolls. In addition, some toilet paper dispenser designs have built-in shelves that are spacious enough for holding items such as sanitary items or safely resting a book or your mobile phone when using the bathroom. You can also use novelty toilet paper holders to add some decoration to your bathroom's interior design.
Top 5 Funny Butler Toilet Paper Holders 
Here is a list of the best butler toilet paper dispensers we recommend for almost any bathroom style.
This toilet paper has a silicone friction grip that is designed to hold the toilet paper roll into place and prevent unraveling. The holder is designed to hold up to 4 rolls of toilet paper. It Measures 8.86 x 6.5 x 26.77″ and weighs 3.6 pounds. If you want a spot for resting your mobile phone or a book when in the bathroom, this Joseph Joseph toilet paper holder has a handy shelf. 
The shelf has a stainless steel coating that keeps the unit looking neat at all times. In addition, the holder comes with a weighted base that is designed to make it more stable. The curved compartment conceals your sanitary items out of sight yet within reach. 
You should use a damp cloth to wipe the toilet paper holder because using any strong chemical cleaners or abrasive cloths will damage the unit. Also, avoid placing metallic objects on the shelf to prevent unnecessary scratches. The product comes with a 1-year warranty.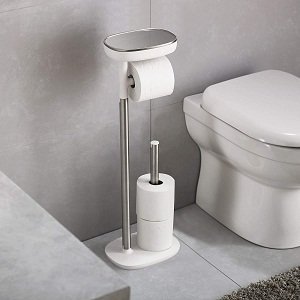 The toilet paper holder features a little trooper that can hold up to 4 rolls of toilet paper. The little guy holds a roll of toilet paper that is ready for use and a space for holding three extra rolls. This is one of the cutest toilet paper holders on our list that is a perfect fit for both residential and commercial settings. 
The holder measures 37x 21×13″ and is made from Resin. King's Bay has done a good job with the unit because it's a freestanding unit that doesn't require any complex assembling process. Since the unit is multicolored, it's easy to match it with different bathroom styles.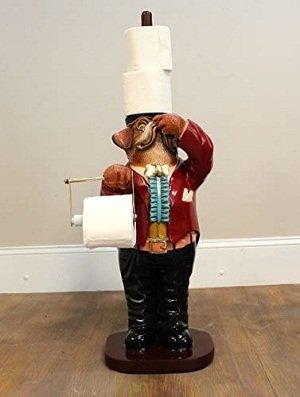 The idea of combining the brush canister with the toilet paper holder looks cute. The process of installing and assembling the unit can take less than 15 minutes. This Joseph Joseph toilet paper holder is a modern unit that will add some aesthetics to a small, remodeled bathroom. This is a freestanding toilet paper holder that features a dual-purpose shelf and a removable toilet brush. 
The D-shaped steel brush is very flexible and suitable for cleaning concealed spots like under the rim. Furthermore, the brush's widely spaced bristles don't allow dirt to clog on the brush easily. The unit has a stainless steel spot that is convenient and safe for holding small items such as books, keys, and cell phones. The holder measures 29.92 x 9.25 x 6.89″ and weighs 4.9 pounds.
The stainless steel surface also ensures the unit always looks neat. Additionally, the secret storage drawer at the base is spacious enough for storing sanitary items. It has a silicone strip that holds your toilet paper rolls tightly so that they don't unravel too quickly. The toilet paper holder has an additional weighted base that makes it more stable.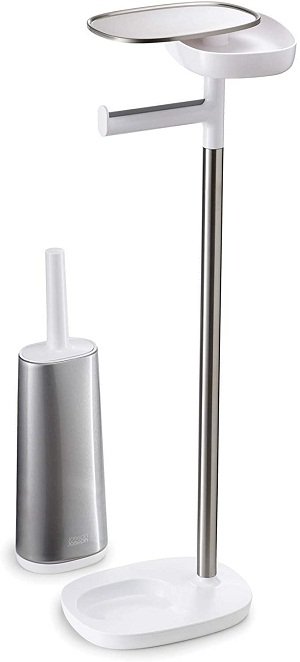 This TomCare toilet paper holder has a large capacity that can hold up to 3 spare rolls of toilet paper. It has a sleek vintage design suitable for different bathroom styles. You don't need any installation tools to set up this toilet paper holder – simply connect the detachable parts, and everything is good to go. 
The toilet paper measures 18.19 x 7.01 x 6.85″ and weighs 1.85 pounds. This is a detachable toilet paper holder that is made of high stainless steel and can be moved around in your restroom with ease because it's lightweight. The unit's Bronze color makes it look so appealing in the bathroom. The unit comes with a 1-year warranty.

This is the toilet paper holder with the most thoughtful design on our list. At the height of 29.3 inches, your toilet paper rolls are conveniently within reach. In addition, household-size toilet paper rolls such as Jumbo can perfectly fit the roller arm that measures 4.9 inches. Besides, the roller arm is designed in such a manner that the toilet paper roll can't fall off easily. 
This is a great floor toilet paper holder that will help you make your toilet paper rolls more accessible and free up some cabinet storage space. It dispenses a single roll of toilet paper and holds up to 3 spare rolls. The holder has a weighted base that makes it more stable. The base has anti-slip padding to prevent floor scratches and avoid sliding. It features a strong build and weighs 5.36 pounds. 
The toilet paper holder is made of stainless steel to prevent corrosion and rust due to the bathroom's humid conditions. In addition, the unit's Brushed color finish will add some aesthetics to your bathroom.


Things to Consider When Buying Butler Toilet Paper Holders
When shopping for the right butler toilet paper for your bathroom, there are few things you need to consider, such as:
Type
With the numerous types of toilet paper holders on the market, you should carefully choose a unit that suits your specific needs. For instance, a classic single-axle model, which is not too elaborate, can be screwed to the wall or even attached to a cabinet by an adhesive. 
You can attach both ends to the wall with an axle popping out for changing rolls of toilet paper, or attach one so that the toilet paper rolls are easily slid on and off the other end. Alternatively, you can opt for the freestanding designs of toilet paper holders with single metal poles or wire cages for stacking several rolls of toilet paper on top of each other. 
Most freestanding models don't have axles for dispensing the toilet paper rolls. You can also choose to go with metallic or wooden baskets that can be placed on top of the toilet or mounted beside it. The other option is a mounted shelf-like design that has slots for holding rolls of toilet paper.
Size
It's important to check out the unit's size in terms of capacity and its physical measurements. Most manufacturers produce units that can hold standard-sized toilet paper rolls. So, if you use extra-large toilet paper rolls in your bathroom, look for units that are compatible with different sizes of rolls. 
If you opt to purchase the freestanding models, ensure that the unit is not too short or too tall for your needs. You should check out the measurements to be sure that they'll fit your available space. Check out the unit's holding capacity, especially if you're buying a toilet paper holder that doesn't have an axle. On average, a toilet paper holder with a holding capacity of 2-3 is fairly standard.
Extra Storage
Some toilet paper holders come with additional storage spaces and shelves for storing sanitary items and placing small objects. If you have a small bathroom or less counter space, purchasing a unit with an extra shelf will come in handy. The holder will help you store tissues, wipes, and air fresheners neatly. 
Moreover, the extra shelf allows you to add a few decorations, such as plants. You can also utilize the shelf to rest your mobile phone, a book, or keys while using the toilet. Imagine your brand new cell phone falling onto the toilet or getting wet and dirty when you go to a restaurant restroom! Both the freestanding and the classic axle toilet paper holders can come with attached shelves.
Wrapping Up
That wraps it up for our list of old man Butler toilet paper holders and what features to look for when shopping for one. Of course, feel free to share your experiences with any of the products we've listed here!