With a wide range of toilet models to choose from, the process of determining the right type can be confusing and difficult. While many people go for aesthetics, there are many other factors to consider to get good value for your money. TOTO Carlyle II is one of the most sought-after toilets due to its outstanding performance and luxurious touch in modern bathrooms. In this TOTO Carlyle II toilet review, you'll learn everything you need to know about this innovative toilet and get a few tips on how to buy the right toilet for your bathroom.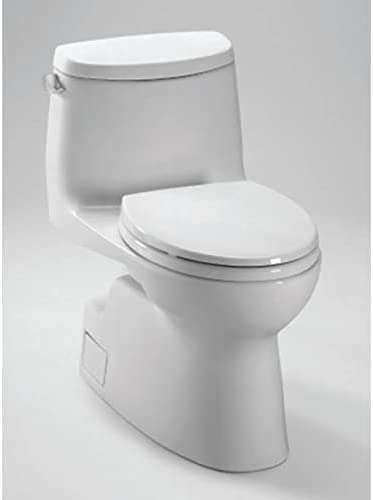 TOTO Carlyle II Toilet Specs
Weighs 110 lbs 
CEFIONTECT® ceramic glaze
The handle is on the left side
Consumes 1.28 GPF
It has a rough-in of 12 inches
Elongated shape
Tornado Flush™ Flushing System
One-piece design
Measures 28-1/4 x 16-1/2 x 28-3/4 inches
Its seat height measures 17-1/4 inches
Chrome trip lever included
WaterSense certified and ADA Compliant
Features of the TOTO Carlyle II toilet
Here are the outstanding features of the TOTO Carlyle II toilet in terms of design, installation, warranty, compliance, flushing power, and more:
1. Design
Carlyle II has a user-friendly height that meets the ADA standards and hence can be used by both the aged and the disabled groups. Its universal height seat measures over 17 inches from the floor to the seat, making it more favorable to various users. 
It has an elongated elliptical bowl seat, and the extra 2 inches makes it comfortable for the elderly people in your household. This is a modern-day one-piece toilet that can easily match any modern style of bathroom.
Additionally, the Carlyle II bowl is elliptical, and this extra feature complements its user-friendliness and comfort. Its skirted shape and material make the toilet clean with less maintenance due to its smooth surface finish. However, for a lasting smooth surface, it's prudent that gentle cleaning agents be used when cleaning the bowl.
2. Installation
The Carlyle II toilet is bulky and heavy since it's a compact one-piece design. However, its installation is an easy-to-install DIY project type, which can save you labor charges. But, it's important to remember that you may need a professional plumber to help you change the supply outlets suitably. Although this is a 12 inches rough-in toilet, you can separately purchase other sizes as well, such as the 10 inches or 14 inches rough-ins. For a seamless operation of the unit, you need to source information on how to properly install the components, as they are mostly preassembled. 
3. Warranty
This TOTO toilet has a one-year limited warranty. Even though it comes with a shorter warranty time frame than other toilets in its price range, its powerful performance, durability, and other desired features make it a go-for product. TOTO ensures that their products are made of quality material that you won't need to use the warranty. 
4. Compliance
TOTO Carlyle II is an ADA-compliant product. This means that it's comfortable for use by children, the elderly, and people with disabilities. Therefore, its compliance with ADA makes it desirable for residential and commercial settings, especially if you live with an elder or disabled member of the family. 
It is also EPA WaterSense certified as it uses only 1.28 GPF and thus contributes to a greener environment. This ensures minimal usage of water without compromising the quality of the product. That means that your pocket isn't strained but certified. In addition, the product meets the CALGreen code set by California Green Buildings Standards. This standard is critical because it helps you prove that the vanities, showers, or toilets you purchase are of high quality.
5. Flushing System 
Toto Carlyle II water usage is no more than 1.5 GPF. Its Tornado flushing system makes it efficient, as it simulates whirlpool and a centrifugal flush on the bowl to clear all the waste. When the flushing valve is opened, the water is equally distributed through the water jackets in the bowl. This creates a whirlpool on the bowl through the openings, thus enhancing the efficiency in cleaning the bowl. Its 1.28 GPF isn't going to be a burden to your pocket as it is WaterSense certified. 
This tornado system is able to clean the bowl efficiently as it creates a centrifugal force through the small openings of the bowl. It is also WaterSense certified, so it ensures minimal water bills for good service delivery. It has a compact shape and CeFiONtect surface finish that gives it an aesthetic feel and luxurious touch. 
6. Solid Pressure Technology
The TOTO Carlyle II toilet has two openings at the top of the seat. When the valves are opened, the water is distributed to every part of the bowl, ensuring no residue is left, which gives you a perfect cleanup. The water distribution of the TOTO's tornado technology is computer-simulated, which is one of the leading efficient flushing technologies on the market. Since this is an efficient unit in terms of water conservation, you can be guaranteed to save some quick bucks down the road on your water bill.
Just like any other one-piece toilet on the market, expect to pay top dollar for this TOTO model. Though it's a pricey unit, its quality and durability are guaranteed surety. If you want to purchase one, make sure to source from trusted dealers to avoid online fraudsters and scammers. TOTO has trusted dealerships that offer these toilets at pocket-friendly prices. 
Pros of the TOTO Carlyle II Toilet 
It features a sleek one-piece design that makes your bathroom colorful.
Its surface finish means less maintenance for a long period.
It is water-efficient and uses 1.28 GPF, making it a cheaper and environment-friendly toilet.
Carlyle II is made from quality material and thus is a durable unit that you won't have to replace after a few years.
It is an easy-to-install toilet.
It uses TOTO's Tornado Flush Technology which clears all the residue from the bowl, leaving your toilet neat and sparkling clean.
Cons of the TOTO Carlyle II Toilet 
While the TOTO toilet is ADA compliant, WaterSense certified, sleek, and easy to clean and maintain for years, it has its drawbacks. For instance, because it's a one-piece compact design toilet, it's quite heavy to carry when you want to install it somewhere in your bathroom. Though it can be installed as a DIY project, you may need to carefully read its installation instructions for a seamless installation.
Tips For Buying Your Next TOTO Toilet
How well a toilet flushes, the amount of water it uses per flush, the color, price, design, shape, and position of the handle are some of the features you should always look out for when buying a new unit. Many people only consider buying new toilets only when remodeling or renovating their bathrooms.
Here are some of the critical factors to consider when choosing your next toilet:
Flushing system — An efficient toilet that utilizes a powerful flush power such as the TOTO Tornado Flushing Technology is a good idea. In fact, the federal standard is around 1.6 GPF or less. 
Efficiency — You should consider going for toilets with a dual flushing system to save more on your water bill.
Price — Although you can find very cheap contractor toilets that cost as low as $ 75, you should go for something that gives real value to your every penny. One-piece design toilets are the best examples of toilets on the market that will transform the appearance of your bathroom. While unusual flush systems and custom toilet seats may look so fancy, they may eat deep into your pocket when it comes to replacements. So, it's wise to consider the issue of future repair costs before buying a unit from a bathroom showroom or plumbing supply house. Thankfully, you can find all these wrapped up into a single unit when you buy the TOTO Carlyle II toilet.
Wrapping UP
It's always prudent to buy a toilet that matches your bathroom style, fits the available space, flushes well, and is budget-friendly. The TOTO Carlyle II toilet is a beautiful unit that'll be a valuable addition to your bathroom and increase the value of your property in case you intend to sell it. If you've any questions or suggestions about the Carlyle II toilet, feel free to let us know what you think in the comment section below.
FAQs
Are TOTO toilets better than the American Standard toilets?
TOTO prefers using ceramic and vitreous china in the construction of their toilets, while the American Standard toilets are made from porcelain and vitreous china. In terms of durability and ease of maintenance, the TOTO models are considered more efficient due to their SanaGloss feature.
Where are TOTO toilets manufactured?
TOTO is a reputable manufacturer of sanitary ware and has its toilets manufactured in their Georgia facility. The toilet units are an average of all of the Morrow, Georgia facility's toilet product lines.
What's makes TOTO toilets so special?
TOTO manufactures some of the best toilets on the market with unique modern features. For instance, the Washlet bidet function makes cleaning easier, and the heated seat provides increased comfort. The Tornado Flush Power, wall-hung options, and a soft close seat are other unparalleled features that make TOTO toilets stand out from the crowd.