Square toilets are not a preserve of fancy toilets and modern apartments as they can make a great addition to any bathroom at home. So, if you're currently using a traditional round toilet, it's not surprising you're considering investing in a more comfortable square toilet that puts less stress on your limbs. To help you make an informed buying decision, we've listed five of the best square toilets and detailed descriptions of their features, along with an easy-to-follow buying guide.
The EAGO WD333 is very efficient when it comes to saving water because it can use 0.8 gallons of water per flush. The dual ultra-low-flush is also very eco-friendly. You can set your toilet to be ADA compliant, considering that its height is customizable.
The wall-mounted toilet comes with an essential part of the soft closing lid and seat supported by a modern hinge system. Although this particular square toilet looks and works like a Duravit model, it's less expensive. 
Furthermore, unlike most square toilets out there, the EAGO WD333 is glazed both inside and outside. Meaning, cleaning your unit is easy and fast. It can keep serving for several years with proper maintenance. The toilet seat comes with a 1-year warranty and a 5-year warranty for all its porcelain parts.
It's easy to install this square toilet as long as you follow the provided user's manual to the letter. However, you should note that the toilet's carrier and tank are ordered separately.
Features
Consumes 0.8/1.6 gallons per flush
WaterSense certified
Handle placed on the wall
Adjustable height from floor to seat
Dual ultra-low-flush style
This is one of the most popular models of square toilets on the market that is also considered very eco-friendly. The toilet uses a small amount of water per flush, equivalent to less than 20% of the other toilet models.
The D-code Duravit toilet is a one-piece configuration toilet that is not easy to install but short enough for children. Aside from the 5-year warranty of Duravit's toilets, you'll also qualify for the 1-year SensoWash guarantee. The unit comes with a wider toilet seat as compared to the other square toilets on this list.
Features
Uses 0.92/1.32 gallons of water per flush
It's a WaterSense certified unit
Handle placed at the top
Measures 15.7″ from floor to seat
Sleek design
Eco-friendly
Modern deal flush system
5-year warranty
It comes with a SensoWash 1-year guarantee
A bit too wide compared to other square toilet models
If you're looking for the best square toilet for your next bathroom remodeling project, then the WOODBRIDGE T-0020 is a great choice. It's a one-piece toilet that is suitable for water-proof environments. The toilet's skirted trap way makes the cleaning and maintaining process easy and quick.
Unlike the other square toilets on our list, this unit comes with all the necessary parts you need for installation. Some of the vital parts that you'll need and are all included in your order are the floor bolts, a special wrench, a detailed user's manual, water fittings, and a pre-installed soft closing seat.
The toilet's stainless steel hinge makes it a durable unit that can serve you for years. It also has an efficient flushing system that minimizes leakages and clogging issues. You can rely on the toilet's 1-year warranty in case anything goes south. Even though this is a very comfortable square toilet, it's not ADA compliant.
Features
Consumes 1.28 gallons of water per flush
WaterSense, US & Canada UPC & CSA certified
Handle placed at the top
Measures 16.5″ from floor to seat
This is another great square toilet from Duravit, which is a household name in this industry. It's an inexpensive square toilet design that an average homeowner can afford. The installation process of this toilet is quite easy. It can physically and aesthetically fit into most bathroom styles.
The D-Code Toilet comes with a Vario connector that is designed to accommodate both horizontal and vertical outlets with ease. Moreover, you can adjust your unit to a length of 70 to 180 mm.
The wash-down trap way of this toilet uses 6 gallons of water per flush. This means that you can save more water down the road even as you enjoy its efficient removal of waste.
Additionally, the toilet has a HygieneGlaze coating that makes it very easy to clean and maintain. The unit comes with a 5-year warranty that proving of its long-lasting protection. However, you need to order the tank separately because the toilet doesn't come with one.
Features
Produces 1.6 gallons of water flush
HygieneGlaze coating
It has a Vario connector
Measures 15.6″ from floor to seat
The handle is placed at the top
Certified by CSA B45.1 & cUPC
The most appealing feature of this square toilet is its stylish, modern design and comfortable size. The height and width make it a perfect fit for compact bathrooms. The soft close seat is great for your home because it won't cause unnecessary disturbances at night when people are resting.
Fresca Bath FTL2336 Apus toilet is fitted with a gravity flush system that allows your unit to remove all the waste effectively. The unit is UPC compliant and ADA-approved. It also comes with a 3-year warranty. The unit is very durable as it's made from Vitreous China and polished with stain-resistant glaze. This also means that the toilet is easy to clean and maintain and can last for years.
However, the process of installing this unit in your bedroom can be challenging if you don't follow the manufacturer's installation guide keenly. But, the good news is that you can always contact the manufacturer and get real-time professional support during the installation process.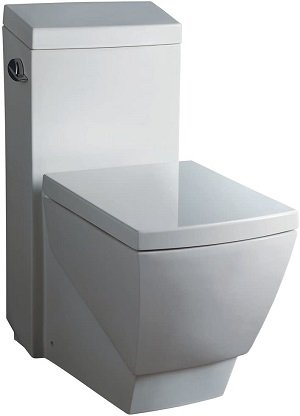 Features
Produces 1.6 gallons of water per flush
Measures 16.3″ from floor to seat
ADA approved
WaterSense certified
Stain-resistant polish
Made from durable Vitreous China
Handle placed on the left
Why Consider a Square Toilet?
If you're looking for a style of toilets that'll make a great first impression in the bathroom, consider settling for the sleek designs of square toilets. These toilets are designed to fit into different bathroom styles perfectly.
The toilet's design has a width and height that is comfortable for both children and adults. Although some people may associate square toilets with being uncomfortable and too bulky, they're very comfortable. This is mainly because the square toilet's seat provides a little more room than the standard toilet.
Moreover, you can find a square toilet model that produces a very quiet flush that doesn't disturb the occupants of the bedrooms near the bathroom, especially at night.
Unlike traditional toilets that present a tired and dull look, a square toilet delivers that modern appeal that'll improve the appearance of your bathroom. Additionally, these modern toilet designs look great, along with stainless steel and chrome. Your new toilet will also pop outstandingly against white-colored or grey paint.
Besides, you don't require fancy equipment or special material for the installation process; they use the same equipment as their standard counterparts. Square toilets are often found in high-end hotels and fancy modern apartments. So, if you're looking to bring that kind of feeling right into your bathroom, consider buying a square toilet. 
This is the type of toilet model that'll separate you from the crowd. The lines of a square toilet pop, making it a noticeable fixture that stands out in your bathroom. If your other fixtures, such as showers or tubs, have lines, the square toilet will enhance that look and transform your entire bathroom. Furthermore, the lines of a square toilet will look great with your flooring if you have tile or wood flooring.
Factors To Consider When Choosing The Best Square Toilets
Here are some parameters to look at when shopping for a square toilet system:
1: Comfort
If you're looking for increased comfort in the next toilet unit you purchase, then there are certain features to focus on, such as a quiet, soft close, cushioning, and ergonomic design. A quiet flush toilet, in particular, is perfect for people who live in small spaces and would want the flushing noise to be as minimal as possible.
Moreover, the design of square toilets spares more space than standard models of toilets. Furthermore, they come fitted with unique features for increased comfort.
2: Uniqueness
Interestingly, no one will notice the round toilet in your bathroom the same way people will pick out the unique appeal of a square toilet. Therefore, by choosing a square toilet, your guests will notice that new addition to your bathroom. The style of a square toilet will certainly stand out and bring a sense of exclusivity to your bathroom. Ensure the square toilet you choose, in a way, is exceptional in terms of uniqueness.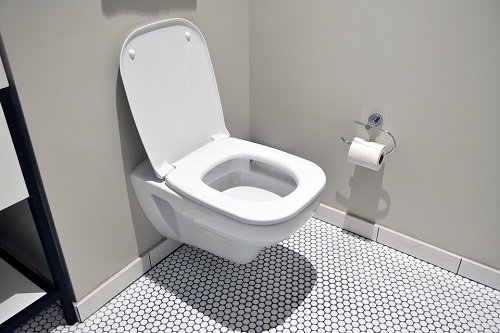 3: Intended Use
It's also critical to consider the people who will be using the toilet. Suppose the people in your household have special needs or experience some difficulty sitting down and standing up. In such situations, you'll need to settle for a square toilet that offers a comfortable sitting height with adjustable height settings. A square toilet that is ADA compliant or accessible is the most recommendable option for people with special needs.
4: Efficiency
A modern square toilet is the best toilet style for an eco-savvy homeowner. If you're looking to reduce your green footprint and be part of supporting the green environment spirit, then an energy-efficient toilet is a great pick. Moreover, with a square toilet, you'll significantly reduce the amount of water you use per a single flush.
Sadly, some of the toilets on the market can't regulate the amount of water you use in every flush. But, with modern designs such as the square toilets, you can easily regulate the amount of water you use in lighter flushes, so you can only use more when flushing heavy waste.
A toilet that is WaterSense certified is more efficient than a model that isn't. Plus, investing in such square toilets can help get rebates on your water bill.
5: Aesthetics
You won't go wrong with a square toilet because it freshens up the appearance of your bathroom. You can enhance the aesthetics of your old home by investing in a square bathroom, transform the older feel in your bathroom and make it look as new and modern as possible.
6: Size and Specs
Ensure that the toilet you choose for your bathroom has the exact features that you're looking for and fits perfectly onto the designated space in your bathroom. You don't want a unit that will look either too small or too big for the available bathroom space. 
In addition, consider where you'll want to install the unit so you can get the full layout before you start shopping. Furthermore, you may need to buy other parts such as a carrier system, depending on whether you want a wall or floor-mounted square toilet.
Finding The Best Square Toilet
When shopping for the best square toilet that satisfies your specific needs, there is no one-size-fits-all solution. Start your search by evaluating your needs to find a unit that fits the needs of the users. For instance, if the toilet doesn't have an adjustable bowl height, ensure it sits at a comfortable height for the users. You can either choose to go with a standard model or a unit that is ADA compliant. A square toilet that is ADA compliant is much more accessible to users and minimizes joint stress.
If you're looking for a toilet solution that is easy to clean and maintain, then consider a unit with glazing. In addition, a toilet with smaller surface areas reduces odors in your bathroom.
Square Toilet Installation Considerations
While square toilets may look unique and slightly different than their standard counterparts, the process of installing and removing these two types of toilets is almost the same. Here are four square toilet installation tips that can help you make the entire process easier and flawless.
Fitting a square toilet seat
The process of changing a wall-mounted or close-coupled toilet starts the same way; you need to remove the old unit and clean the surface or space thoroughly. Join the seal to the bolt and ensure the seat of your new toiler is positioned in such a manner that it fits evenly along the rim. Make sure the rear bolts go through the two toilet holes behind its opening. Attach the toilet seat securely by tightening the nuts with a screw.
Solving common installation problems
The installation process can become tricky if you don't move the toilet to allow accurate leverage. At this stage, you need to try multiple angles or seek professional help by contacting a plumber in your area or calling your manufacturer's customer support.
If you live in a place that experiences high humidity levels, you'll have to deal with corroded metal nuts and bolts that won't budge. If that happens, your best bet is to use a hacksaw or a grinder to grind the old seat off.
Vital install details
The square toilet you purchase should have the correct rough-in size to ensure the plumbing lines are set up perfectly. You can achieve this by accurately measuring the distance from the walls to the center of the toilet bowl. You should also make certain the width of the toilet perfectly fits with your bathroom space so that it doesn't interfere with the opening and closing of your bathroom door. 
Also, keep in mind that some of the square toilet models don't have come with tanks and seats, and therefore, the cost of buying certain square toilet models may add up pretty quickly.
Q&As
Are square toilets comfortable?
Most people haven't invested in square toilets because they're skeptical about their comfort levels compared to their traditional counterparts. The square shape is designed for increased comfort as the unit delivers more support under the user's thighs when seated on the toilet seat – much like a chair. Furthermore, the square toilet shape is more flexible than the circular shape.
What are the advantages of square toilets?
Some of the square toilet models out there come fitted with a dual flush capability that allows you to use less water as compared to the standard toilets; you'll use less water per a lighter flush and more water for heavier flushes. In terms of seat height, a square toilet is more flexible than a round-shaped toilet. This makes it a great choice for people who are concerned about toilet seat height levels.
Are square toilets expensive?
While a square toilet offers you more comfort than the round bowl-shaped toilets, you'll need to pay more than you would with a round-shaped toilet. For instance, while a standard toilet or round-shaped toilet may cost around $280, a square toilet will cost up around $600 or more. The average price of the elongated shapes is about $290. However, our featured EAGO WD333 Square Modern Wall Mounted Toilet is quite elegant and comfortable but costs just about $30-33 – no wonder it ranks on top of our list.
Final Thoughts
Almost every bathroom has a toilet unit. When executing a bathroom remodeling or revamping project, perhaps changing your old toilet might be the last item on your shopping list! This is usually because there are items that come first, such as the vanity, mirror, and shower unit. Today, the enormous choice on the market in terms of style and design makes the process of choosing the right toilet option for your bathroom a real challenge. 
However, settling for a square toilet makes the entire process seem like a life-changing experience. A square toilet installation allows you to create a new appeal in your bathroom that'll transform your home's physical and aesthetic appearance. Moreover, if you shop around extensively, you can find a budget square toilet model that suits your bathroom's available space.